Ireti Bakare-Yusuf: It Is Time For Nigerian Women to Stand up Against Sexual Predators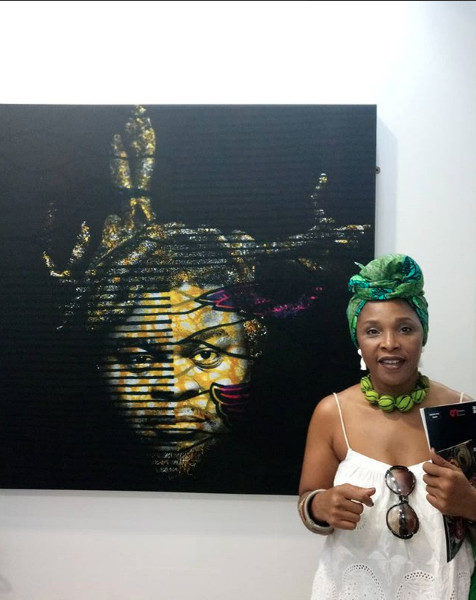 Like the rest of the world, I woke up on Tuesday 9th of January, to the media frenzy around Oprah's speech. With the cost of data in Nigeria still so "unfriendly", I had to make do with clips on CNN, Instagram and other social media platforms.
As I scrolled through Naija Instagram, every other post by a Nigerian was punctuated with words like #Inspiring #Motivated. Really? Hmmm! I thought. This is not to say Oprah's speech at the 75th Golden Globes award wasn't inspiring or even captivating and galvanising. In fact, at the tail end of her speech, where she directed her message at young girls, and applauded the #SilenceBreakers that stimulated the #Metoo movement and the call for more male support is a memorable favourite.
At the dawn of the #MeToo movement, my girlfriend and I spent a long time talking about the campaign. We talked about how if such a campaign was to extend to Nigeria that it would surely break the Nigerian internet sphere. It wouldn't just be a revelation but a revolution.
Much as the issues that led to the #MeToo campaign is the same as ours, the canvas is however different and require different brushstrokes. We need our own hashtag. The French called theirs #balancetonporc (#SquealOnYourPig), ours isn't so much a case of #MeToo but more a case of #NoMore.
My friend and I exchanged personal experiences and anecdotes from friends, colleagues and family. I shared my experience about a very senior colleague who slapped my bum as he held the office door open for me to walk through like the gentleman that I had always known him to be. The shock left me speechless. My bolshie self could not utter a word; I was rendered mute. I froze, looked back at him and then continued into the waiting car. I think he expected me to say something, because as I held his gaze, his normally upright shoulders sloped. We continued to our meeting and silence replaced our usual animated discussion about the state of the nation. For me, the ride, the meeting, the day, couldn't end fast enough. The issue was never addressed or repeated and my contract with him ended also without recurrence of the same behaviour.
But mine is perhaps one of the fairly mild stories of sexual harassment. I know of a friend who went for an official meeting at the HQ office of a bank MD and it ended with her running out because he came out from behind his desk, trousers unzipped and walked calmly towards her, holding his prized family jewels. Repulsive and traumatising as her story may sound, it's also somewhat placid, when juxtaposed against the stories of other women who did not get a chance to run.
There are stories of women been asked to work late, only for the boss to pounce on them. Or those who are instructed to meet the boss at his hotel to drop off a file just so he can exercise his power on the unsuspecting woman. Oh and forget about the option of resignation in a country where unemployment is high and job security is precarious even for the employed. Many women just smile it away or look for ways to circumvent their boss' action at best and at worst accept the coercion in order to secure their job. Then there are the thousands, if not millions of students who have either been the victim of attempted abuse or actual abuse by lecherous lecturers or course directors. The storyline is always the same – she goes to see him about her course and he pounces on her like a tiger to his prey. And who amongst us has not heard about the stories of millions of girls who have been abused either by relatives, close family friends, neighbours and even fathers who were entrusted with their well-being?
So many stories, so many girls, so many women, so many victims, including some young boys, so many abused and too many abusers, striding confidently around disguised in suits and trads, emboldened by both the culture of respect and patriarchal licence that grants them immunity from blame, steering them from victim to victim like an assertive serial killer. Afterall, who is to stop them?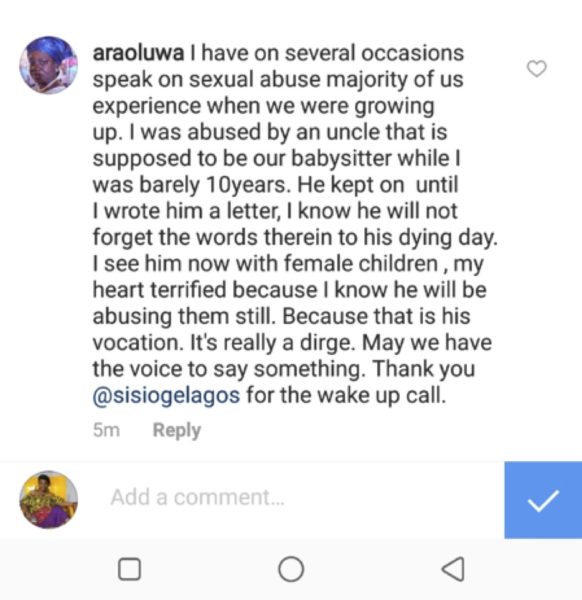 The positive power of the #MeToo movement is the rising voices of women all over the world. Silences are being broken in France, China, Italy, UK, India, Australia etc. So what is the #MeToo campaign? As this Twitter post explains: "If all the women who have been sexually harassed or assaulted wrote 'Me too' as a status, we might give people a sense of the magnitude of the problem."
Women have been complaining about sexual harassment for years. The phrase "Me too" was first coined by civil rights activist, Tarana Burke back in 2006, to 'raise awareness of the pervasiveness of sexual abuse and assault in society'. There were also the "Reclaim the night" marches in the UK in the 1970s & 80s when police were advising women to stay indoors at night to avoid being another victim of the then serial murderer Peter Suthcliff. The women demanded "No curfew on women-curfew on men". Our message is also simple #NoMore "sexual assault and harassment in Nigeria"! The same campaign in the US was called 'Take back the night', all of which is another reason why the relentless work of many feminist groups whose campaign for equal rights and equal respect for women and men in society continues till today.
In Nigeria, we are quick to embrace the imported and not nuance it with local flavour. The #MeToo campaign, albeit without criticism, began because several women decided to yank off the muffle and pronounce their experience. They knew that they were stronger together. And from one voice, the domino raised other voices. Suddenly it was OK to say "He did this to me", "It happened to me too". For the first time in years, if ever, women could proudly wear the hood of sisterhood knowing they had support from their sisters and some men. Women could begin to comfort each other, and seek a form of redress either legally, therapeutically or just the relief of being unshackled by fear.
It is said, "Prayer without action is dead". You see, it is my strong belief that when one person speaks up against abuse, bullying or assault, she's not just speaking for herself, she's speaking for the multitude and giving others the permission to speak or to know that they are not alone. In a country such as ours, where much is said with the eye and less is spoken in words, someone has to start the sentence, with the hope that others would follow and complete it.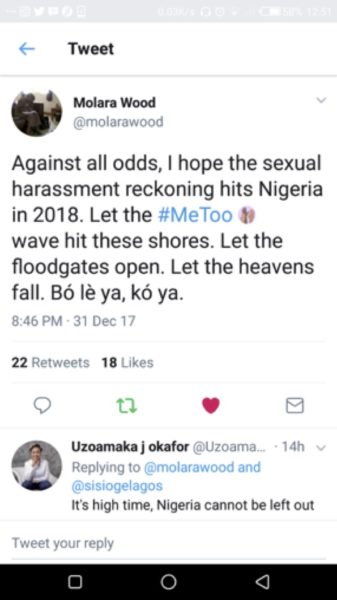 Surely we can't continue to keep quiet about this plague anymore? We can't continue to speak in hushed tones only to close friends and trusted family members. At the very least we owe it to ourselves and our daughters to start the conversation. We owe it to our sons to ensure that they learn how to respect their own and women's right to bodily integrity and boundary.
Unknown to me, while I was posting my thoughts on Instagram, some of my sisters had begun calling out their abusers, and violators. Therein lies the power of the multitude. The power of a #NoMore mindset. This time, we weren't just adopting another import unrelated to our reality; we were letting this meme speak to our reality and use it to call out people who have transgressed our boundaries and bodies. And we are saying #ItsTime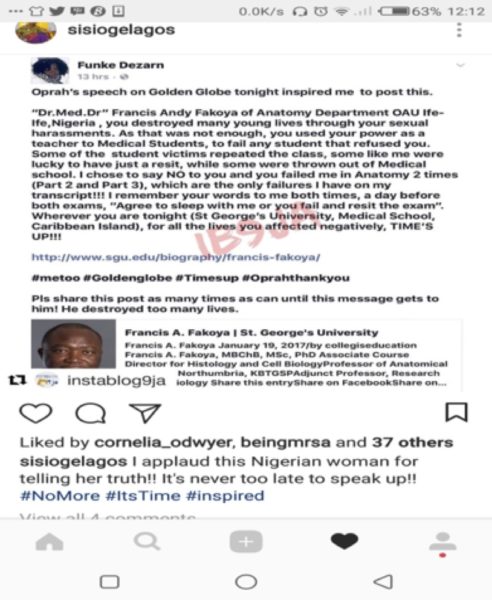 #ItsTime for Nigerian women to stand up to the predators and their collaborators. And for the good men to resist and police their fellow men and say, #ItsTime their brothers stop violating their daughters, sister, friends, lovers, wives and colleagues. #ItsTime to have that talk of discomfort so we can get to a place of comfort. It's time to become #TroubleMakersOfChange.
Yes Oprah spoke, she spoke for women, yes, but she can't possibly speak for us as Nigerian women, or as African Women because our problems exist in this land, on this continent! We are our sisters' keepers. We just need to join hands and join voices. I have not been afraid to speak my truth; others have also broken the silence of fear by speaking theirs. I hope this will encourage many more to come and join this growing collective. I know there are many of you out there, don't be afraid to join us. There are more of us than there are of them, so let's be a force to be feared. Let's root out the preys in our society.
We can no longer sweep this under the mat. 'Likes' and 'Retweets' can't alter the status quo, only conversations can amplify the voice of the silenced and only committed action can bring about the change we so desperately need. This is not a struggle for today, a protest of one month or a petition of one year. It will require our tenacity, repetition, determination and resolve until it stops. But ultimately it will be worth all the effort!
I am willing to continue this journey, but it's easy to get tired on a lonely journey. So imagine the mountain we can move together!
Say #NoMore to sexual harassment and assault in Nigeria. #ItsTime to call it what it is; #SHAME