#BBNaija – Day 6: Saturday Turn Up, Pairing or Coupling? + More Exciting Highlights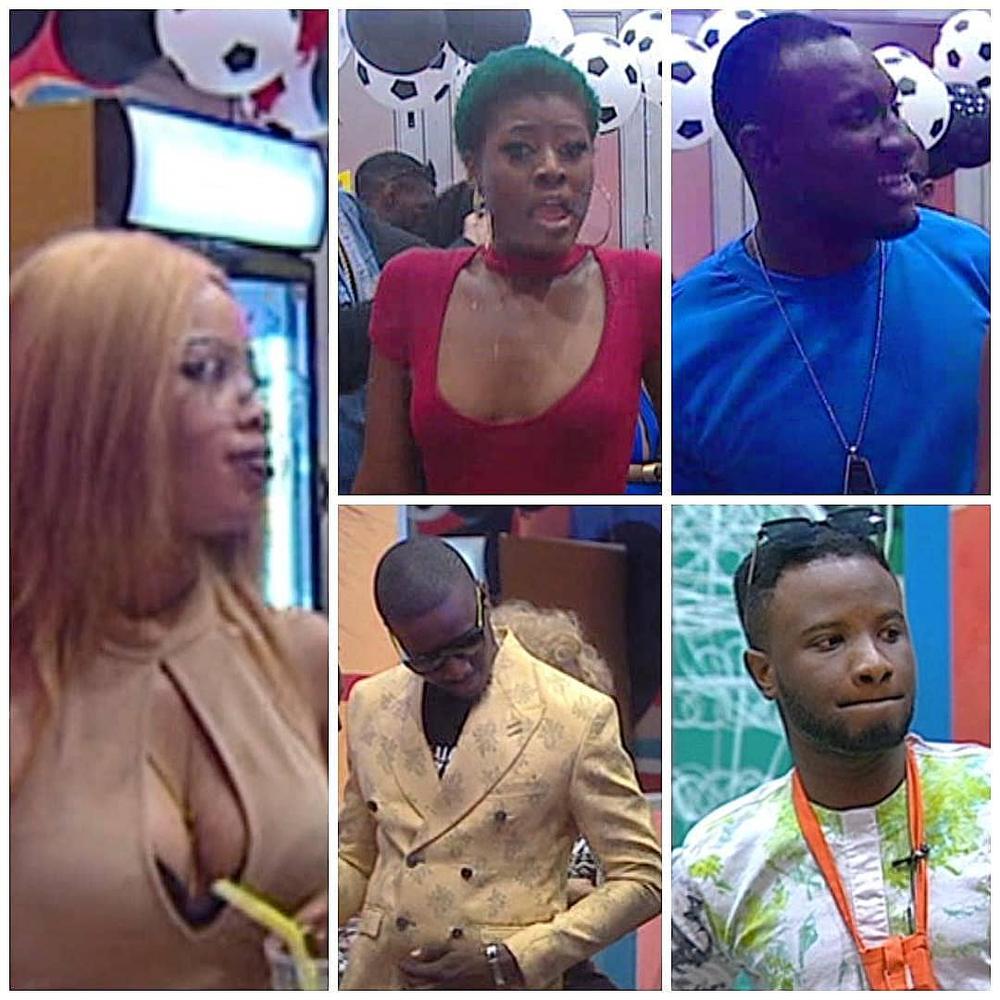 Did you watch day 6 of the Big Brother Naija 3 reality show?
If you missed it, we've got the highlights for you!
..
Double Wahala much?!
Let's say it together, 'drama'. That's exactly what the housemates have pulled out of their cooking pots and we'd all need a proper 'siddon' session to digest it all.
So, it was of course all good and merry when Bitto managed to pull the carpet from under all of their feet and win the very first Payporte Friday night arena games, but the housemates proved not to be sore losers; moving along swiftly to the Angel's melodic strings and Rico Swavey's sweet echoes and turning up the volume with their 'Kiss, Date or Marry' game. On this note, tge pairs seem to be getting cozy and we're beginning to wonder if the narrative has changed to 'coupling'. We foresee sparks and glowing splinter. Thank us later.
Noticed just how isolated Khloe was? After the dramatic stunts she's been pulling lately, the other housemates seem like they are not having any more of it.
We can't help but dip our curious fingers into this pepper, Tobi and Cee-C. While everyone else grouped and conversed away, they seemed to only enjoy their own company; even mentioning just how they seem to be 'IQ buddies' or should we say 'Einstein couple'?!
Talking about couples, Bitto is just the kind of turtle that lives fearlessly outside its shell. He smoothly maneuvered his way into getting Anto's attention; caressing her and all but he got a palm slap real quick. We wonder just how many of the ladies he'll try to 'charm' into his arms till he hits the jackpot.
We guess it's safe to say that if wahala was a meal, we'd have it for breakfast, lunch and dinner.
Pairing or Coupling?
If Big Brother was a book, the chapters would be endless because the themes explored are so many that we'd have one for each day of the year. You know the saying "a day is like a thousand years and a thousand years are like a day'? This is literally the reality in the House. Like the month of January, days seem to have amplified versions of themselves.
The Housemates are steadily getting used to their surroundings and seem to be oblivious to the fact that they're under constant scrutiny. This makes us wonder if they're still aware that the purpose of the pairing was primarily for the game because they seem to be more that strategically involved. Have they even started mapping out their strategies?!
We all remember that they had absolutely no idea they'd be paired, so one would guess that the selection process although overwhelming, was pretty random; or maybe that's what we're lead to believe.
We can't deny the fact that the Big Brother House is spotting some lookers on that 'fine ghel, fine boi' tip; so we wouldn't be completely wrong to assume that the selection process was attraction based. Like, when taking a closer look at the pairs, we can tell that there is a pinch of a kind of interest that extends far beyond the game. It's like they were 'pre-paired' to pair; ambiguity much?
From Tobi having chosen Cee-C to join him in the luxury room to him being chosen back, it's almost too obvious that Tobi is head over heels for Cee-C. We could be wrong though because Cee-C seems to have her eyeballs set on Teddy A. On the other hand, we have Nina and Miracle locking lips and throwing away the key just hours into the game and later pairing up. Could this be Miracle's way of accomplishing his mission? Remember, he said he was here to cause "chaos" between the ladies. Whatever the case may be, we smell romance.
Although it was rocky at first, Ahneeka and Rico Swavey seem to be getting along just fine and don't get us started on K_Square; this pair had a crash course from cupid.
Nonetheless, We are only 6 days into the game, so the other pairs are bound to catch on and 'catch feels'.
Saturday Turn Up
Everyone loves a good turn up and the Housemates are no different. Tonight has proved that Naija vibes are the best vibes. From the fashion and dance moves to the fashion and general attitude, everything and everyone was just on high frequency.
The preparation
Tonight's party theme was "freestyle" and Biggie gave the Housemates free rein to decorate the party room and everyone got into it. There was a good energy all around; Miracle, Cee-C and Tobi were coordinating dance moves in the garden, Vandora and Alex were twerking inside and even Nina was getting into the swing of things, practicing her moves in the mirror.
The Fashion
The mood moved from good to great in a hot second when Biggie announced that the Housemates could go wild in the Payporte closet. From Leo's yellow double breasted dinner jacket to Cee-C's sequin bodycon, everyone did a full transformation and went in peacock mode. Rico went for a 90s vibes while Miracle looked super chic and slick in a Burberry shirt, Alex was super sexy in a red jumpsuit and BamBam looked elegant as ever in a royal blue dress. Nina and Vandora were almost unrecognizable in blonde wigs while Khloe went for a much more serious look in all black. All in all, everyone put their best fashion foot forward and had fun with it.
The party
With DJ Snipes on the decks playing the hottest in Naija jams, everyone was feeling the music in a big way. Alex was definitely the star of the dance floor, flexing her moves and showing her confidence as she broke it down and didn't slow down for a minute. Cee-C and Tobi looked like an advertisement. They were so perfect together on the dance floor, syncing their moves in perfect harmony and matching outfits. Vandora absolutely slayed it on the dance floor which was quite surprising as she is usually more reserved. Leo was strutting his stuff like no other and BamBam was having her own party outside. Miracle however, didn't really dance at all which was a bizarre twist as he has been effortlessly showing his style and swag in the garden earlier in the afternoon. Anto was also just killing it with her coolness and sense of self.
Flirtation
Khloe and K.Brule got extremely close during the party, even though they were both seen dancing with other people. Cee-C and Tobi were glued to each other throughout, Bitto was grinding with both Princess and BamBam. Nina and Miracle spent some time together on the dance floor but other than that, the Housemates were more in the mood to just have a good time and dance. It was clear though, that all the moving and shaking definitely brought everyone closer and left them on cloud nine afterward.
What did you guys think of the first turn up in the House?
***
Have you been watching? What did you think of the Day 6 activities?