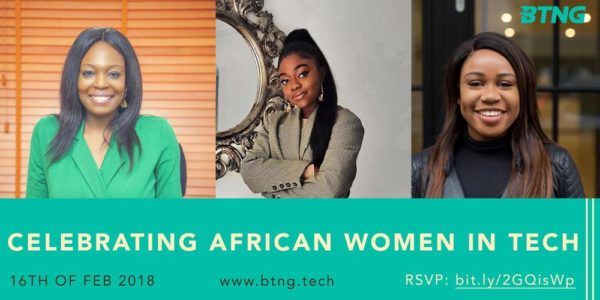 BTNG warmly invites you to our 8th event themed Celebrating African Women in Tech on Friday 16th of February.
The event is part of our activities towards the International Women's day celebrations. We will be spending quality time in a panel discussion with three amazing ladies exploring the strengths, challenges, and experience of being a woman in Tech and of course; Nigerian entrepreneurs. Our panelists are:
Aramide Abe, CEO and Founder of Naija Startups. Naija Startups is an online community of entrepreneurs and business owners. Aramide is the kind of person you really should listen to. She grew Naija Startups all by herself from an Instagram page to a full-fledged community.
Fisayo Longe is the Founder of Kaicollective, a clothing brand that specialises in affordable womenswear clothing with luxury aesthetics. She is also a renowned blogger providing insights on fashion, travel and personal development.
Simi Awokoya is a software engineer by day and doubles running Witty Careers, a mentoring platform helping Black & Minority women secure jobs in the Technology Sector. She is also the co-founder of Wavemakers, a personal development community for millennials.
Registration: Get your tickets here
Date: Friday, February 16th, 2018.
Time: 18:00–21:00 BST [Add to calendar]
Venue: Work.Life Camden, 13 Hawley Cres London NW1 8NP
Look forward to seeing you — don't forget to get your tickets here.
_____________________________________________________________________________
This content has been published for free as part of BellaNaija.com's commitment to youth, education, healthcare and community development as part of our corporate social responsibility programme.