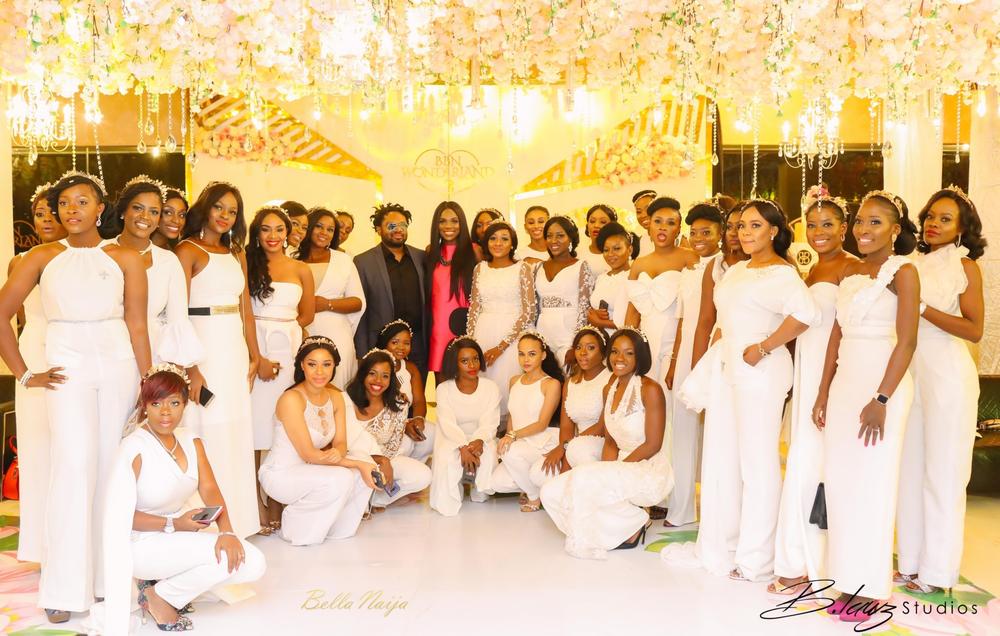 Friendships formed! Moments shared! Cheers to BBN Wonderland!
It was a fantastic weekend for brides-to-be from all over Nigeria. Launched in 2015, #BBNWonderland by Baileys Nigeria and BellaNaija Weddings is the premier bridal experience in Nigeria. As promised, 30 brides-to-be are selected from entries from all over the country. The brides-to-be were joined by 5 brand affiliates.
Let's give you a little back story of how this year's event started.
Earlier in January, we put out a call for grooms-to-be to apply for their brides-to-be to be part of BBN Wonderland. To enter, the groom had to create a cocktail inspired be his bride and post it on social media or send the response via mail.We got hundreds of amazing responses which made it so difficult to choose from. The grooms went all out!  Like Bolu's fiance who tagged his Baileys inspired cocktail The Mint Creamy Cherry. Yum! Here is how he described it.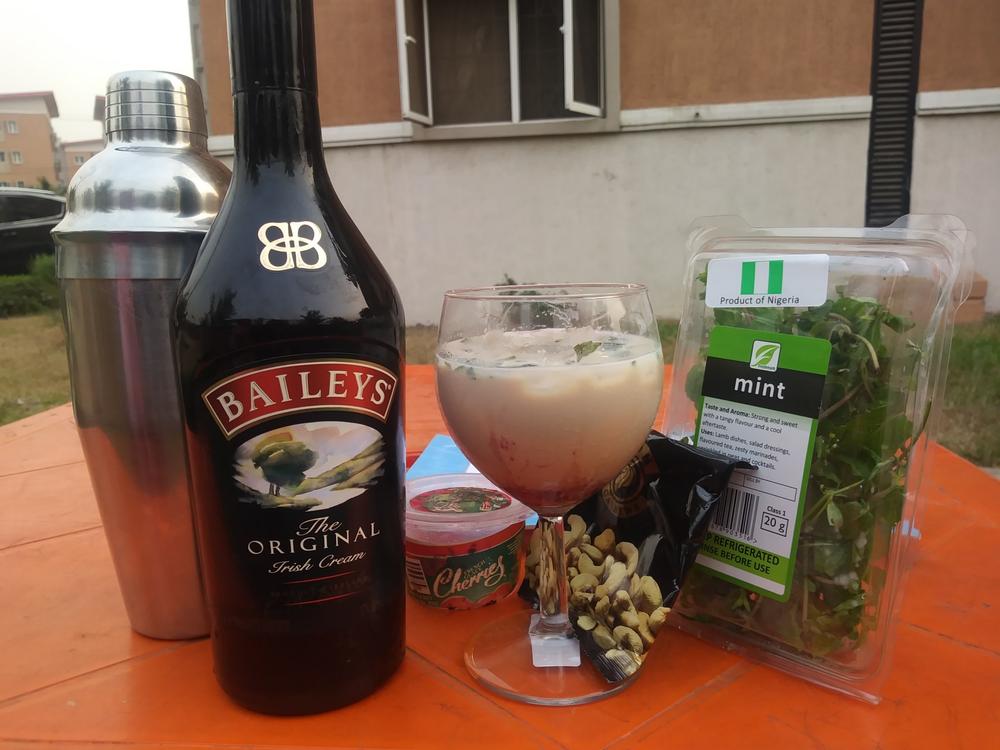 Words are actually not enough to describe #MyBella Tife (@Bolusucre) one whose love is creamy and original, also fun and flirty like the Baileys Irish Cream.
Now for my mix.
I have here
– Baileys 
– Mint Leaves
– Little crushed fruits
– Cherry coulis
– Crushed cashew nuts
– Crushed ice
So, I'll call my Baileys inspired cocktail "the Mint Creamy Cherry". Life with #MyBella is filled with so much goodness, mixed with a little intoxication, we know Baileys is sweet and rich with its creamy goodness… 
She is something different from the rest I must tell you! Special in every way, just as Mint Leaves are unique for cocktails so is the LOVE OF MY LIFE.
Ever since we started this journey to forever, she has always added colours to my life like the cherry coulis and the mixed fruits. 
One would wonder Cashew nut? Trust me her "nut'iness" is next to none *winks*
The Process
– Put mint leaves with little brown sugar in a shaker muddled together
– Pour in Baileys and ice and shake for like 30secs 
– Pour your coulis first into the glassware followed by the Baileys Irish Cream mix 
– Garnish with crushed nuts and a cherry on top (I was blessed with everything you could ever need in a woman with an extra cherry on top)
Does she deserve to be part of this exciting trill and Ultimate experience, Yesssssss!!! because she has always wanted this bachelorette fairytale getaway experience and it would mean the world to her, which would bring all the happiness and glow.  Truly her happiness is all that matters to me.
We also loved how Ifechi's fiance described his Baileys inspired cocktail.
All the applications made us smile from ear to ear. So sweet.
Now, it was time to send the brides-to-be who got selected their invitation for BBN Wonderland. Each bride was invited to take part in this wonderland journey with a delicious ivory and gold drip Baileys inspired cake by
Bakendale's Cakes
.
When the brides-to-be got their sweet invitation, they had nothing but joy and excitement.
Let's take a short break to tell you about the very special moments the #BBNWonderland team created this year. Many asked us the story behind our theme – For the Love of Weddings.
Rather than explain with words, we showed it with actions in a major way! #BBN3FortheLoveofWeddings was all about those treasured, timeless moments before and after "I Do" filled with love and indulged by Baileys.
Let's start my telling you about our #BBNWonderland Proposal which had Femi propose to the love of his life Lizzy.  We wrote all about it here. The #BBNWonderland team created Femi and Elizabeth's #BBN3FortheLoveofWeddings moment by planning an AMAZING surprise marriage proposal. See the full story of how we brought the couple's dream to life here.

Did we mention we organised a flash mob to surprise lifestyle blogger Sisi Yemmie? Ok, let's tell you the full story here. We plotted with Yomi popularly known as Bobo to give his amazing wife an experience of a lifetime indulged with Baileys.
On the day of the surprise, Sisi Yemmie was tricked into going for a meeting with Founder of BellaNaija Uche Pedro. She got headed to the Ikeja City Mall. In her usual lifestyle blogging fashion, she saw a flash mob taking place and started recording it.  In less than a few minutes, her husband Bobo appeared from the crowd and yes you can guess what happened next … She was so shocked and excited at the same time. After she was told what really happened, they both enjoyed their Baileys and Baileys infused treats including Ice Cream. All this was done For The Love of Weddings. See More here.
Photography: @blawzstudios | @Ipinayo | @tcdweddings
Ok, let's go back to the flow of events.
Arrival 
When the brides arrived at Eko Hotel, which was going to be their home for the weekend, they were greeted with a fluffy teddy bear from Baileys and a welcome note.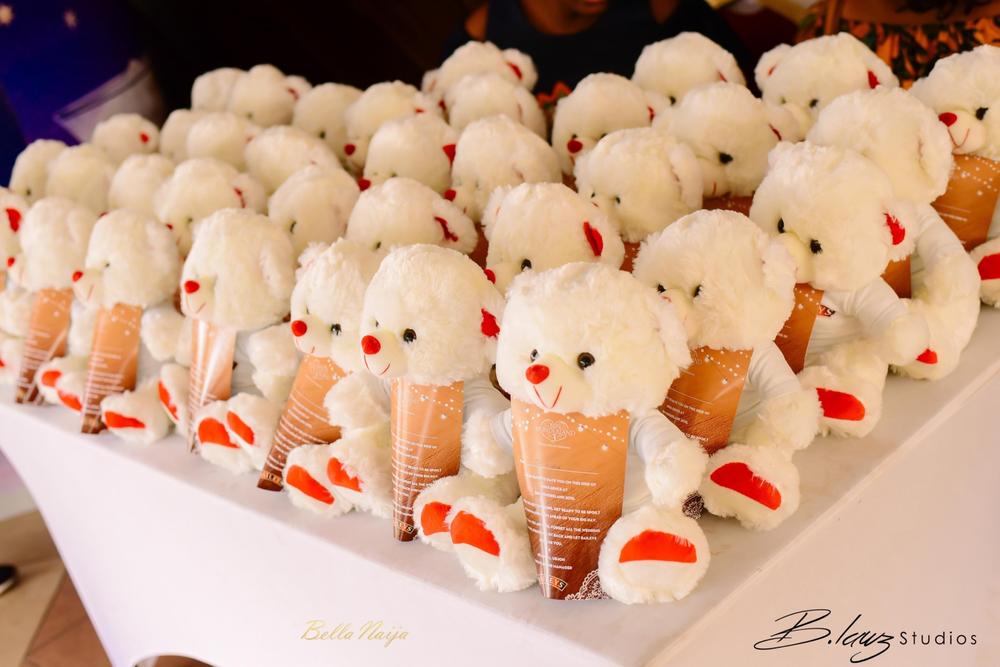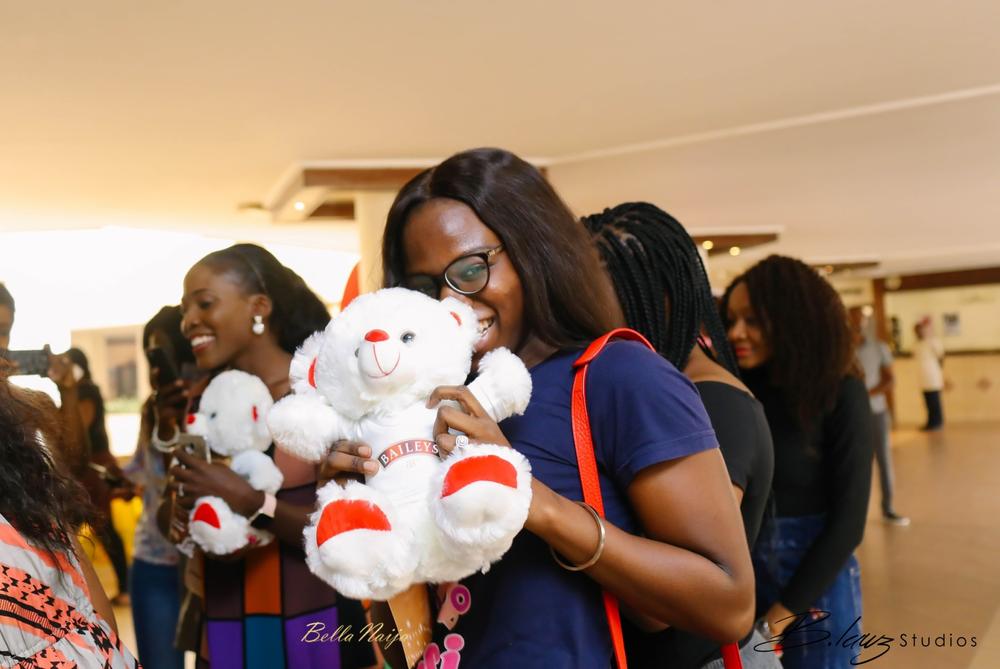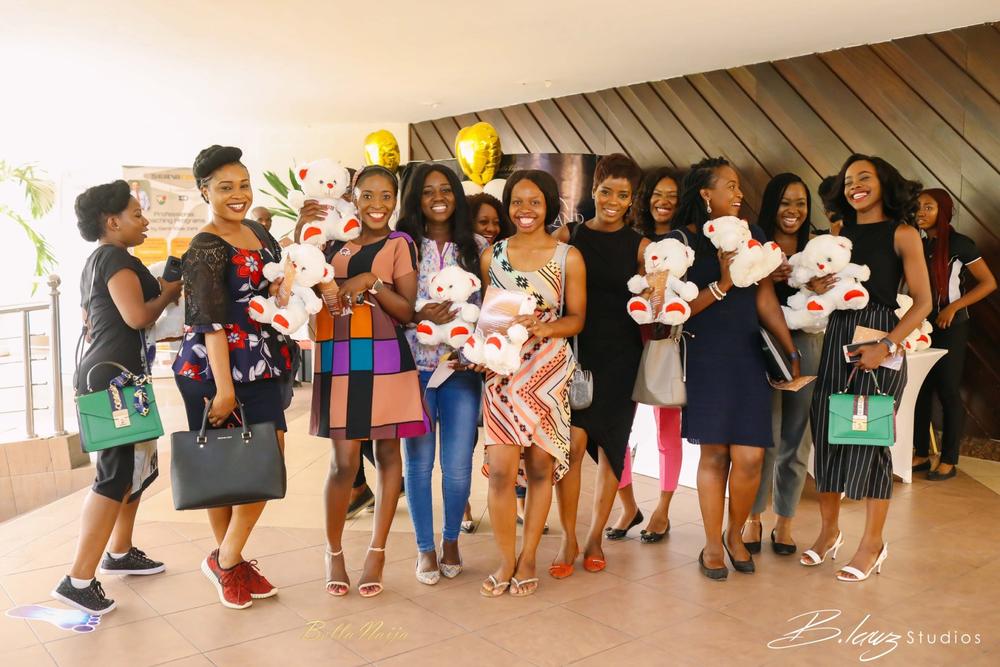 They were later ushered into their room where they met a surprise personalized #BBNWonderland Welcome Tote and Pillow along with a golden balloon and fresh flowers sitting pretty in their hotel rooms.
Our BBNWonderland brides also got to meet their roommates. The addition of the roommate element was based on feedback from previous seasons and we are so glad we listened. Flash forward to the end of the weekend, many ladies testified that it was a case of "friend at first sight" with the fellow bride-to-be they shared a room with.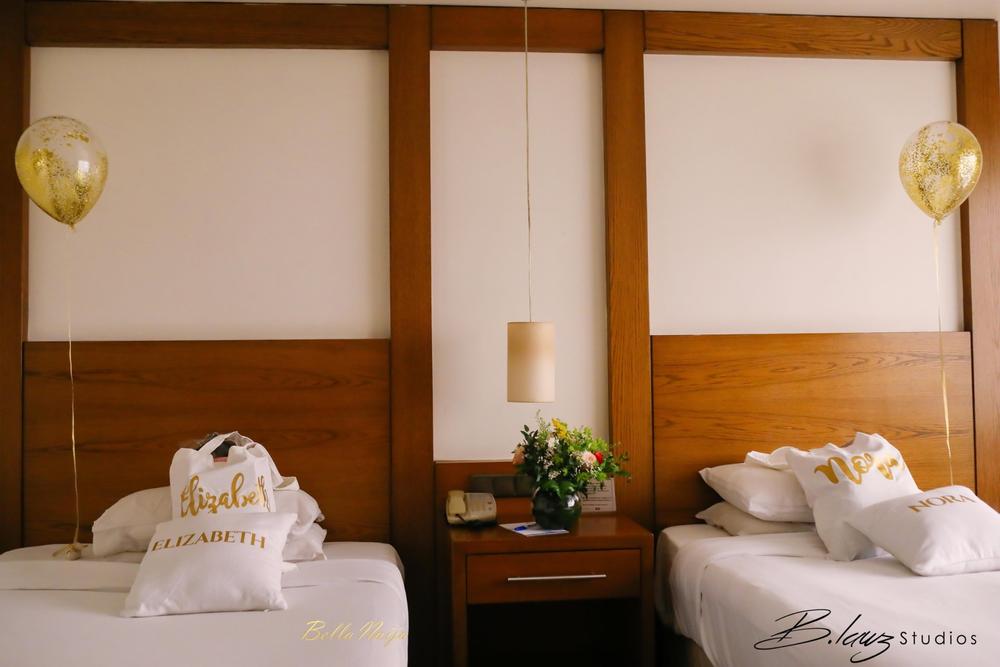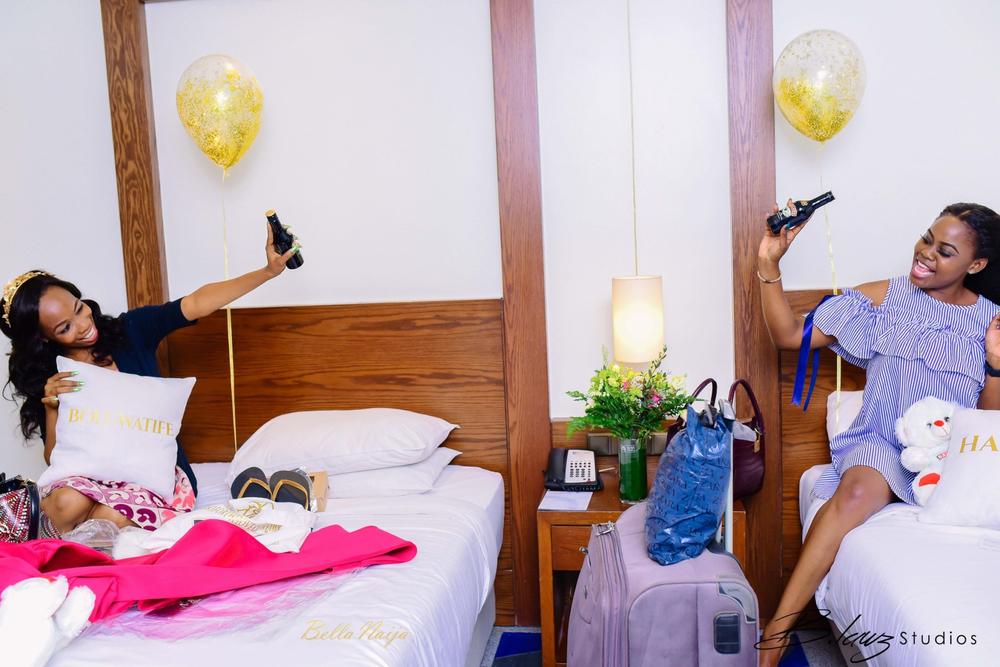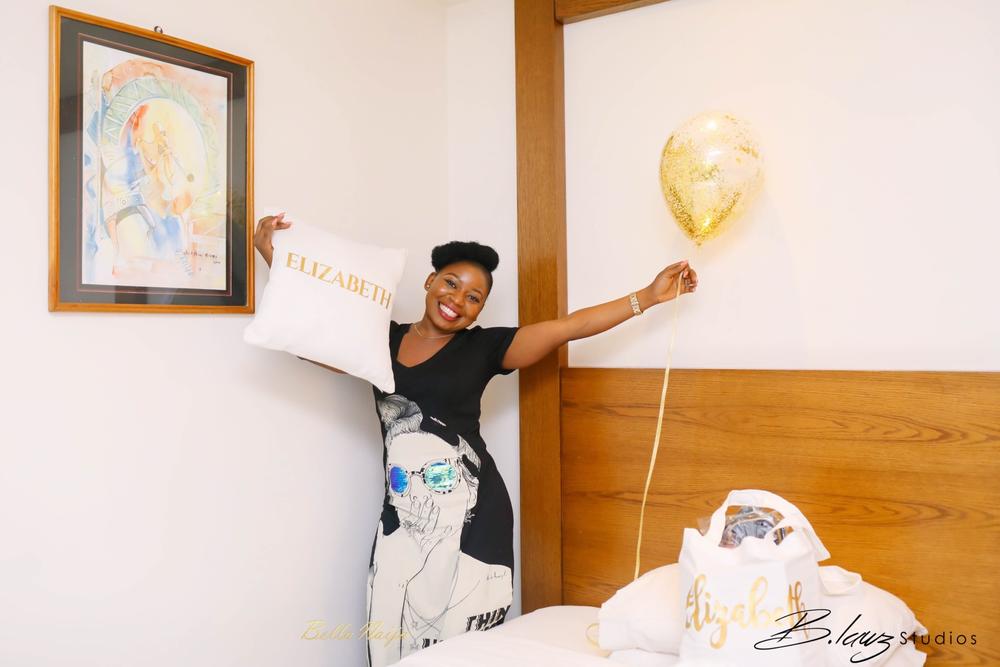 A Slumber Party to Remember
The weekend kicked off with a slumber party for the brides-to-be at Eko Hotel which was dubbed by them as the Ultimate Bridal Shower. So cool! See all the amazing activities that happened here.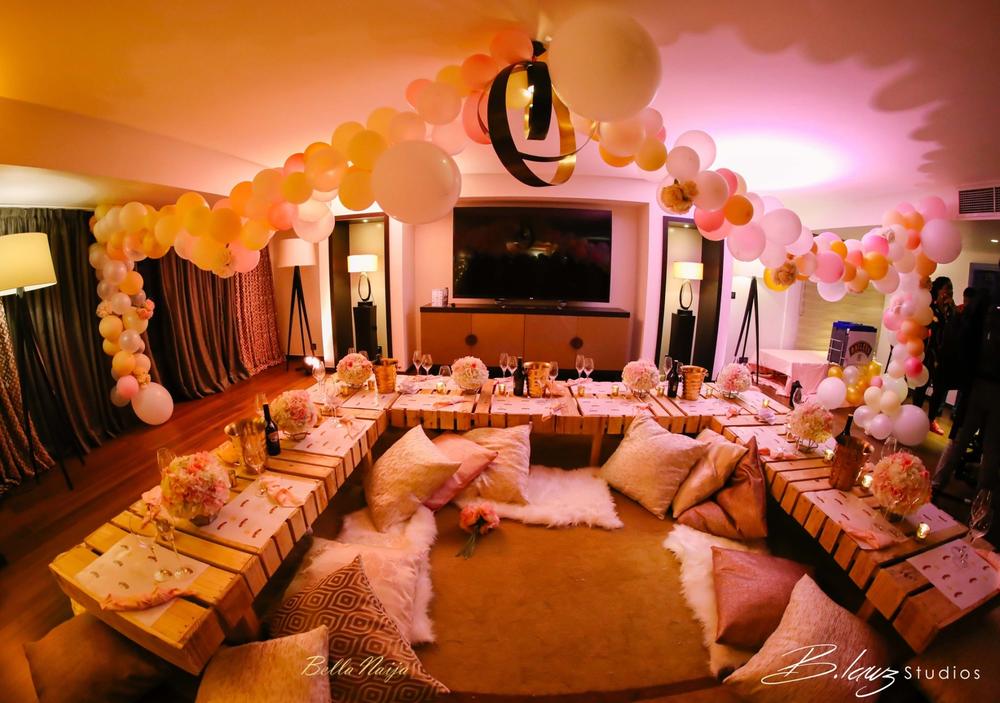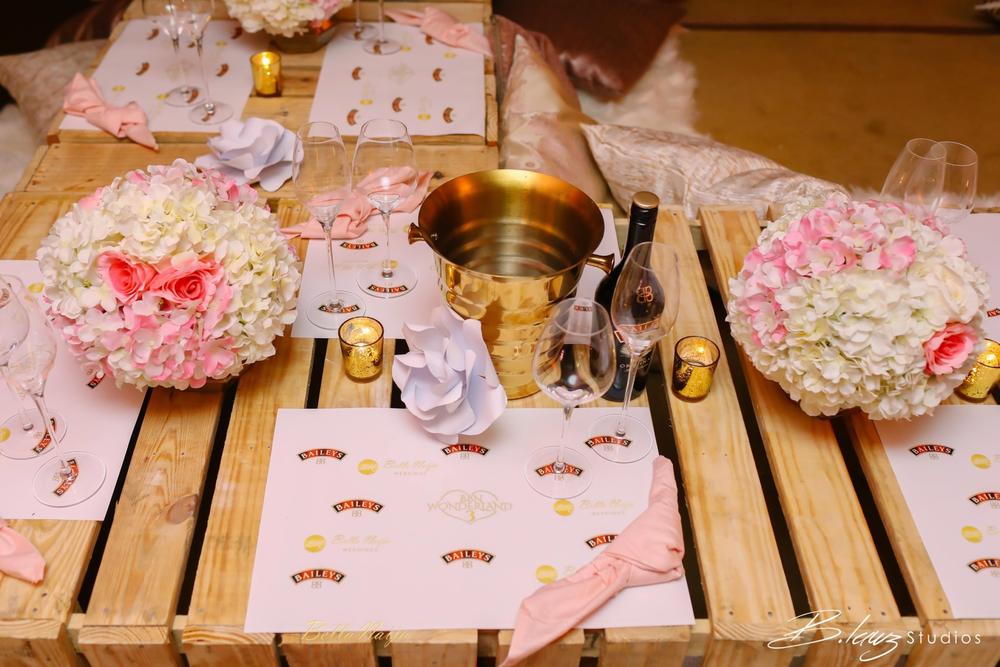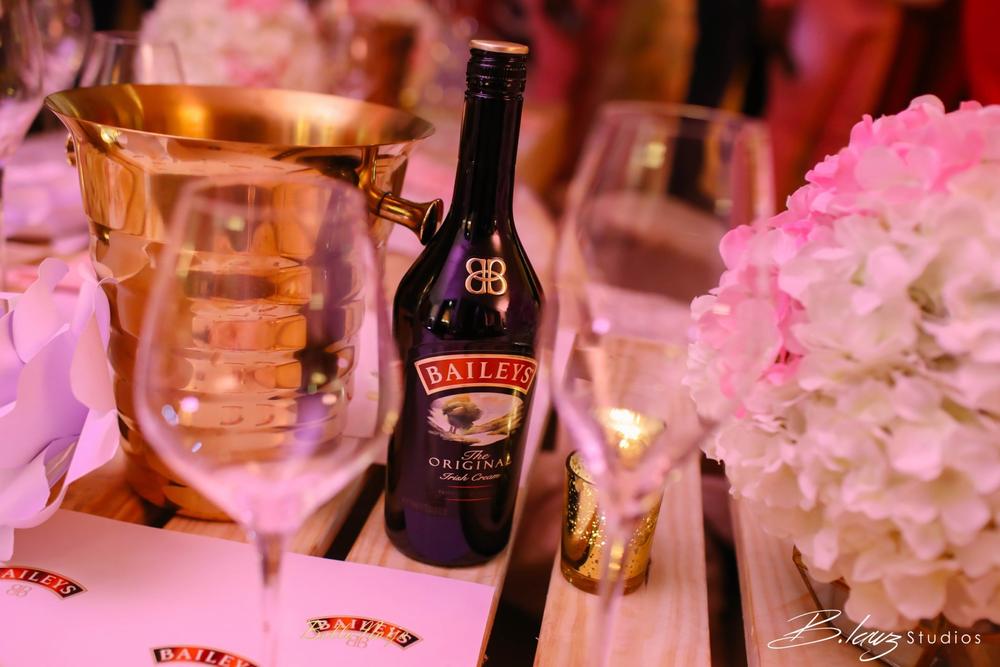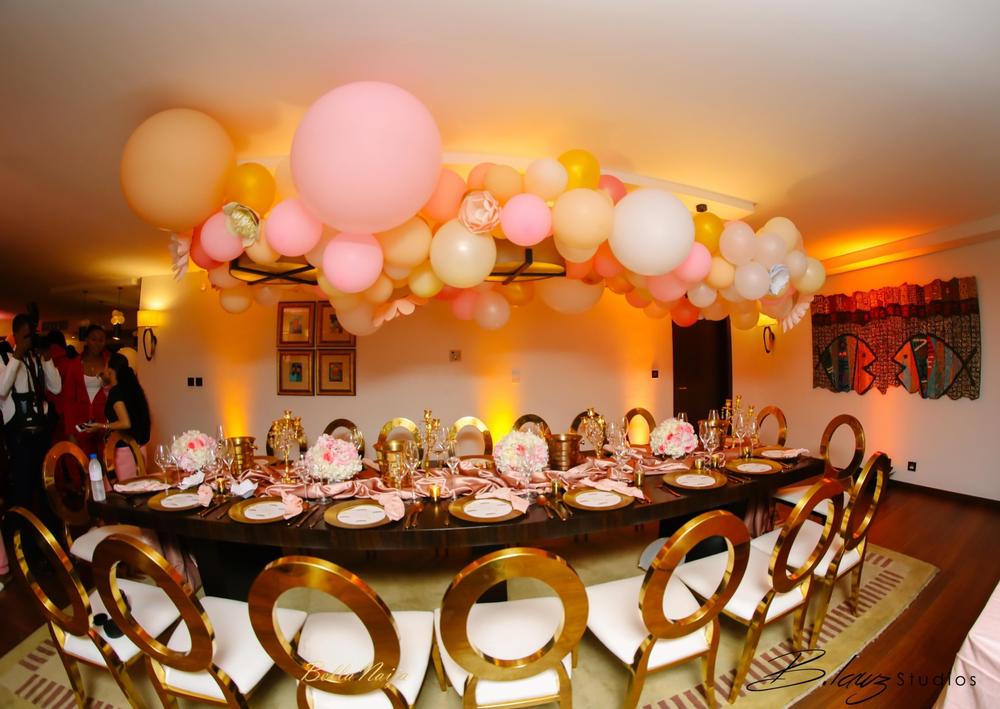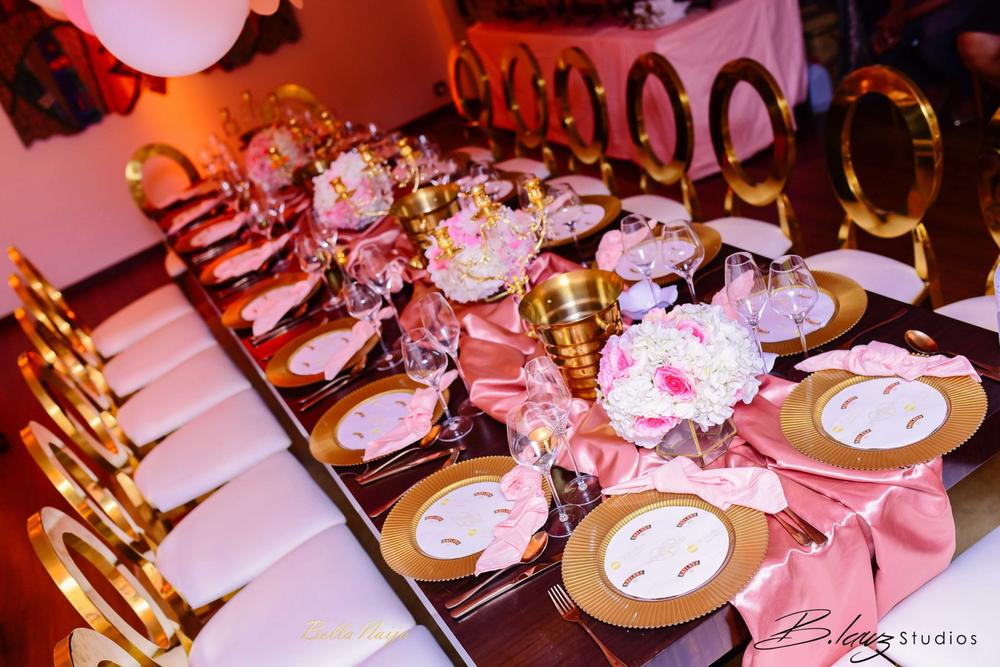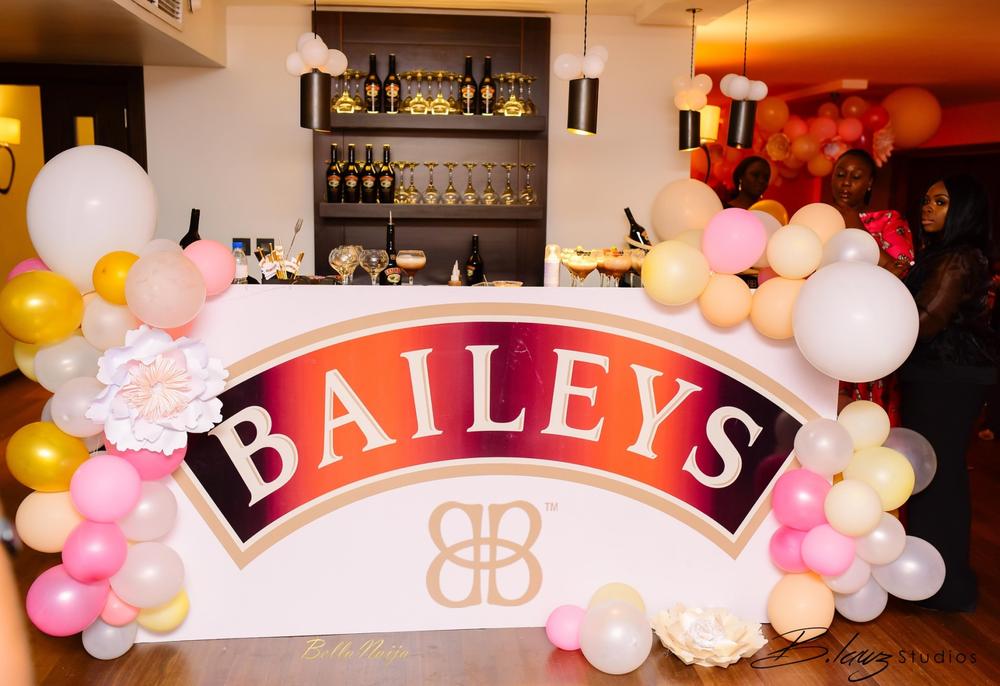 Our dessert table by Dessert Studio was oh so yummy!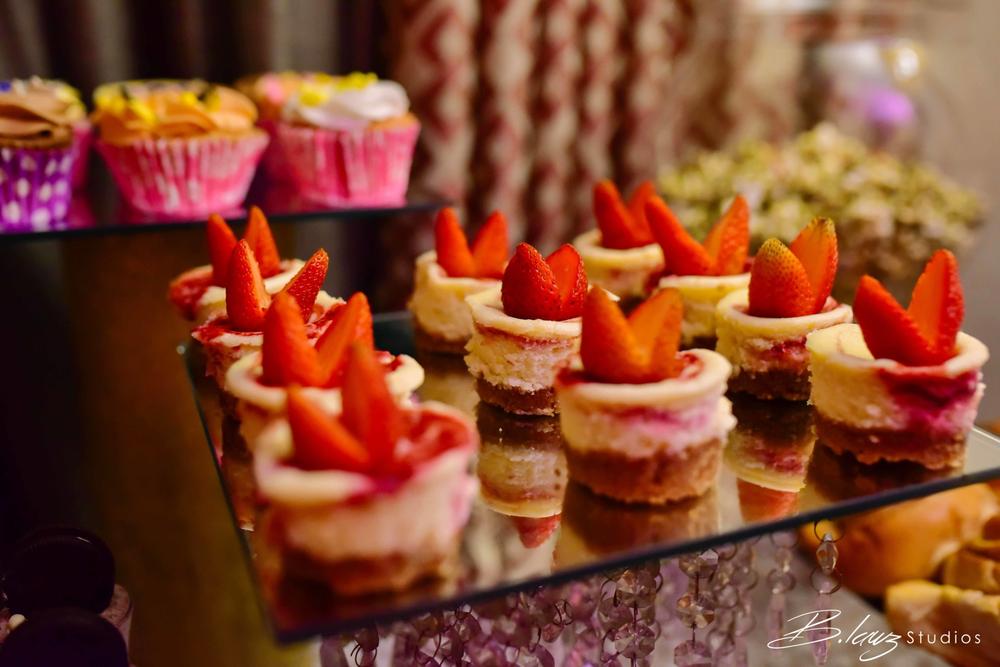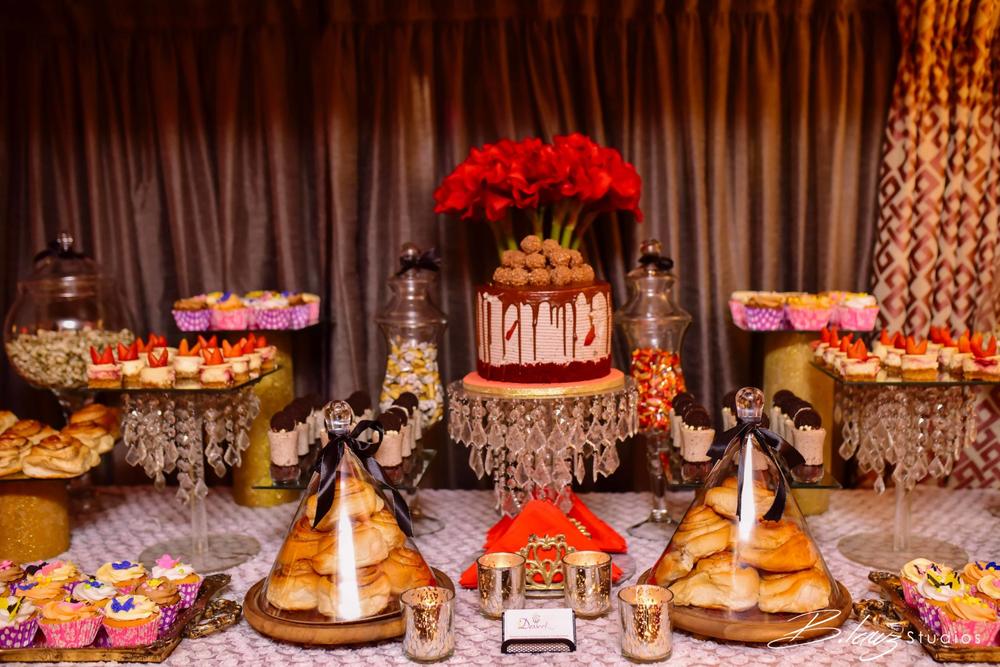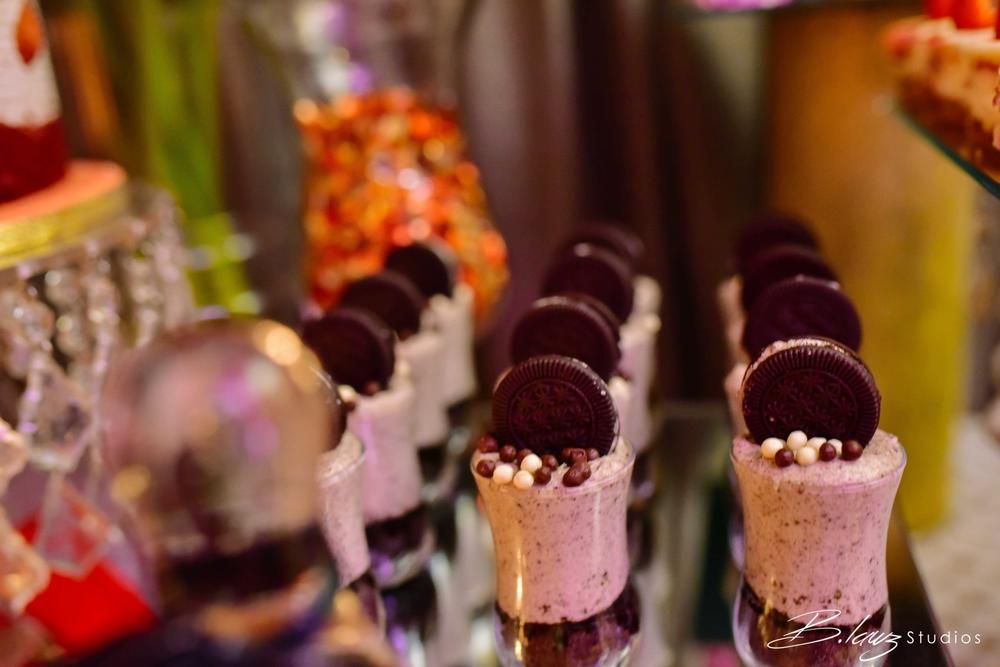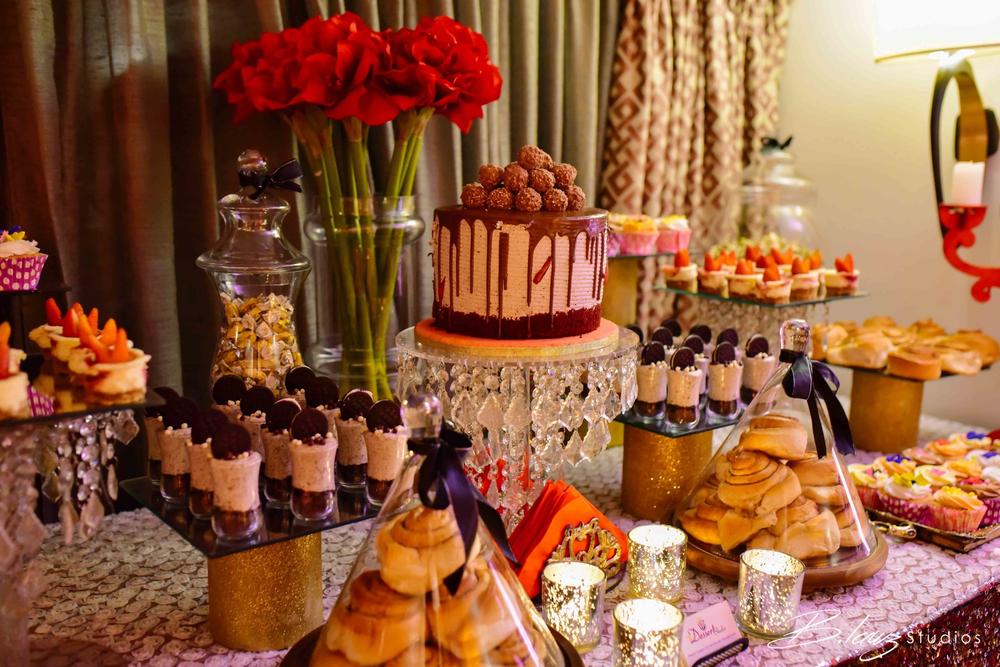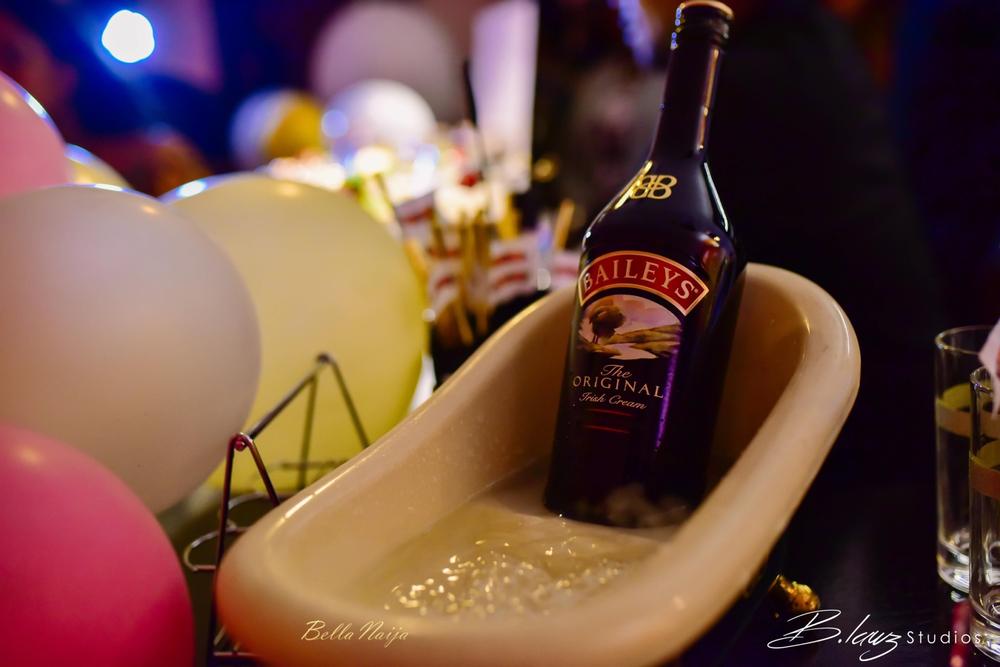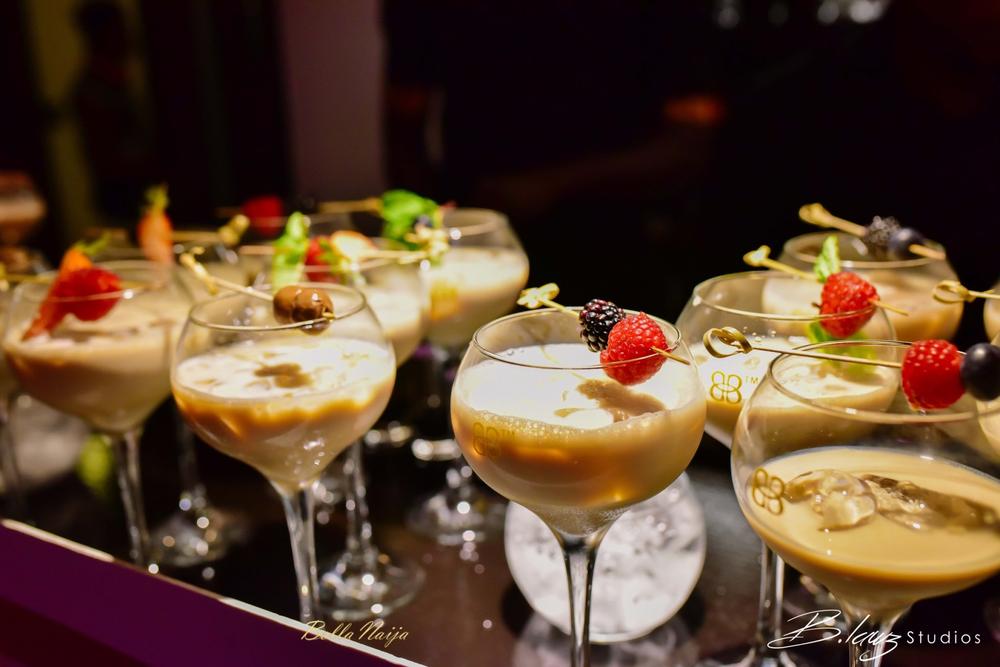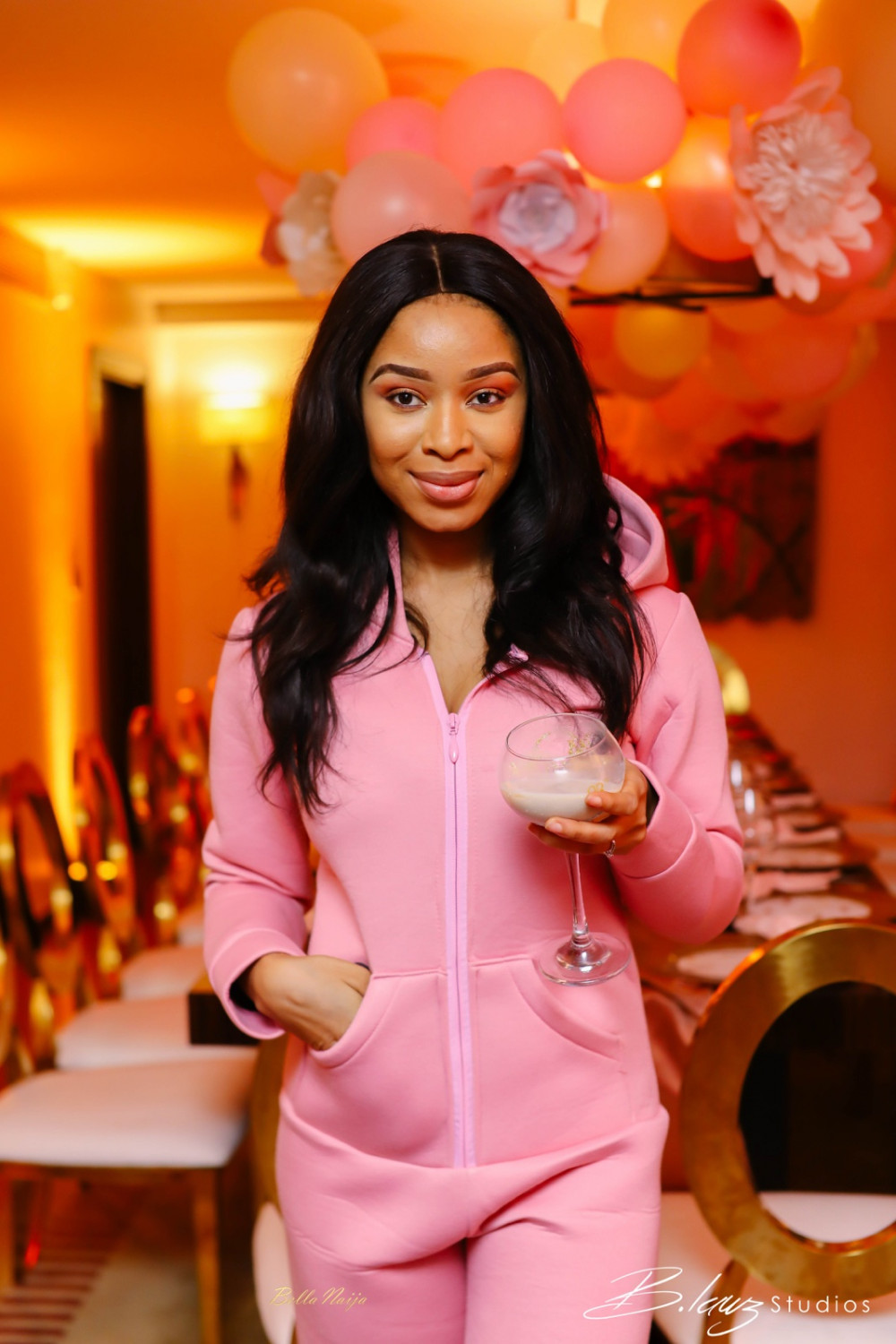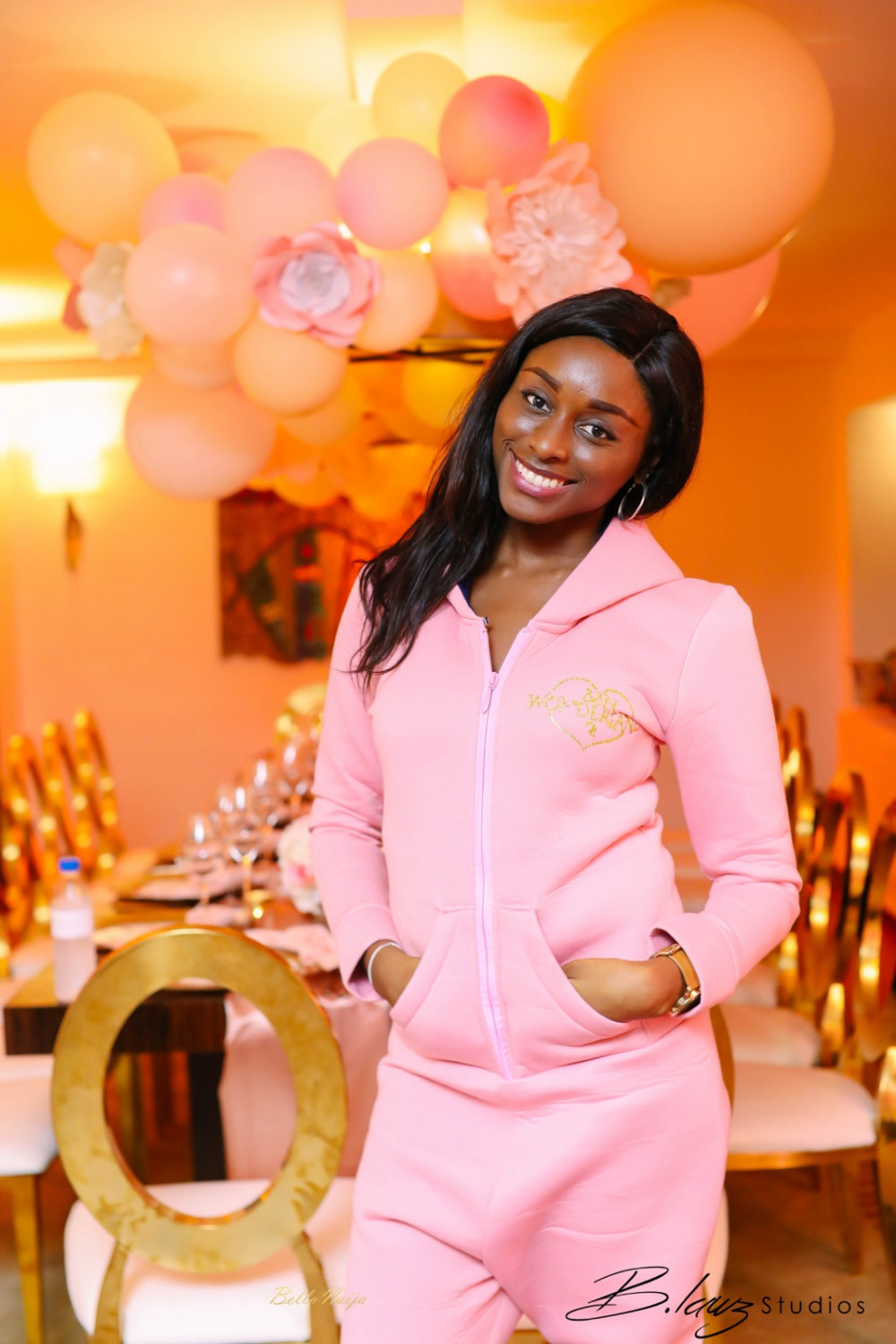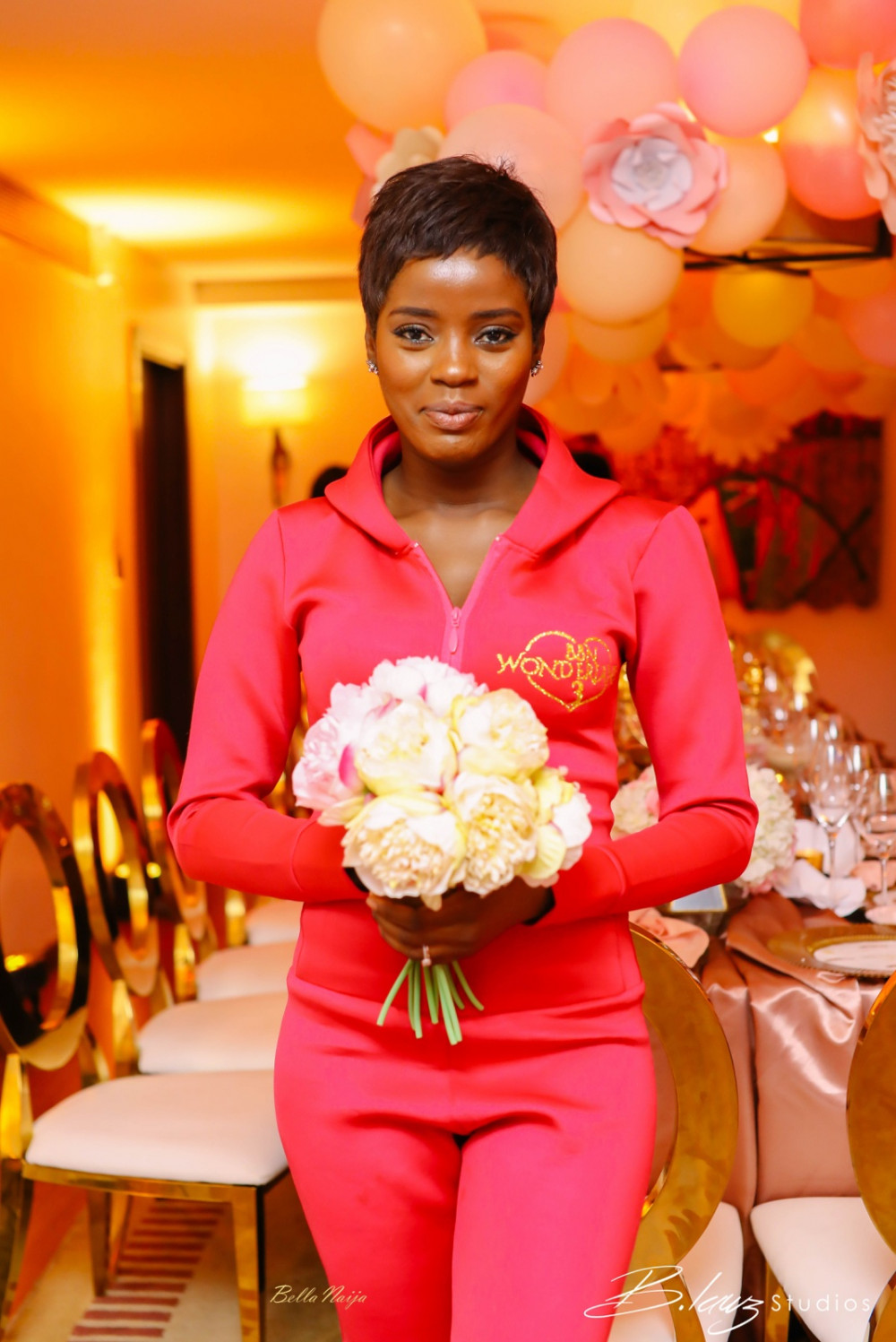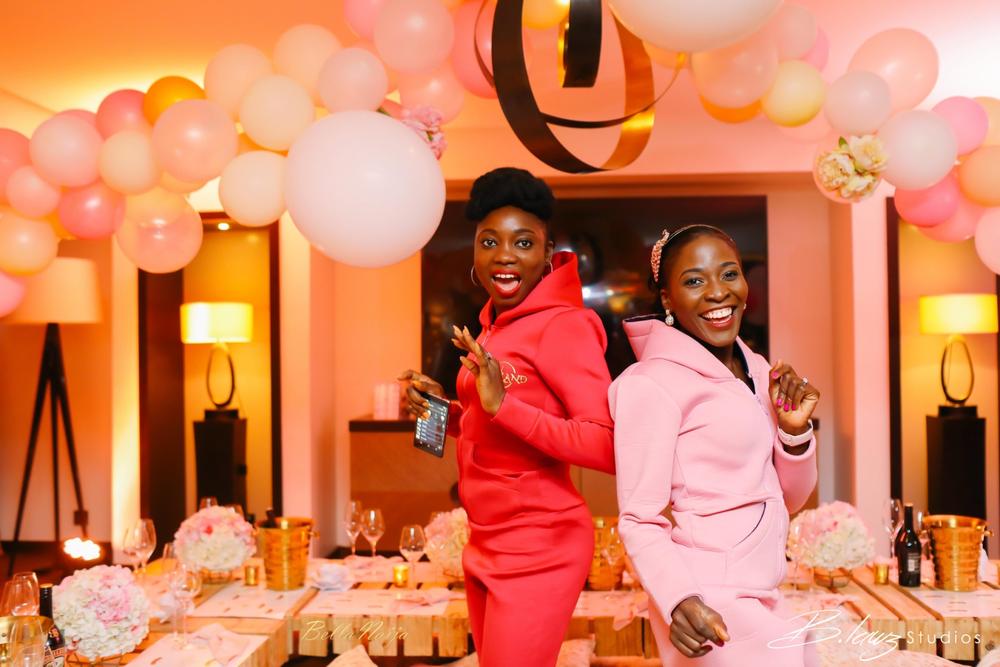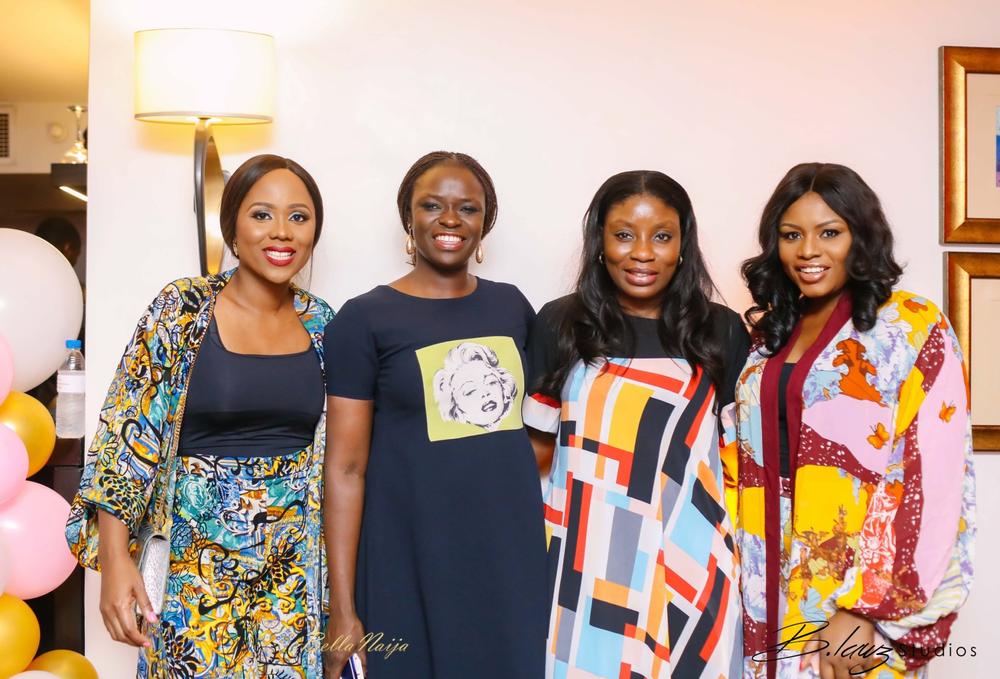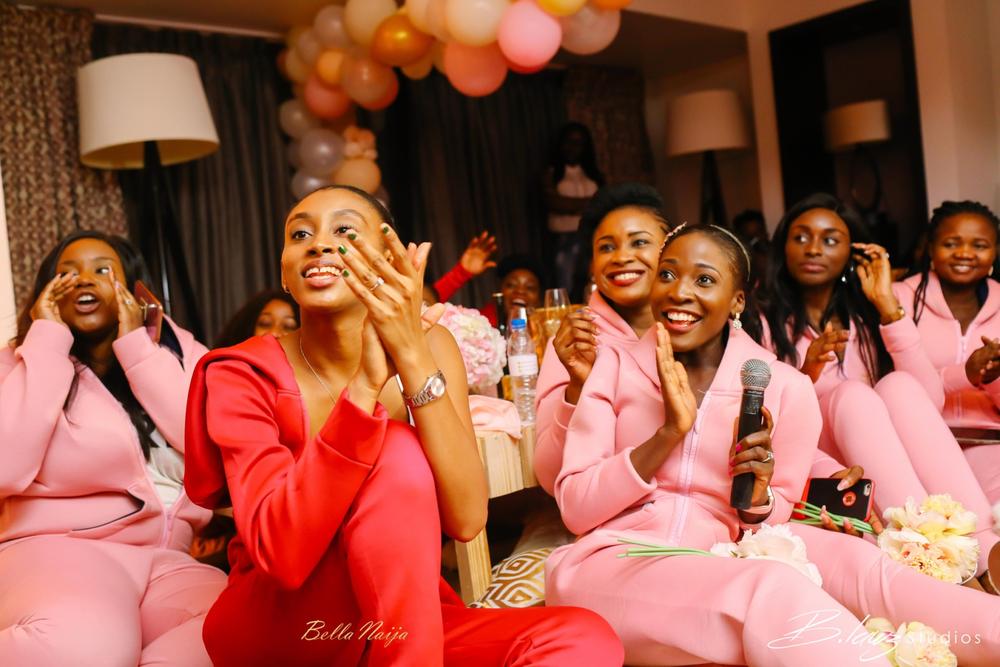 The brides took Baileys mixology classes with Lara of Eventi Cocktails. They were told to create a unique self-inspired Baileys cocktail.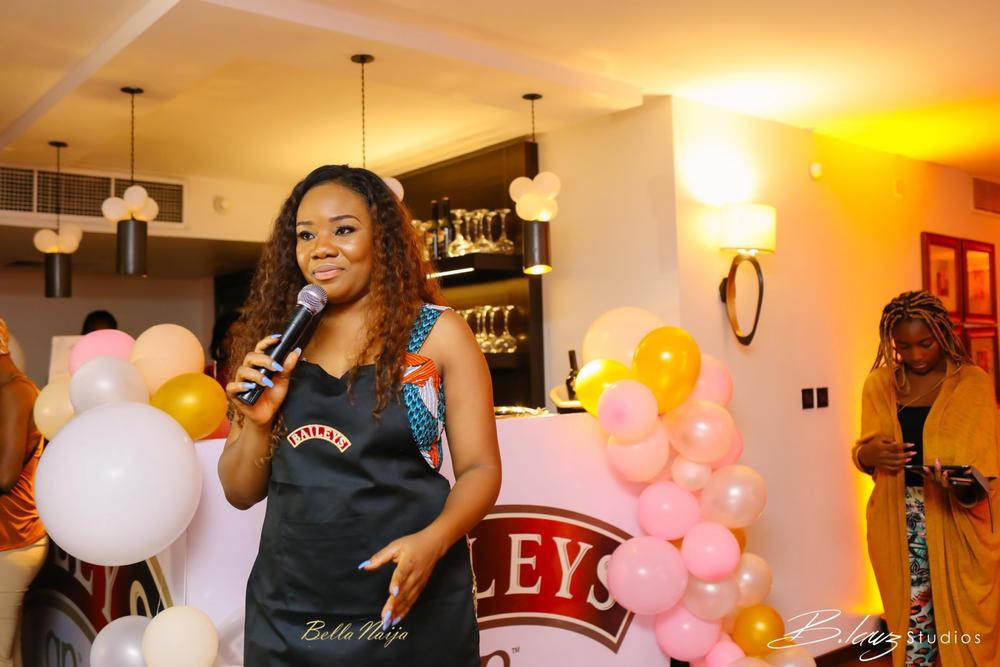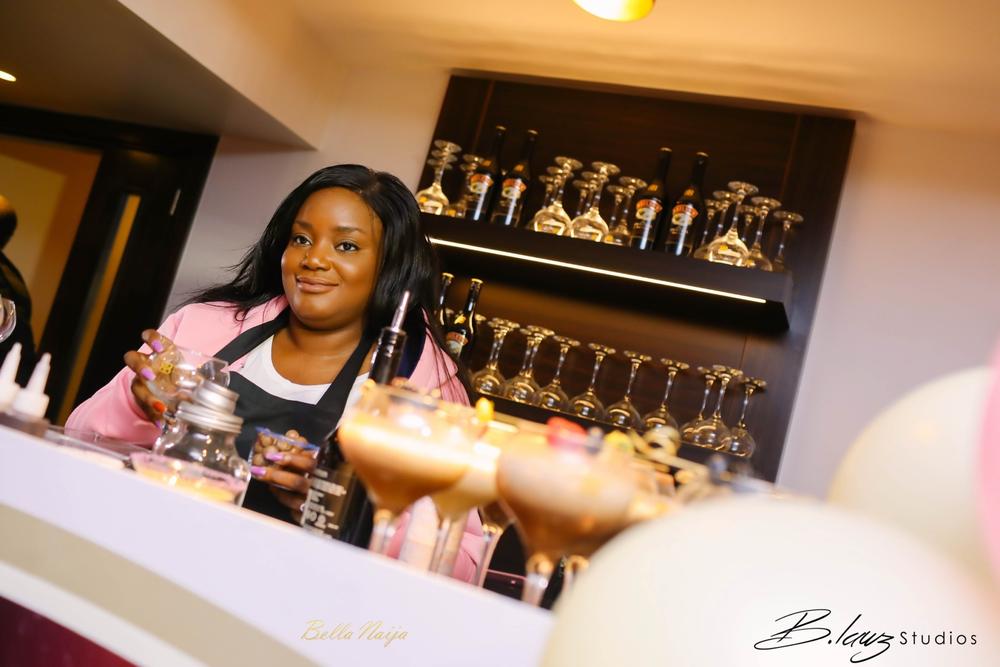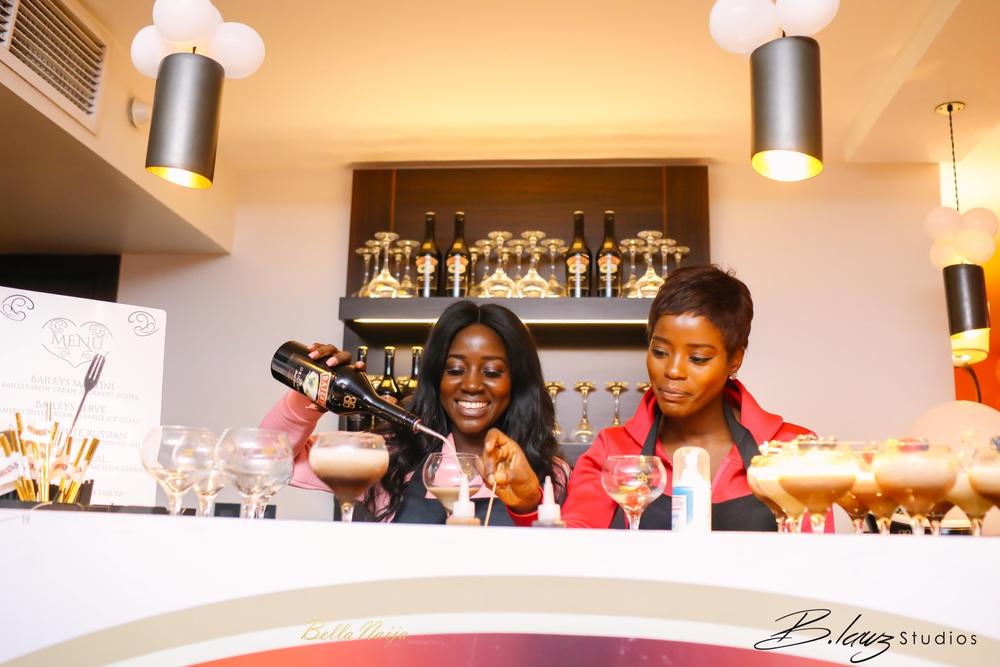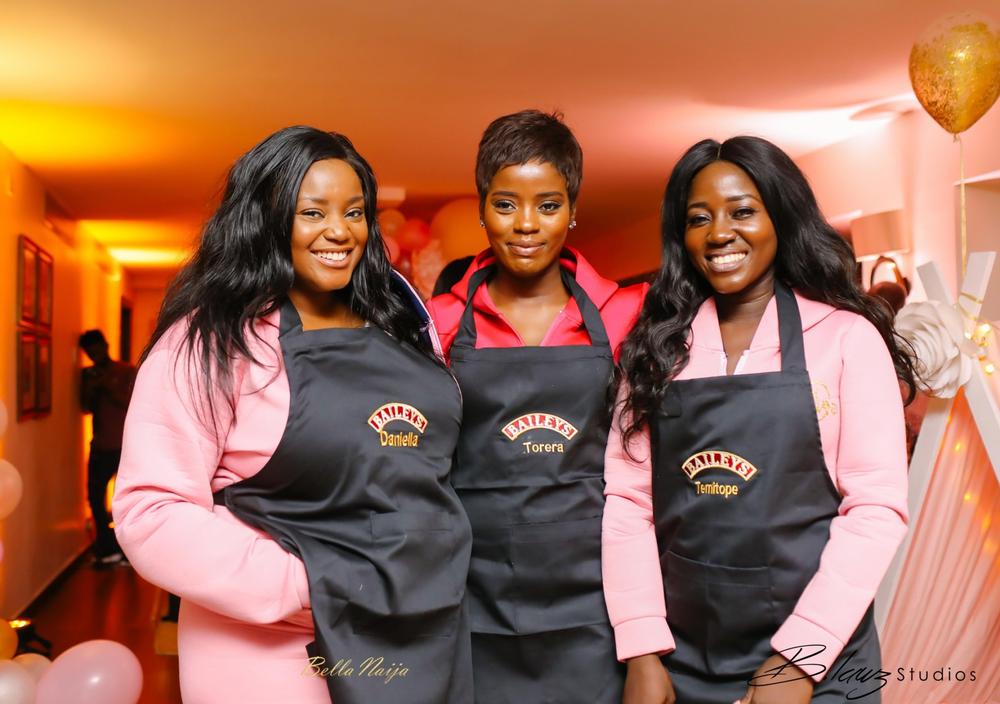 They also learnt the art of slaying for themselves by Black Opal Nigeria brand ambassador – Lillian O Paul and Tolani of Tolani Artistry. Each bride-to-be got a Black Opal Bridal Beauty Starter Kit as a surprise gift.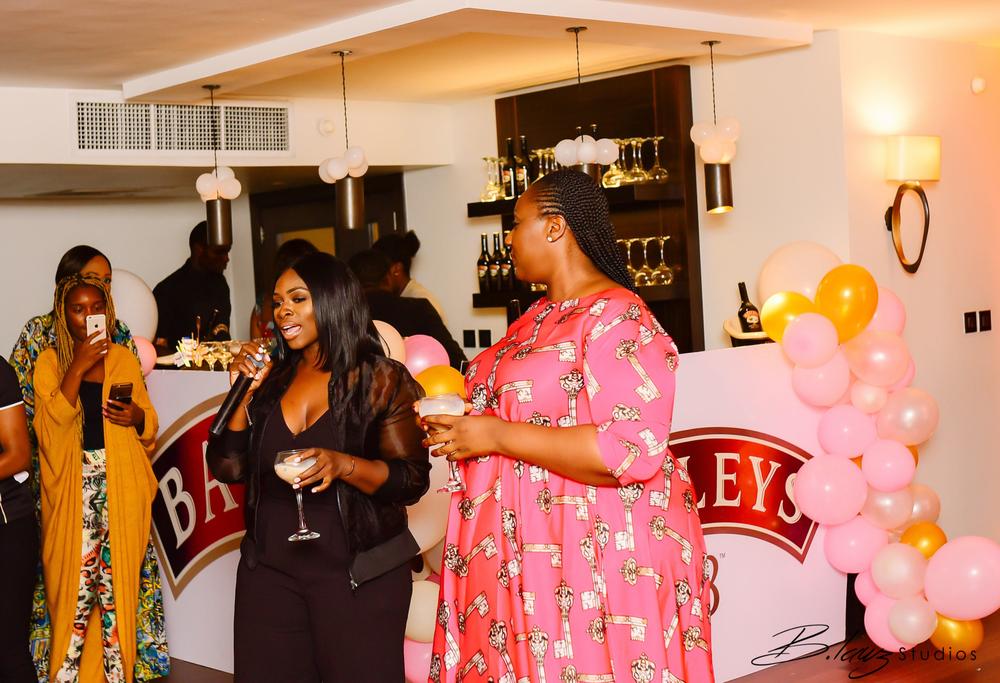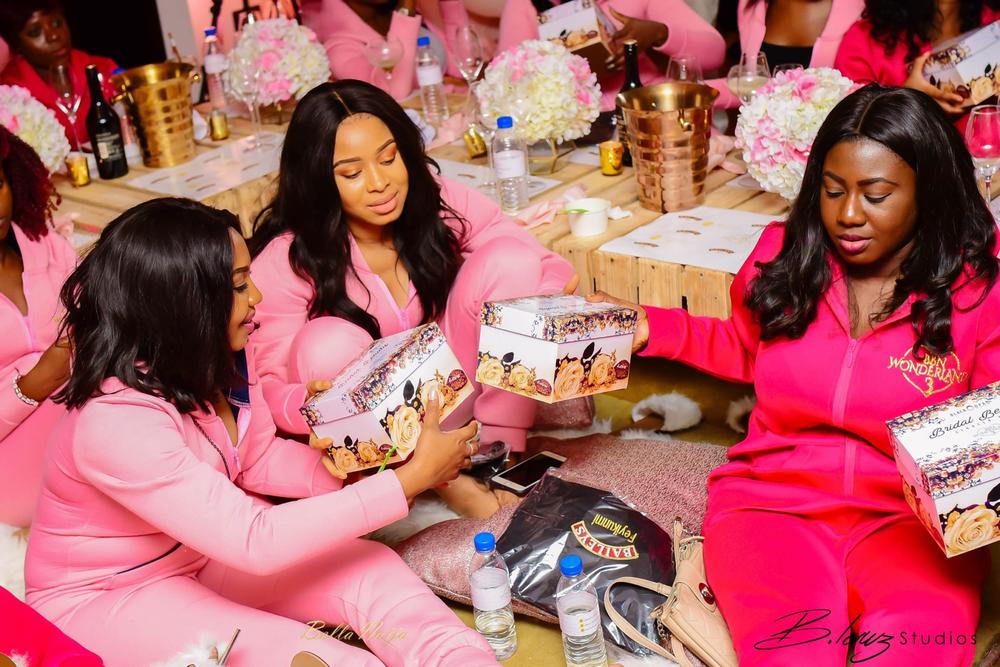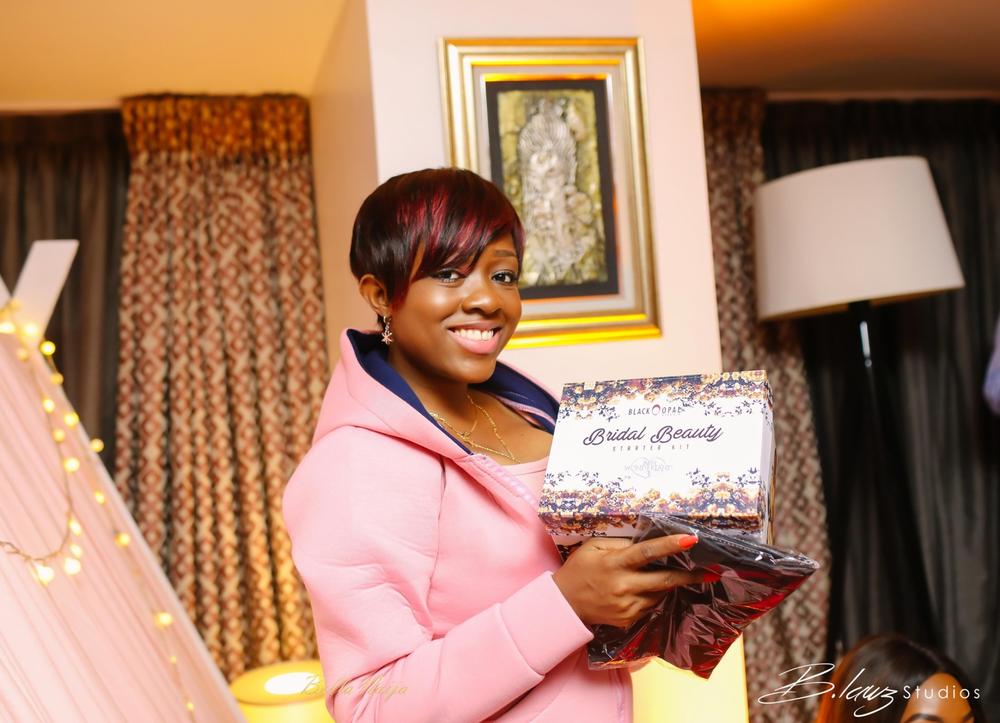 What's wedding planning without the money talk? To speak with the brides on saving, investing and money in marriage, we had the renowned finance expert/author and CEO of Bestman Games – Nimi Akinkugbe share real-life advice with the brides. They all received the bestselling personal financial book authored by Aunty Nimi called A-Z of Personal Finance. Talk about back to back surprise gifts!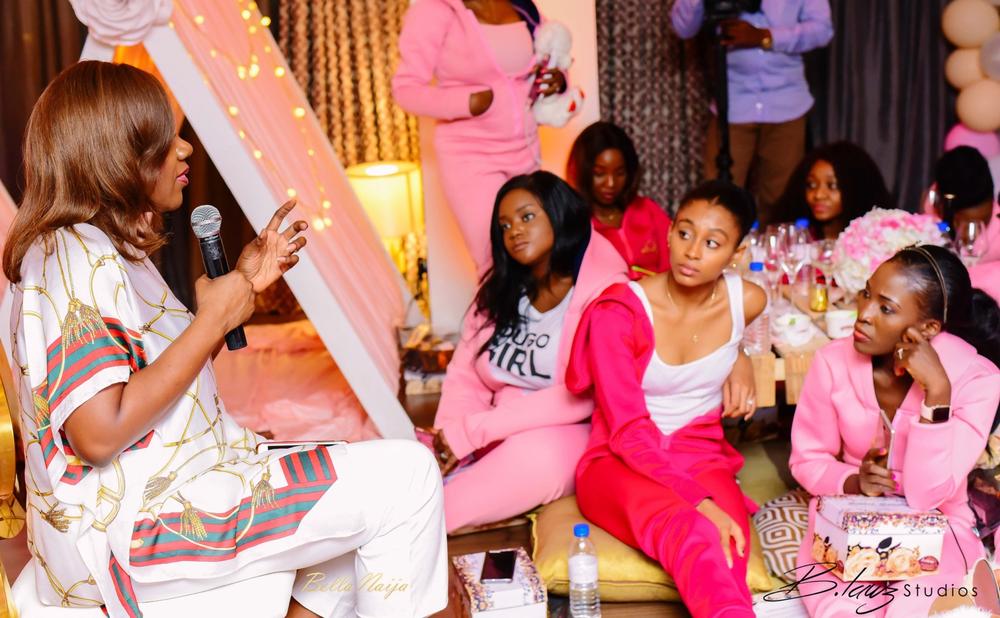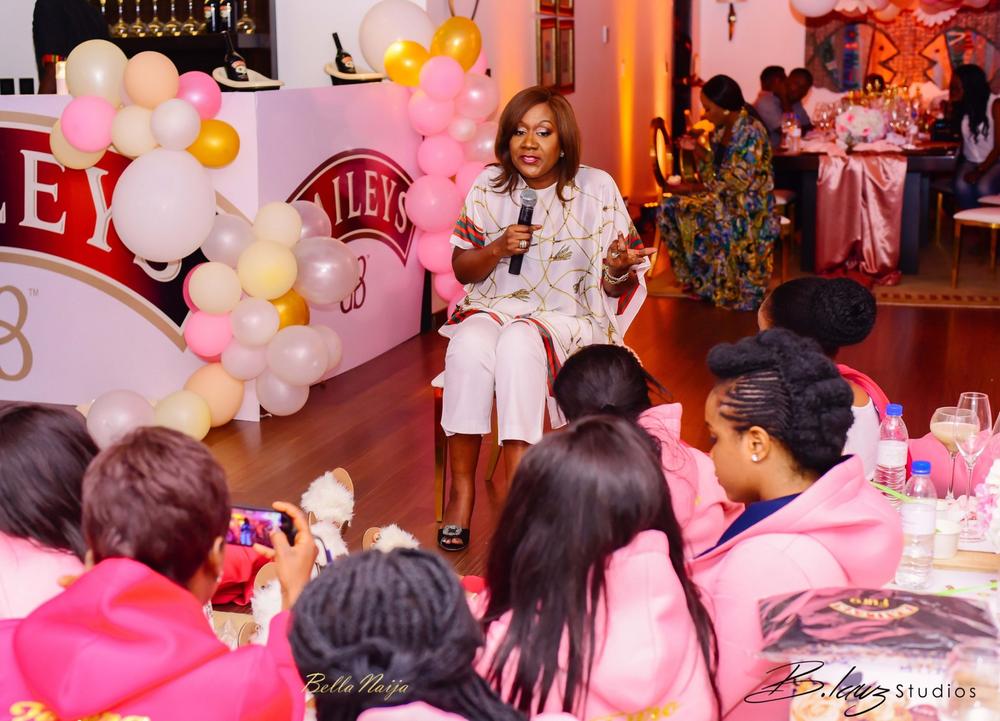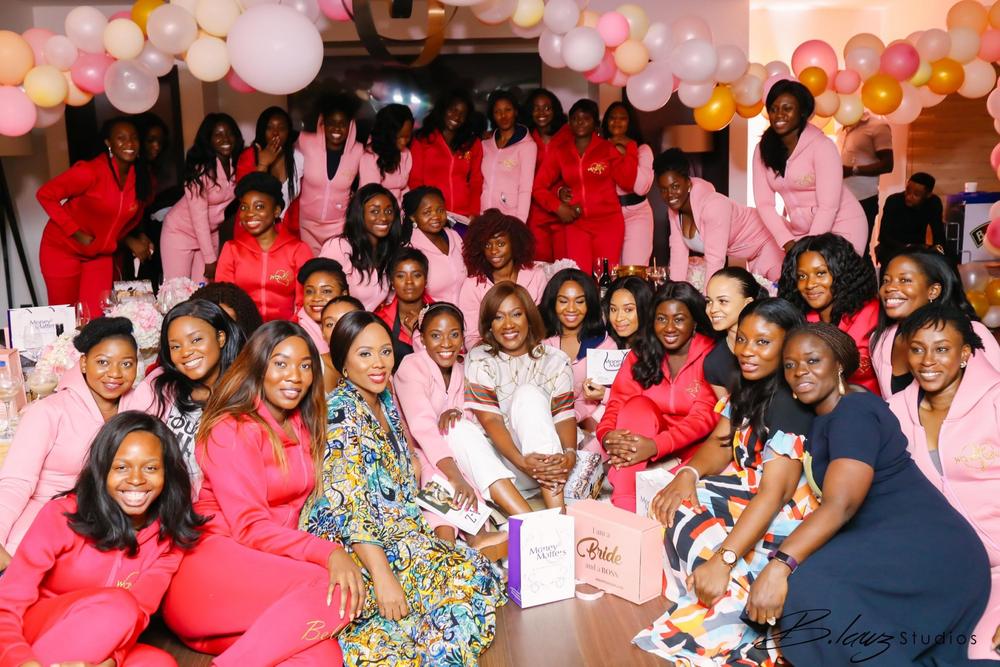 The BellaNaija Weddings team collaborated with Sorrela Kraft and The Gift Haven for the Bride and a Boss Box. The #BBNWonderland brides loved the sentiment behind the box as well as the handy items within.
To wrap up the night, the talented fashion designer Mai Atafo led a fun and interactive session with all the brides featuring his couture wedding dresses. You had to be there to understand. We laughed, we played dress-up, we saw the brides unleash their creativity as well…it was definitely a major highlight of the experience.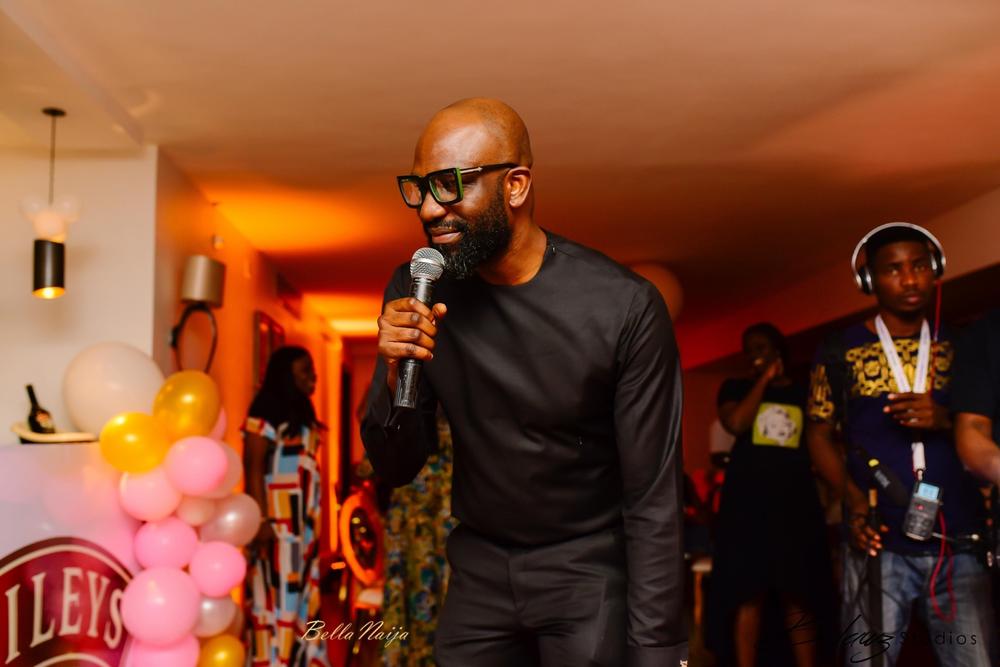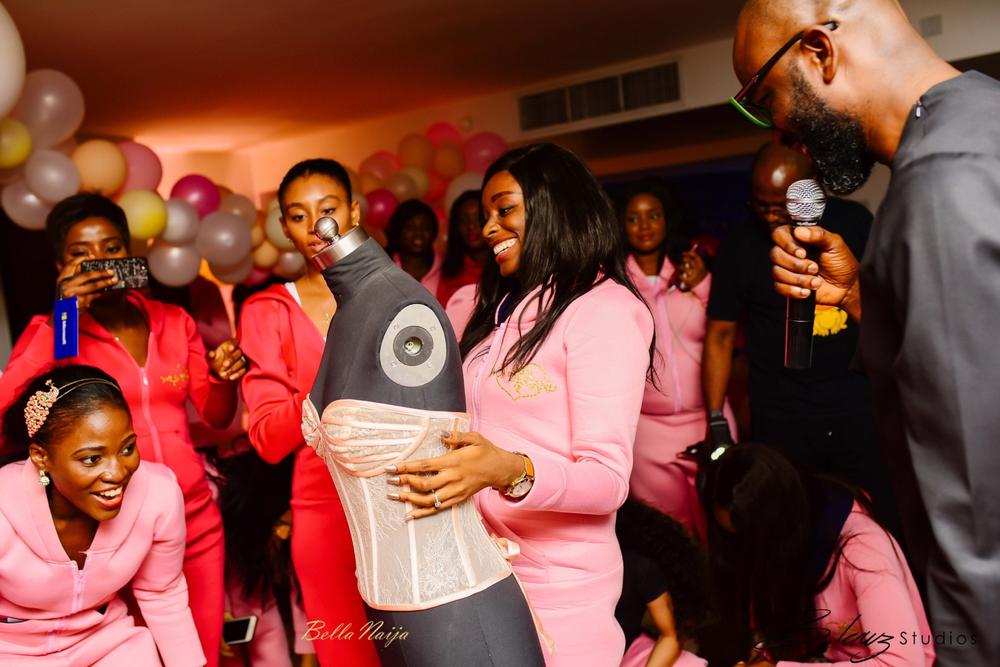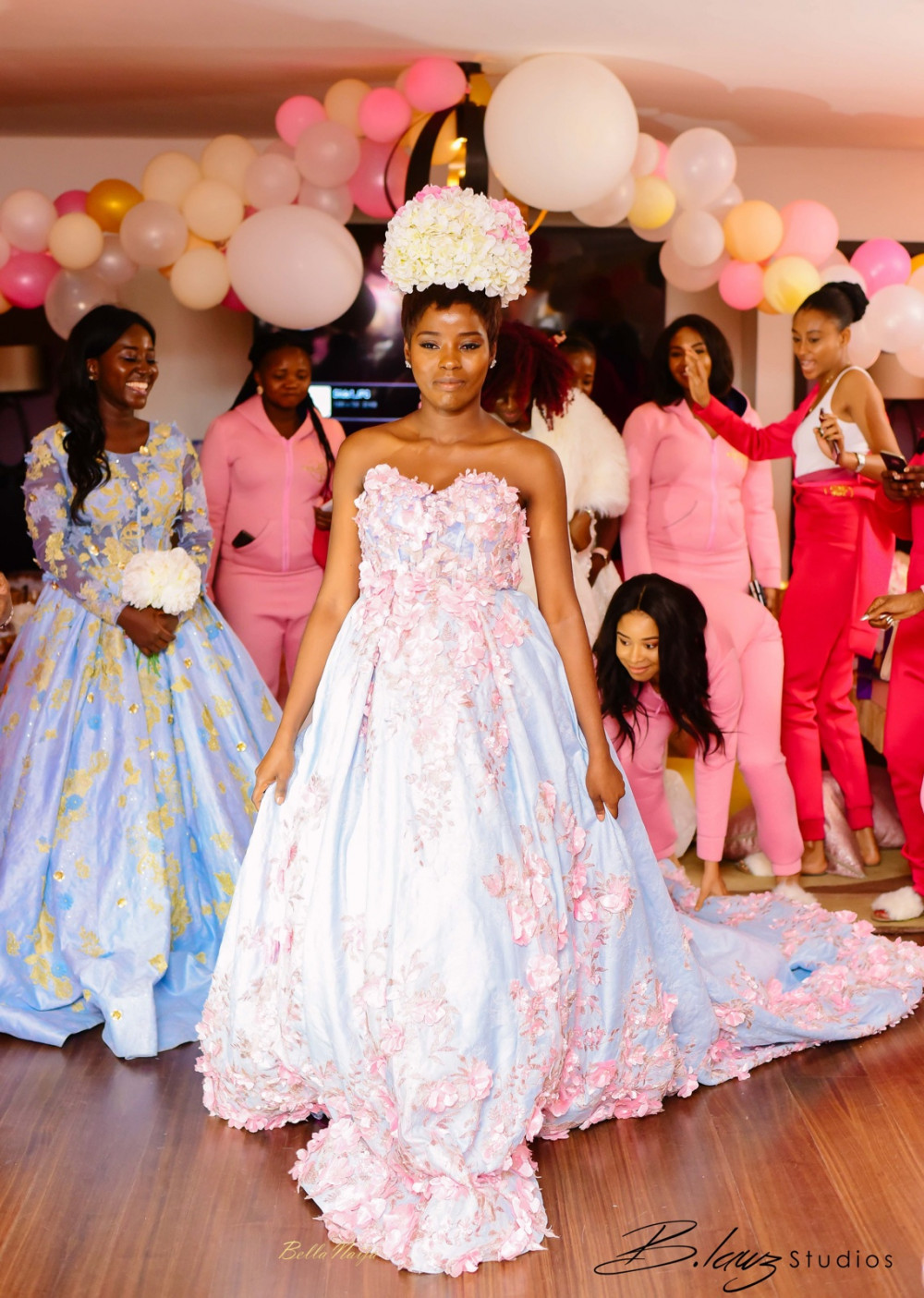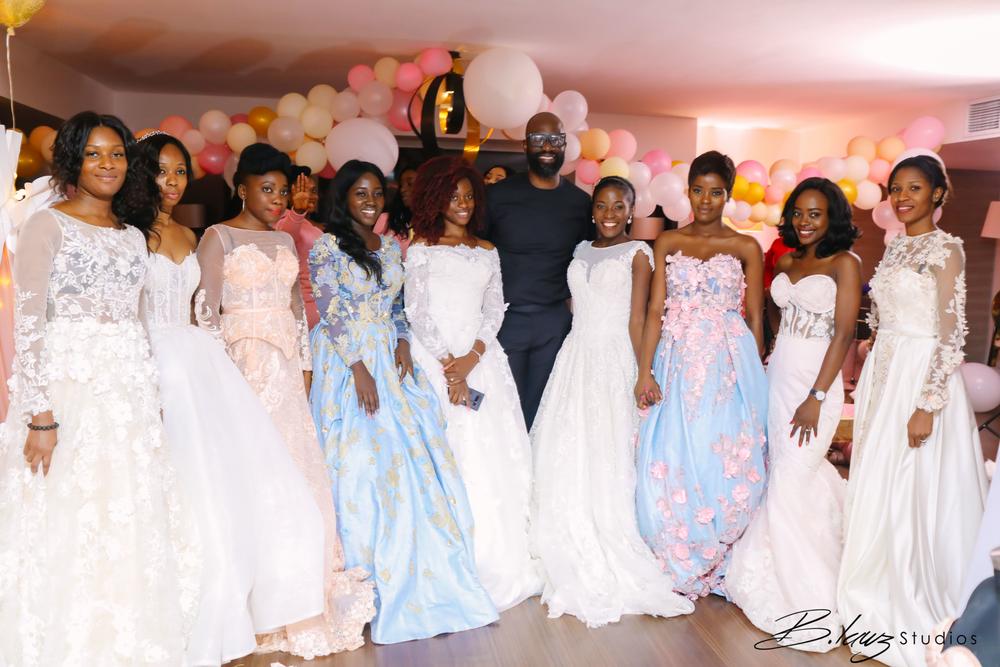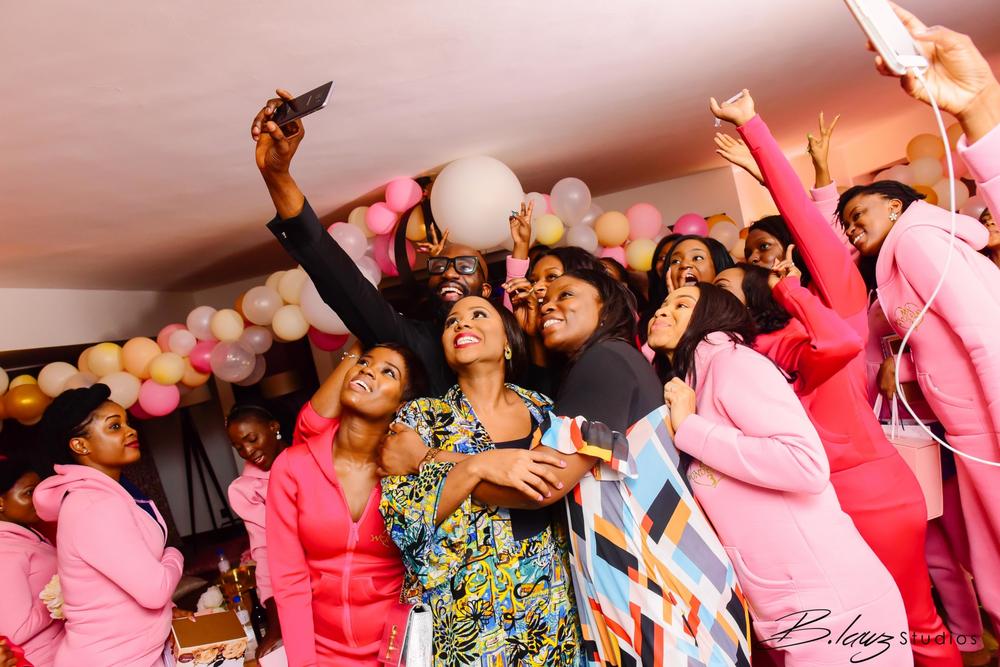 Everyone had such a great time and it was the perfect opener for such an amazing weekend.
Saturday Morning workout. Go ladies!
On Saturday, 27th of January, the brides-to-be started their day on a fit note and a little surprise. They were all scheduled to have their workout session which they began doing on the basketball court of Eko Hotel. They had barely started their session when movie star Kate Henshaw surprised them as their fitness coach. The brides-to-be were so excited.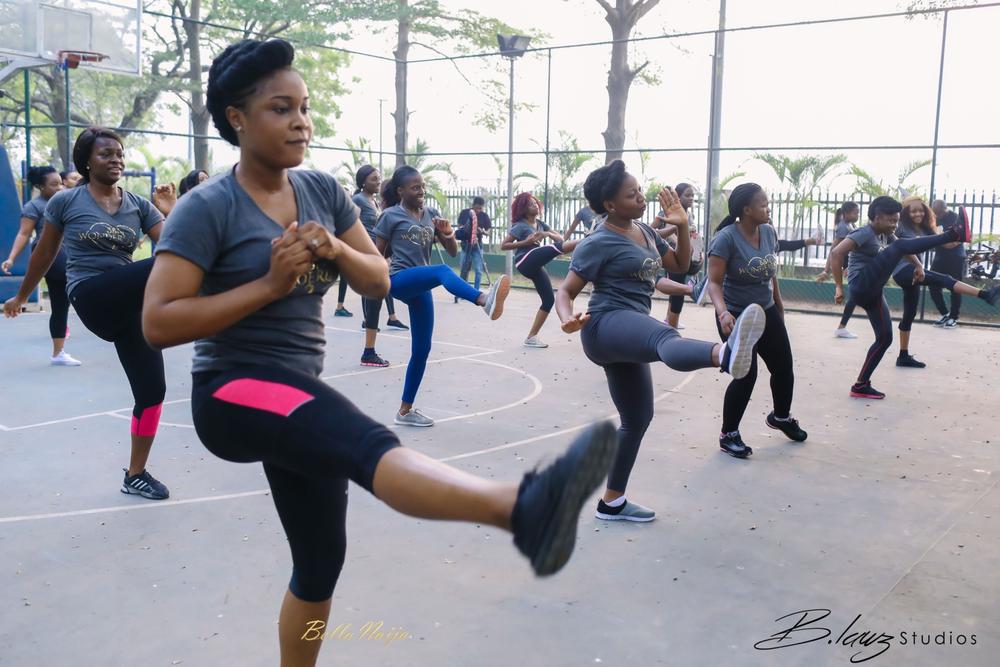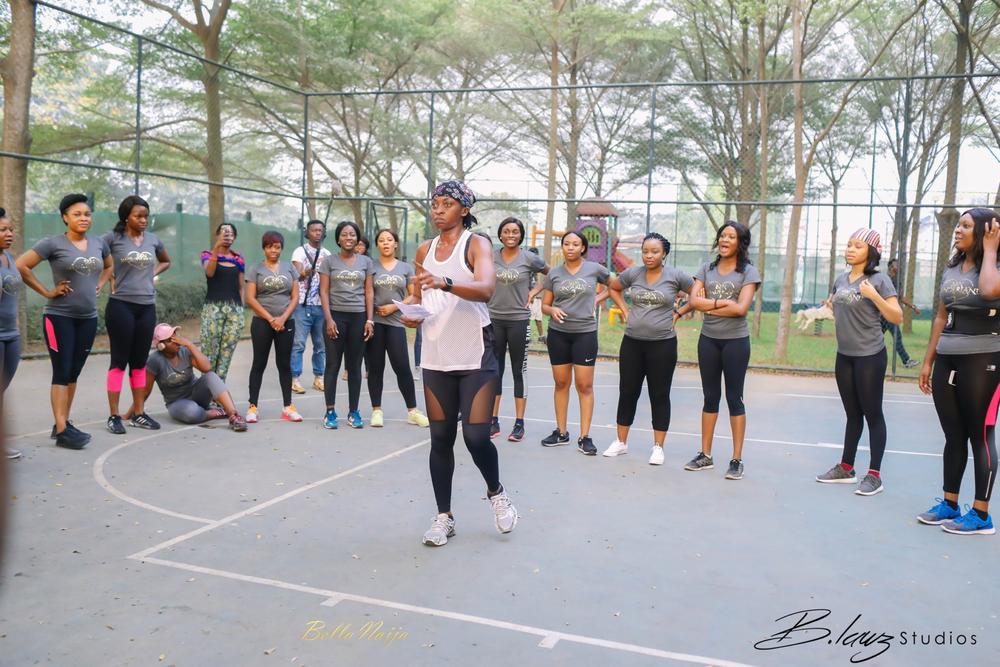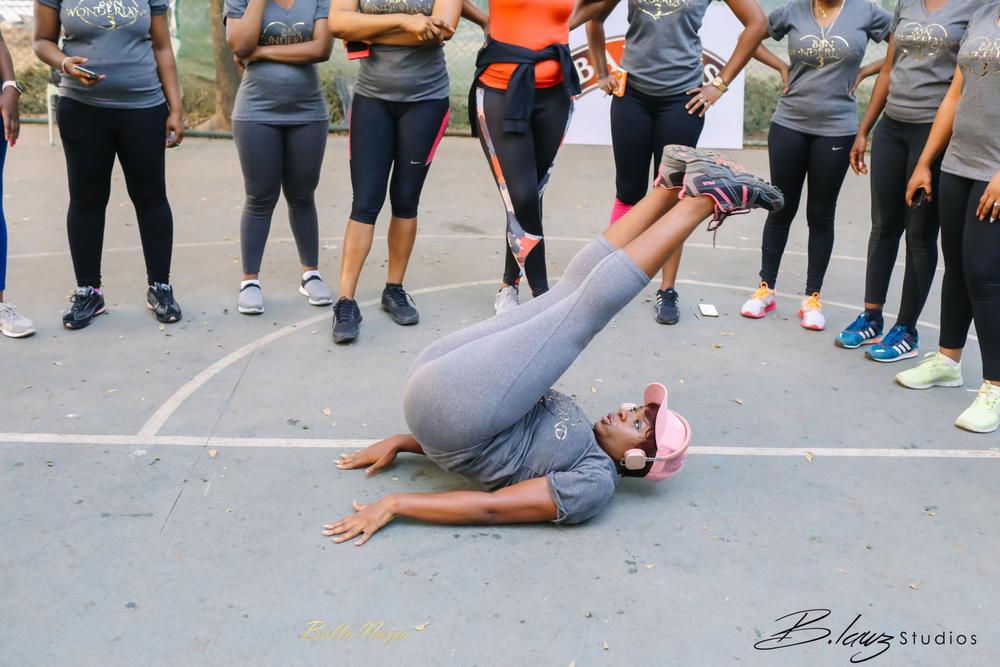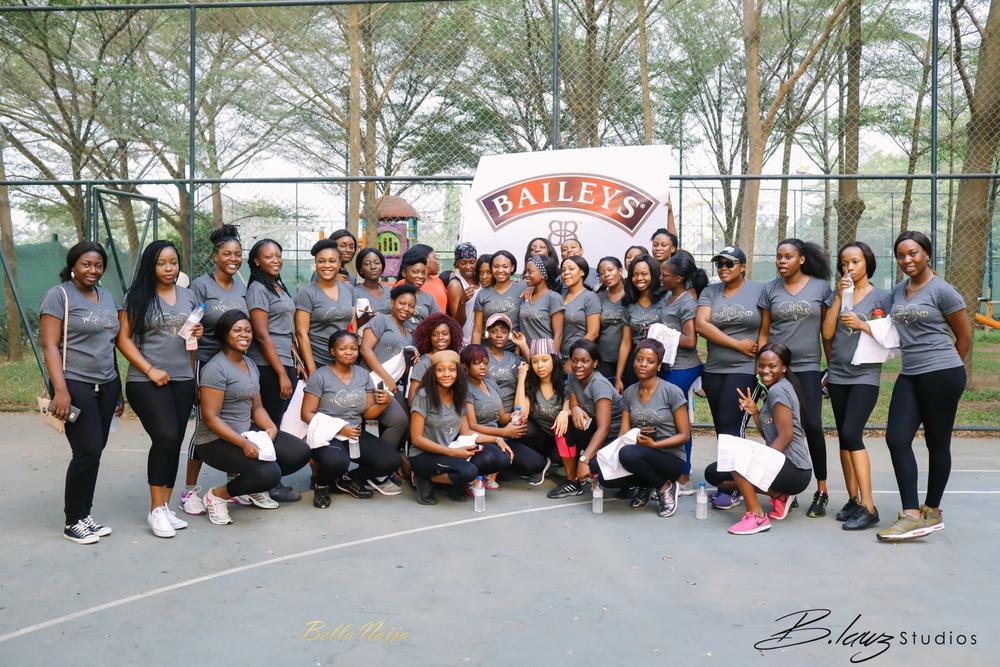 Did we mention #BBNWonderland brides enjoyed relaxing massages from the professional therapists from Apples and Oranges Spa right after their exercise? Yes they did!
Getting to their rooms, they saw a sweet surprise from Baileys Nigeria waiting for them. A custom bottle of Baileys plus other treats to enjoy it with.
Bridal Tour
Up next was a bridal tour to The Wedding Mall, where they interacted with amazing wedding vendors like The Wedding Guru, Diko Photography and Parchment by Dami.
Entrepreneur/Legendary baker Tosan Jemide of  Cakes by Tosan was also at the mall to speak with the brides on choosing the right cake for their wedding. They got to taste the different flavours of wedding cakes and had a chance to indulge their cake with Baileys.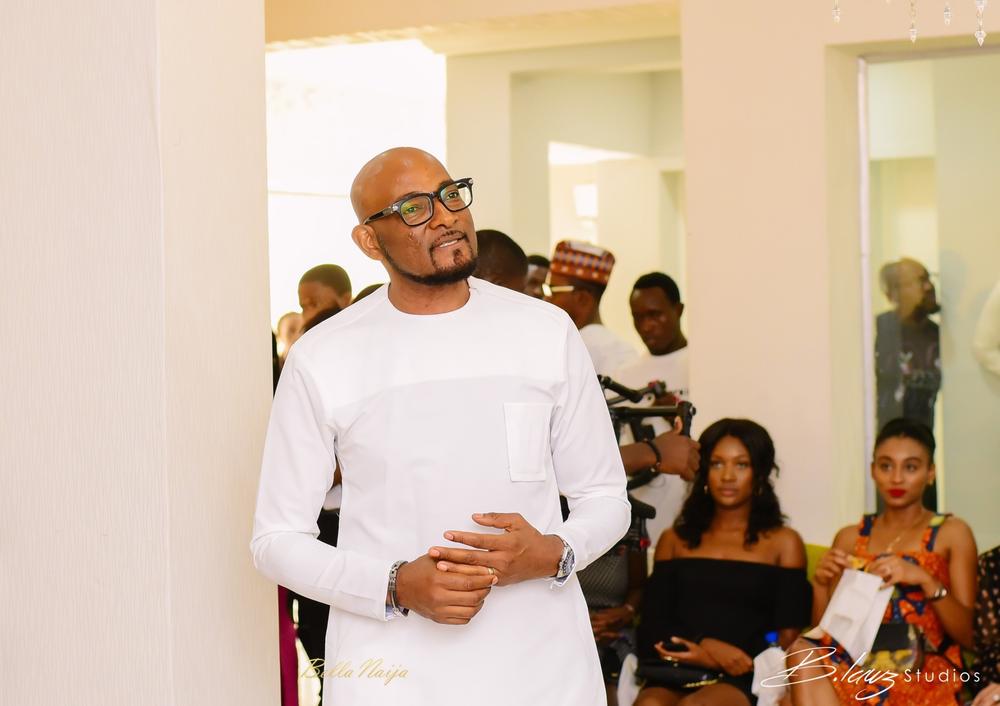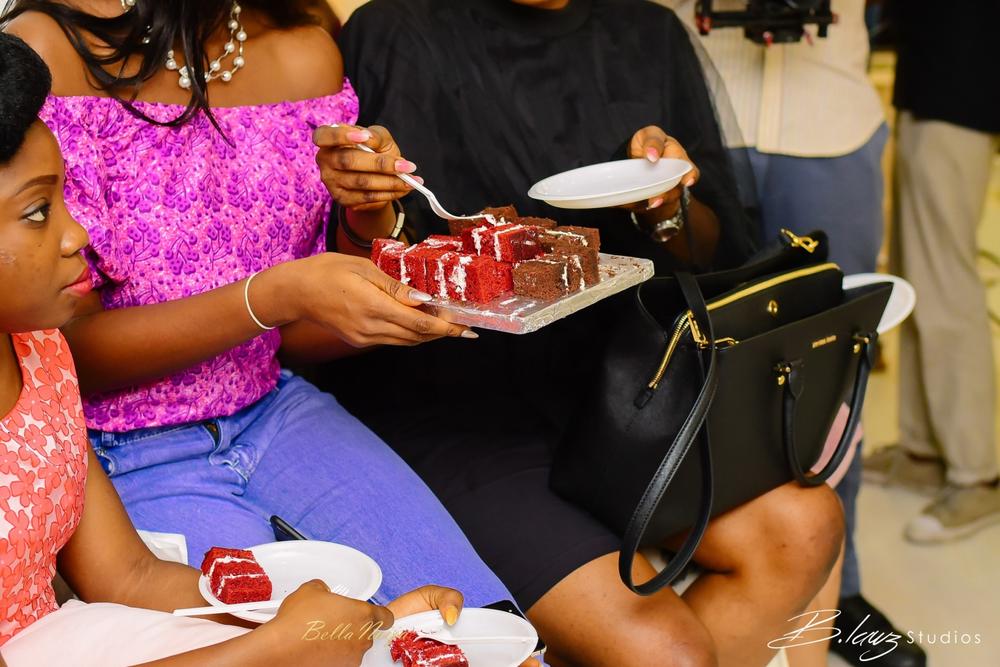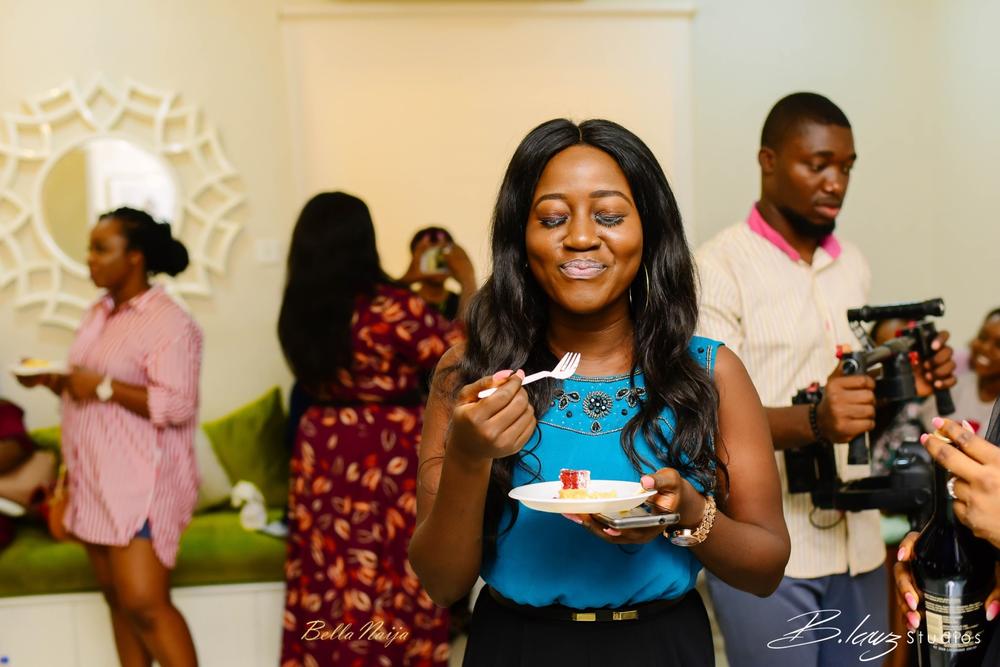 To close the bridal tour, Temi of Kwamuhle Fabrics spoke about bridal styling, selecting the right fabric for their outfit and surprised all the 35 brides-to-be with beautiful bridal fabrics.
SURPRISE – Every bride got fabric for FREE from Temi of Kwamuhle – Can you see their excitement! Love it!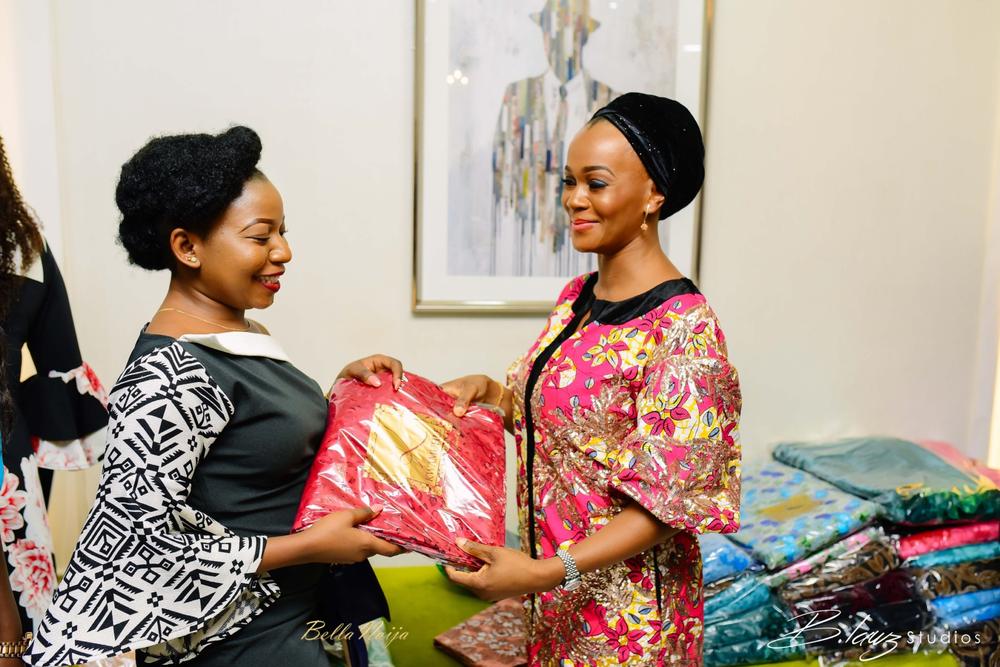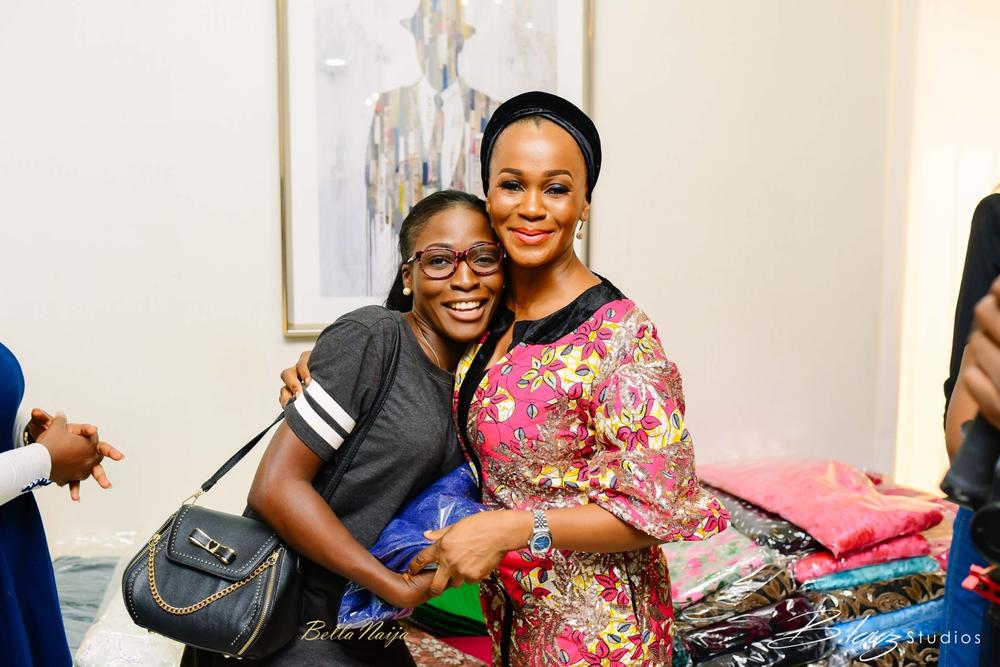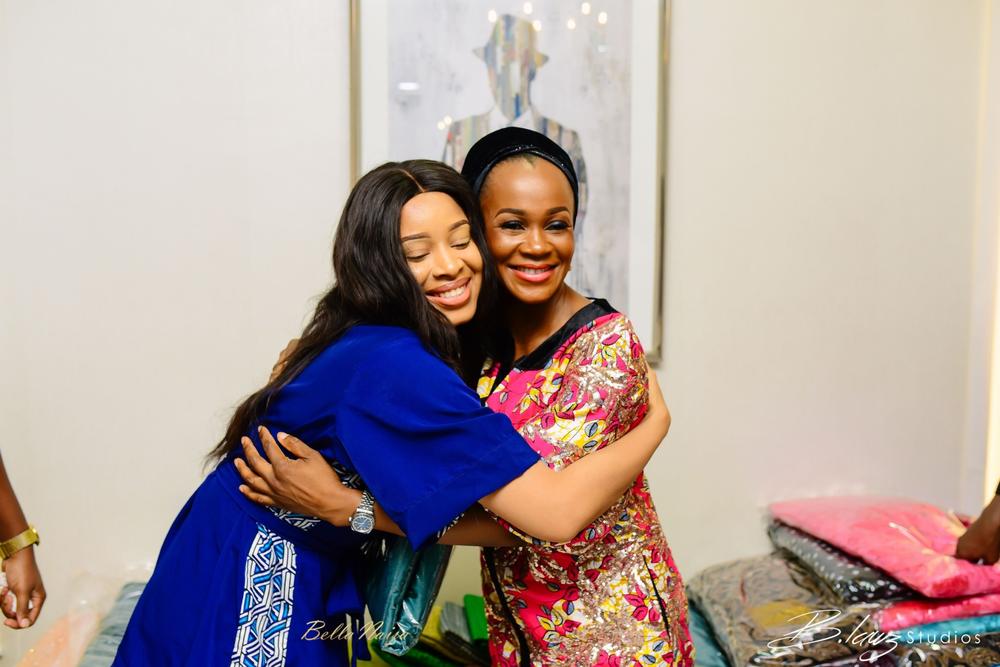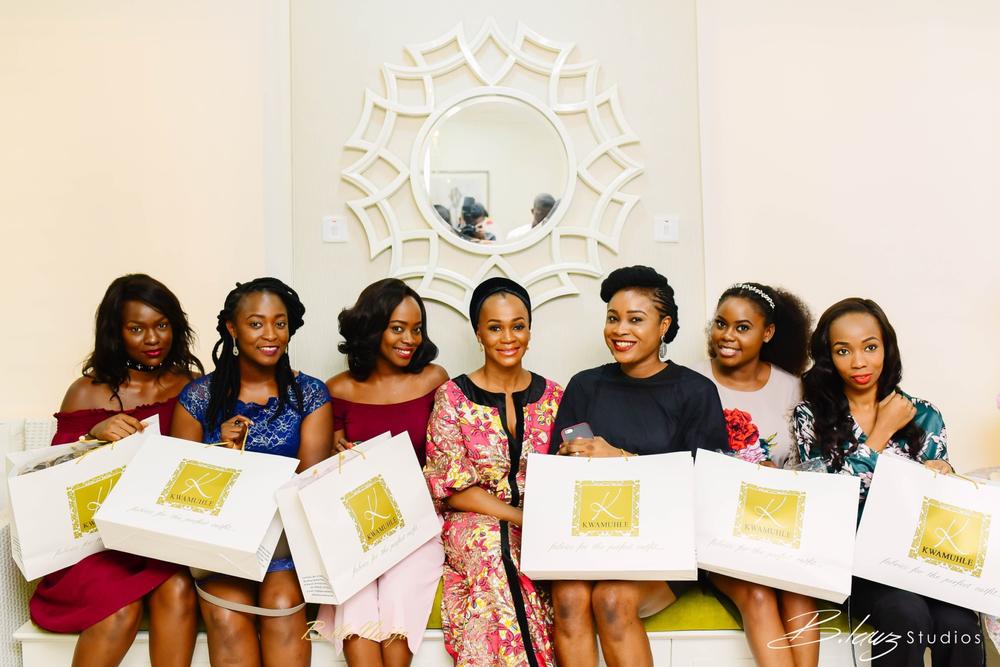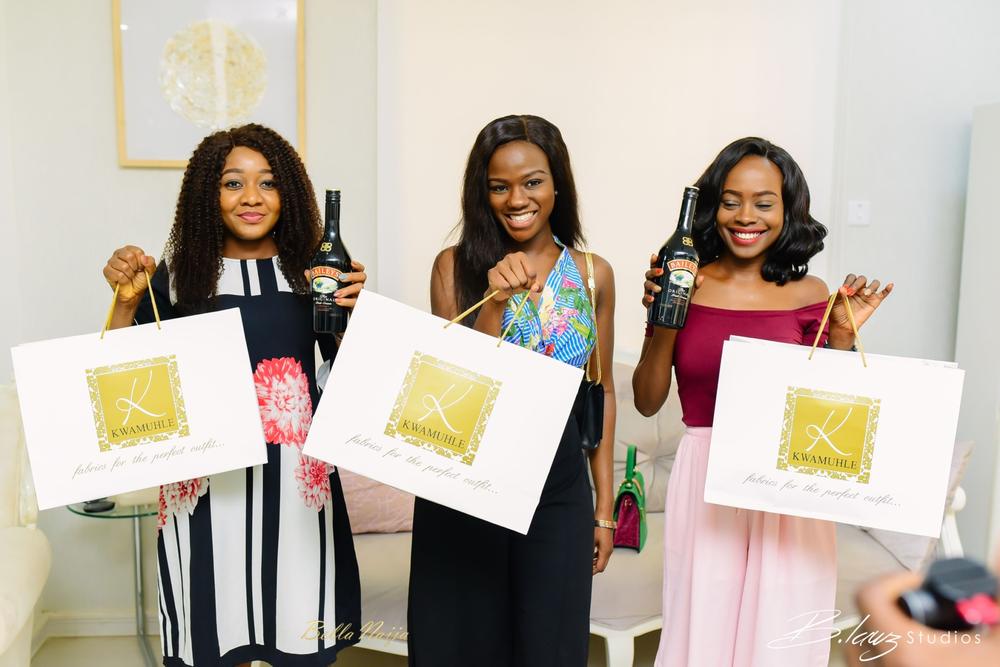 Getting Ready!
It was finally time for the ultimate BBN Wonderland ceremony and the ladies had to be glammed up by representatives from Black Opal Nigeria and Ferdinand Hair.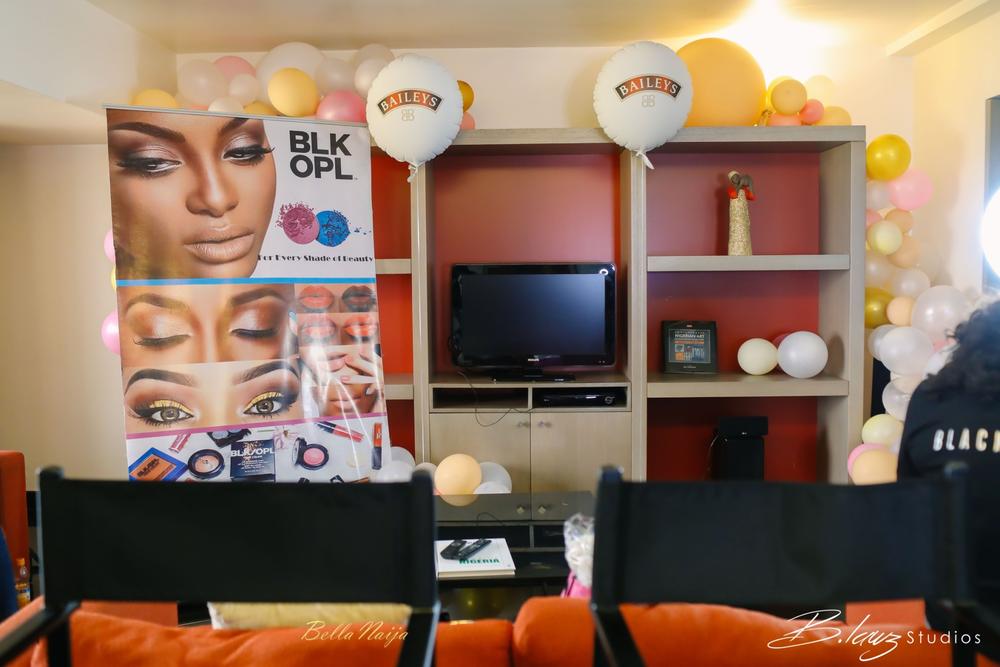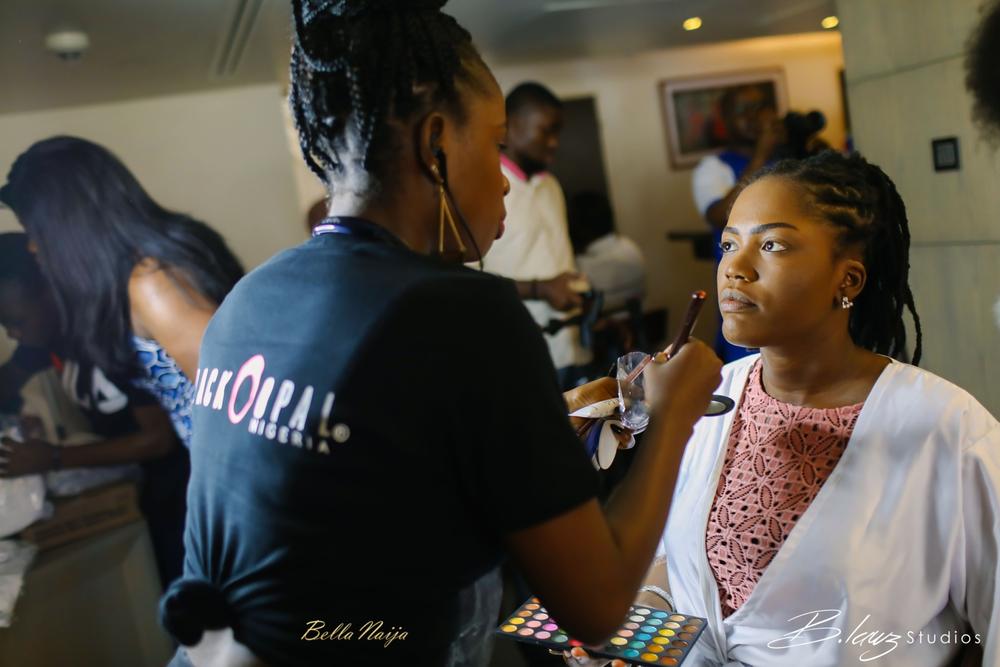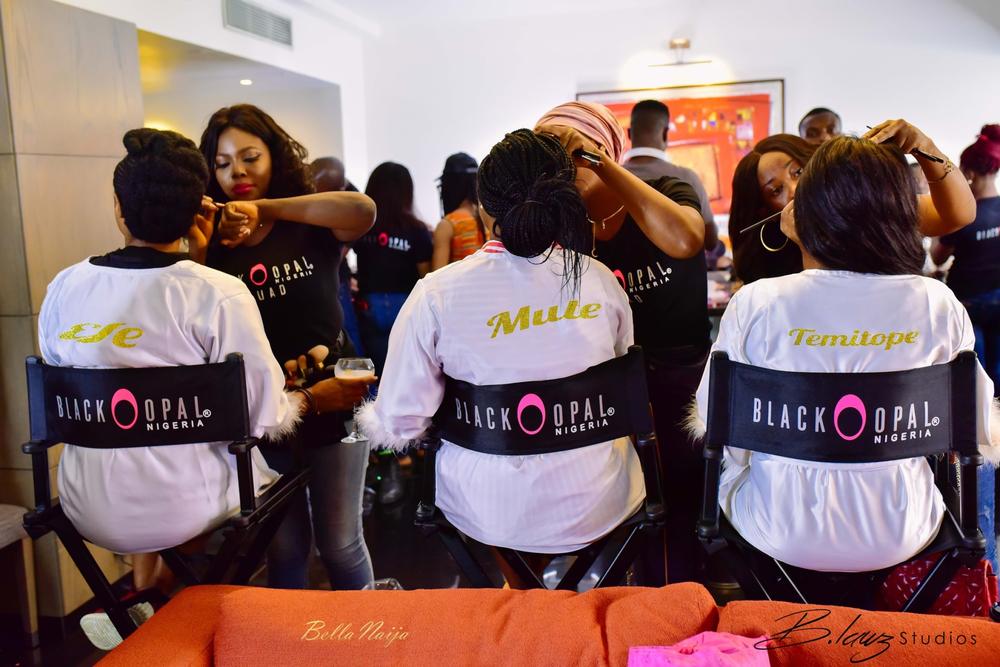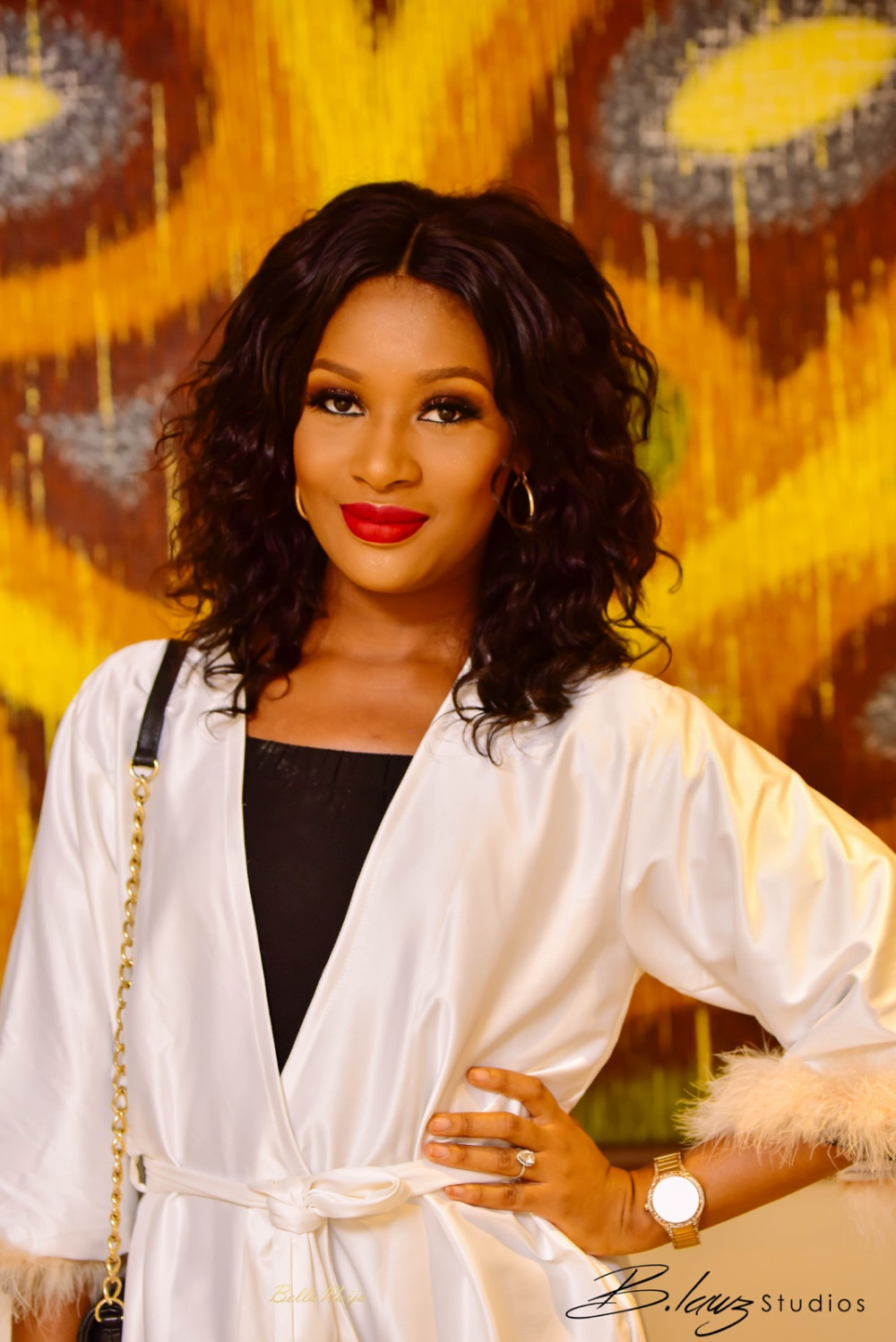 All Glammed Up!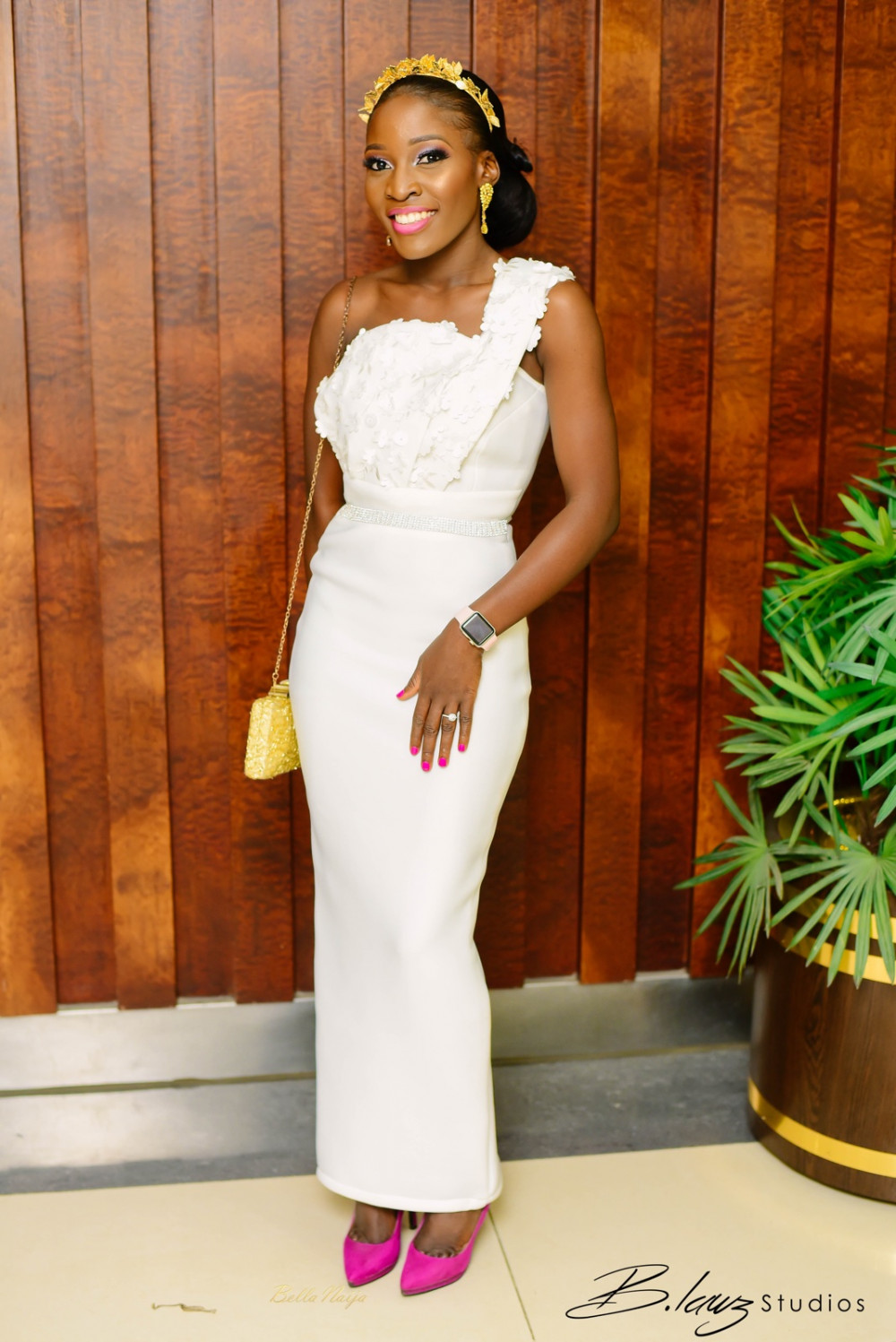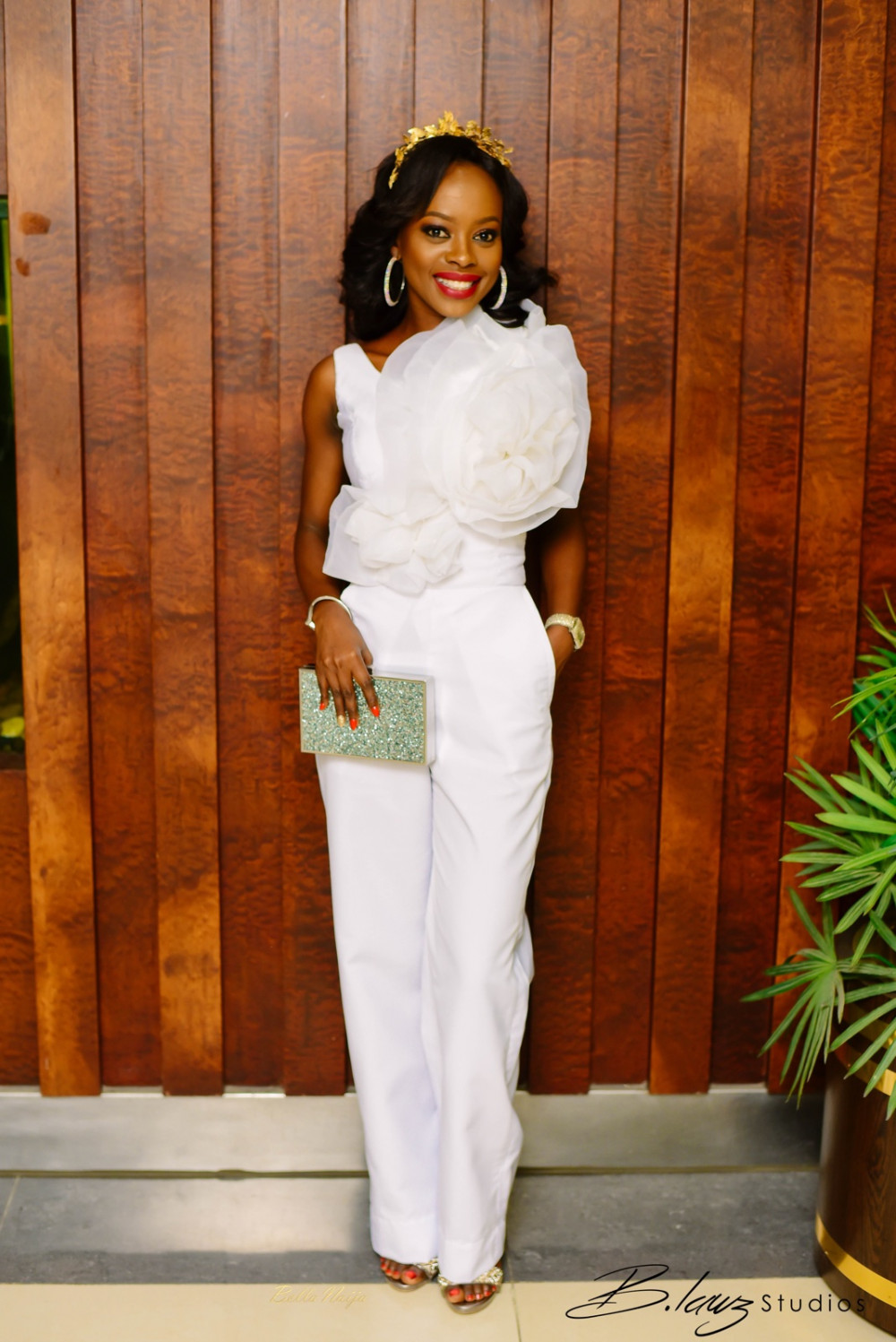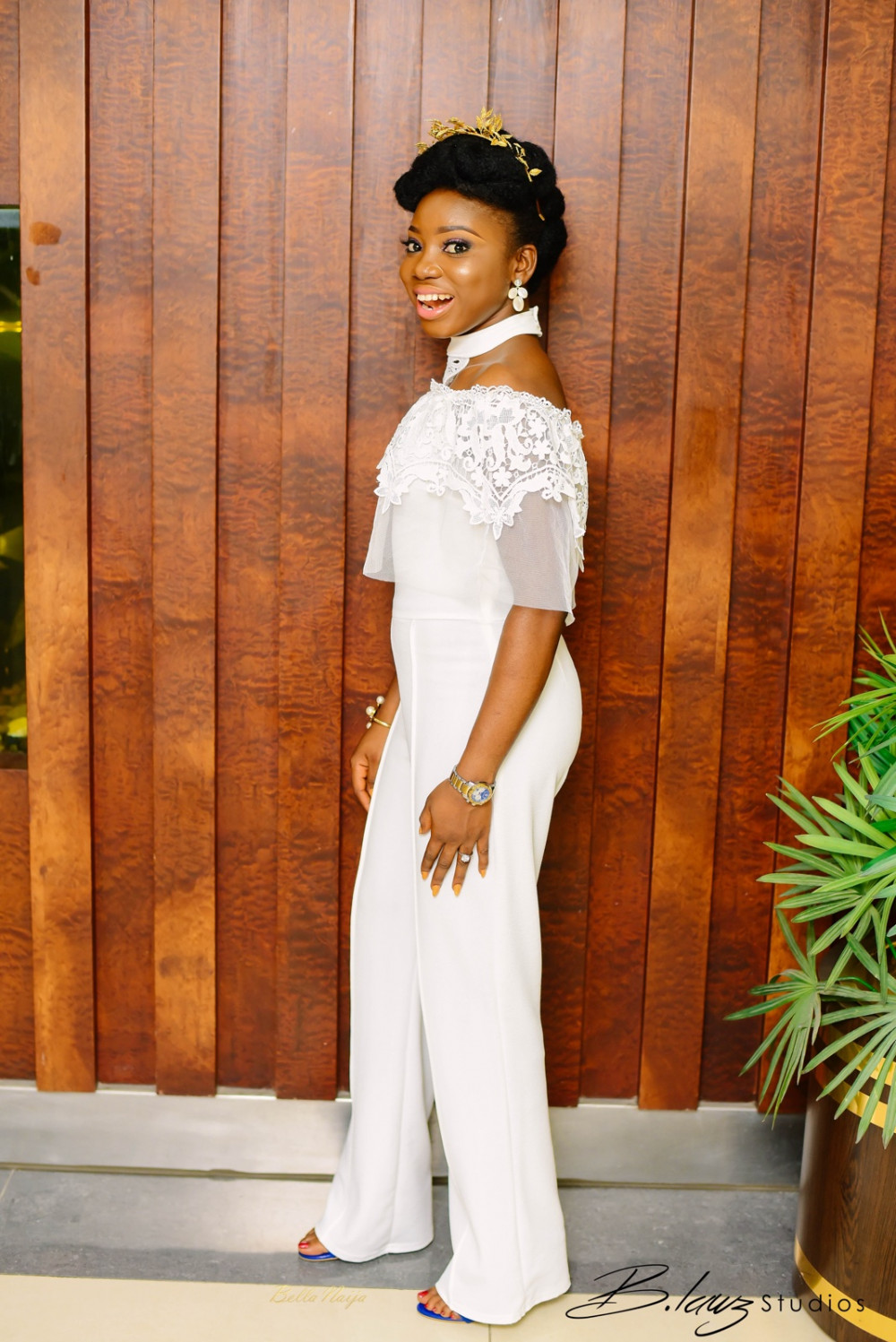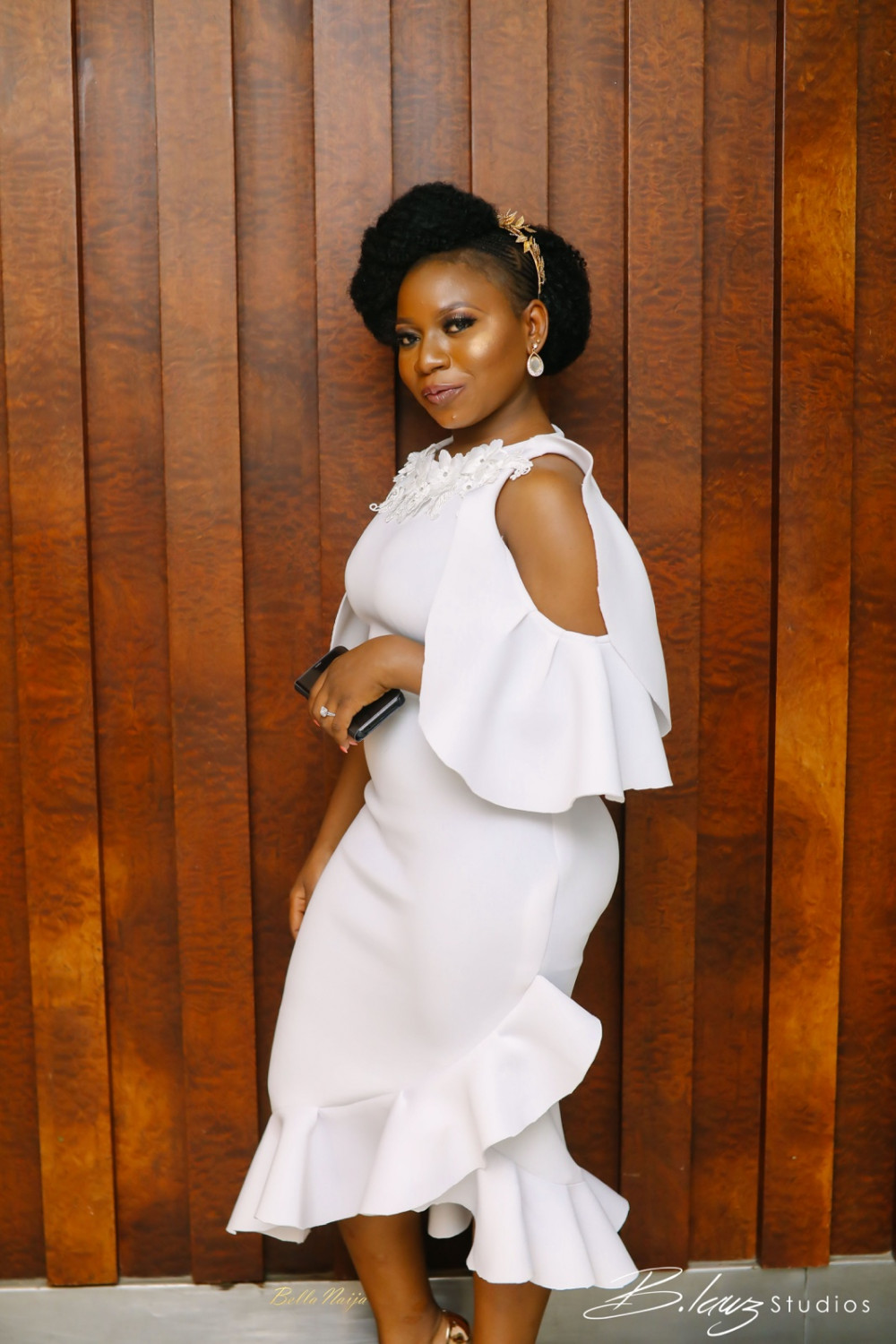 Skyline Posing before We Party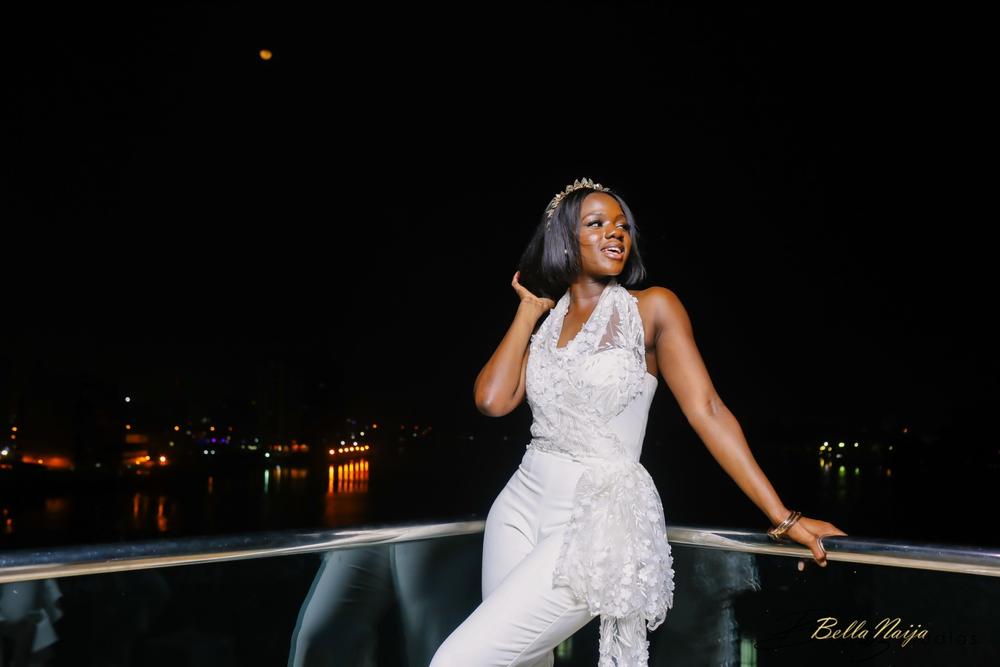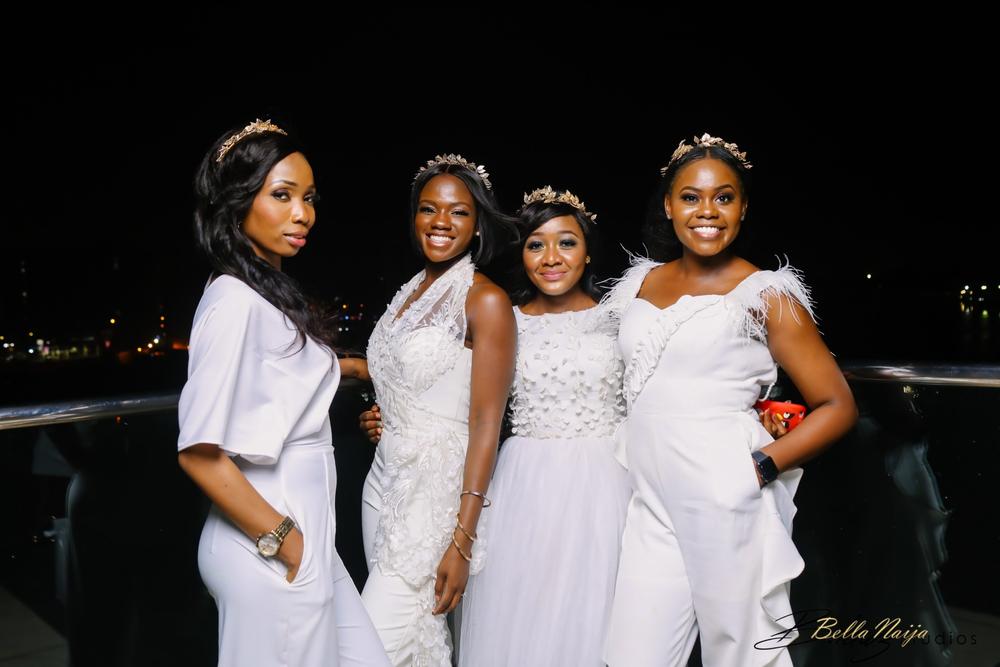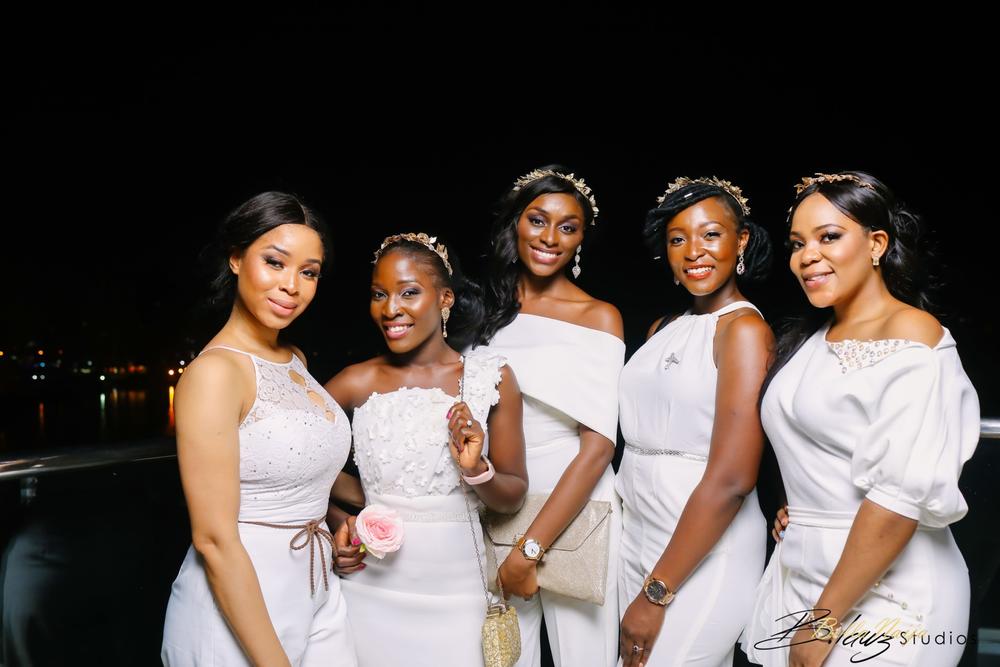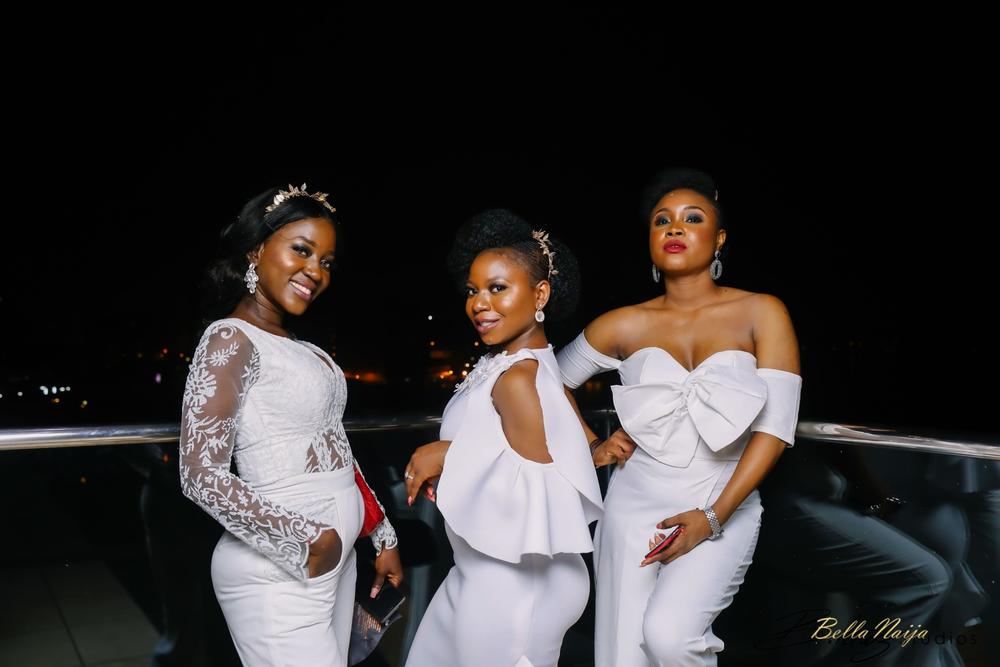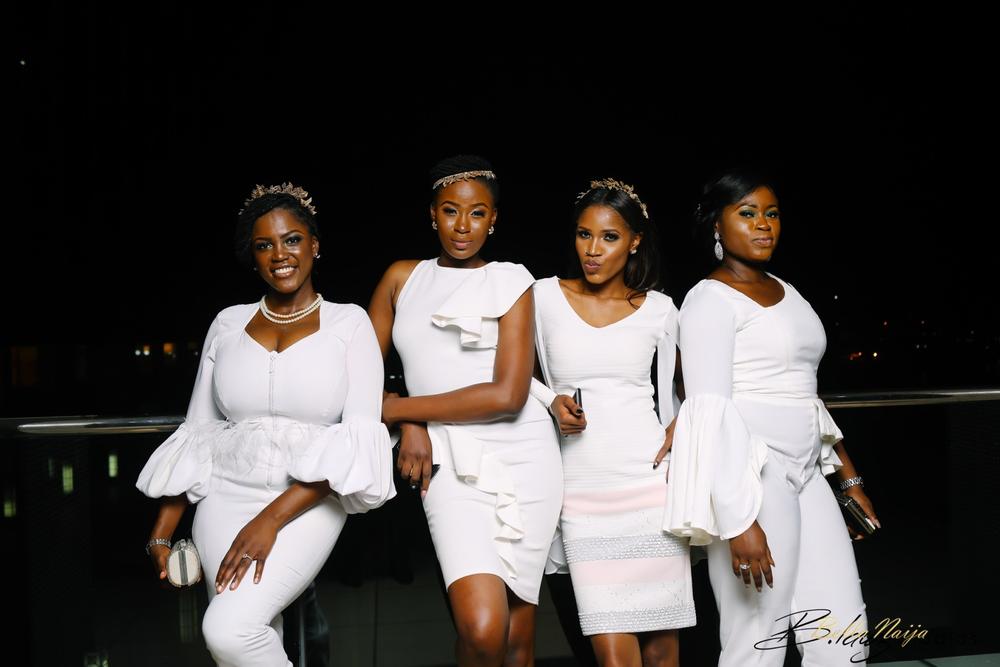 Let's Party… shall we?!
The evening ceremony held at the Skyline Terrace of Oriental Hotel which was the perfect location. The hall was set up by The Wedding Guru team headed by Christine Ogbeh. As with the previous years, the event was planned by Coker Creative.
Decor Love!
Everyone who stepped into the space was transported into a real Wonderland. From the outdoor cocktail space to the indoor event space. Everything was a WOW back to back.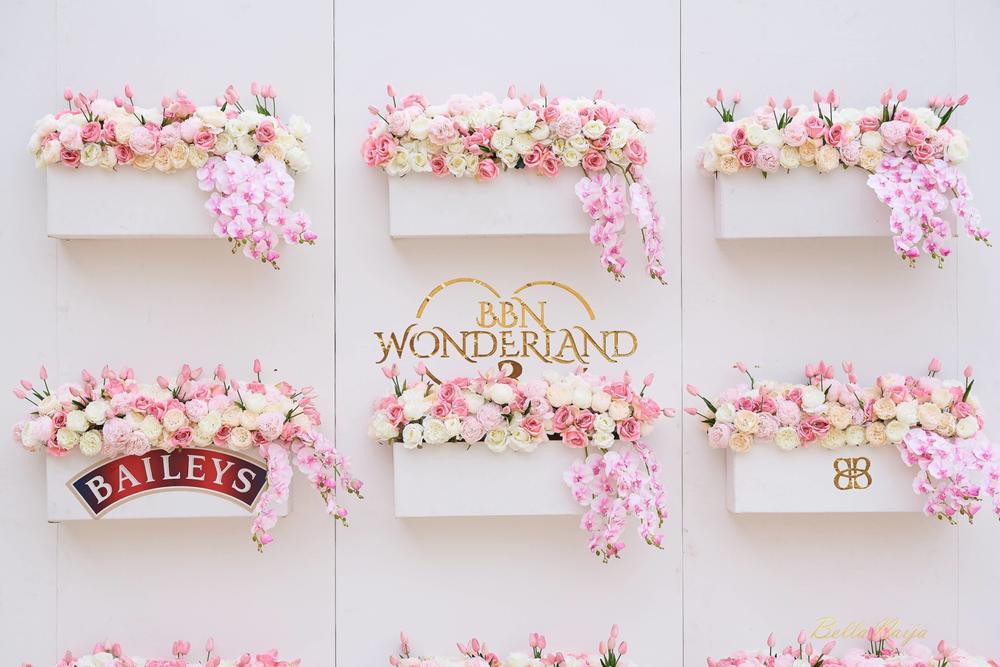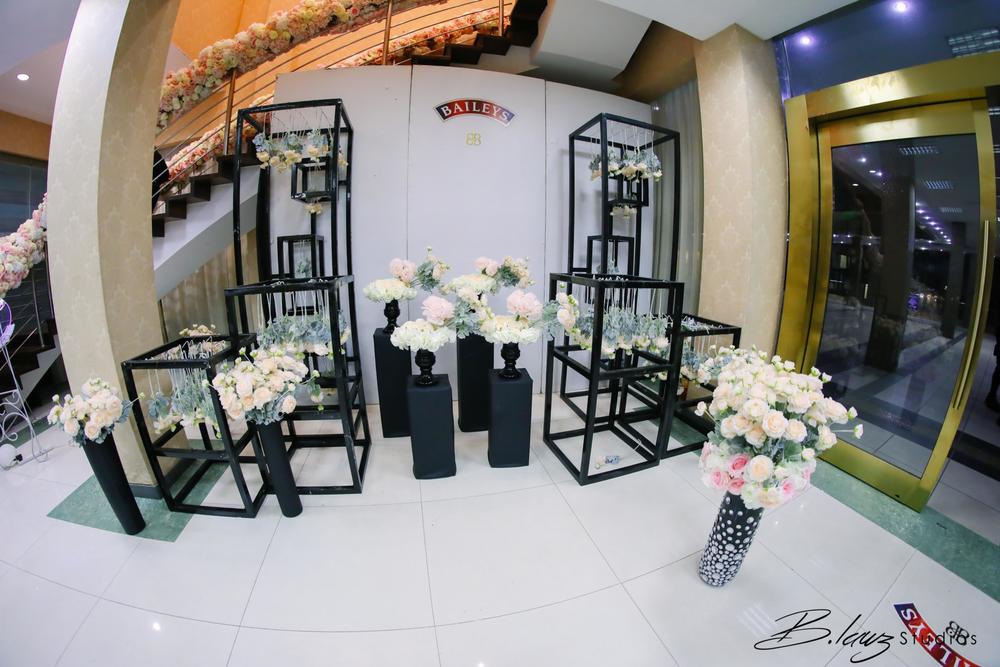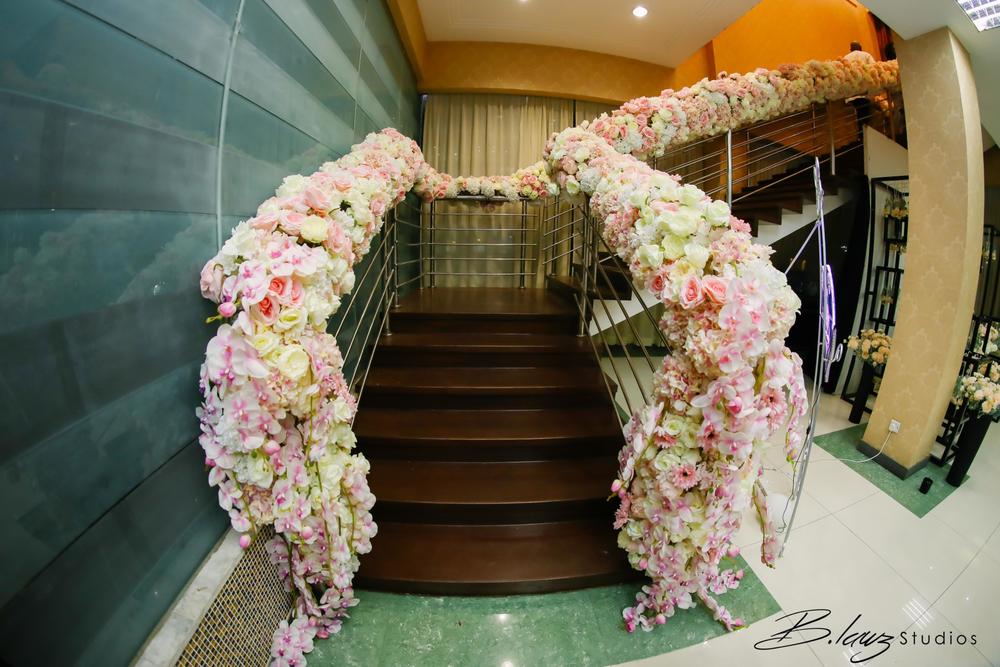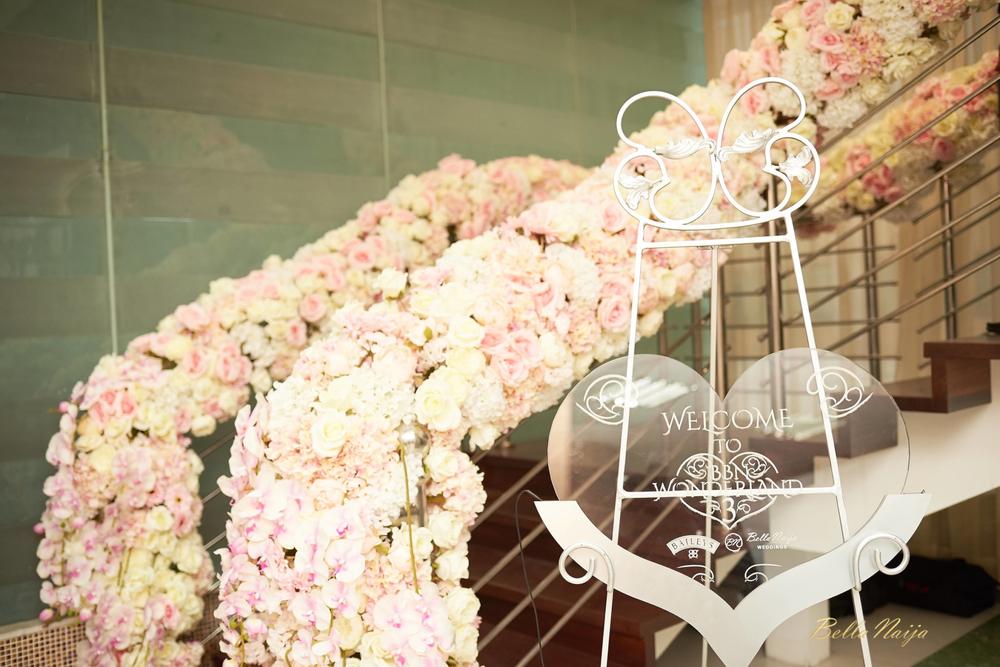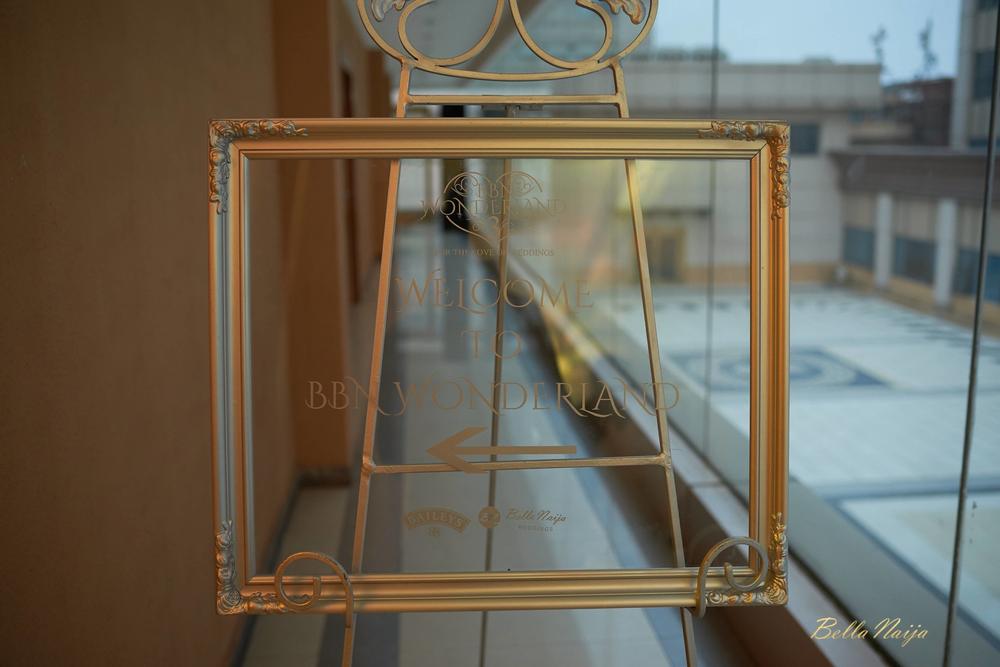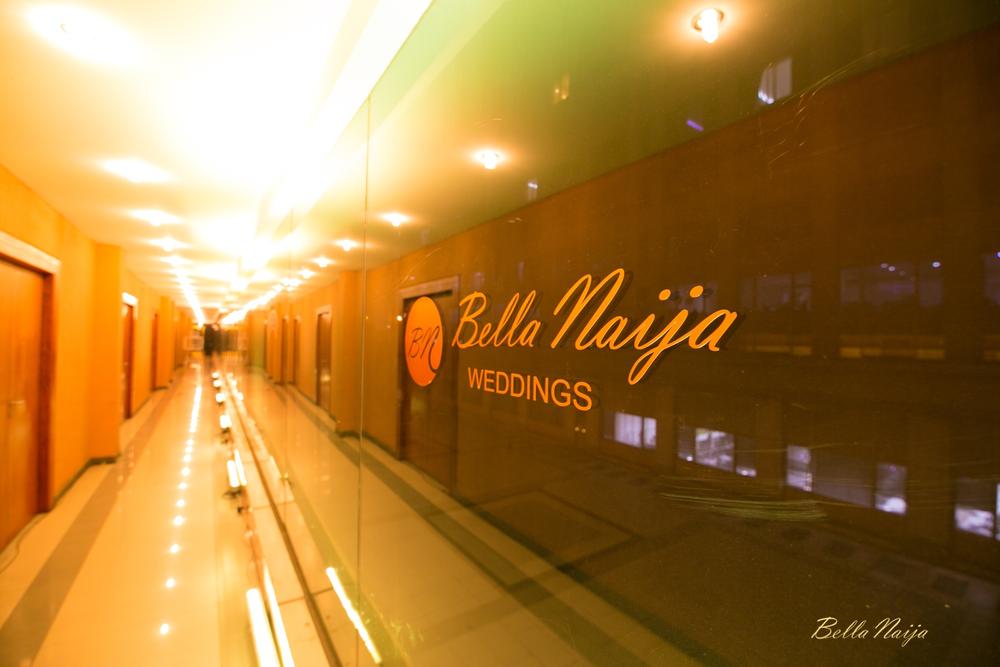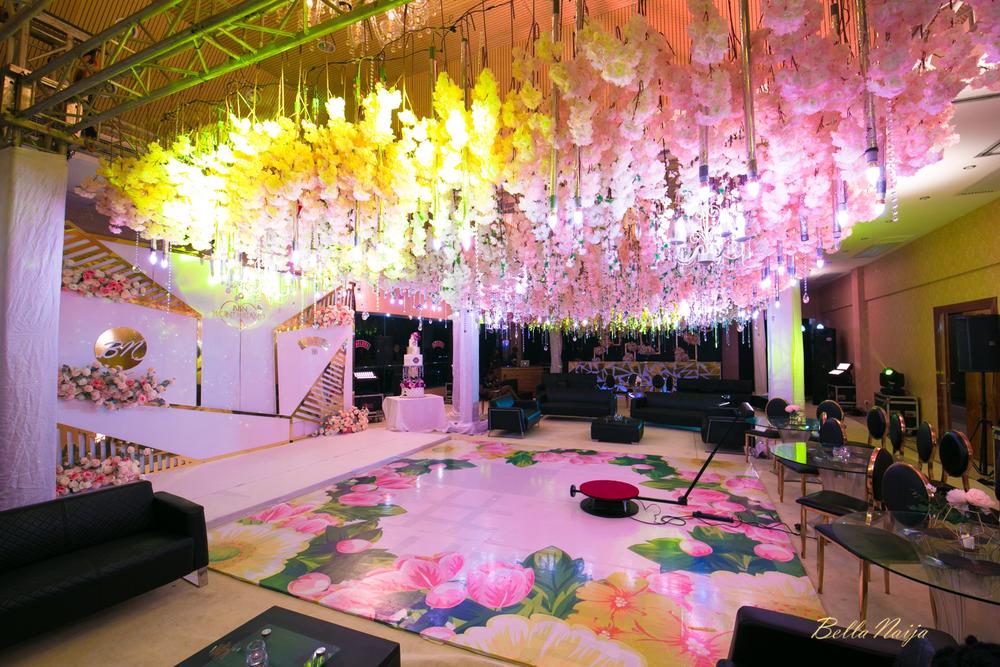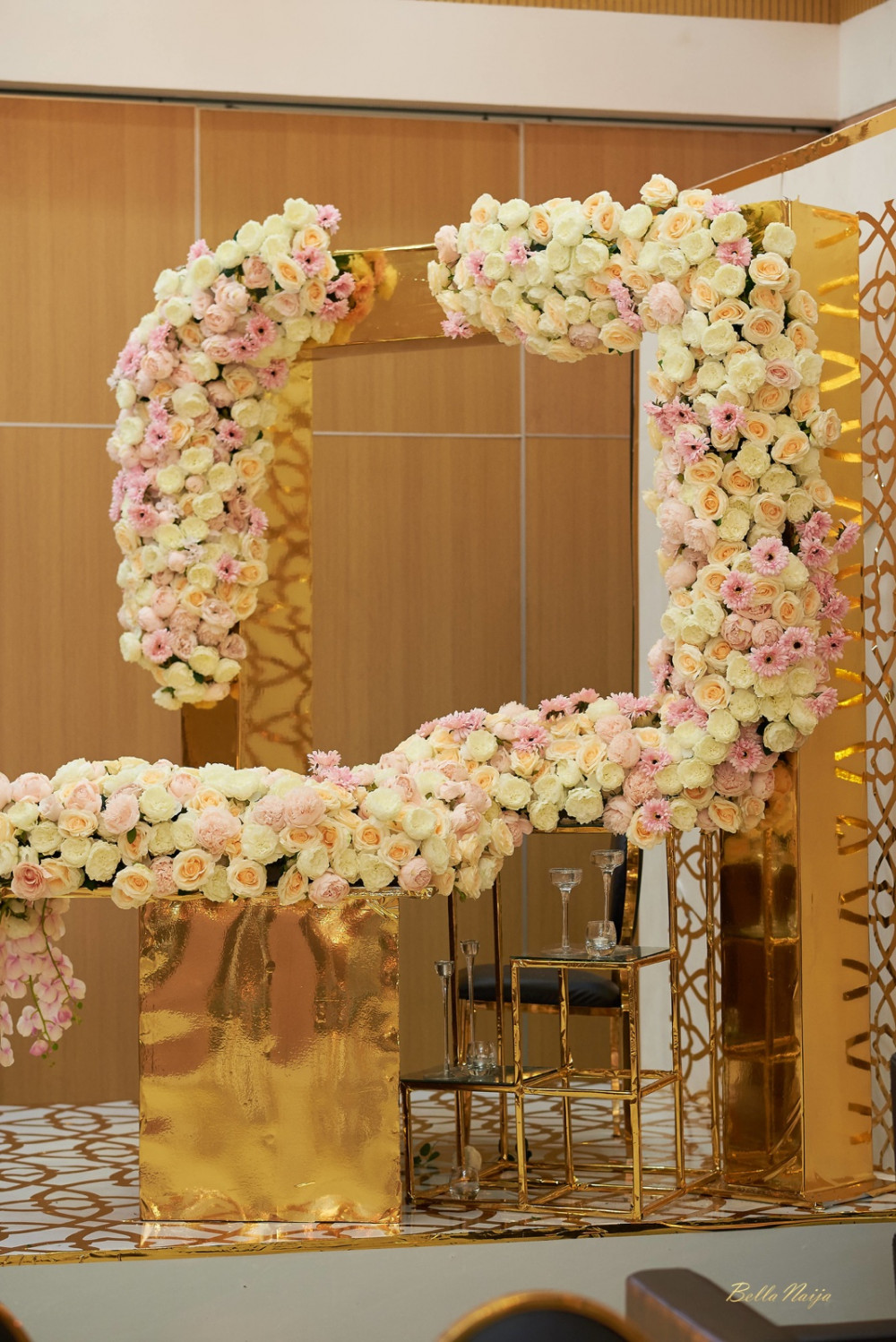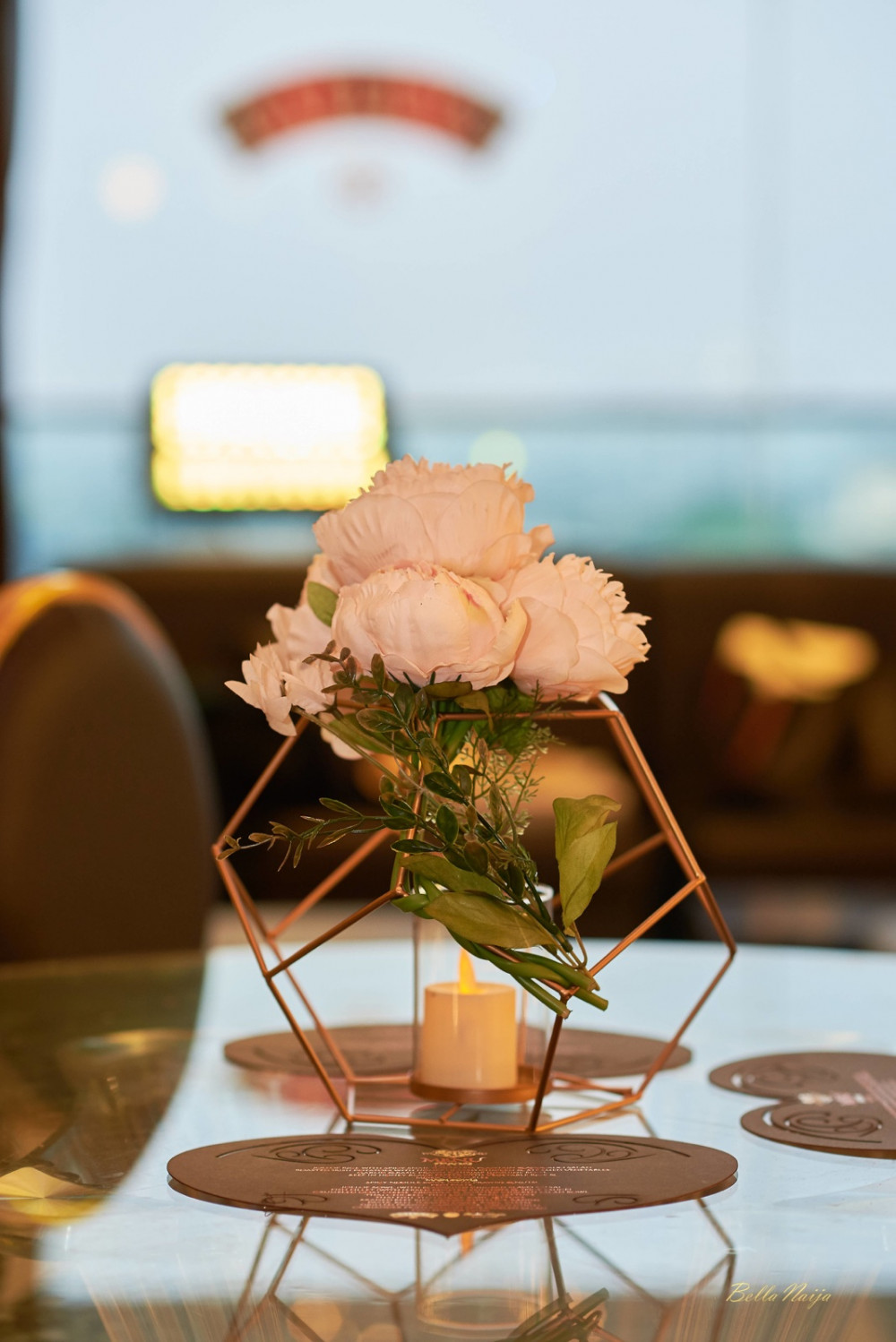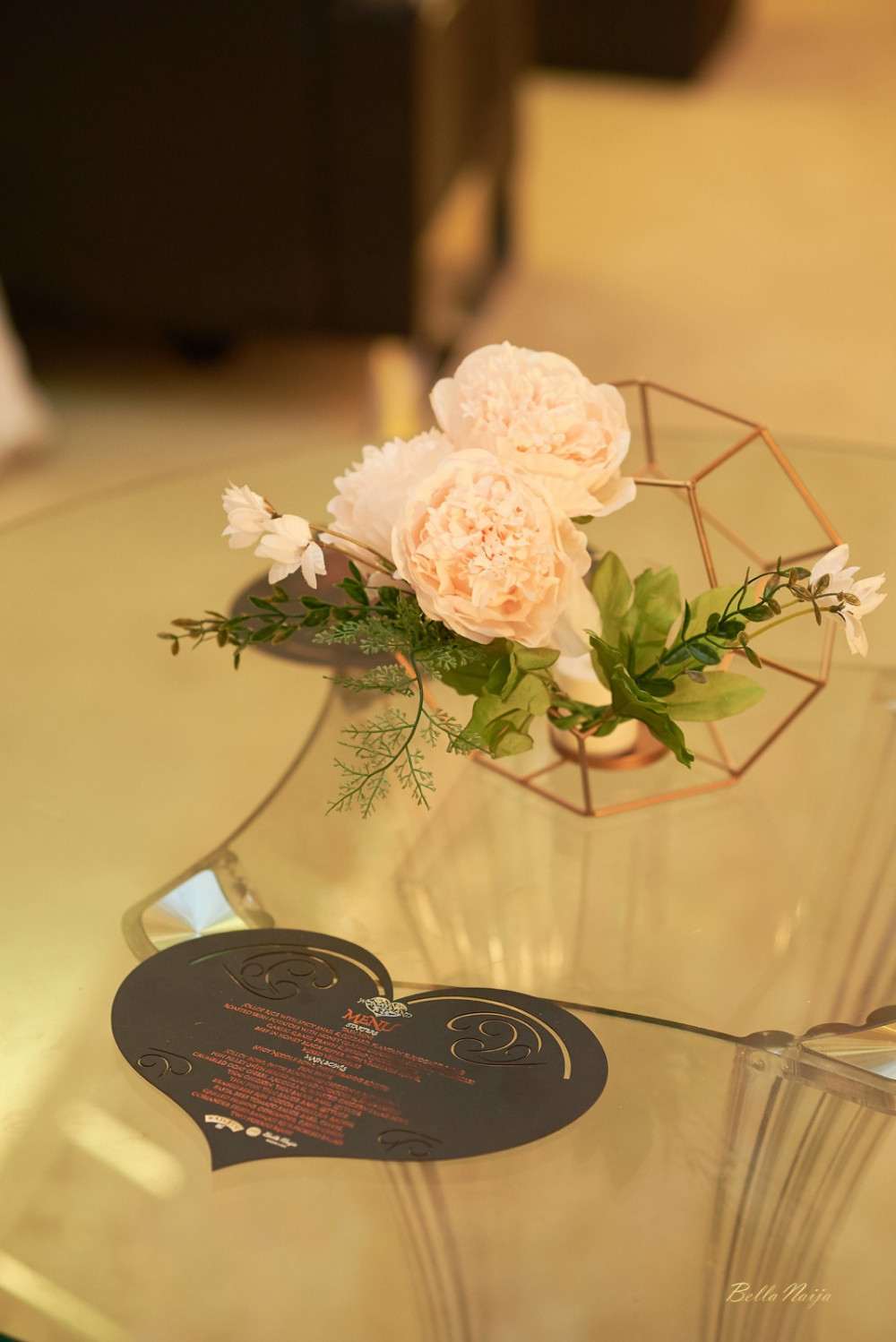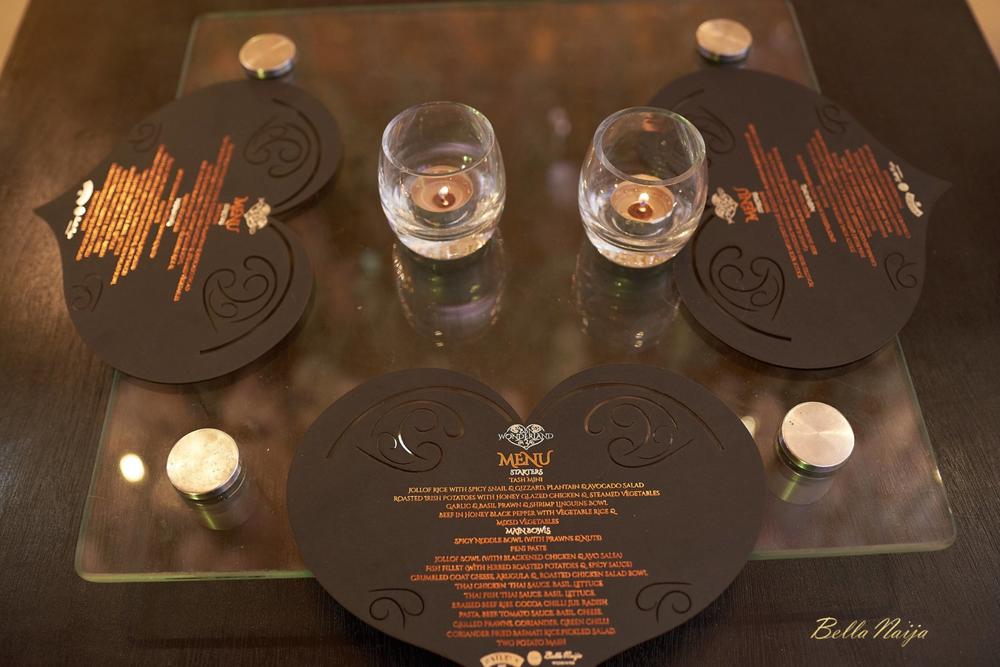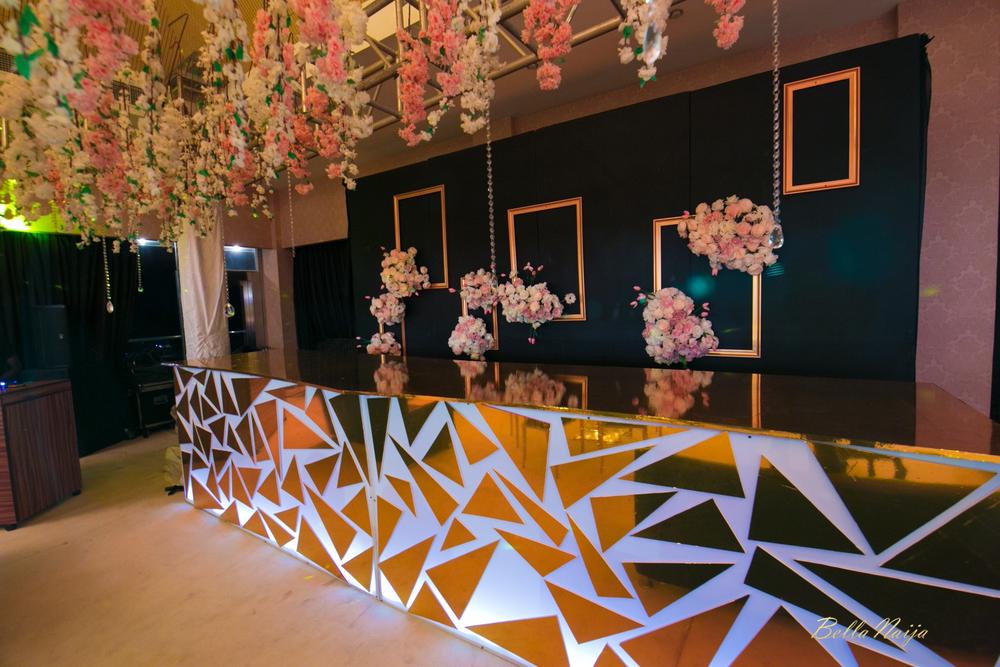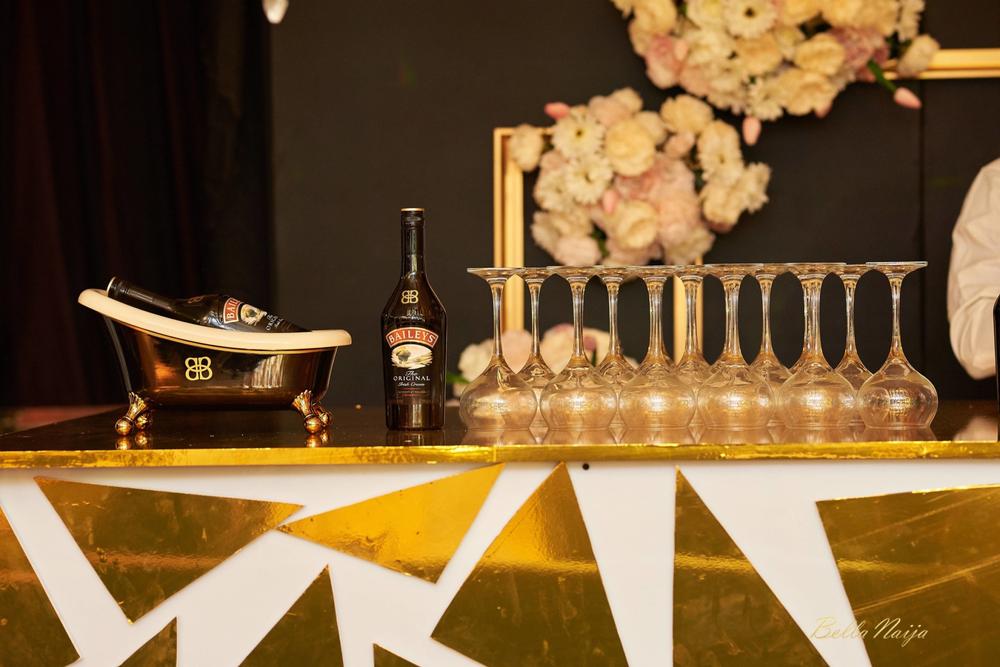 Stage Fever!
The stage was a mixture of white and a hint of metallic. The sofas mixed with Dior chairs added a classy elegance to the ambience.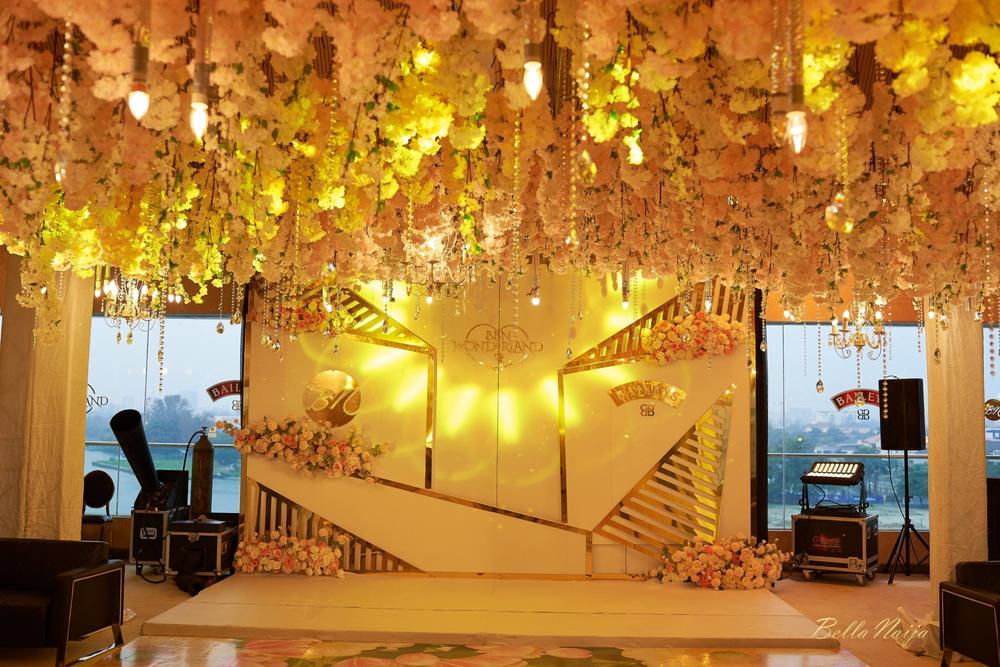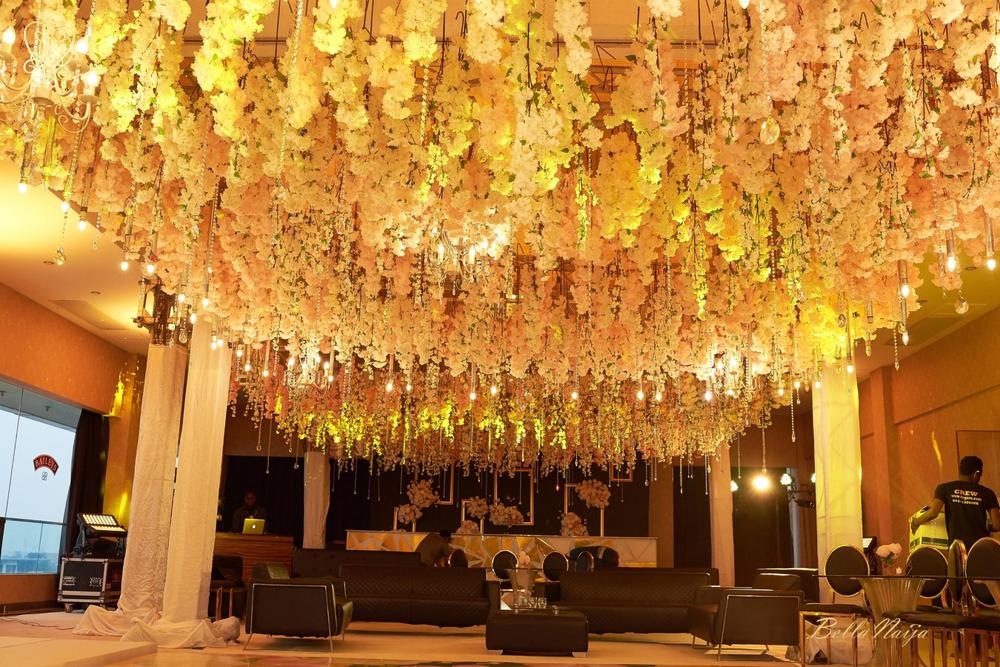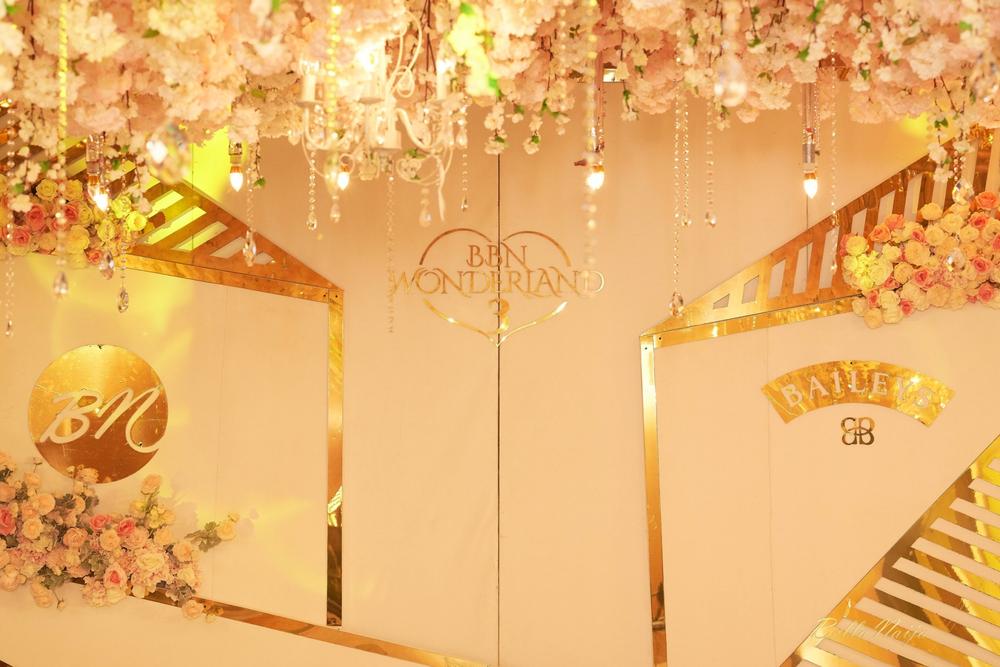 Treats and Amazing Gourmet Food
This time, we went gourmet with the food and had the talented Chef Fregz and Chef Nkesi make us delicious dishes. Each food item was so delicious! We also enjoyed canapés by Sweet Harriet, Artist & Scientist and Tash Bistro – all so tasty. The #BBNWonderland dessert table by The Dessert Studio looked so great, we almost didn't want to touch it but once we tasted the treats, we could not stop. We also had more desserts from I Luv Desserts and Salt Lagos. Our after-party Baileys infused grilled food by The A.J's was the perfect feast to end the night!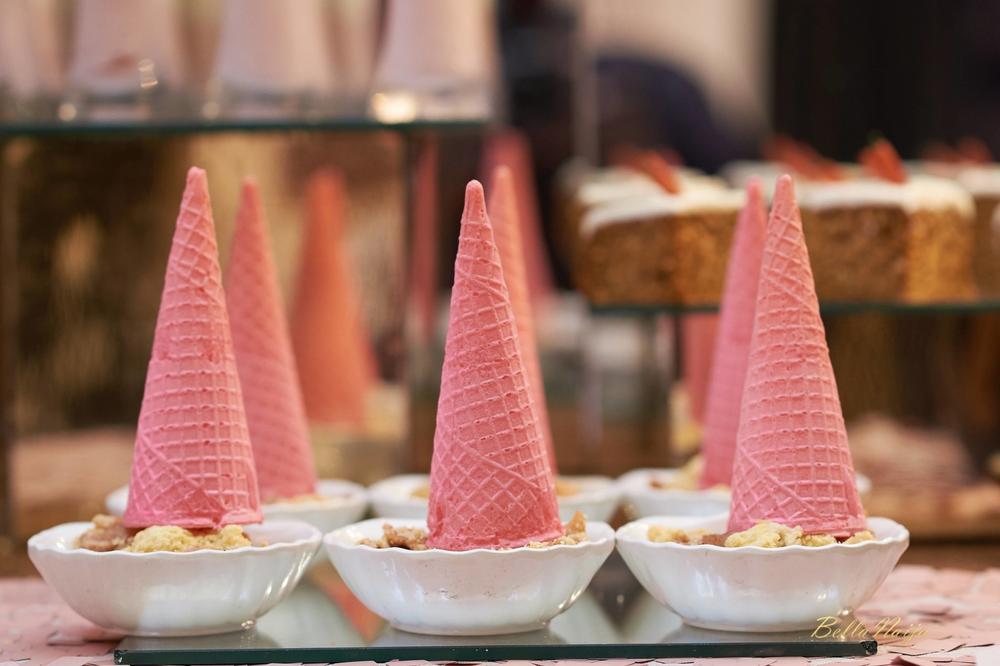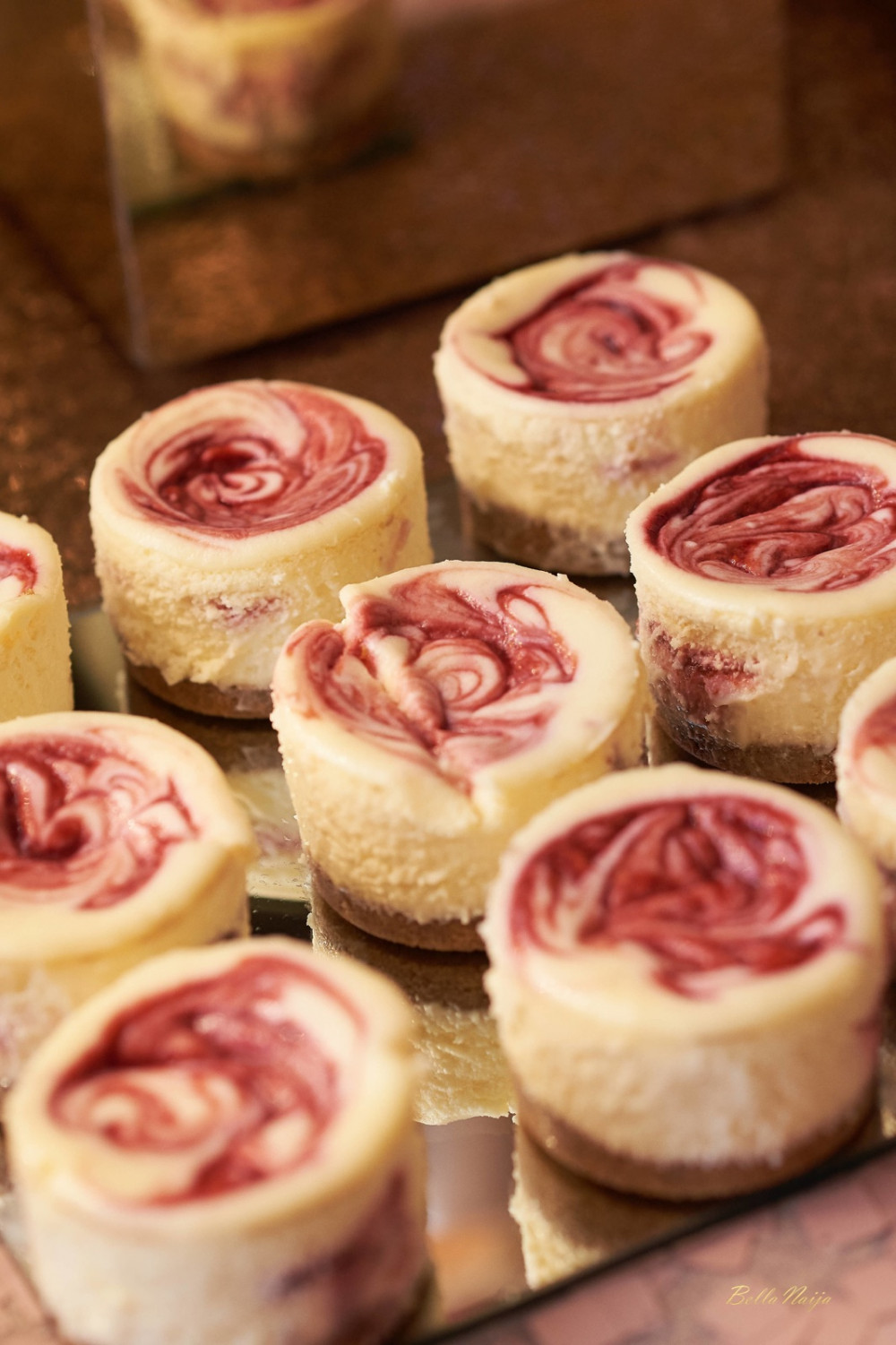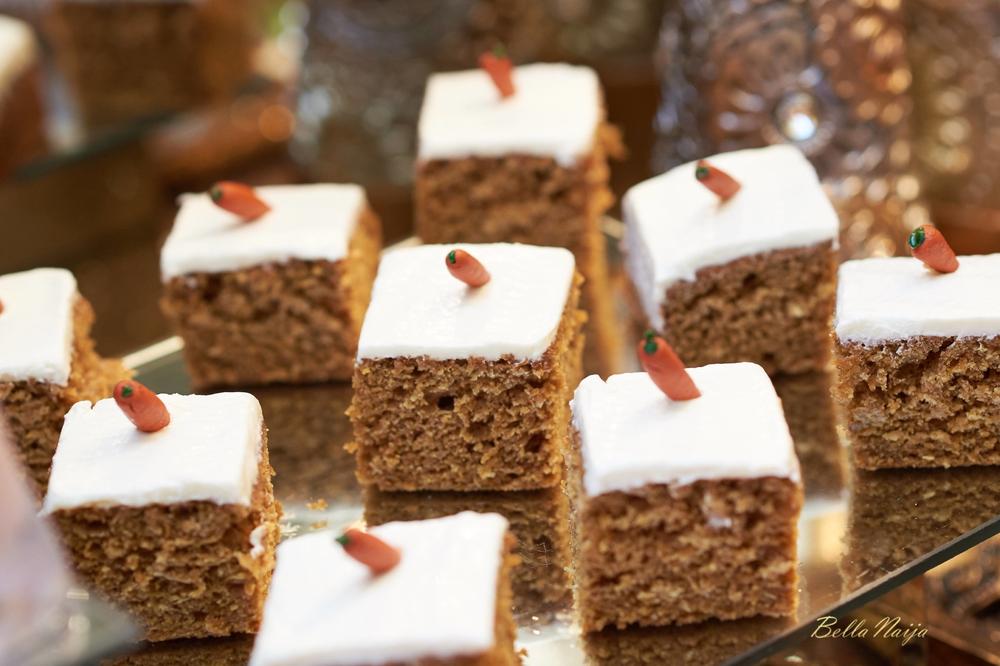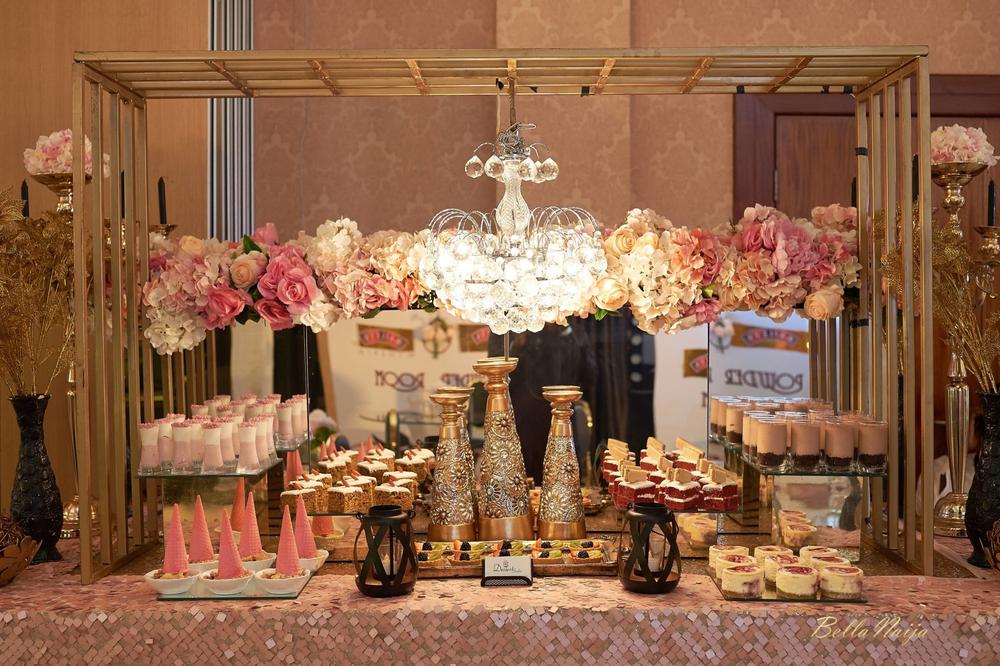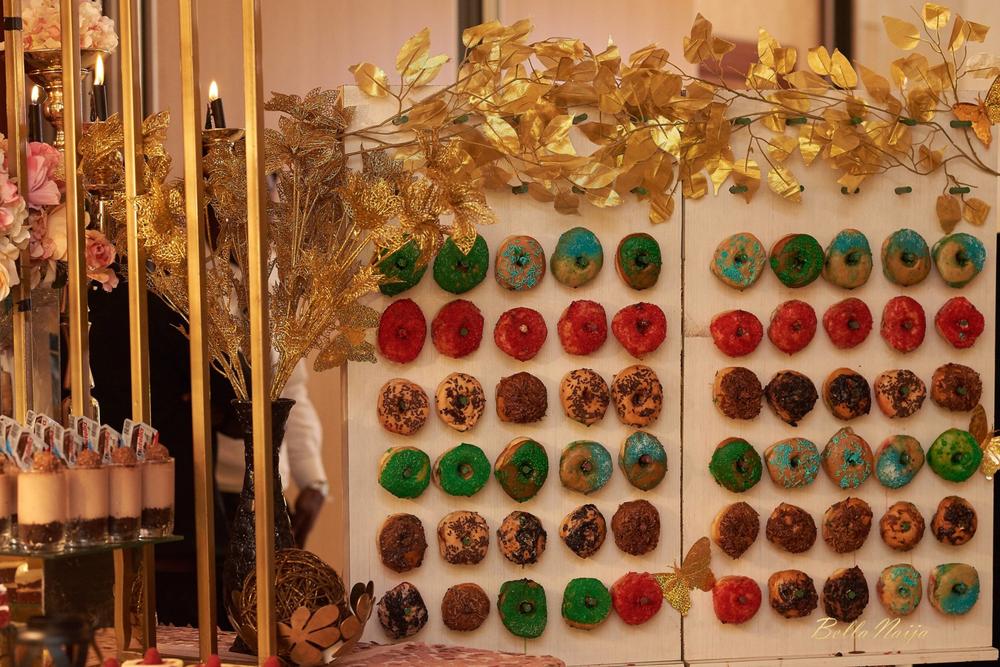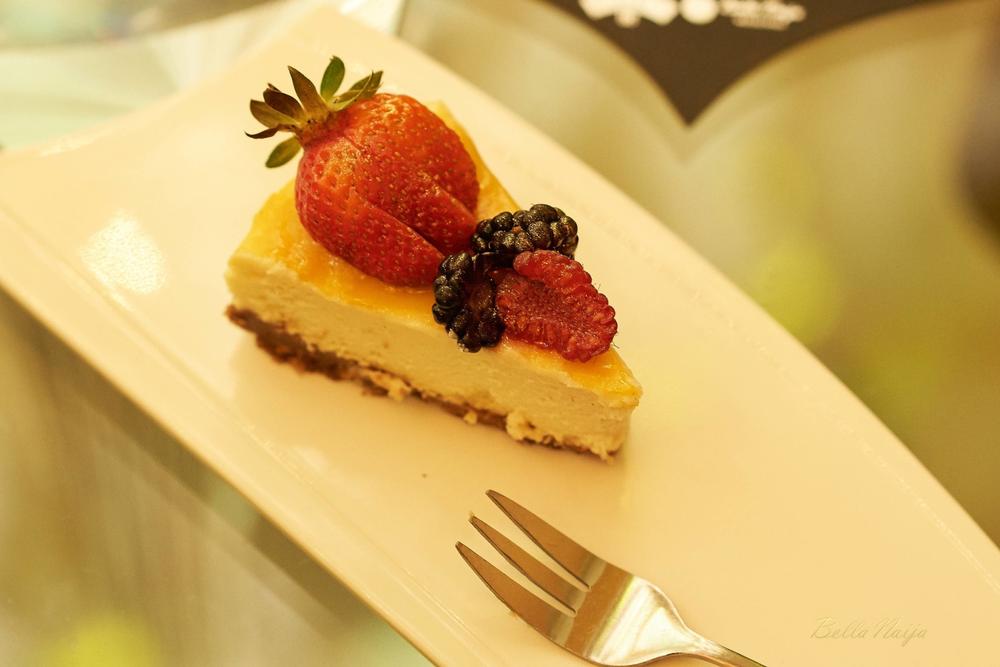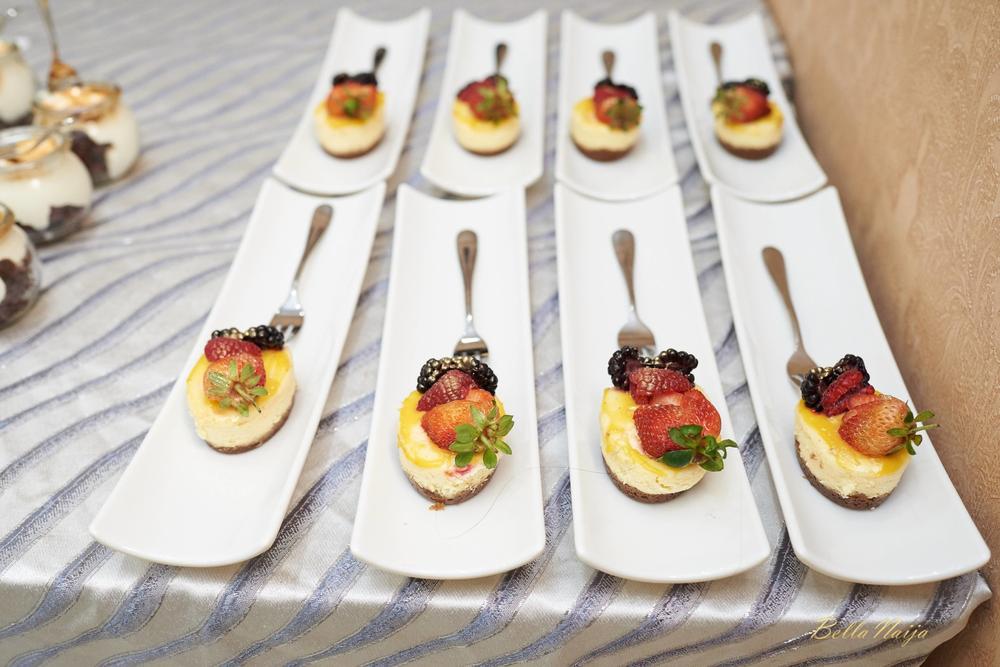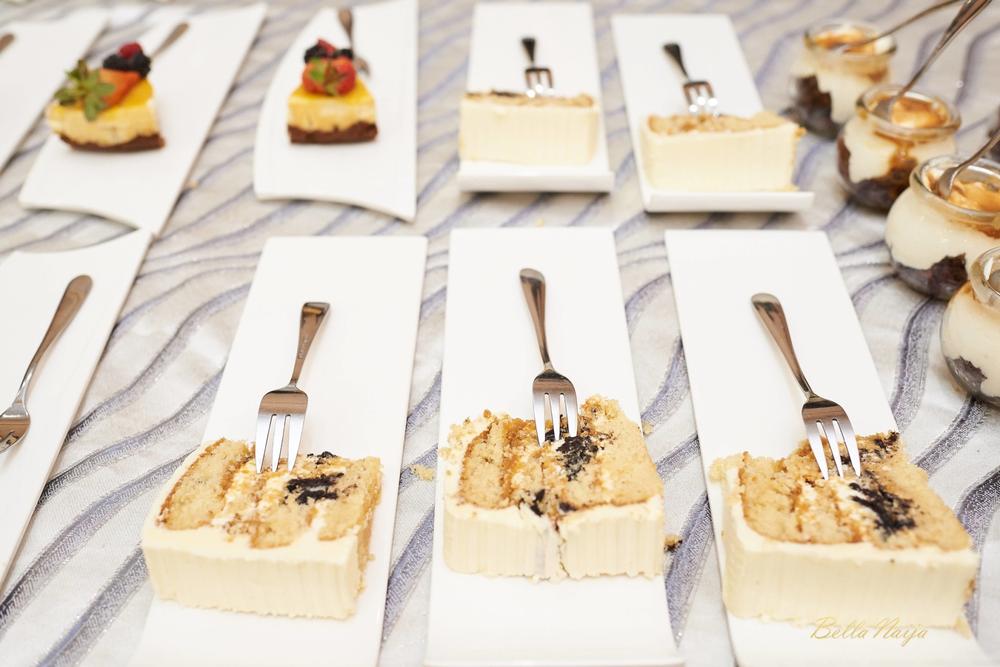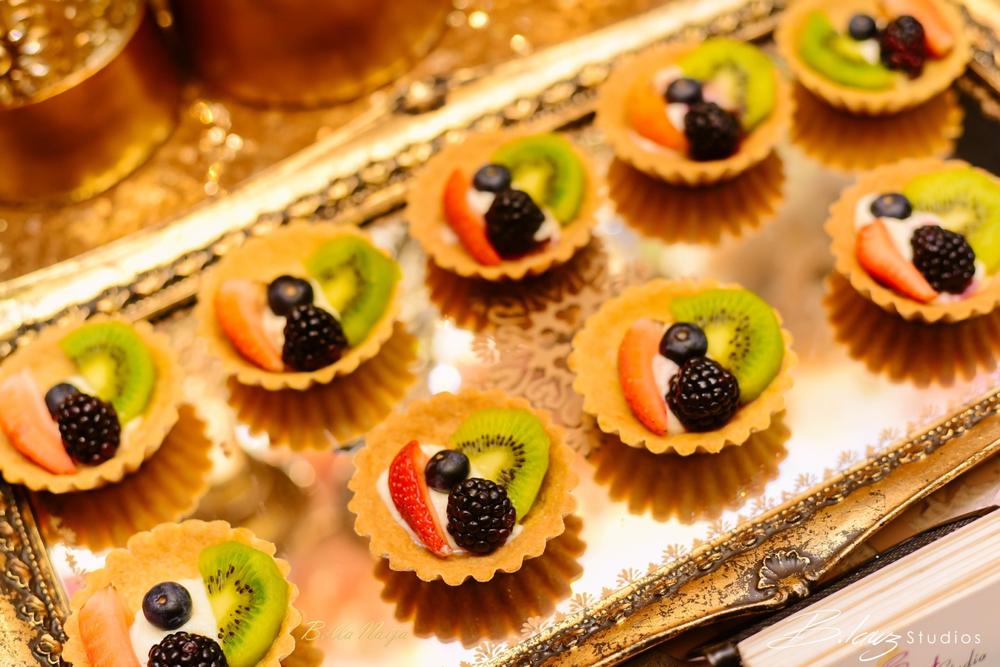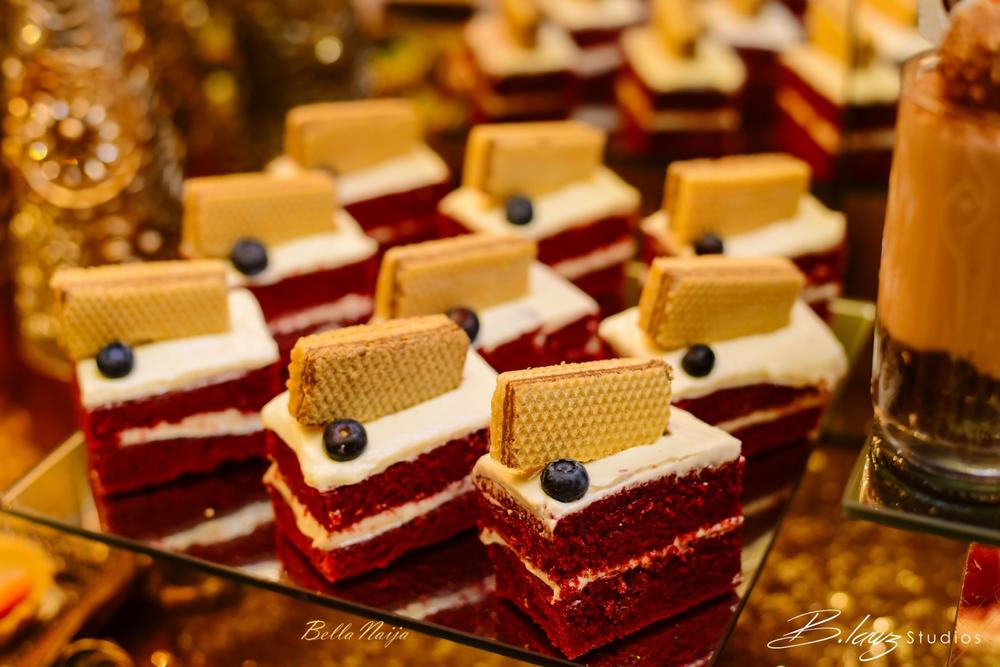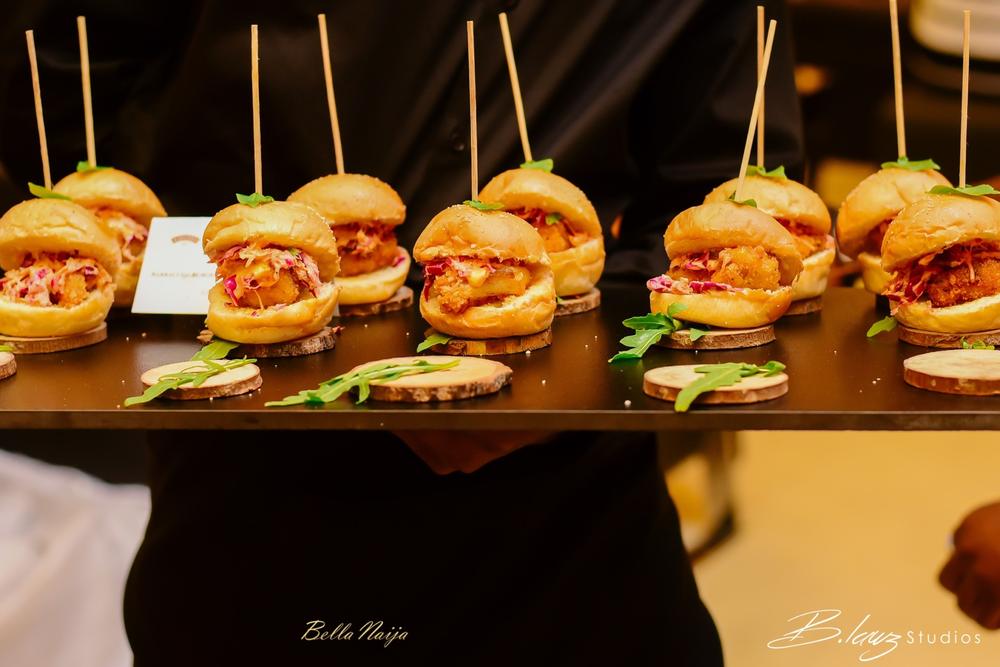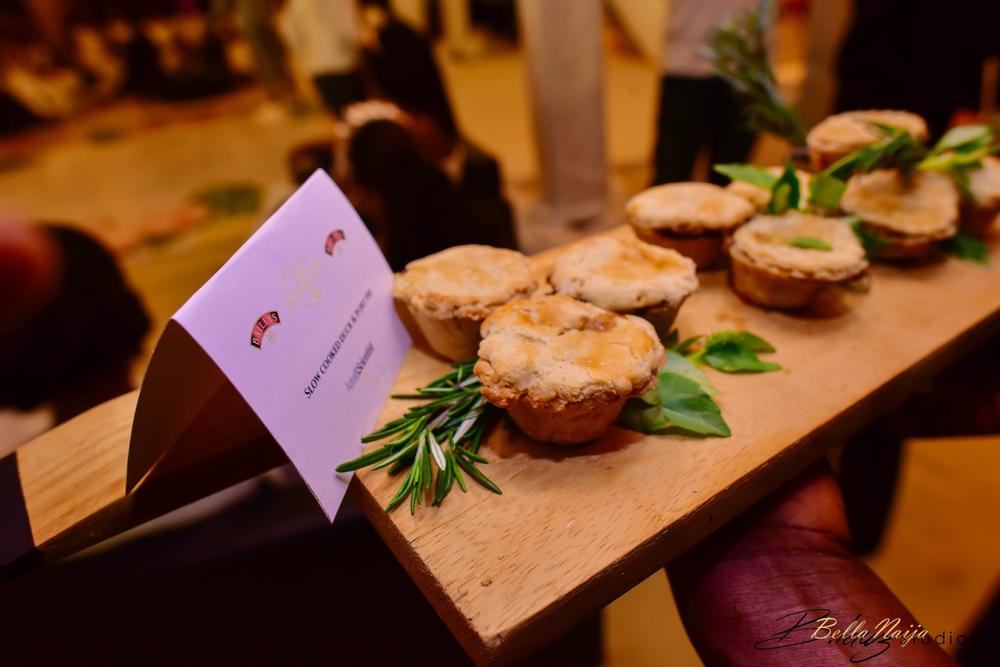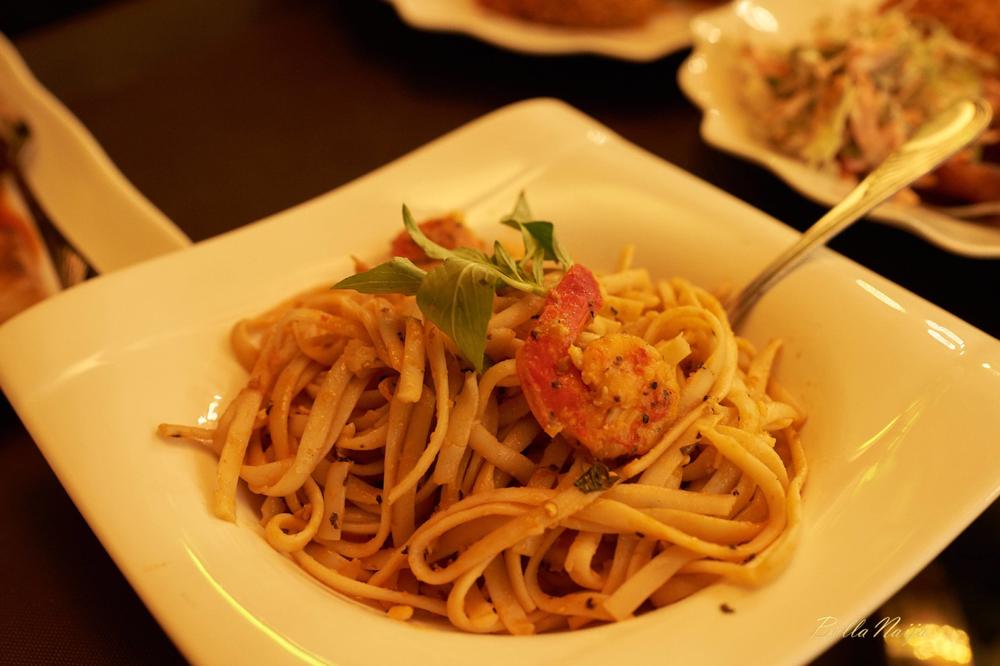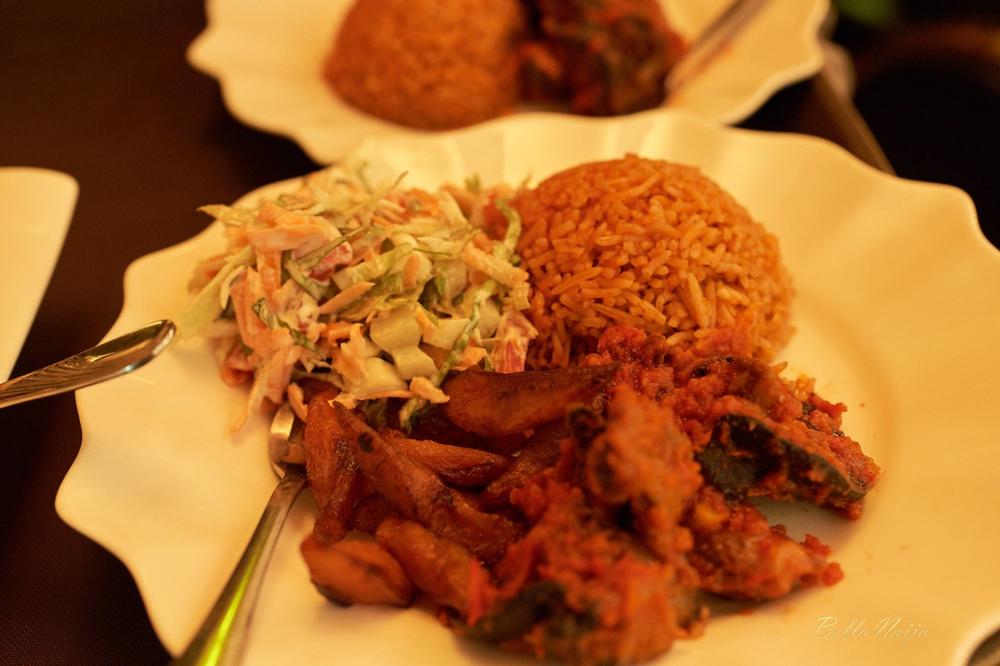 Cake Though…Lovestruck!
Can we take a moment to appreciate the gorgeous BBN Wonderland cake by Cakes By Tosan? Love.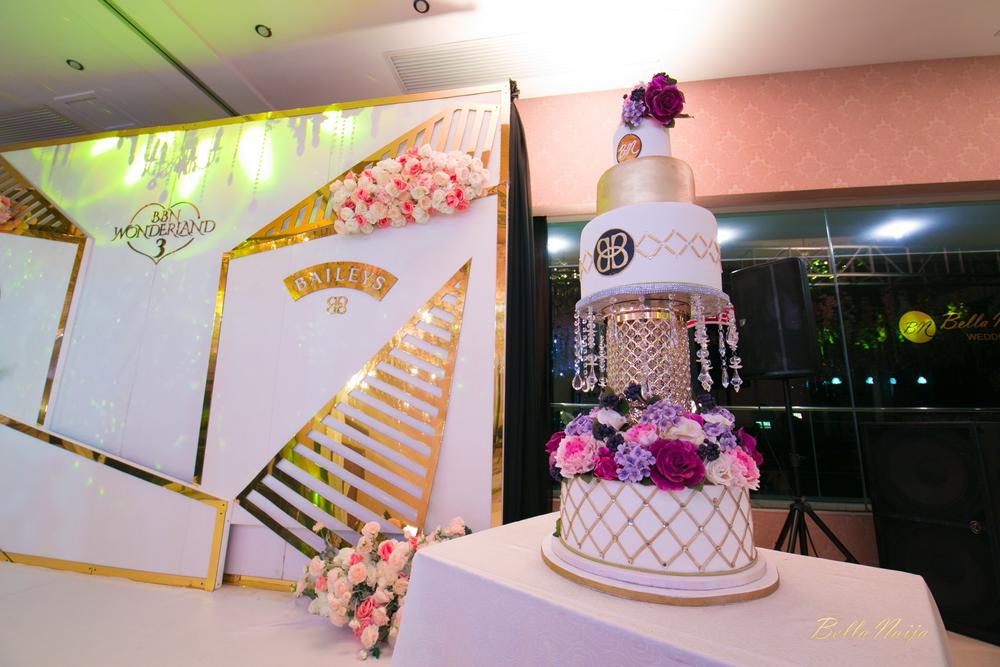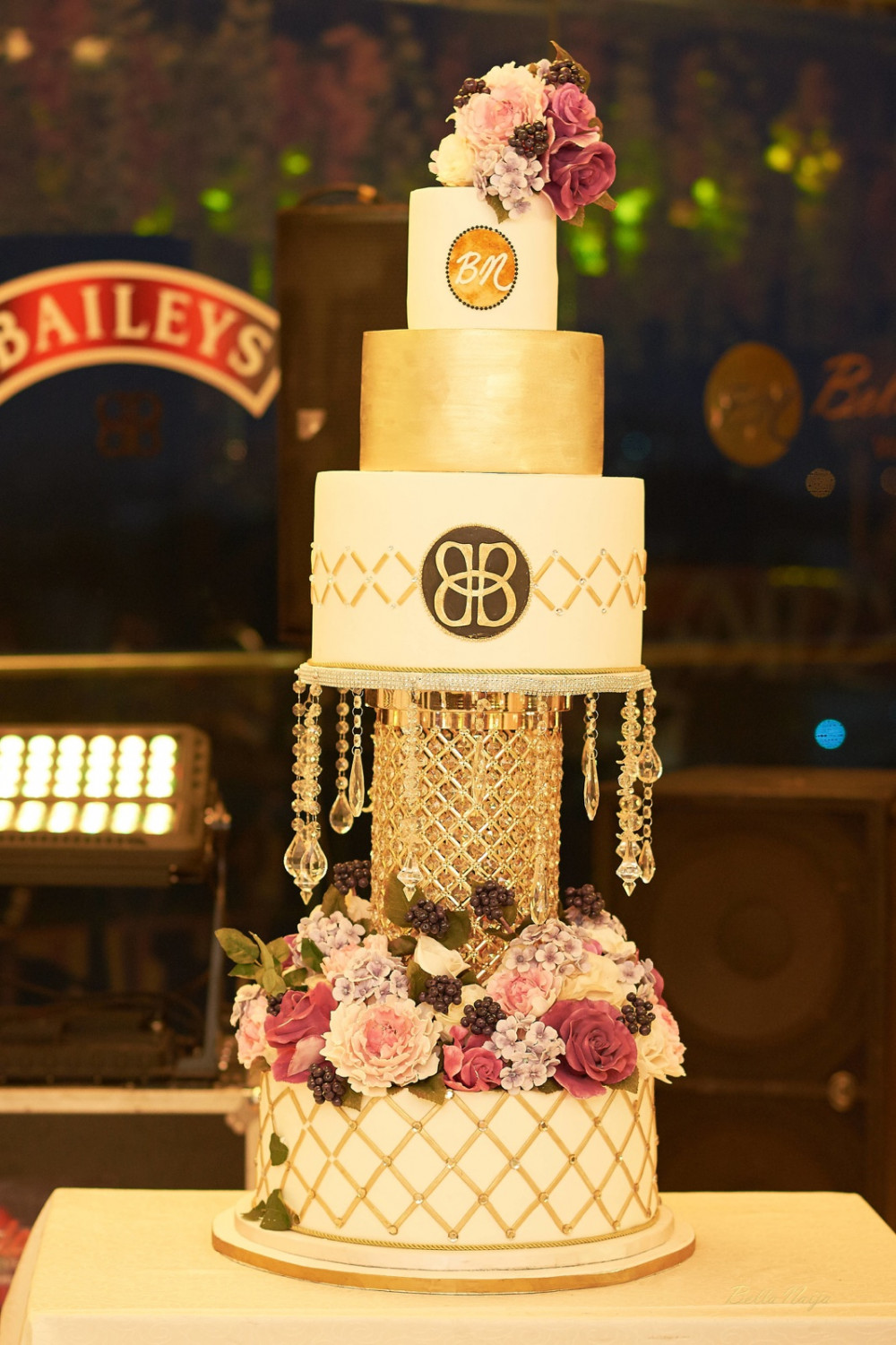 Such a Grand Entrance
When the brides-to-be arrived, they gave everyone a show-stopping entrance by dancing into Wonderland and having fun on the 360 video stage by Cinematics Films where they were welcomed by their host for the evening, superstar comedian Bovi.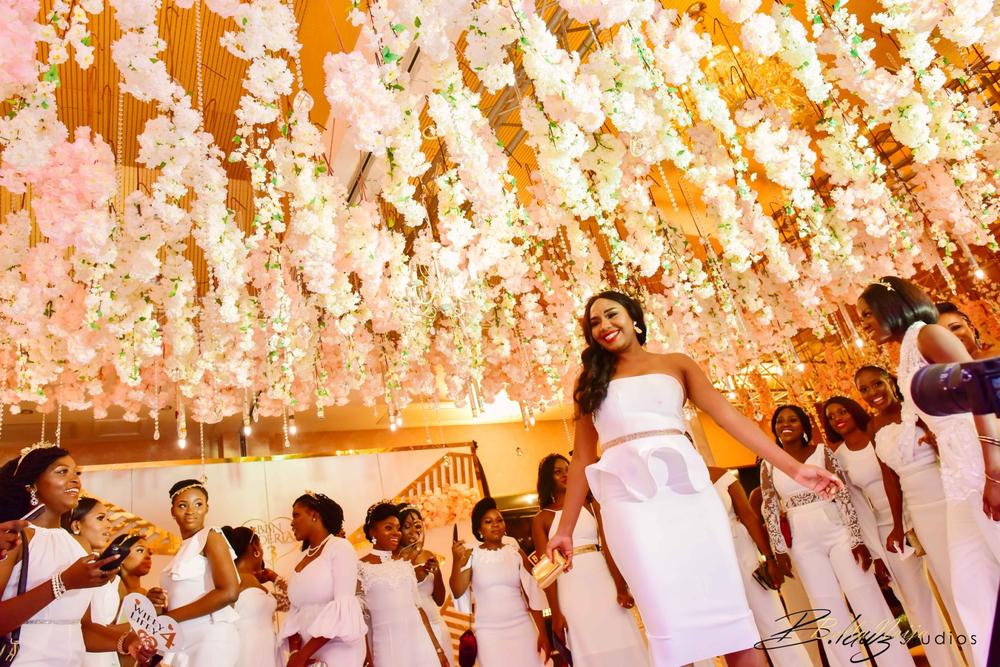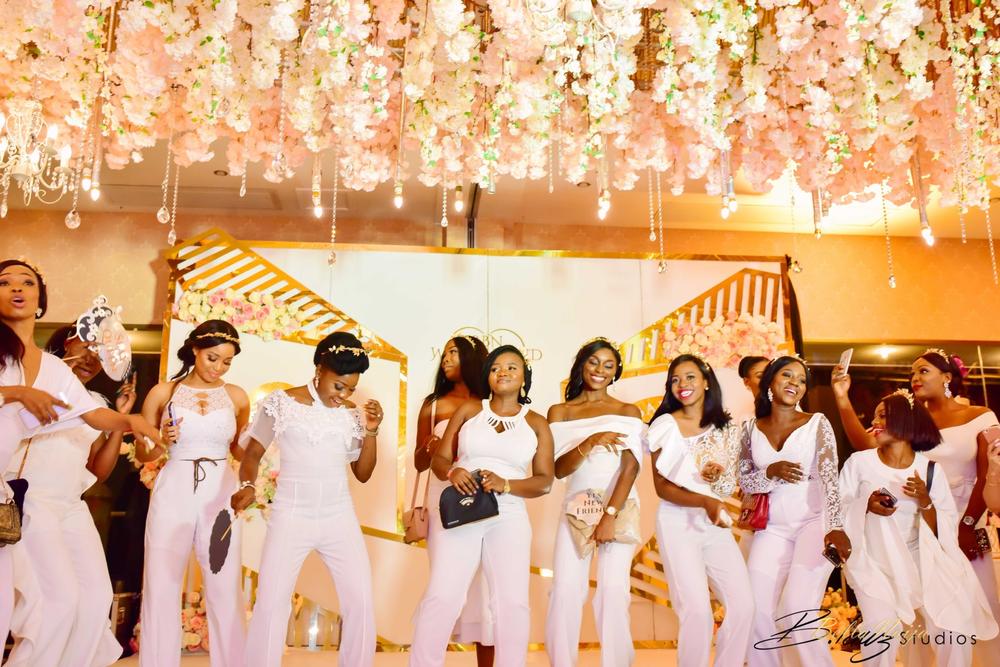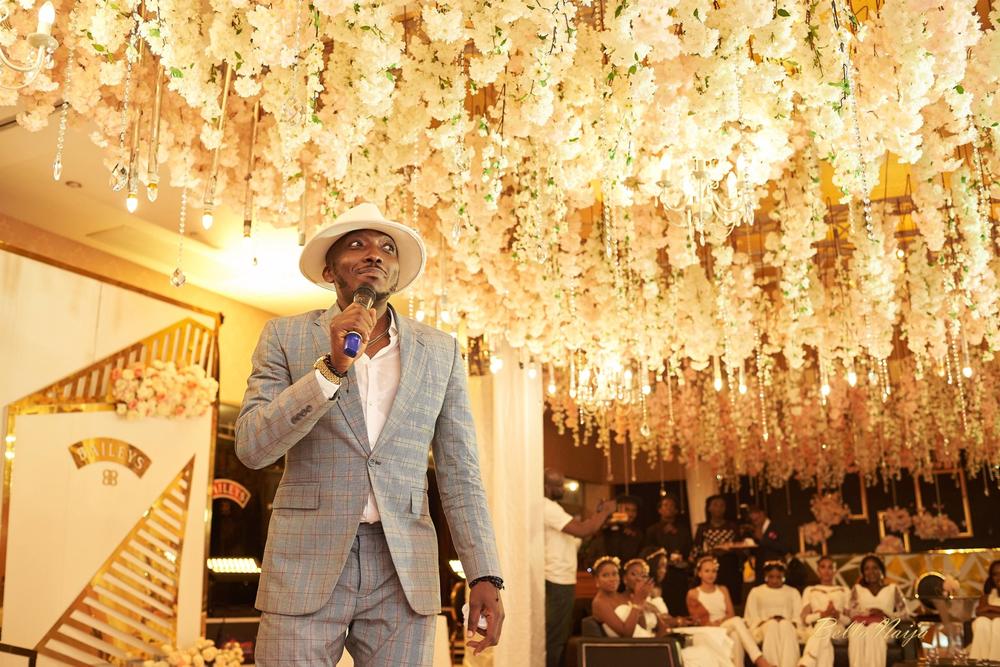 Adenike Adebola, Guinness Nigeria Portfolio Director Spirits & RTD kicked off the event welcoming the brides-to-be to BBN Wonderland assuring them of a good time.
Words of Wisdom from RMD
Now, it was time for Richard Mofe Damijo (RMD). While RMD expressed that he wished the grooms were here to learn from his experiences, he was so candid! Looking around the room, everyone was so focused on what he was sharing. We will need to get the video and share soon, definitely lots of wise words and real-life experience.
It was his wife Jumobi's birthday so he had to get back home to celebrate with her but all the #BBNWonderland brides and guests were so grateful for the knowledge shared.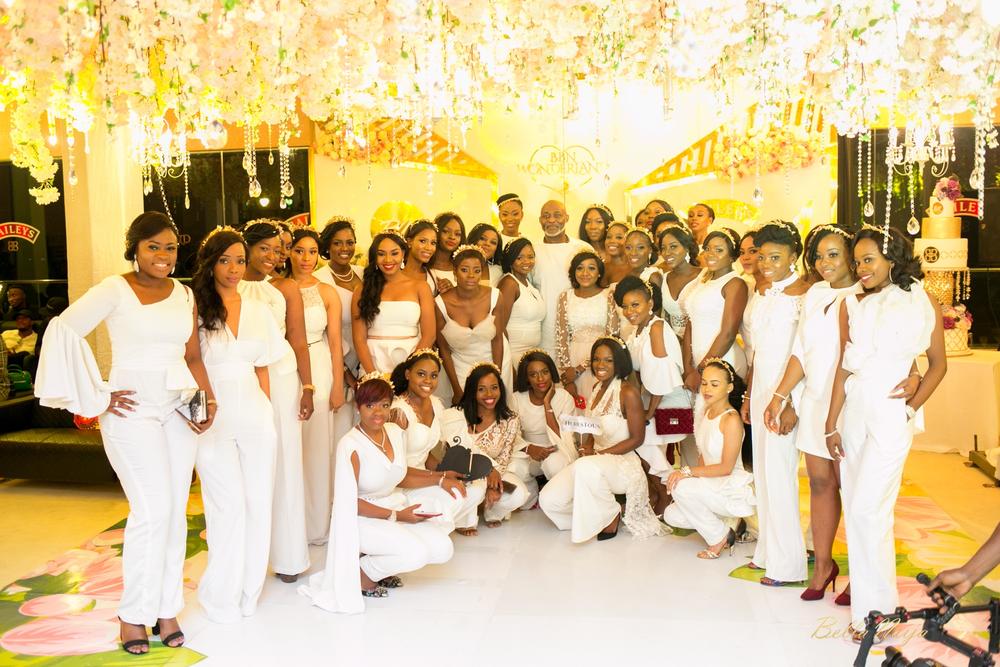 The Shaku Shaku dancer bride is…
Into the event, Bovi decided to identify the best Shaku Shaku dancer among the brides-to-be. You can clearly tell who won from the video right?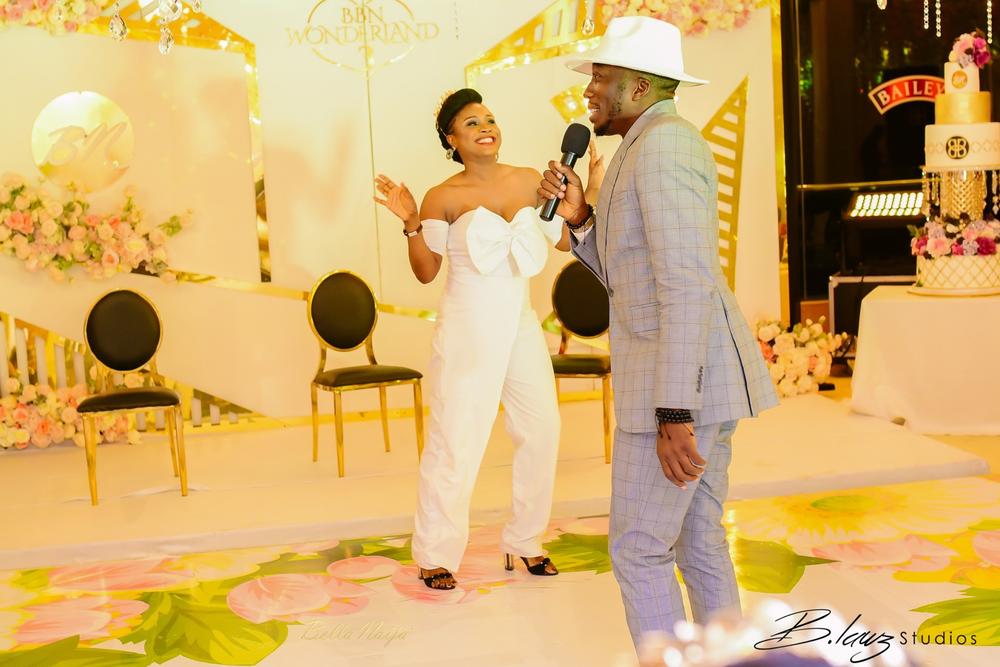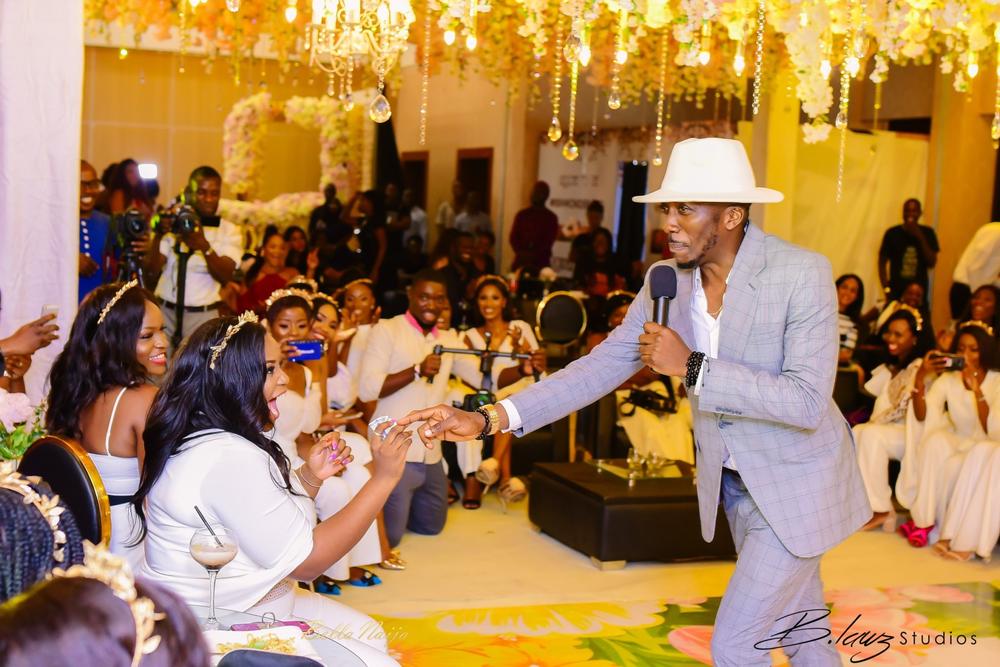 Loving yourself in marriage with Cobhams and Ojuola
The ladies were so excited to interact with award-winning musician Cobhams and business executive Ojuola who have been married since 2010 but were friends for many years before that time. Ojuola and Cobhams were as real as real can be. They shared the importance of finding yourself, asking the deep questions and outlining what is important for you as a person at the beginning of your journey.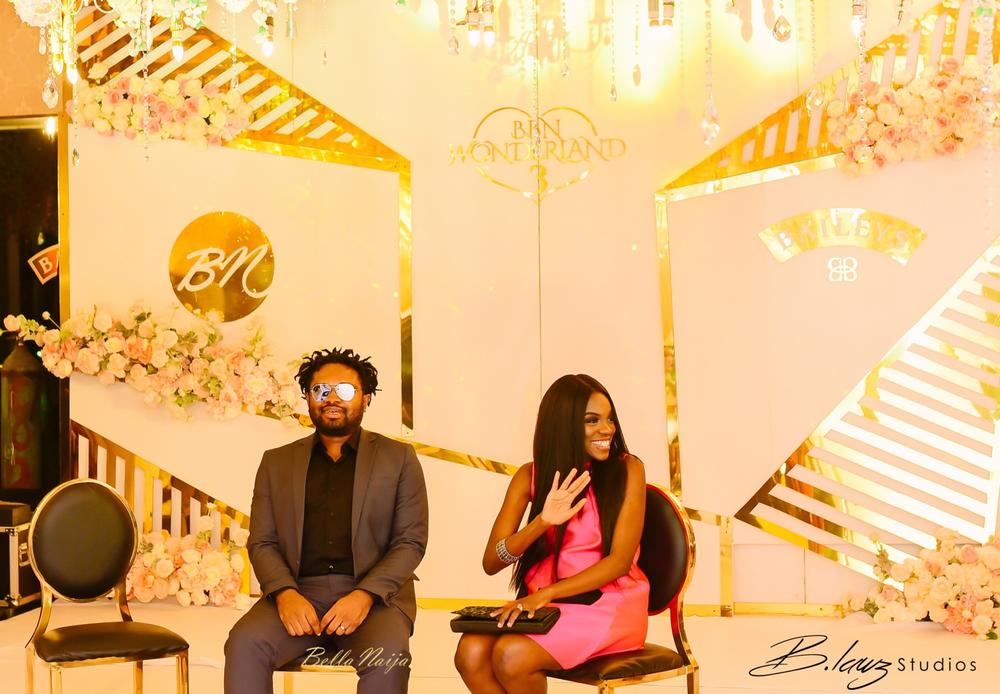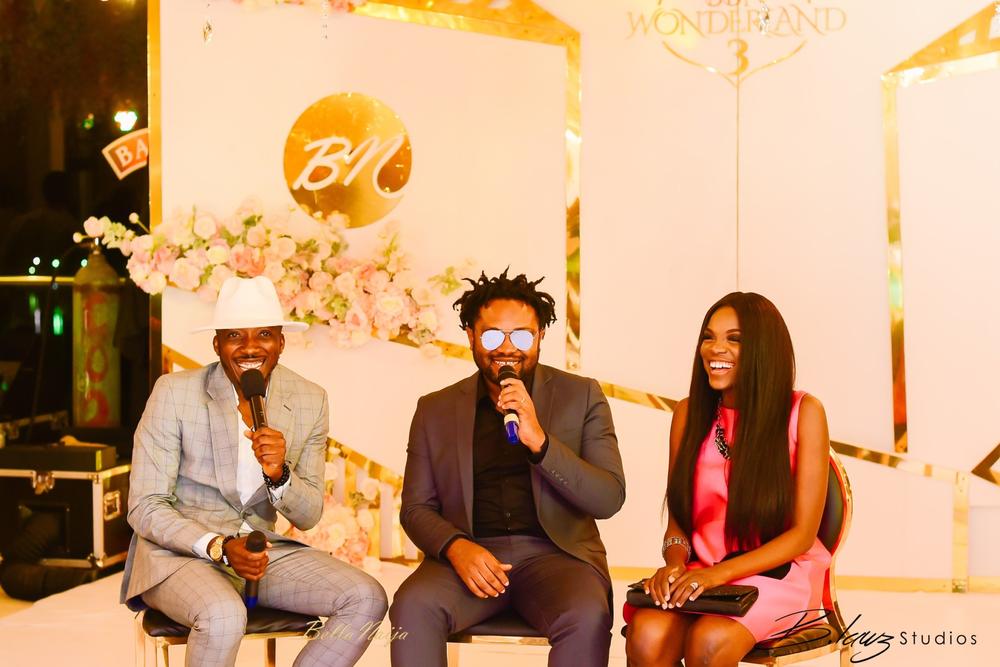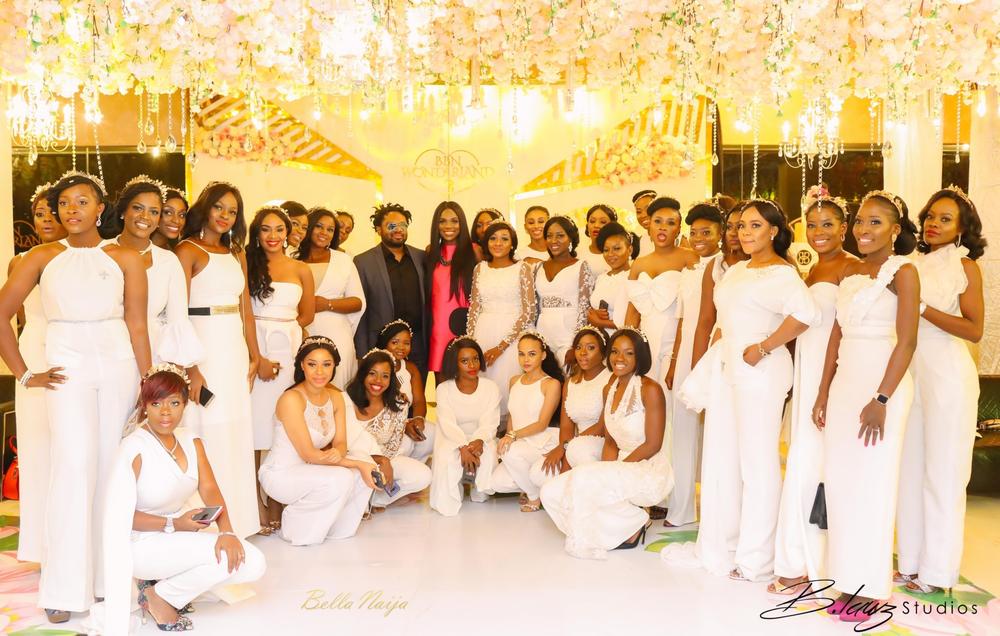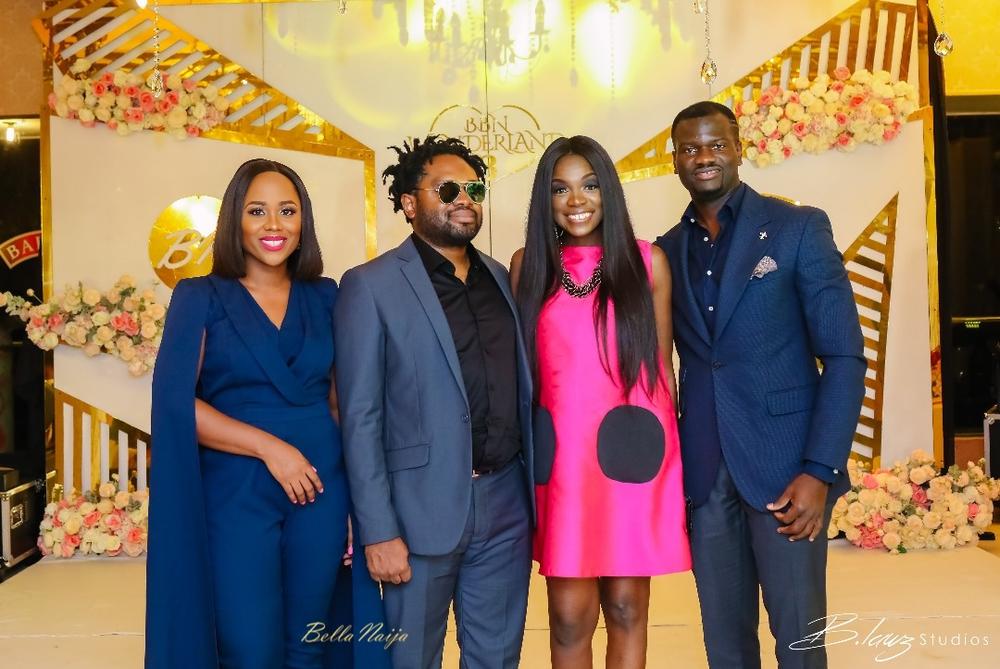 A Girly Chat with Adesua Etomi
Founder of BellaNaija / BellaNaija Weddings, Uche Pedro came on stage to chat with the #BBNWonderland brides and then to introduce award-winning actress Adesua Etomi. Adesua who was the brides-to-be's shoes just a few months ago while planning her wedding shared words of wisdom.
Adesua shared quite a number of pearls of wisdom, for example – when she was asked what to do when a close friend starts acting distant and is not there for you during your wedding planning process. Adesua responded by sharing that she experienced a similar situation, however, rather than internalizing the friend's behaviour, she advised brides to realize that it's not always about them and the friend could be going through a difficult time so it's best to not get upset but instead show caring and compassion instead.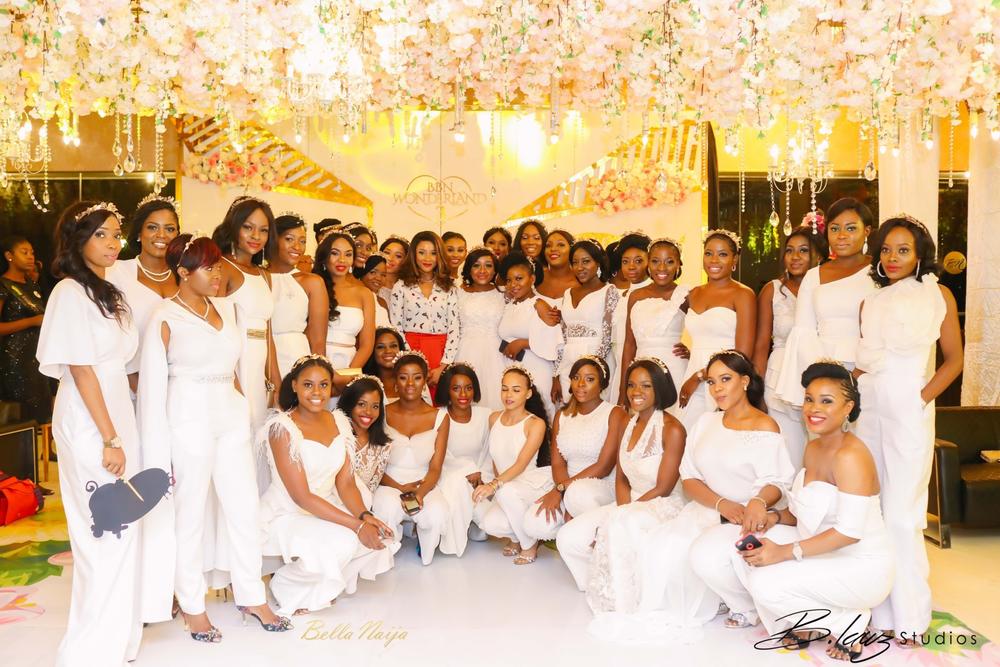 It's Ti-wa Sa-vage!
Talk about the right start to the after party! Tiwa co-sang and danced with the brides-to-be and yes we have pictures and videos to prove it! DJ Spinall was on the wheels of steel to ensure the ladies had a super fantastic time dancing the night away.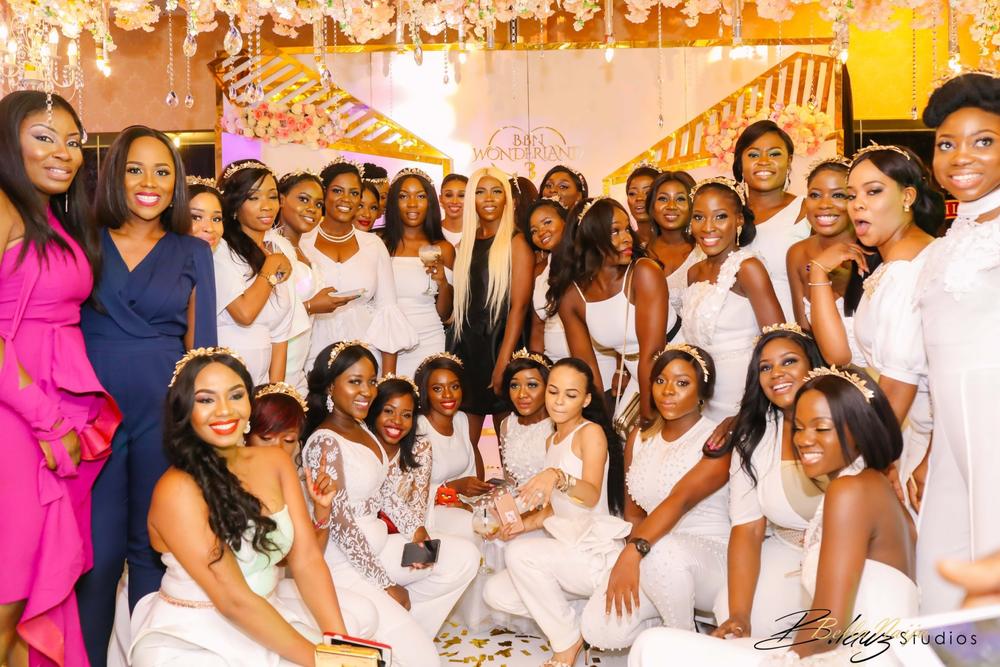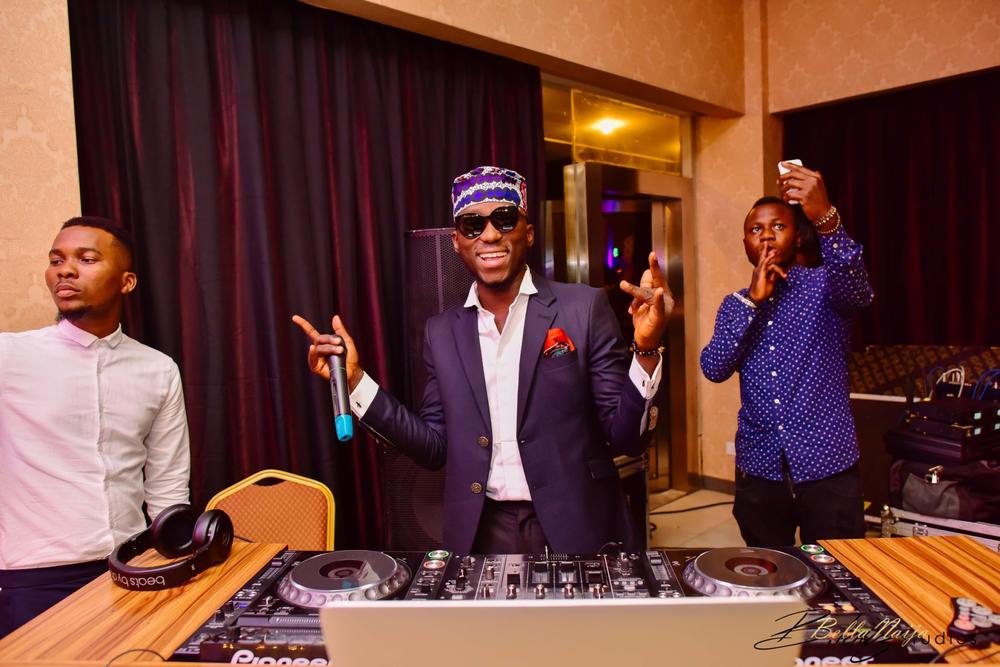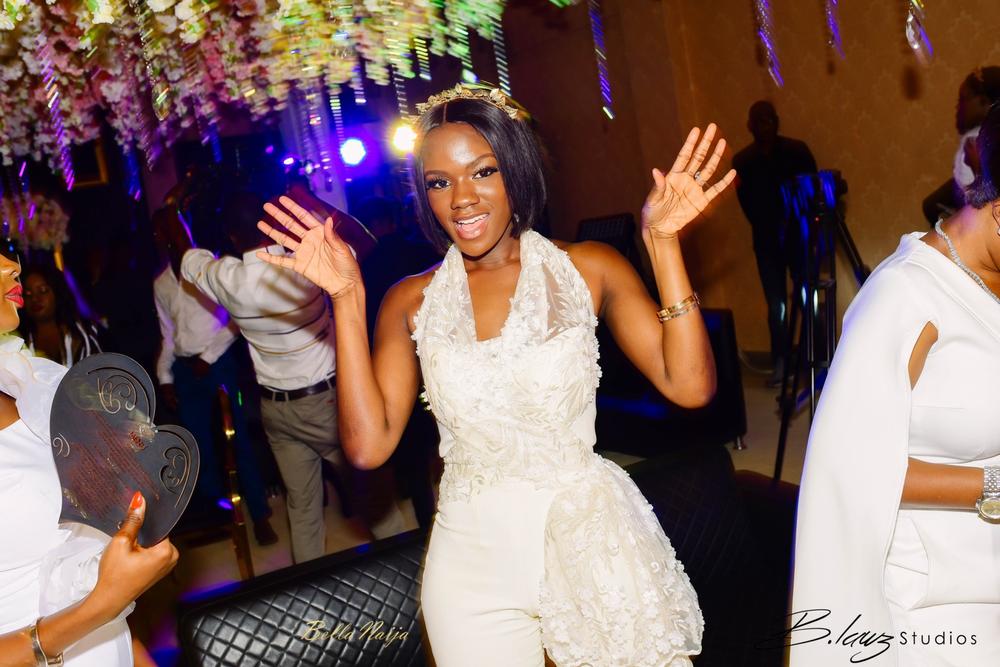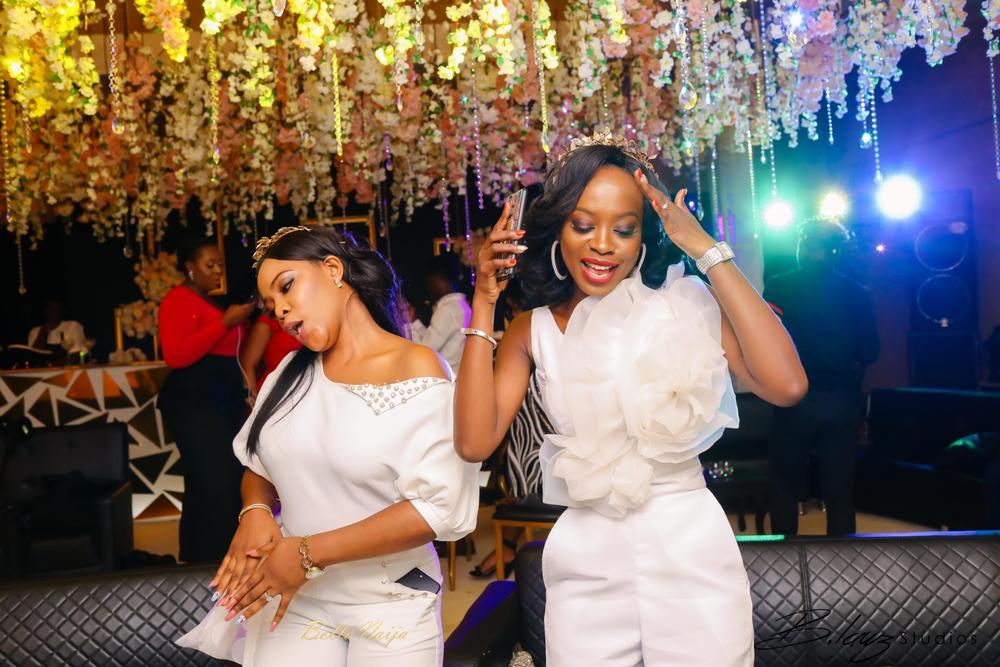 A toast to the Best Life!
Ufuoma Udjoh, Baileys Nigeria Brand Manager had everyone toast to the best life. Here's to us.
Gifts for everyone!
The ultimate bridal gift box was given to each bride-to-be contained; Op Maki scented candles to keep their homes smelling divine, Kays Fitclub workout gear for all those pre-wedding workouts, Revel.ng underwear bra for all those intimate moments, Essence Shoecare to keep their high heel shoes protected from damage, The Gift Haven mouse set, boss notepad, Bluetooth speakers and frothers to help them enjoy every bit of your life as a bride and a boss, +234 An Awkward Guide to being Nigerian by Atoke to keep them entertained while sipping on your Baileys, Perkbagco wifey mug, queen water bottle and compact mirror to keep them daily refreshed, R and R Luxury ilé room spray to keep every single part of their home smelling fresh, Michelles Jewellery to make them sparkle on their big day,  Trouvai Lingerie sleep mask to ensure they enjoy their beauty sleep Black Opal beauty box kit to help them slay for bae morning, afternoon and night, Amali Cosmetics to make sure they keep flaunting their #BNBling, Lavieroyale snapback and the gift box itself by Cerisenoire to help store their valuable items in your home.
A Floral Farewell Breakfast
Wow! What a weekend! You would have thought it ended there… no, it did not. We had an all you can eat breakfast hosted at Adela's Flowers on Sunday morning to finally say our goodbyes!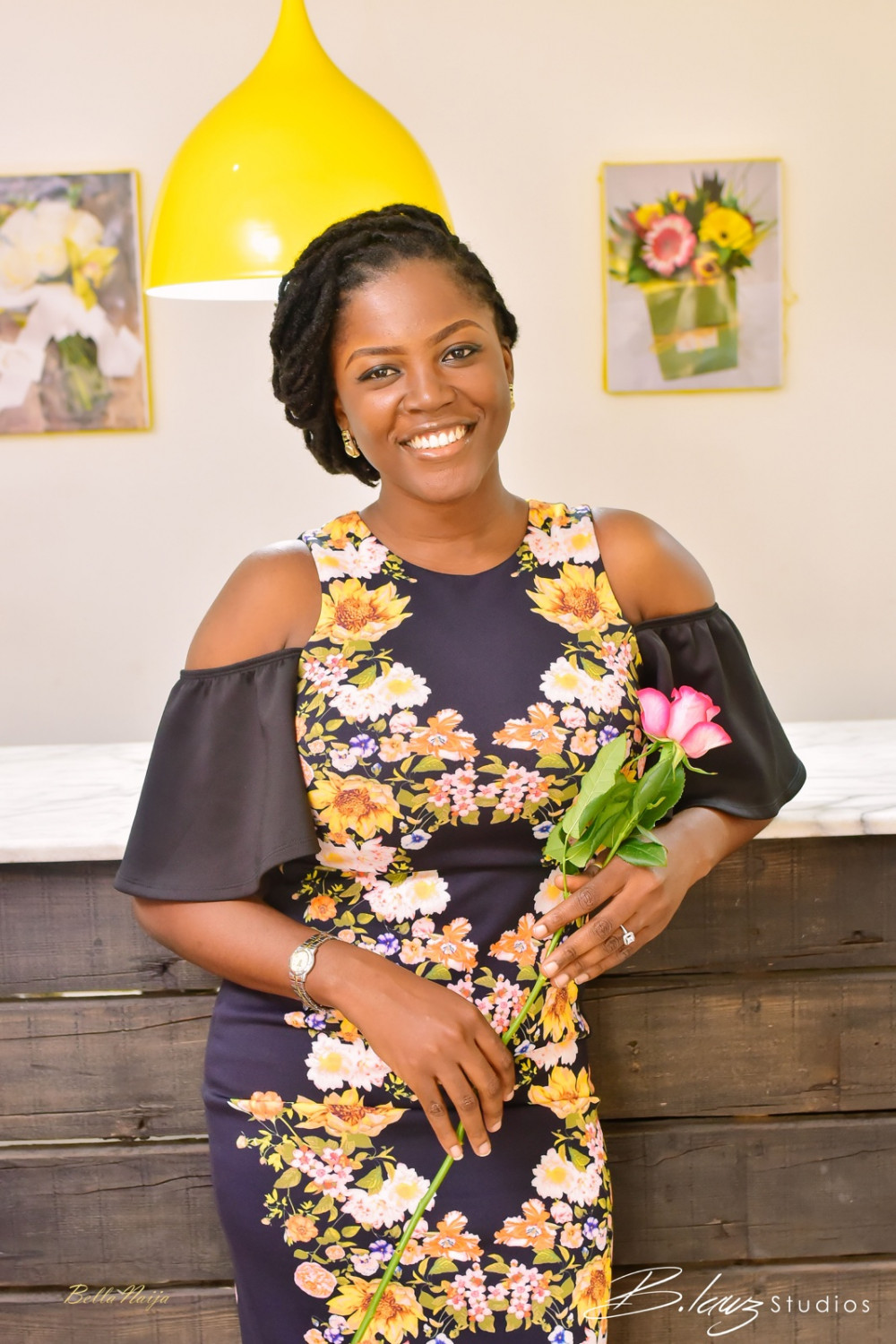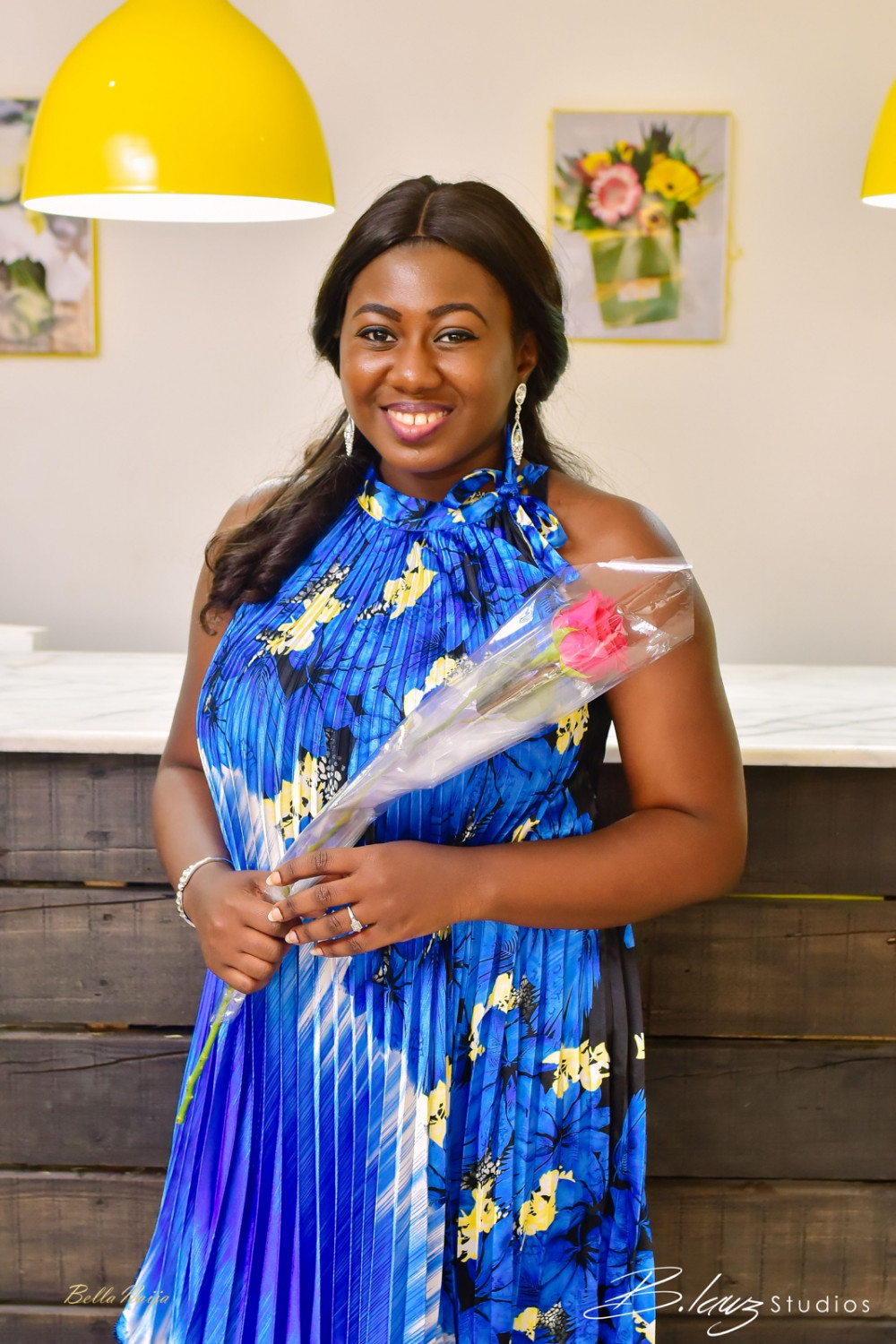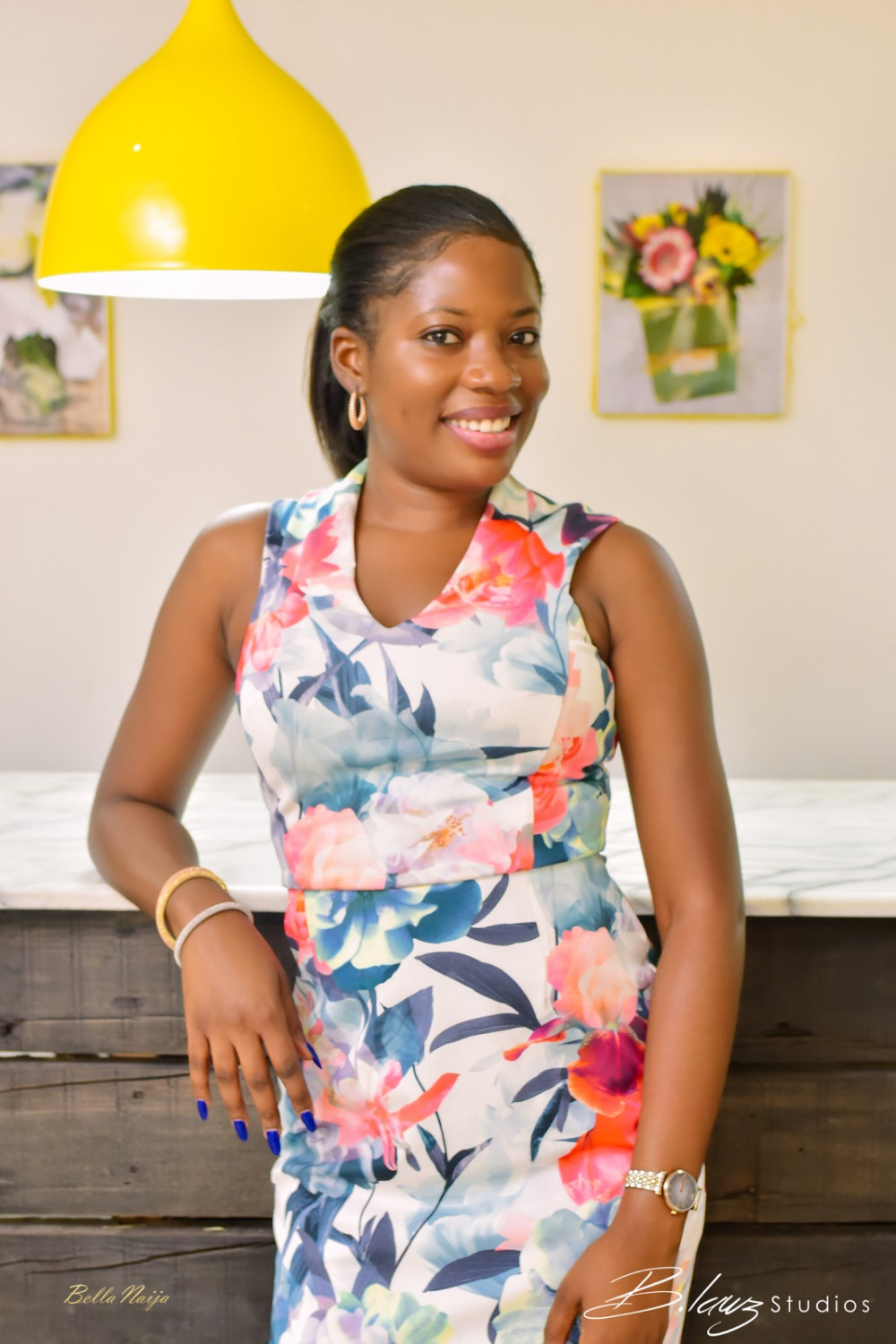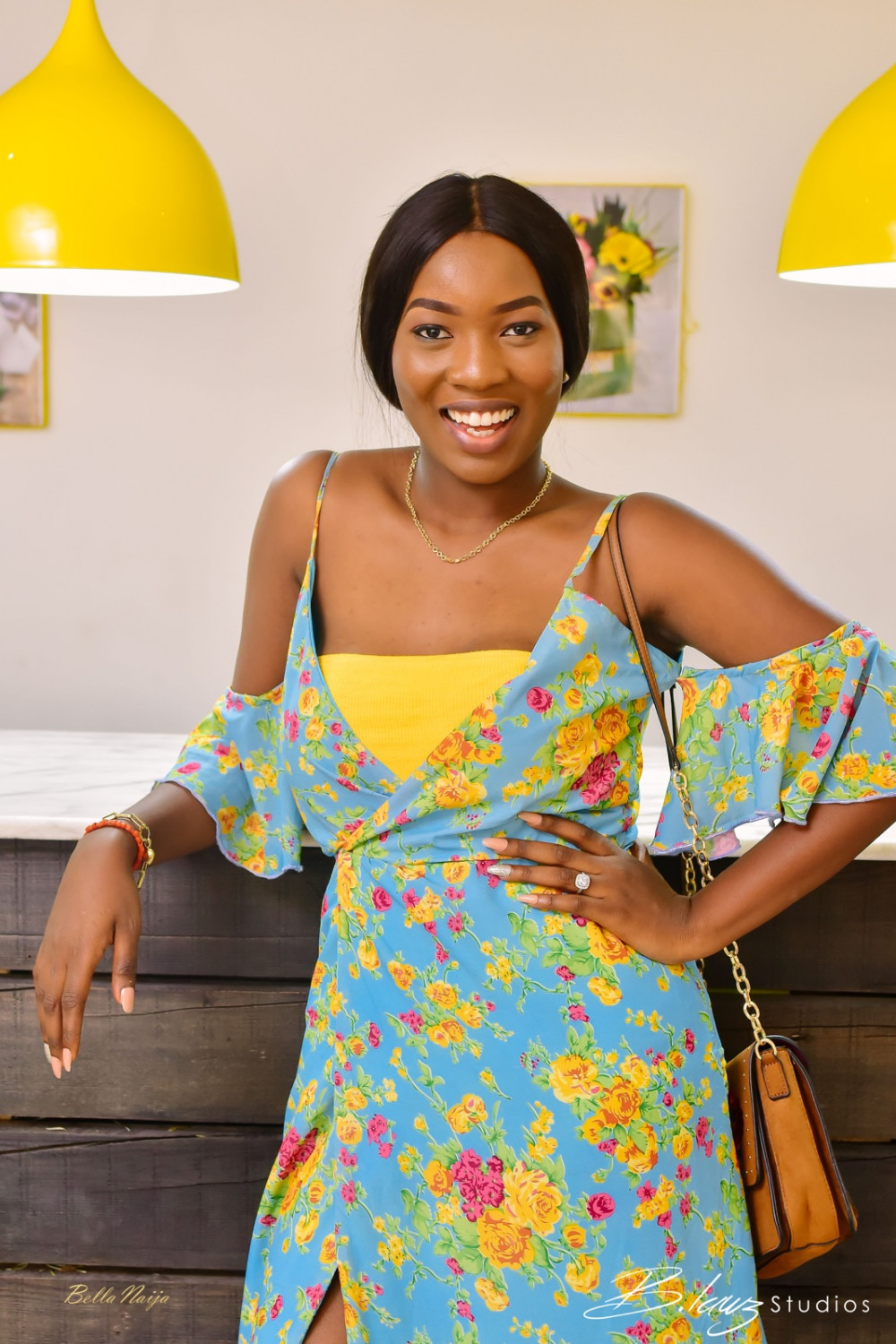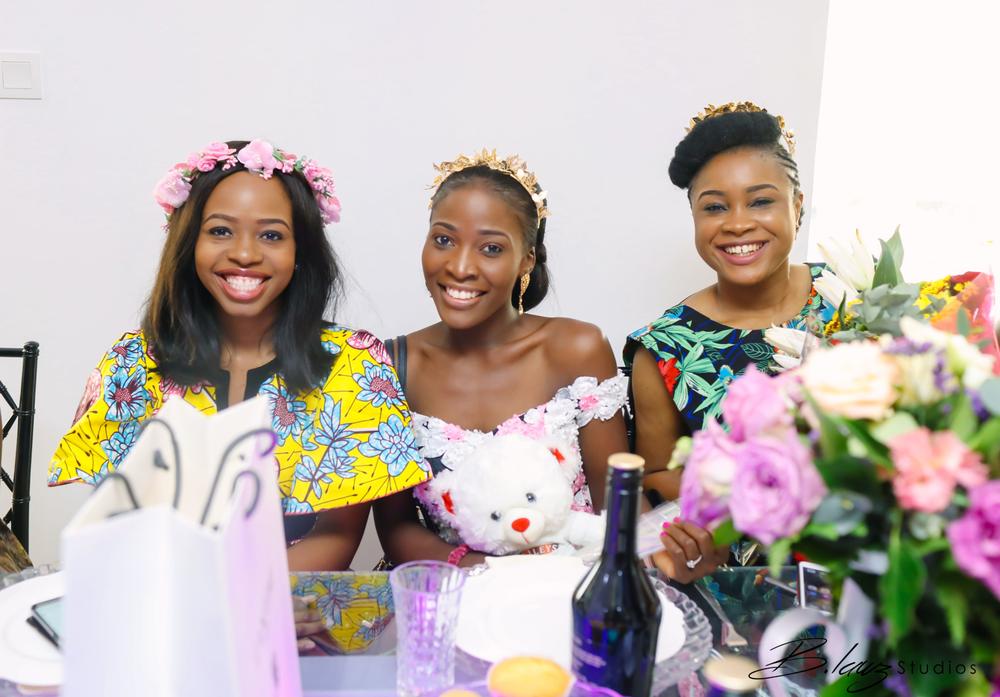 It was indeed a fantastic time. It's best to hear from the brides-to-be. 
Till next time, thank you!