Ene Abah's Exciting Trip to Portugal Will Make You Want to Pack Your Bags & Fly
My sister and I visited Portugal between the end of October and early November 2017. Before we made the choice, we had three options: Hungary, Austria and Portugal. She chose Portugal and we were more than pleased that we went with that choice.
Around October, Portugal is bright and sunny. My sister who lives in England was so excited about the sun, while I, coming from Nigeria,  was pleased that the sun was not as hot. We arrived Lisbon from London and were picked up by our super amazing host. We used CouchSurfing(CS) while we were in Lisbon, having a local guide in a city where I do not know anyone is always helpful – one of the advantages of CS .  He was warm, chatty and even took us around to see a bit of the city before driving home.
The next day, when we got into Central Lisbon. I was like a child in a candy store – I wanted to do and see everything! My sister, on the other hand, had to keep reminding me that we could not do everything in one day. As we passed by the Oriente station and Vasco da Gama center,  we decided to start by exploring that area. It is a rather chic area that was once undesirable according to our host. Currently, it has some 'wicked' architectural structures. There is an expo area, the area overlooks the sea and harbours a port. Flags of all the countries are arranged in alphabetical order, we spotted the Nigerian flag!
Our next stop was Alfama in central Lisbon. We wandered around and discovered that there were many high points from which we could get lovely views of the city.
It is a vibrant and touristy area, also has a good number of restaurants. The narrow walkways, steps, and colorful buildings make it a pleasant place. It is a bit of a climb to get to any high point, so if you would prefer not to walk it is best to take the tram that goes up to the highest point – the yellow tram, no 28. The tram is a good way to discover the city.
We saw the Elevador Santa Justa (Santa Justa elevator). At first, we got on the queue but it was taking such a  long time to move so we kept it moving. At two different ends of the street, there were two choirs singing. Just behind, there was a street artist. We watched him from start to finish. Someone bought the painting on the spot!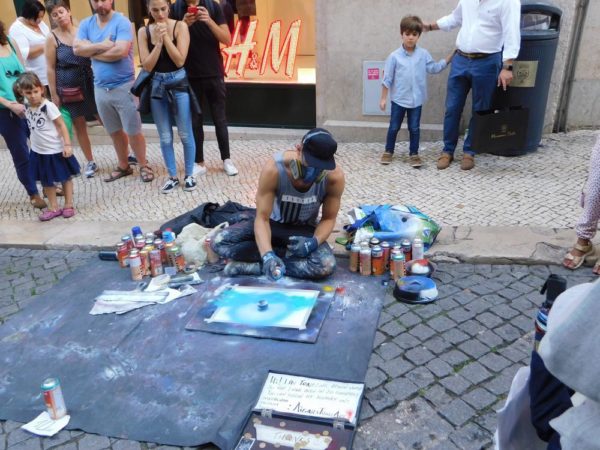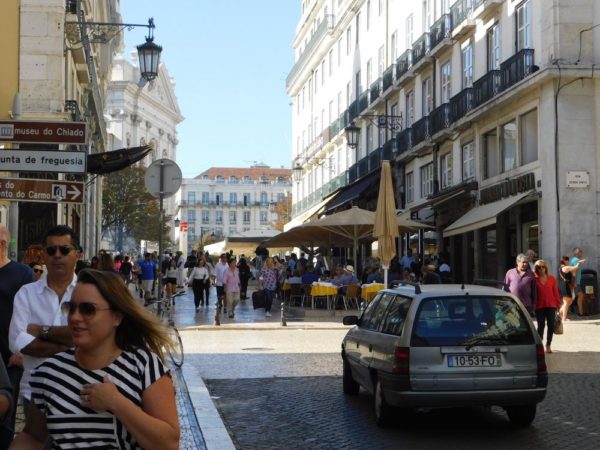 I was told about the famous Pasteis de Belem before going to Portugal so we went hunting. Getting from Central Lisbon to Belem took a little over an hour, including the wait time for trains. Belem area has a few monuments to see which are not far from each other. The bakery was on the way and was not hard to find as there was a queue. The bakery has a sitting area but people are constantly waiting. The moment anyone gets up, people take the seat, so we got our pastries then headed to a nearby garden where we could eat with no pressure.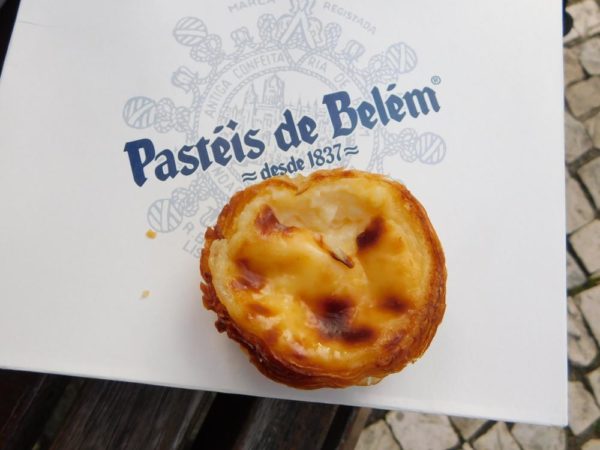 Next, we went to the Mosteiro de Jeronimos (Jeronimos Monastery). It is a beautiful structure with a story to tell. We got there 30 minutes before closing and the receptionist mentioned that the tour inside would be hurried so we didn't bother. You need at least 45 minutes to see things and take them in. We managed to see a small part which we didn't have to pay for. There were scaffolds outside and some work was ongoing, I can only imagine what it will look after all the work is done.
Across was the Padrao dos Descobrimentos (Monument of discoveries) which celebrates Portuguese explorers and discoveries between the 15th and 16th centuries. The monument stands tall to represent Portugal's heritage.
We met up with our host, Rui, when he closed from work. It was a Friday night, so we thought we would take him out to dinner and experience the nightlife as well. We were around Chiado area. It was not uncommon to see policemen standing around the streets.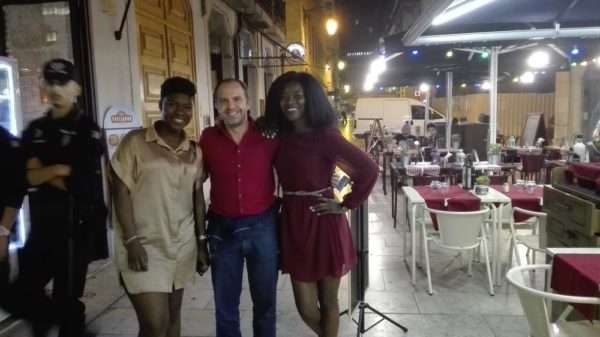 There were tourists everywhere and the streets were not short of restaurants as well, so there were many options. Rui's dish had pork, potatoes, and mussels; I had bacalhau à bras (cod fish, potatoes, onions and eggs) ; while Odachi had bitoque (steak with eggs and chips).
On Saturday we were in Lisbon, we went to Rossio station and right outside there is a square. So much was happening. There was an open food and crafts market where we had lunch, then we took a walk around and found Santini gelato as recommended by our host.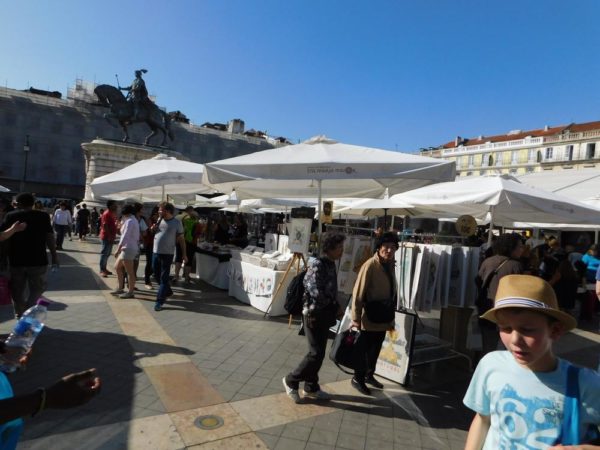 According to him, it is the best Portuguese gelato place. It was good, but we had had better (sorry Rui!).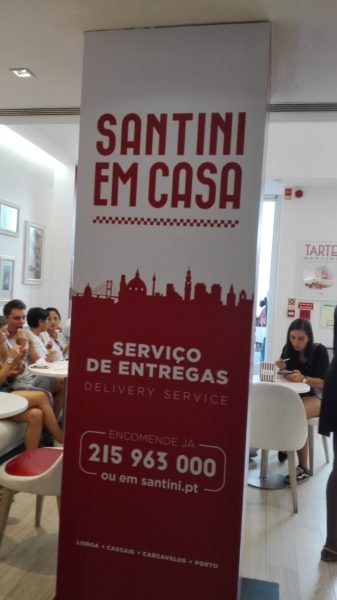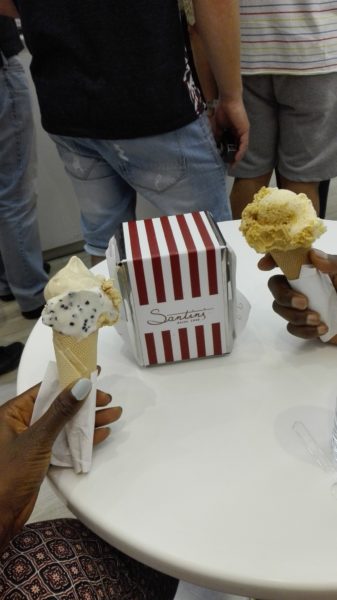 We left for Lagos (not Nigeria) the day after. Visiting Lagos was my choice as I really was interested in seeing this place.  I found out that Lagos in Nigeria was named by a Portuguese explorer. I wondered if there would be similarities in any way.
Lagos turned out to be laid back, calm and beautiful. Our hotel was in a good area called Meia Praia which is 20 minutes walk to the marina/centre and maybe 10 minute walk to the beach. I remember saying to my god-mum who I visited in England that I didn't want to make a hotel reservation as it was not peak period and we would definitely find a place to stay. She insisted on getting a place, Bless her.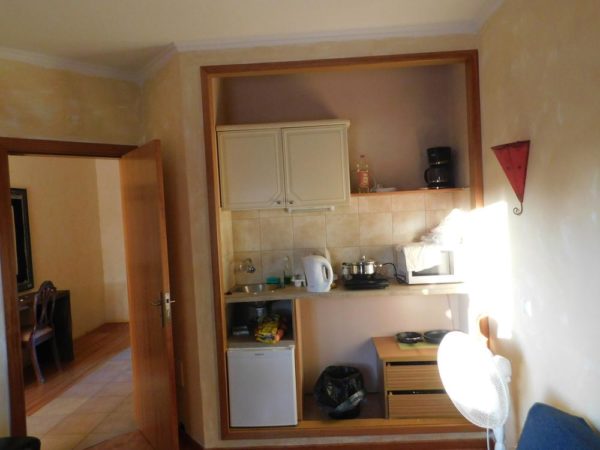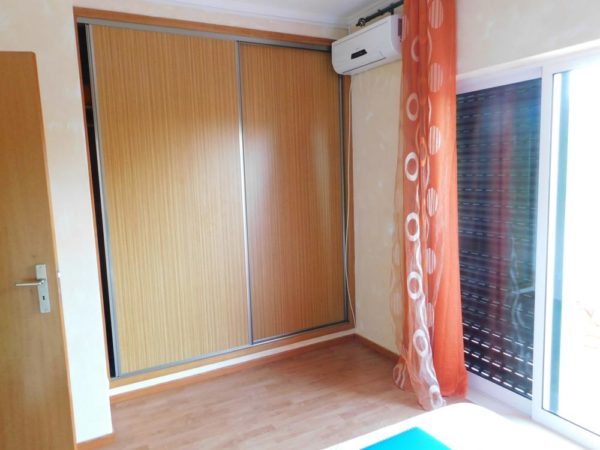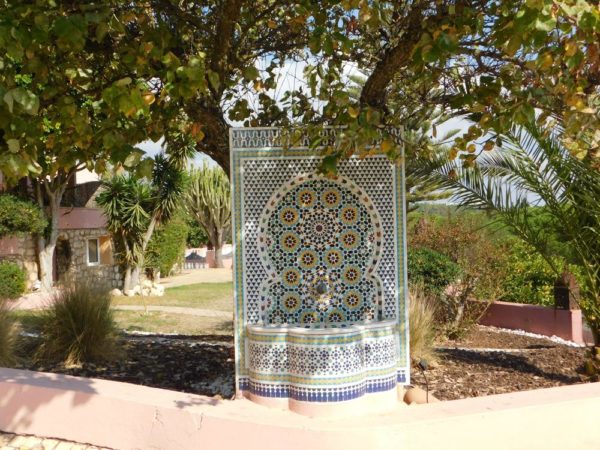 We had a studio to ourselves. It had Moroccan themed decoration, it was clean and quiet. We noticed that a few properties were up for sale and a good number of others were empty. The hotel we stayed at was in a quiet location which was perfect. It was a ten-minute walk to the beach and a twenty minutes walk from the marina area.
I imagine in summer, it might be quite busy. Many of the hotels are apartments, so people have the option of cooking. No food was served where we stayed, as we were told that it was not peak season. When we went to get groceries, we noticed other tourists doing the same.
One place was recommended for food by the taxi driver when we got into Lagos. He drove us there but it was closed. On another day, when we were determined to try, we were directed to that same place. It was a winner! The food was delicious. One thing to know though is that many places prefer to be paid in cash. To eat at this restaurant, we had to look for an ATM to get some cash out as they didn't accept cards. It's good to always have cash handy and ask before settling in to save yourself any embarrassment.
The weather was perfect for the 10 days we were there! It started to change on the day we left. All through the trip, we only had one bad experience and it certainly was not enough to ruin the trip. If you are thinking of going to Portugal, stop thinking. If this country was not on your list before, please go!