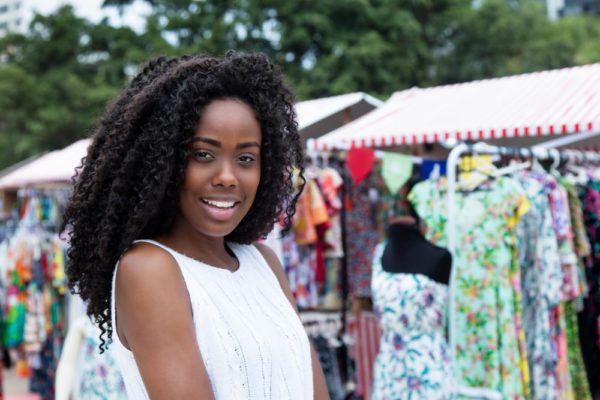 It is no news that a Nigerian would rather pick an item with an 'overseas' label than pick one with a Nigerian label attached to it. Be it clothing, accessories, electronics, etc. Recently, there have been campaigns and serious 'online cajoling' by the government and concerned Nigerians urging people to patronize locally made goods; but still, most people would still rather buy foreign goods.
Here are a few reasons why:
Quality
This has to be the number one reason any Nigerian would give as to why they would rather buy a shoe from the UK than buy a shoe that was made in Nigeria Quality is the major setback for Nigerians. No one would prefer to buy a shoe that would wear off in 3 months, when they can buy one that would last for as long as 3 years – regardless of the price. A lot of Nigerian manufacturers pay little or no attention to the quality of their production, chasing away potential customers to purchase the foreign made products.
Price
The rate at which Nigerian producers hike their prices is absolutely ridiculous. In the guise of wanting to make a very high profit margin fast, they add ridiculous amount of money to their products discouraging people from patronizing them. This applies most especially when the potential customers know they can get the same service or product at a relatively cheaper rate from a foreign vendor whose quality is probably even better.
Zero Customer Service
Imagine patronizing a vendor and the vendor barely returns your text messages or calls, speaks rudely to you, et cetera. This is the trend in the Nigerian production market. Customer service is extremely poor. No one wants to be in the situation where you're begging the person you're buying something from to collect your own money from you. So of course, people would shy away from patronizing Nigerian sellers.
Inferiority Complex
As much as we would like to disagree, there is the strange and uncalled for mentality that anyone who wears anything made in Nigeria probably can't afford to buy foreign made. To Nigerians, wearing a Gucci shoe puts you in a higher class than someone that is wearing a shoe from a Nigerian brand. This would definitely make more people go to the farthest lengths to shop foreign goods and not Nigerian made so they are not looked down on by people in the society.
Truth be told, patronizing Nigerian made brands has its cons, same as patronizing foreign brands, but as Nigerians we need to support one another, in as many ways as we possible can. If these Nigerian brands are lacking in any of the ways listed above or more, we should try to inform them and help them be better, not just for themselves but for the country as a whole. Buying made in Nigeria really helps to improve the economy. It boosts the country's revenue generation, helps small scale industries and reduces unemployment. There's a lot of amazing made in Nigeria products in the market today.
Let's all come together to #BuyNigeriantogrowtheNaira.
Photo Credit: © Kadettmann | Dreamstime.com