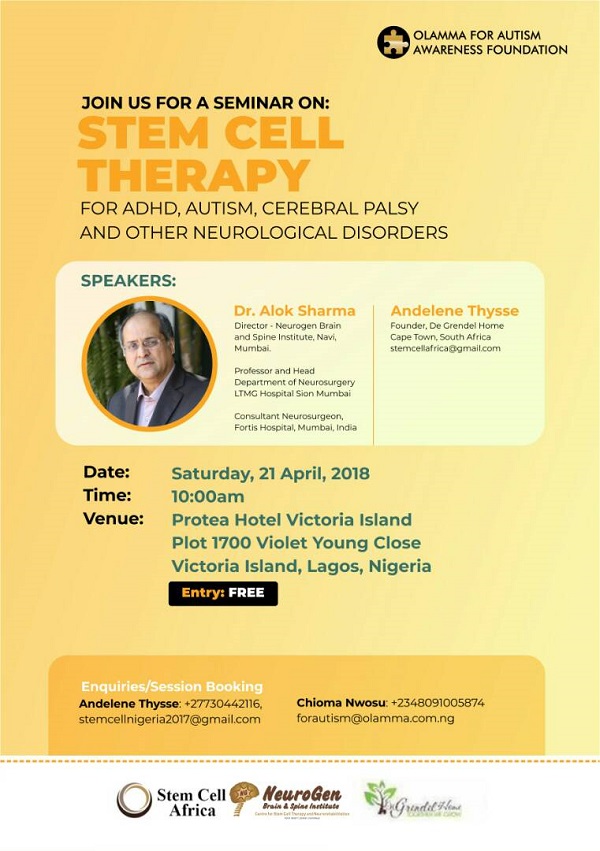 It's amazing to discover new solutions to Autism Spectrum Disorders, ADHD, Cerebral Palsy and other Neurological disorders! To find out more about this, join Olamma For Autism Awareness Foundation as we host renowned neurologist Dr. Alok Sharma – Director of Neurogen Brain and Spine Institute, Navi, Mumbai for a seminar on STEM CELL THERAPY.
Date: Saturday, April 21st, 2018
Time: 10.00 am prompt
Venue: Protea Hotel, Plot 1700 Violet Young Close, Victoria Island, Lagos.
Attendance is free, but registration is very compulsory as there are limited seats available.
To Register, SMS (Full name, Phone No. and Email) to +2348091005874
In collaboration with De Grendel Home South Africa, Neurogen Brain and Spine Institute, India and Stem Cell Africa.
—————————————————————————————————————————————————————————–
Sponsored Content