Engine failure in the Middle of Nowhere? How *901*11# saved my job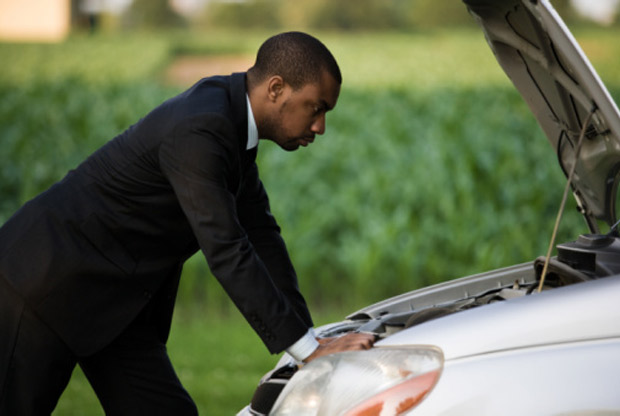 Life is indeed very unpredictable and sometimes rough. There is nothing amusing about a car breaking down. Sometimes, it helps to laugh a little, which can at least reduce one's stress level, but today, John Umaru's stress level is at 100 percent.
John, a young struggling marketing professional, is about to make his big break. He was on his way to make a presentation to the biggest client of the advertising agency he is working for – and of course, he planned to kill it. He had woken up at 4am to rehearse his slides, took time out to shave so as to look fresh and clean for his client meeting, then dashed out at 5:30am so he won't get stuck in the usual city traffic.
But fate had its own plan.
John was just about half-way through his commute when his car engine suddenly blew out on him. Though he wasn't far from a service station, he knew full well that he had no chance of pushing his car there. Getting a bit agitated, John decided to take matters into his own hand, removed his jacket and popped open the hood. All this while he was thinking how difficult it would be to get a mechanic considering the fact that he had next to nothing in his bank account. He recently had a family emergency, therefore he could hardly wait for the month to end to get his salary.
He had read a few do-it-yourself books on auto mechanics and all those books for dummies. Well, as it turned out, he was the dummy. Not only did he manage to make a bad situation worse, he also realized that his fuel was leaking out of the car. John had no choice but to call for help. He dialed up the towing company in the area, and was told that it would be a few minutes. He also decided to call a cab and it dawned on him, he had only N5,000 in his account.
He needed to pay for the towing truck, fixing his car, and also get to that presentation in good time.
After about 10 minutes of thinking, he decided to call his friend, Ejike.
"Ejike, how far, your guy is stranded o."
"My car has broken down and I need some quick cash till month end."
"Wow!" Ejike responded. "I'm also broke, but there's a solution. You can apply for a payday loan."
"I need the money right now, I have a presentation I can't afford to miss, and you are talking about loan," John responded in a frustrated tone.
"John calm down, are you not a salary earner? You just need to dial *901*11# to access the payday loan, and you will have the money in your account within seconds," Ejike says.
"Ejike, are you sure? Okay, no problem, I will try it now," John responded.
Sensing he has no choice, John types the USSD code frantically and followed the prompt. And just like magic, he received a credit alert in his account. The tow truck pulled up, John looked at his watch and he had about an hour to get to the presentation. The day was not going to be a disaster after all. John had the misfortune of having his car break down on him, but was able to turn a bad situation around. Thanks to the payday loan.
———————————————————————————————————————————————————————————
Sponsored Content