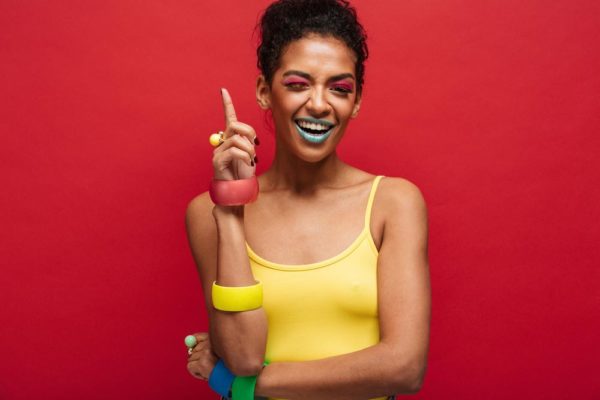 Summer '18 is upon us, it is officially bikini season, hot bodies and sun. Thankfully I have nothing to worry about since I don't live anywhere close to the beach; my bank account can only take me to my village, so no pressure. The only memorable thing about summer is that it reminds me of my first waist-trainer experience, way back in 2015.
As my tush friends were getting permission at their different PPAs, working out and some others starving for their perfect summer bodies for vacation, I was inspired to work on myself. This was not because I had any where to go but just for the sake of it. The only problem was that junk food and roasted yam with plantain and oil had me in the palm of their hands, so I 'kuku' gave up. Little did I know help was coming in the form of a waist-trainer.
I believe everyone knows what a waist-trainer is, but just in case you live under a rock, it is a  modernized girdle or corset. For people like me, it is a blessing covered in thorns. Like almost everyone woman out there, I desired an hourglass figure. I would imagine myself in Kim Kardashian's body (Mr Freaky Friday look at me)  slaying the entire human race. People like Sofia Vergara, Jennifer Lopez and our own indigenous hot body goals Toolz O were oppressing me left right and centre. I kept thinking about where I was when the good Lord was sharing hot bodies. I was probably in heaven's KFC or in the kitchen eating pounded yam.
Back then in 2015, everyone was trying to help the world one way or another; Evan Spiegel was working on snapchat, Bill Gates doing one humanitarian work or another, Angelina Jolie adopting a new baby or not, Banky and Adesua had probably met and were planning to crash our social media space with their wedding. Of course, Kim Kardashian couldn't be left out of the good deeds, so boom! She came with the waist-trainer.
She lifted the spirits of many women and even some men with a single selfie. She came to our rescue with the promise that all of us can now have bodies like hers without the cost implications by just wearing a piece of colourful (or sometimes black) clothing. We could eat our cake and still have it; heaven came down that day for me.
Before the selfie even got uploaded, everybody went out and got a waist-trainer. I know most of you did, no need to lie. To me, it was one of the seven wonders of the world because I was lazy, I wanted to look like a snack, but I found myself eating the snacks. I loved my sleep (I still do), French fries, sharwama and I really hated Shaun T and his band of torturers a.k.a exercise partners. The waist-trainer was the answer to all my prayers.
So on this particular Wednesday as my Red Cross CDS instructor Mr Ikenna was going on and on about fainting and how to manage the situation, I was dreaming of my body in a bodycon dress as I turned up for ladies' night something I had never done, because 'belle' was against it. It is even possible I drooled on myself as I was lost in thought. I was just in a hurry to leave that class, an action I later came to regret. I never knew the lessons would come in handy just a few hours later.  I bolted out as soon as it was over, I didn't even want to greet my friends as I usually did.
As if God wanted to avert the impending danger, the first store I went to didn't have, so I took another taxi to a second store. God was still on His throne directing my path away from disaster, so I missed my way. Instead of me to respect myself and go home, I came down and walked about 5.2 miles in search of the store. I found it and luckily or unluckily for me, they had it. I rushed to the dressing room with my prized possession, but I couldn't put it on myself so I called the shop attendant. After much struggling, it entered and the once flabby body was on 'fleek', Kim K never lies. I felt so good, I actually wore it out of the store.
As soon as I left, it dawned on me that beauty had a price and it's called pain. I couldn't sit, stand or even breathe. There and then, I started wishing I had paid attention during the fainting class because I was about to be a victim. I managed to get to the house and I quickly called my friend who claimed to have lost a ton of weight by simply using a waist-trainer. She told me not to take it off, that it was normal; she said my body will get used to it very soon. But, Nne, I couldn't deal, few minutes of tossing and turning. I knew if I didn't remove it, my people will be choosing the outfit to bury me in and nobody will remember to cinch my waist with this devil I bought with my money, so I took it off.
Later that evening, I put it back on because Adanna was on a mission to suppress and oppress Abuja babes with the tightest belly. The struggle was real. If I had put in that much effort at the gym, nobody would be talking about Jennifer Lopez. Like "Jenni who?" in Mariah Carey's voice? As I stepped out, my confidence was two notches higher than Speed Darlington's. My tummy was as flat as an ironing board and my girls were so perky. It was like Adanna 2.0 had just been released.
The pains started coming slowly, I kept ignoring it. I recited the mantra 'beauty is pain', reminding myself that I wear pointies that feel like razor cuts. I had worn prickly sequin dresses for hours. I even took it back to 2008 when the rubber on my bra burnt me at my uncle Chidozie's wedding but still, I carried on with my bridesmaid duties like a champ; and most importantly that I had crossed gutters wearing 'cross no gutter skirts'.  But, for some reason, this pain was going nowhere. The more I tried to push it away, the more pain I felt. I just became angry for no reason and was snapping at my friends. I was sweating when others were looking for jackets to cover up. I couldn't eat or drink anything.
When I knew 'yawa don gas' was when they brought barbecued fish with chips, my all time favourite, and I couldn't eat. Even my friends became suspicious, so I had to excuse myself, ran to the car and took off the waist-trainer. Then I came back the normal happy me.
Fast forward to 2018, I still occasionally use waist-trainers, but definitely not that one from hellfire. The truth is that I would rather go to the gym and get the body I want than strap myself with that discomforting thing. The problems is that I love my sleep and I presently hate Ab Ripper X.  Waist-trainers are here to stay because like fast food. It is a quick fix but nothing beats working out and eating right. No matter how much you cinch your waist and slay for the people, when you get home and take it off, the belly fat will stare at you.
Photo Credit: Dreamstime