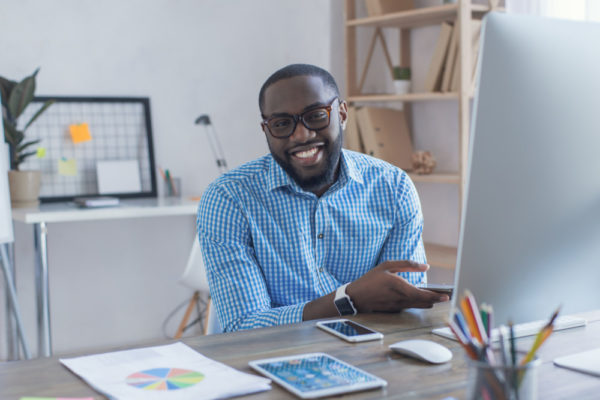 I'm not certain when I started noticing the ads promoting DSTV NOW. Time and again, the ad would flash on TV, but I would dismiss it without a thought. Maybe, it was the late adopter in me, or it was just my wary mind not wanting to go through the hassles of trying what I would eventually become addicted to. All of this changed during the World Cup – as game day for the Nigeria vs Iceland match loomed and I increasingly realized that I would still be caught-up with work at kick off time, and may not have that much time to either hurry home or look for a viewing centre around. It was then that snippets of the DSTV NOW ad flashed through my consciousness as I scurried online, and in a few minutes, I was all set-up, testing various channels and my internet connection to be sure I would be able to watch the game without inhibition. Fast forward after the game, I've become hooked to the application, even preferring to watch on my laptop rather than turn on the TV while at home.
This application and a few other online TV platforms are seemingly beginning to represent the realities of entertainment consumption today. Faced with a myriad of screens – handhelds, in our bags and on our desks among others – the urge to turn-on that big screen mounted on the wall, may perhaps have started reducing. We have more than ever before, found ourselves glued to 4″ screens rather than 45″ and watching content as curated from around the world (on-demand), rather than as scheduled by available traditional programming.
Only recently, Linda Ikeji launched her online TV platform – LiTV;  Ebony Life, one of Nigeria's prominent entertainment companies has done likewise, promoting its most recent content, Castle and Castle on its video-on-demand platform EbonyLife ON. Before any of these, was IrokoTV, a web platform, providing paid for Nigerian films-on -demand, touted as Africa's first mainstream online movie streaming website. Across the world, various online TV options have continued to spring up as traditional TV continues to take a plunge. Recent research indicates that by the end of 2017, there were 120 million aggregate over-the-top (OTT) subscriptions in the US alone. On the other end of the scale, cable companies are losing an average of 3% of their subscribers annually and haven't added any since the year 2000. With statistics like this, analysts are coming to conclusion that TV over the internet is officially mainstream.
When Marc Randolph and Reed Hastings founded Netflix in August 1997, not many ever thought it would someday rival media juggernauts and bring them into negotiation tables purchasing content and owning rights to major titles. Starting out as an online DVD rental, Netflix now shows 82 feature films in a year, compared to the 23 which Warner Bros (the Hollywood Studio with the biggest slate) would be sending to the cinemas and Disney, only 10.
Producing programs in 21 countries, including Brazil, Germany, India and South Korea, Netflix has continued to up the bar for content creation. Currently valued at $170bn, and with over 125m subscribers around the world, Netflix and chill is no longer just a cool phrase, but a cool move. Only recently, Instagram launched IGTV, described as a new app (also embedded as a feature on the main app) for watching long-form vertical video and now allows users upload and watch videos exceeding the previous 60 secs limit. With this app, users can follow particular channels. The launch of IG TV however, comes a year after Google had previously launched YouTube TV – a service that allows users to tune into live sports, breaking news, sitcoms, dramas and a number of other different types of programs. Starting out in the US, with a $40 monthly subscription, this model has not gained significant traction for the Tech giant as it is yet to roll-out to other parts of the world.
In the midst of these assaults on television by a diverse range of digital challengers, what remains clear, however, is that there is a long way, before traditional TV and programming goes into extinction, if at all it does. A 2014 research by global consulting firm, Deloitte, indicated that "television remains in fine health, and its near-term outlook remains positive. SVOD (Subscription Video on Demand) is growing fast, but is currently less than two per cent of the European pay TV market, and an even smaller share of all TV revenues in the region… Long-form traditional TV content remains dominant relative to short-form in terms of viewing hours and advertising."
A major factor that will continue to allow traditional TV reign supreme is broadband penetration. Whilst it is perceived that there is a rise in internet adoption across the world, the reality remains that a higher proportion of the world's population is still without internet. For those who have access, a question mark still hangs around costs and reliability of available broadband. In Nigeria today, for instance, complaints abound regarding the cost of broadband subscription. How much of data would be required to watch regular SVOD content in a month compared to a PayTV subscription.
Another major factor that will go a long way in determining the ability of online TV to rival and eventually eliminate traditional TV is the sustainability of the business model for the players. Netflix for example, is yet to make profit, with year-on-year negative cashflows and $8.5bn in debt, despite its $170bn valuation. There is still a lot of ongoing tinkering with various subscription models that could drive up numbers and revenue, in a bid to match up with the huge cost of acquiring content. This is somewhat a similar reality for a host of other SVOD providers, IrokoTV inclusive. Until these challenges of broadband and sustainability are significantly addressed, the future of TV may still remain offline.
Photo Credit: Dreamstime