Mo! Sibyl: 18 Hours in Mexico
My first international trip this year was to a little unknown place called Ciudad Juárez, Mexico. Ciudad Juárez is the most populous city in the Mexican state of Chihuahua. It was my second time here, and this time around, I wanted to stay a bit longer past brunch time
My first trip, which was in 2017, was spontaneous. I had spent a night at a friend's place in El-Paso, Texas. She is originally from Juarez, and I had joked that I'd always wanted to have breakfast in Texas, brunch in Mexico, and be home in time for dinner at my residence in Las Cruces, New Mexico. And she made that dream come true. We set out around 10 in the morning and made it there in less than an hour, despite the small traffic at the port of entry.
If there's anything I learned from the two times I have been there, it's that anything can happen in Mexico. That, and whatever happens in Mexico stays in Mexico.
Breakfast (Hours 1 – 3)
We made our first stop at Rocco to have breakfast. I ordered the chilaquiles (fried tortilla strips simmered in red or green salsa), topped with some eggs (sunny-side up) and paired with a copious amount of black coffee. The restaurant had the ambiance of a high-end restaurant with the quality feel of a home-cooked meal. I highly recommend this place and the memory of the burrito my husband had still lingers with him.
We then made our way slowly to the mall to change some money at the ATM. The exchange rate was about $1 to 19 pesos. A fun fact for you is that the sign for the dollar and peso are the same – '$,' so if you see a loaf of bread for $70 in Mexico, be not afraid. I had to keep reminding my startled brain every time I saw a price tag.
Shopping (Hours 4 – 9)
The S-Mart was our first stop where I purchased a lot of tchotchkes, like fridge magnets, postcards, door decors, and figurines – because that's what tourists do. Some of the figurines are bound to send my MFM-inclined mother into a storm of fall-and-die prayers. I wanted to buy an ugly poncho too, but I decided against that as it was going to eat deep into my allowance. I spent a total of $400 (think pesos) on my stash, and this got me so many beautiful items. I cannot wait to gift some of them, and scare my mother too, of course! Yeah, I am as filial as they come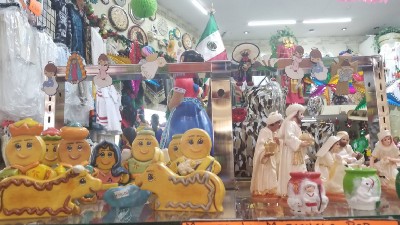 Once the shopping fatigue hit a critical level, I knew it was time for the next best thing! Fro-yo, yo! There was a sweet spot right in the mall where you could get good yogurt. I had never tasted yogurt that good in the US, as they tend to have it either tasting lifeless or just too sweet. Trevly is the place to visit in Mexico to get that good ol' yogurt taste that you probably don't know you have been missing. Like you can actually taste the probiotics! And no, I don't get paid for these ads.
Surprise Encounters (Hours 9 – 10)
We walked some more around the mall and stopped at a few places. My friend had wanted to get some cosmetics at a spot, so I sat down and fiddled with my phone. I am a sucker for music, and I love finding new songs. No sooner had I buried my head into my phone that I heard a somewhat familiar tune blasting from the mall speakers. My Spidey sense came on, and my ears twitched in the same way they perk up when I hear Korean being spoken around me. It sounded close but somewhat far away. I had a strong feeling that the beat was Nigerian but just disregarded it and assumed it was probably a bachata song by Romeo Santos or Prince Royce. So I went back to my ostrich mode, focusing on my phone.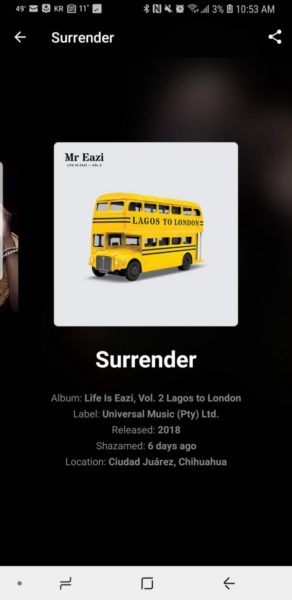 Then, the next song came on, and it was undoubtedly Simi's voice crooning over the speakers in this 'strange place.' It was that song she did with Mr. Eazi, yeah, that one with the beaded waist shaking. Two Nigerian songs in a row! Now, that's not what you call coincidence, right? Then the third song, Olamide's, about "I Love Lagos" came on. At this stage, I had angled my phone towards where I thought was the focal point of the song and opened my Shazam app and kept flailing my hands like a banshee doing some hand acrobatics. I wanted to be sure that what I was hearing wasn't just a figment of my imagination.
By the time the third song came on, I knew there was someone behind this that was either Nigerian or loved Nigerian song. Either way, the Philomath in me knew just what to do next; we had to find this person and engage them in a stimulating conversation. And if my manic phase kicked in, I was going to friend them right away on social media. So, armed with my investigative skills (thanks to years of watching "Forensic Files" and "Snapped"), I employed the help of my friend to translate in Spanish, and we were able to find out the identity of the DJ from one of the stall owners.
And my hunch turned out to be right – it was a Nigerian! He told me how a lot of Mexicans stop by his kiosk to ask about the songs as a lot of them love Nigerian songs. We chatted for a while, talking about this and that. It turned out he had been only in the country for less than a year and had been running the shop with this other friend who'd been in the country much longer. In a few minutes, the other friend showed up, and we all began an ignited conversation.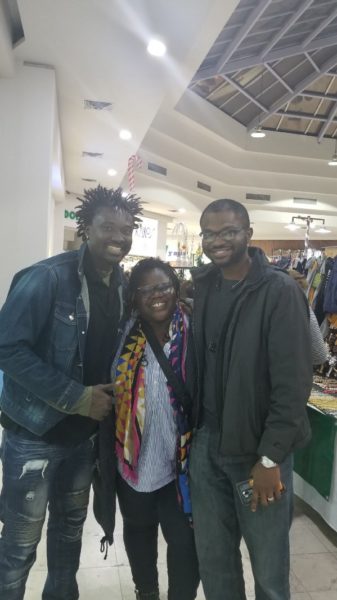 As expected from Nigerians in the diaspora, we talked saccharinely about the country we had left behind and shared the paths that led us to where we were. Another thing we had in common was our zest for life, ability to hustle hard, and the desire to keep doing our best to represent ourselves and our country well. They both love Juarez and spoke well of the reception they received from the people there. It turned out that it is effortless for you to stand out in Juarez as a Nigerian as there aren't so many Nigerians living there. Best believe that as we were chatting, we had one of the passersby request to have a picture taken with all of us – now I know how zoo animals really feel. One of the Nigerians also spoke of how he uses our food too as conversation starters and how he's hosted a lot of get-togethers with curious Mexicans who want to sample Nigerian food. I do this as well, especially with my Korean friends and other non-Nigerians. Food is certainly something we all have in common, after all.
We talked for what seemed to be like ages with promises to keep in touch and hopefully attend the next big party in Juarez. I told the more garrulous one about my podcast show and that I hoped to share his story someday with my listeners. He seemed excited at this thought. I left the mall grinning from ear to ear, like a goat. It's amazing how these little encounters can create big stirs in your heart. Indeed, we Nigerians are a fantastic bunch, for the most part.
Grocery Shopping (Hours 11-13)
We had enough time to kill before our dinner reservation, so we made a trip to another mall to have some pre-dinner nosh and also do some grocery shopping. I cleansed my palates with one of the best churros I have ever had. Dang, the food there tasted so good. I had the one with Nutella and another one with condensed milk. It took all the willpower in the world to not order a caseload of these delightful temptations. I was hoping to get some cinnamon-laced coffee, which is a specialty here, but the store did not have any. I had to settle for the next best thing from the other side of the pond – Cafe Du Monde's chicory-spiced coffee. Most big stores in the US and Amazon carry them, and I recommend this to my avid coffee lovers.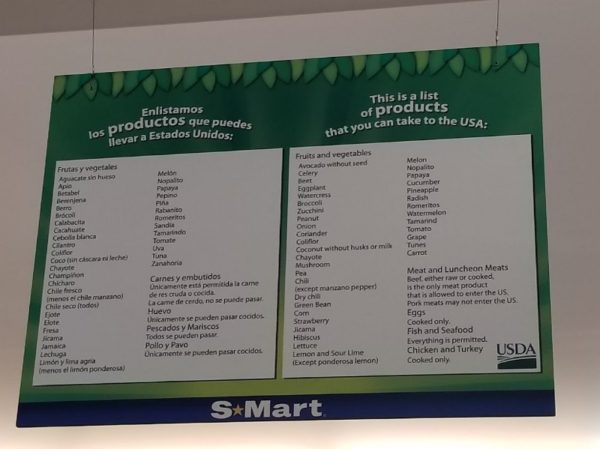 The produce section was easy to navigate, which I liked, as I am prone to a bad case of decision paralysis when faced with too many options. This is one of the reasons I wouldn't say I like grocery shopping in the US. I stocked up on tortilla wraps, canned jalapenos for my Korean ramen, goat milk lollipops, and chilli peanuts. We also got some Mexican soda and walked more around the store before heading to our dinner spot.
Dinner (Hours 14-16)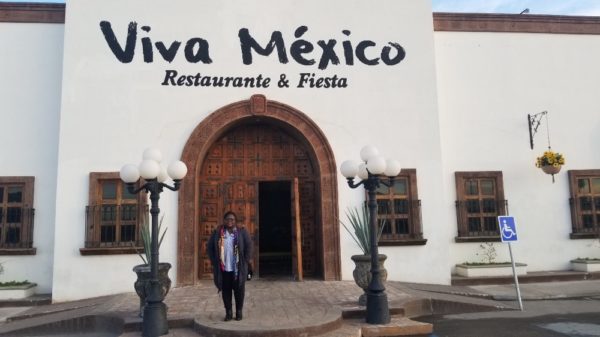 Viva Mexico is a place you have to visit to get to know because no amount of words I write will quite do its description justice. The walls and decor are vibrant to the point of garishness – which is what makes the place stand out. It's the over-the-top feeling it evokes in you and the sense that you have now been transported inside a colonial city. There's a $79 per head (still think Pesos) if you are dining and $120 (still—ah, never mind, you get the point already) if you are not.
We had made a stop at this place earlier in the day to make our reservations. We were strongly warned by the maître d'hôtel to come as early as three hours before the show started to save our spot as the restaurant fills up in time. I remember rolling my eyes at his asinine claim, but I am glad we got there in time because, as it really turned out – by Jove, the man was right! So I swallowed my pride and the tortilla chips and queso that were plonked on our table, no sooner had we sat down.
Our table had the perfect spot, and one cute thing about this restaurant was that every table had a fancy coat rack to hang your purse, hat, or coat (hint hint, US restaurants). We were first served a white liquid in a small cup. It was not quite clear if we were to use it as a dip for the tortillas or just drink it. I made a quick deduction (#Sherlock) and guessed rightly that it was to be sipped. How? First, this was a liquid that was too warm and lacked the viscosity to be considered a dip. Also, the vessel it came in was a miniature cup with a cute handle, which to me meant that it was to be held and not plopped on the table. It tasted like maize and milk, like horchata. And I guessed that was supposed to be our aperitif.
For liquid courage, I began with an order of margarita, which turned out to be quite the innocuous, little monster. I was going to restrict myself to just the one glass because moderation is indeed a heavenly virtue and I was not going to rob myself of partaking in such a meaningful lesson. I should also say, in the same breath, that the margarita glass was as big as my head. Tequila (a core component of margaritas) will do bad things to you. As you are sipping (or gulping in my case), you let the sugar rush take over you, but then your chemistry knowledge gets stymied for just a moment as you forget that the sugar high you are experiencing will soon make your blood sugar drop so low to the brink of post-alcohol depression. My margarita's rim was also laced with cayenne pepper on side and salt on the other – dang these Mexicans and their perfection.
At this point, after being lubricated, your inhibition is so low that renders you vulnerable to anything. So much so that all those myths you've heard of people waking up somewhere in Mexico in a bathtub with one kidney and spleen missing, might begin to make some sense to you. If these things do truly happen, let's blame it on the tequila.
The next course was the appetizers. We were served deep-fried chicharrón (a dish of fried pork belly), avocado, and sweet onions in a heavy mortar bowl. Even the tortillas came in their Ankara pouches to keep them warm. We were also provided with salsa verde and Pico de Gallo, and I wanted to gulp these down like omi ọbẹ because they were that good. And then a quesadilla cheese dip that had mushrooms (I am guessing was huitlacoche), jalapenos, and rajas.
For the main entree, we did the skewers for four – at this point, I feared for space in my stomach. I wanted to sample everything, but I was almost reaching my endpoint. At this time, we were entering the second hour of our meal. And then came the pièce de résistance, which was truly a work of art. It came in what looked like an elevated Rondeau pan with most of my weaknesses aligned in a perfect array.
Indeed, Mexico is the gift that keeps giving. There were roasted potatoes (with their skins on) mixed with farmer's cheese (the best kind), sliced avocados that were picked just at the ripe time, that cheese dip from the appetizer made another comeback, breaded jalapenos (cooked in the style of the hotdog), and the coup de grâce that finally did me in – the roasted pork in the skewers. I made a solemn vow, right there and then, that if God granted me the strength to get through this night and conquer the Philistines in front of me, I would abstain from eating the rest of my life. Oh, the things Mexico made me do!
And just when I thought it was over, they wheeled the cart of temptation towards our direction. At that very moment, I understood how Adam must have felt when Eve flashed them apples across his eyes. And like Adam, I gave in to my lustful desires. I mean these were desserts – à la carte – and they require courage. So I (wo)manned up and used the last strength I could summon just like the biblical Samson did! We picked the guava cake (topped with a blackberry), carrot cake, and cuatro leches cake. Now, some of you may already be familiar with the tres leches (aka the three milk cake), but maybe not the cuatro leches variant. I mean, why settle for three when you can get four, right? It's this winning mentality I wanted to start the new year with because mama didn't raise no quitter. Cuatro leches cake is as decadent as they come as the differentiating factor is that the fourth milk and finishing touch is caramel. So that cake was my favorite for the night, and then the carrot cake. I had ordered the guava cake out of excitement, mainly because we don't get to eat guavas here, let alone have it on the cake.
But it turned out to be a letdown. Indeed, the guava is always greener on the other side. At this point, I was done. Nothing more could enter my mouth, and this means a lot coming from someone who also identifies as a mouth-breather. Otherwise, I was going to have to order a crane in the way of Uber to come transport me home. And so I didn't … for the next one hour or so. Now you know what to eat if you ever get to visit this place. After our meal, our plates were cleared in anticipation for what was going to be a very memorable and eventful night. I should also mention that the service here was impeccable with the wait staff going above and beyond to make sure that you have the finest dining experience.
The Show (Hours 16-18)

I love culture, especially in its resplendent display – most of my friends can tell you this about me. And Viva Mexico does an excellent job of celebrating Mexican pride #OrgulloMexicano. Right just before the show began, the Mariachi band went around the tables to do some quick warmups, and one of them with a pen and paper asked for our nationality. It was during the show that I found out why they did this. The lights dimmed, and the show began.
One word to describe the show is outstanding. It began with a horse gallop with flags of different countries lifted high and displayed per round. By my count, there more than 18 countries represented in the venue which was now packed to the brim. I almost lost my voice when the Nigerian flag was flown – talk about country pride and some after-effect from the food-induced coma I was now in. There were so many colorful displays of lights, which can be a trigger to those who are prone to epileptic fits but was good nonetheless. The horses were well-trained as were the ropers who did terrific tricks with their lassos. The dancers were amazing and talented, and they did a couple of songs I was already familiar with, especially the folklore one – La Llorona (which is similar to our own Mammy water-meet- Madam Koinkoin).
Different regions of Mexico were well represented in the dance as you could distinguish those with the Spanish, Mayan, Zapotecan, and Aztec influences. This was a rewarding sight for me to behold and I think it would be too for anyone who's remotely interested in cultural expressions. Then there were the impressions, from the flamboyant display of Juan Gabriel to the art deco, social realism, and surrealistic styles of Frida Kahlo and Diego Riveria. The soloists were also excellent and sang sonorously. Oh, what a night! And despite that most of these performances were in Spanish, they felt authentic enough for this Korean and English-speaking Nigerian to enjoy it.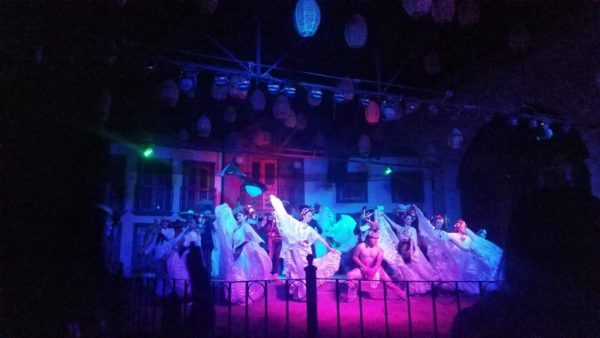 So there you have it, folks. Now you know what to do if you ever find yourself in Juarez for a night, whether consciously or not. I smiled my way out of Juarez, and the feeling of blithe that remained in me was one that no antidepressants (well, except Jesus) has ever been able to reproduce. I stayed in this wondrous oblivion for what seemed like an eternity. So much so that I didn't even mind that we had to spend at least two hours going past the Border Checkpoint to enter back into the US. That's what Mexico does to you – it makes you forget to remember.