I love anything that helps me analyze the human personality (we are a very complex bunch) and where else to start from than at my latest addiction…shoes. It may seem harmless at first, but the fact is shoes speak volumes about your personality. Here are a few pairs that could be screaming yours or maybe someone else's.
The wedge: Wedge heels are the most comfortable heels out there; right next to their cousins the, a personal favorite, the platform heels. They're strong, solid and could serve as training for the beginners in the art of wearing high heels. The solid chunk of heel, that characterizes the wedge, allows ease in mobility for a busy day and provides comfort for a day with the girls. Don't be afraid to show some skin, this works just like a cleavage (sometimes getting you more attention than you initially want). With this pair you're sure to get your to-do list done and be sexy while doing it.

The Stiletto: Long, slender and sexy to a fault. They give you the length and poise that would make a giraffe proud. Pictured here, stiletto heels are complete man magnets, so ladies feel free to wear without caution. The extra studs complement it with an edgy feel and you can never go wrong with a pointy toe. This beauty is the sheer definition of business in the front, but a party in the back.
Flat shoes: Talk about being down to earth; these babies rank first in the comfort match. Their low and balanced soles give a feel of being bare feet. Pictured here, the flats could do more than give your feet a leveled feeling. When they're well complimented with a gold chain detail, it dresses up the pair with a hint of edginess and shows that even though you have style, you're all about getting the job done.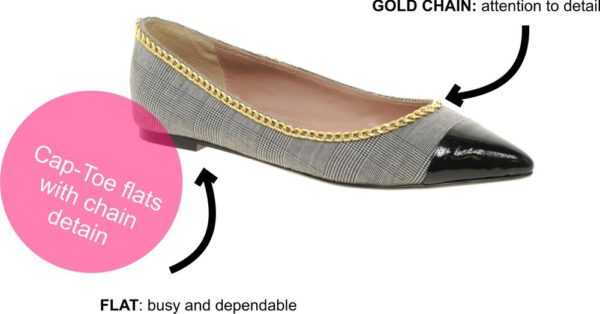 Kitten heels: Ah, the kitten heel. Fashion's crossbreed between stilettos and flats. The kitten heel is a working girl's solution to elevation and comfort. Pictured here, a patented surface gives you a sophisticated look and showcases attention to detail. Remember, choosing a strong color would make you stand out.
Please remember that even though your heels speak volumes about who you are (for that day at least), the real persona that makes it count is you.
Have any weird shoe stories? Feel free to share. 😀
Photo credit: sodahead.com |fetyshshoes.com
_____________________________________________________________________________________________

Jennifer 'Penshy' Obiuwevbi is a writer/copywriter/content developer. She studied Mass Communication at Babcock University; where she co-hosted a radio show. She loves to write, live life, play dress up and is 'Adele' at heart. Follow her at @penshy and http://penshee.blogspot.com to find out more.