Tips For Your Wedding Night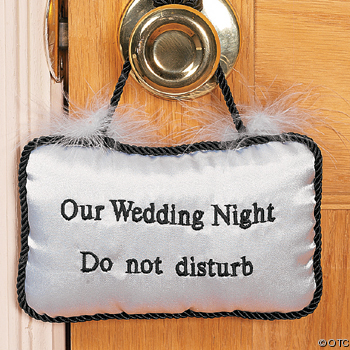 There's a general myth about wedding nights; supposedly, every bride and groom have the most intimate and wonderful sex of their lives on their wedding nights. In reality a lot of couples are often too tired to have sex, while your wedding night may be a little different, it is an intimate moment and an opportuntiy to enjoy yourselves. Here are some tips that can help make your wedding night one of the best evenings of your life.
-Take things slowly.Enjoy this moment. While you may be a little too tired to have the most technically excellent sex of your lives, this is likely to be among your most romantic and intimate sexual experiences.
-Expand your idea of the "wedding night".If you're too tired for foreplay, that sex isn't going to be so great. Couldn't it be better to wait until the morning?
-Flirt with each other during the wedding It can be easy to spend the whole wedding greeting your friends and families, cutting the cake, and attending to a thousand other details. Don't forget to stop, stare into each other's eyes and flirt with each other. It will definitely help build the excitement for your alone time later.
-Don't have sex with each other for a couple of weeks before the wedding.Many couples try this to make the wedding night sex fresh and new again. Others go even further by giving up sex months before the wedding so that they may be virgin-like on the wedding night.
-Wear something special.Wedding night lingerie can really help the mood. It is also an opportunity to try out the sexy lingerie you got as gifts from your friends during the bridal shower. Make sure it is a little different from what you would usually wear to excite your partner.
-Set the stage.Help yourselves get into the mood by setting the stage. Light some candles, bring some CDs or do whatever helps you get in the mood. And don't be afraid to get away from friends and family early. While they may tease you a little, they'll certainly understand or at least I hope so!
It's also a good idea to accept the fact that you may be too exhausted or tipsy to have sex. If one of you falls asleep, or isn't in the mood, remember, it's not a prediction of a doomed marriage. Try spending the time relaxing and remembering how wonderful your wedding day was.