It's undeniable how much the African Fashion Industry has grown into its own in these past years. In recognising that this growth can only be enhanced by creating an avenue of discovery and opportunity for young African designers globally, partners Chido Mutukwa and Desiree Mutandwa saw to Young Africa Fashion Weekend (YAFW) being launched by Anais Events Management. This event is aimed at promoting the young emerging African designers in the UK  and is set to be held twice yearly starting 2010.
This week, BN  brings you an exclusive three part coverage of  YAFW.  Stay tuned as we dish on these nine African talents and their showcased collections!
When asked why she and her partner, Desiree decided to start YAFW, Chido replies:
It is rare to come across a young African woman who does not love fashion. Every month we spend hundreds of pounds buying fashion magazines, buying clothes. We follow trends set by European designers and fashionistas. It is a well-known fact that they are many talented African designers. The fashion world has started paying attention to Africa. It is not uncommon to hear that well-known designers are looking to Africa for both design inspiration also to scout for new design talent. This has been aided by well-known fashion events such as the recently launched Arise Africa Fashion Week.
This forced my business partner and myself to ask the question, where are the UK-based African designers? Fashion is a growing trade amongst Africans. There are many African designers in the UK. Before the launch of Young Africa Fashion Weekend there was no fashion event in London and even the UK dedicated to young African designers.
We saw the need to bridge the gap between Young African designers and the fashion world. Under the umbrella of Anais Event Management (AEM), Young Africa Fashion Weekend (YAFW) was born.
The aim of YAFW is to support young African designers by providing them with a platform to introduce their design talents to the world. Our aim is to create an attainable opportunity for young African designers, who grow up believing they have to follow the traditional careers by removing the misconception that being a designer is an unrealistic dream. YAFW's aim is to create an environment that stimulates African designers and motivates them to become ambitious, whilst at the same time nurturing creativity.
Our mission statement speaks for itself …Boldly leading Young Africa into the fashion world. Our aim is to DISCOVER, NURTURE AND TRANSFORM.
Chido gives a brief recap of the Event:
The premiere fashion showcase Young Africa Fashion Weekend (YAFW), organized by Anais Event Management (AEM)and sponsored by Malaika Healthcare, was held on Saturday, 20 June at The Collection, an uber cool club in Chelsea, London.
Aiming to celebrate the talents of up-and-coming British designers of African heritage, YAFW met an enthusiastic audience with a dazzling debut, hosted by Sabrina Washington, chart topping and incredibly talented former Misteeq lead singer.
Hours before the official debut, with the creative buzz and electric atmosphere, The Collection could have easily been mistaken for the backstage area of London Fashion Week. YAFW would not have been a success without input and hard work of the team and creative people who worked hard in unison to ensure that YAFW had a spectacular debut. Shortly after 2pm, the designers and the make-up artist team made up of Buki Akinsanya, creative director of Becks Buki, Elaine Edozien, artistic force behind ShoMya, Nadine Neita, Elena Barankevich, Imelda Ladebo and Seyi Sangotade started arriving. The following few hours saw the frenzied action with the make-up team working their magic to present looks to die for, the designers sorting out last minute fittings and the models being taxied to Hair Lounge, in the trendy Portebello Market, to get their hair ready for the catwalk.
By 6pm, the stylish interior of The Collection was packed with noted guests including the CEO of the groundbreaking Screen Nation Awards, Charles Thompson, T4's incredibly gorgeous Miquita Oliver, the amazing Hollywood actor Eammon Walker. Press present at the event included journalists from The Voice, BHF Magazine and Black Hair Magazine.
Following Sabrina Washington's warm welcome, the audience was treated to a dazzling performance by hip-hop violinist Daniel Adaggio Strings. Shortly after, Tsemaye Binitie's collection 'Blackout-Perfect 10' instantly set the tone for the evening, with an array of sultry, sophisticated black creations. De Angles Couture kept up the pace with contemporary pieces in Ankara fabric, followed by Maame Baryeh's collection and the introduction of male models on the catwalk, which caused the heart beats of a few women to increase rapidly. Sharon Banga's Street Style, a mix of high street chic and Afro-centric inspiration, was well received by the audience.
Jezreel Designs changed the tempo, introducing her range of contemporary accessories made of vibrant Ankara designs. Afro-Chique turned things up a notch with a collection, which showcased the seamless merge of African prints with the stylish influence of contemporary London.
As the audience held their breaths for the last three designers of the evening, the hypnotic drum beats began to sounds, the beat pulsating through the venue. Next up was Bot-I-Lam with a ready-to-wear collection of beautiful bold, wax African prints dresses and trousers, combined with linen, and finished with delicate hand embroidery. The electric atmosphere in the venue was almost tangible as Ose Couture London brought its couture collection on to the catwalk, a delicate mix of satin and lace with a rock chick twist. Finally Bunmi Koko's elegant collection of luxurious fabrics, silks, satins and beautiful prints from Asia, Europe and Africa, ruffles and pleating detail and Bunmi's signature asymmetric cuts, marked the grand finale of the spectacular celebration of African fashion.
The night ended with the AEM after-party which continued to the early hours of the morning and gave the guests the opportunity to meet some of the youngest new talents out of Africa.
The designers; their Collections:
Tsemaye Binitie (Nigeria)
Earliest memories of Versace 80's madness is what inspired Tsemaye to decide that he wanted to dress women and even 'the world' in his own irreverently glamorous aesthetic! Born in Nigeria, Tsemaye developed a signature style of un-abashed glamour, perfect cut and attention to detail techniques developed from creating his graduating collection. Tsemaye Binitie launched his namesake label in 2009. It is a contemporary fashion label characterised by exquisite clothing encapsulating a love of luxury and innovative design. Meticulous cuts, indulgent fabrics and sartorial construction permeate the deliver of sharp, refined and timeless pieces. Each collection features dynamic, draped and body conscious silhouettes with a deep desire to communicate a new sense of elegance and a modern glamour.
The label launched with its first collection for Fall 2009/10 'Blackout-Perfect 10', aptly named as he wanted to bring together his 'Perfect 10' dresses, each with a very distinct silhouette for a versatile woman. The inspiration behind the collection is simply 'Black' and what the colour stands for. Tsemaye stated, "To me it's the colour of my skin, it stands for strength, heritage and culture. I looked to these keywords when creating the collection wanting each dress to convey the same message."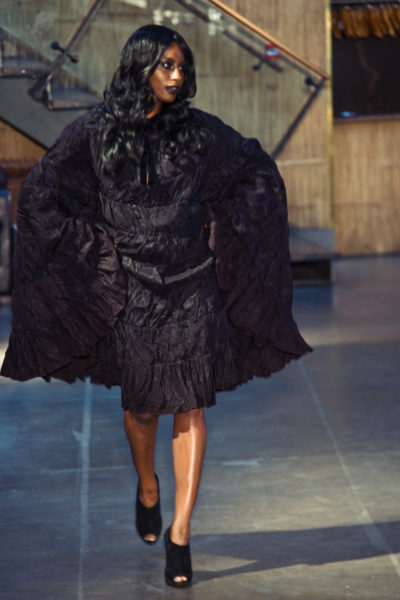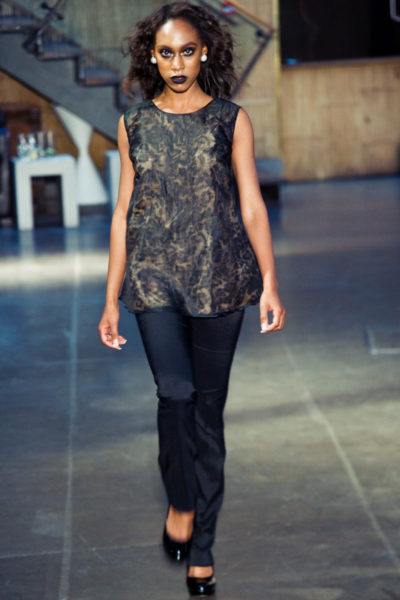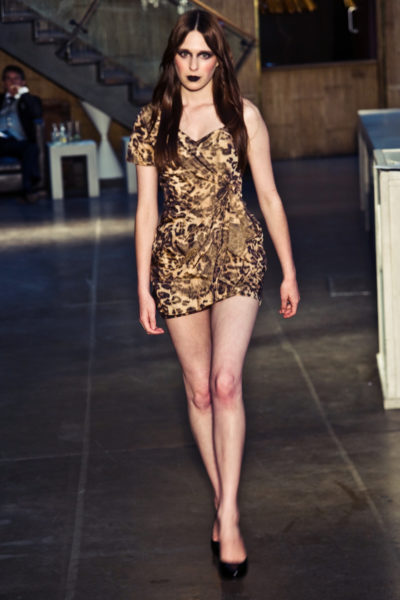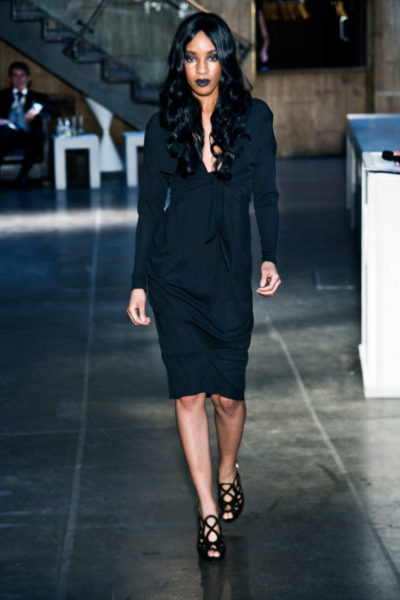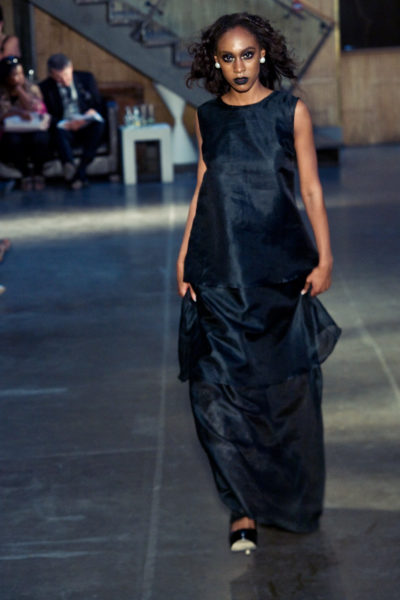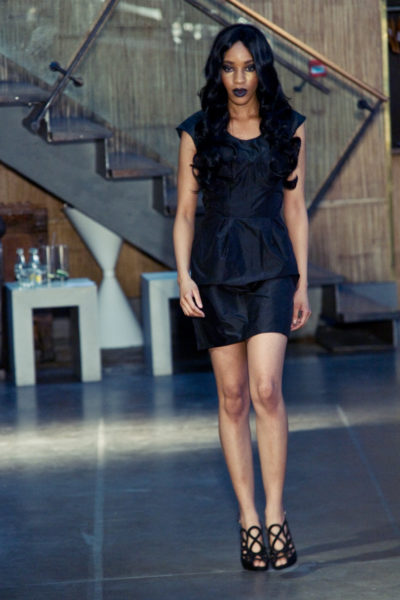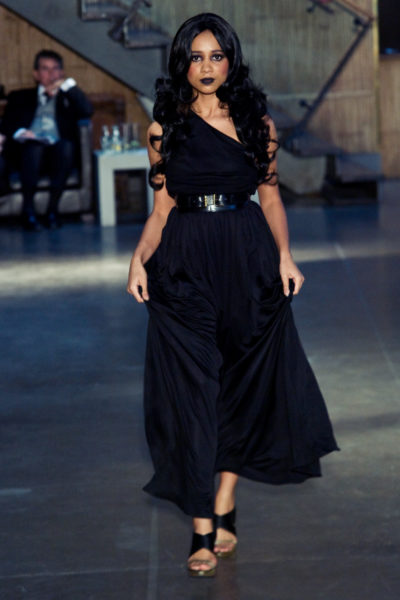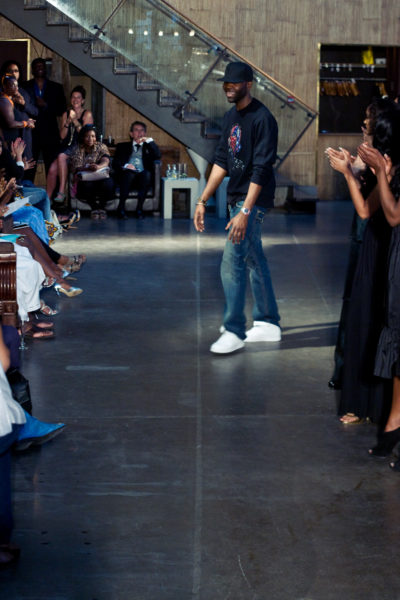 De Angels Couture (Nigeria)
De Angels Couture was created out of the love and desire for fashion, style and elegance. It is the uniqueness of the urban woman and African Couture. It aims at bringing out the best in making you look sexy, sassy, and elegant in African Couture.
The collection is made up of dresses in traditional African fabric fused with a contemporary modern vibe, giving the wearer an edgy Afro-centric look.
Temitope Angel the CEO/ Designer is a former model; she understands fashion and how to truly compliment a woman's body. She believes that every woman deserves to look deftly beautiful and has dedicated herself to achieving this in her brand.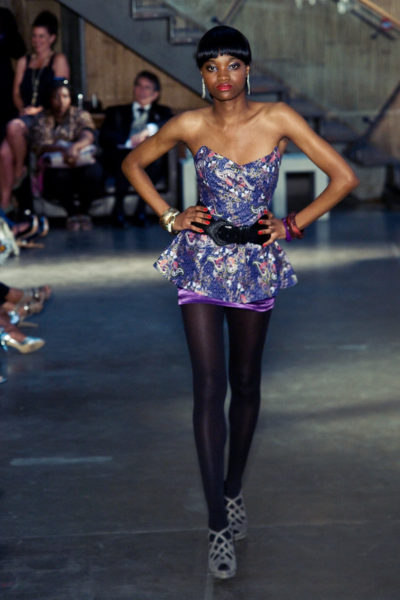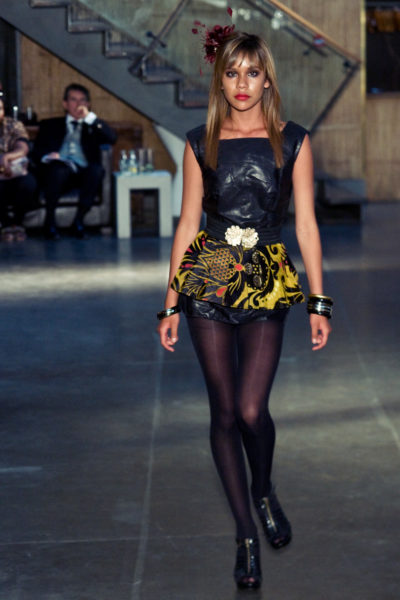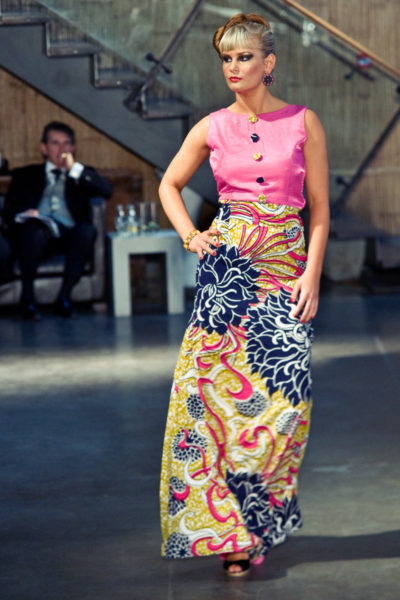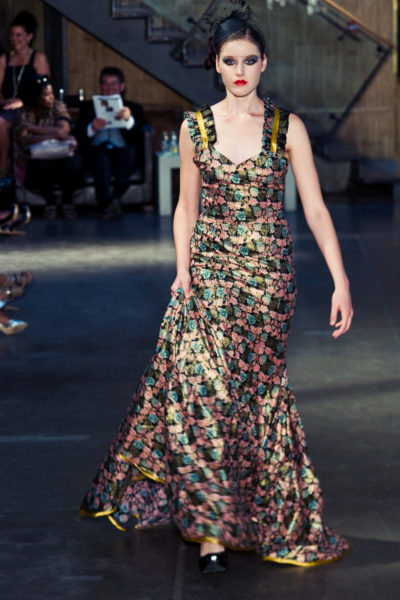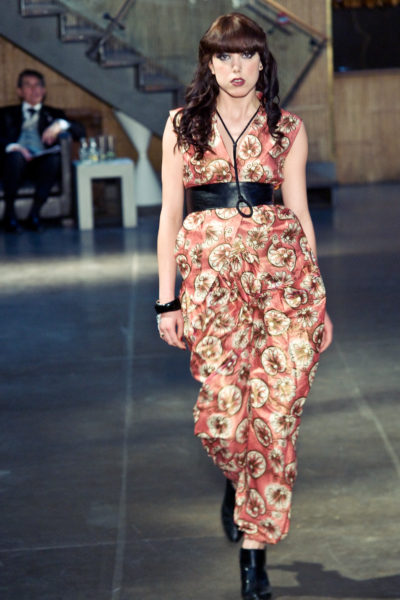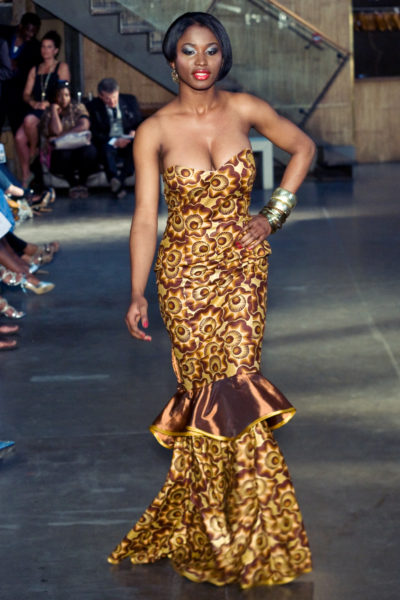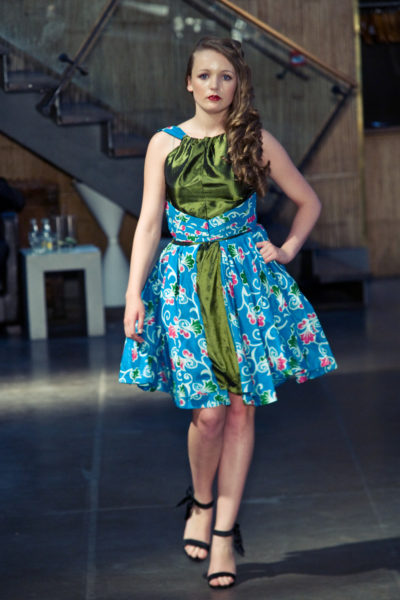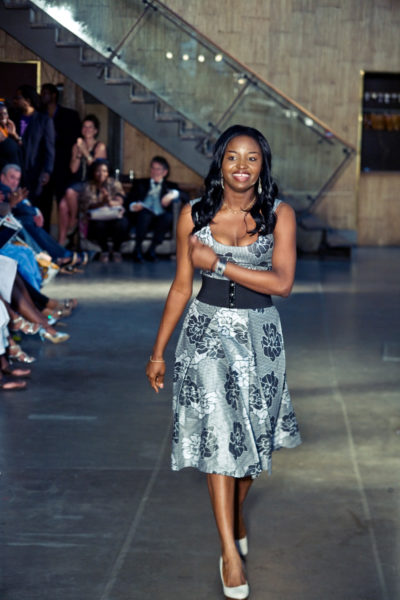 Maame Baryeh (Ghana)
Maame Baryeh London is never afraid to stand out from the crowd; individually creative, colourful and above all fun. This is the home of the label that believes that clothes should express a personality and tell a tale of its own.
Maame Baryeh London was launched by designer Maame Baryeh in 2004 straight after graduating with a BA Hons in Fashion Design at De Monfort University, Leicester. Since then, she has been on a journey of self discovery defining herself and her label as individual, creative, experimental, unique and exciting. Each garment is borne from ideas which are visualized in her mind's eye and executed through the use of creative pattern cutting, an art form all of its own, and one which first fuelled Maame's passion for design.
Maame continually pushes the boundaries which govern the structure and shapes by which clothing is defined, constantly looking for alternatives to the accepted norm.
Maame Baryeh London is defined by one phrase "be a leader not a follower" this ethos is one which she applies to all aspects of life, not least in the fashion we wear.
Ma:LE ; the menswear range of Maame Baryeh London was created to challenge the too often mundane world of men's fashion. This label is fun, vibrant, experimental, and dares to be different. Key elements of the collection are the knitwear and the clever and quirky combinations of texture and colour.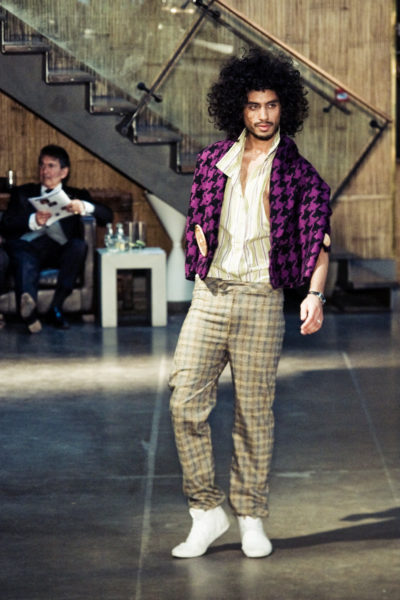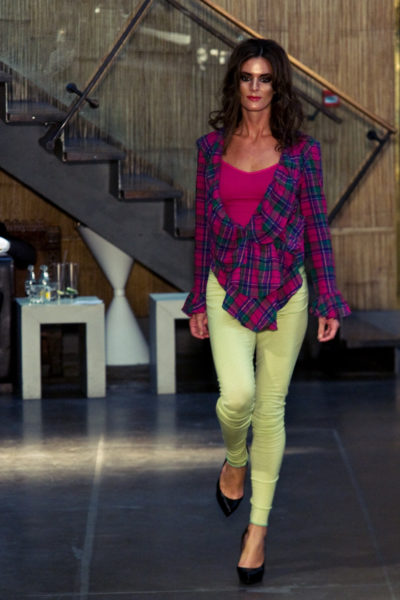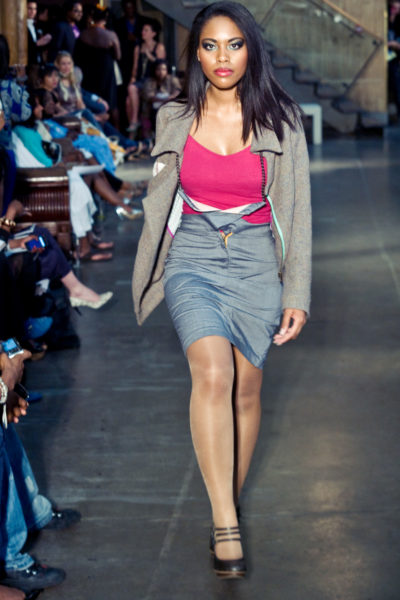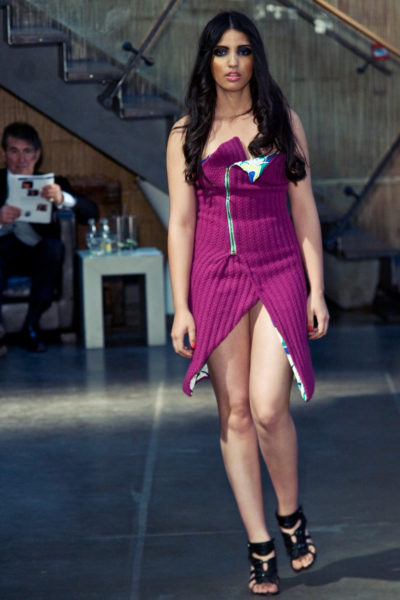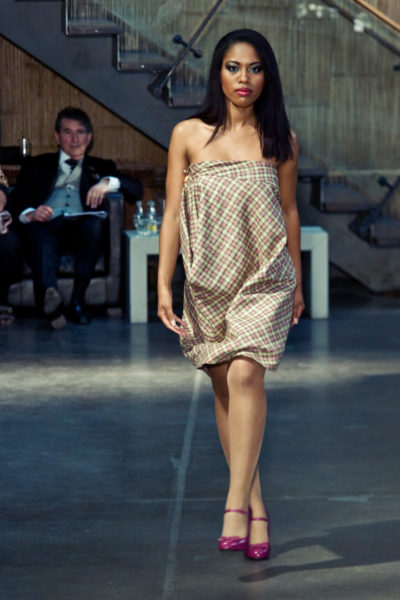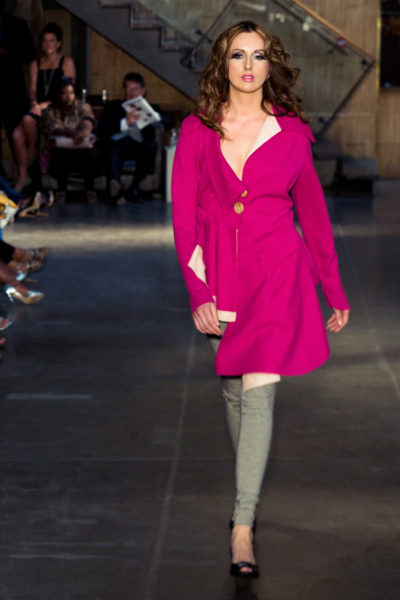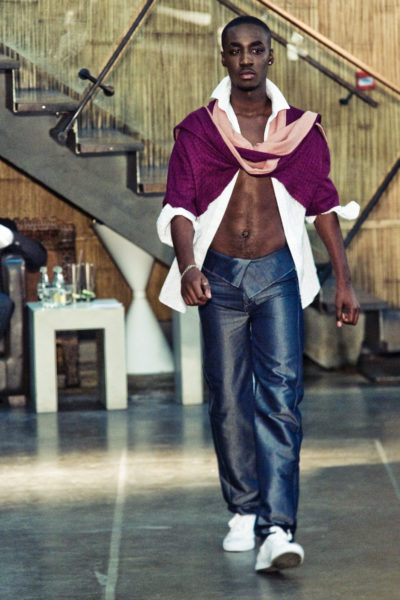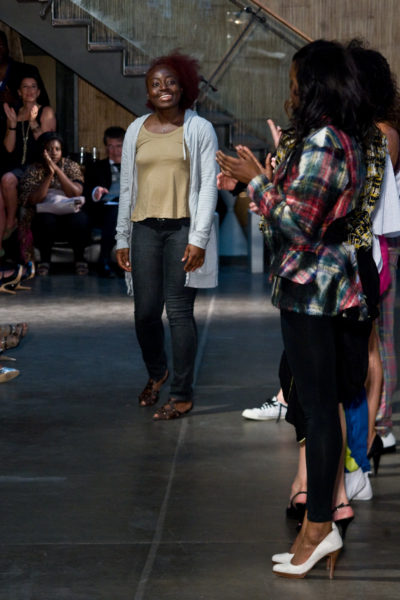 For more pictures and coverage watch out for the new website which will launch on 01 September 2009; www.youngafricafashion.co.uk  YAFW video footage can be viewed here:
Credits:
Designers Profile: Chido Mutukwa
Make up artist team: Becks Buki, Elaine Edozien of ShoMya, Nadine Neita, Elena Barankevich, Imelda Ladebo and Seyi Sangotade.
Hair Team: Hair Lounge
Photography: Suby & Sinem.