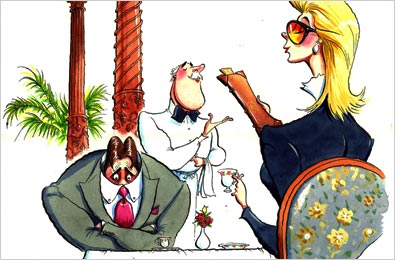 There is a long standing notion that only single women are greedy enough to be on the look out for "sugar daddies". They are believed to chase after rich men to date, have a fling or two with, or to get married to. Single women, I inclusive, have also been accused of greed and despising the days of humble beginnings. We have endured lectures on how to settle for educated men with potentials instead of ready-made-men who will only regard us as pieces of furniture to be added to their ready-made-lives! They say that where a lady marries a man who is only about 50% financially secure, it guarantees the man's love and respect for her when he finally acquires many assets and has zillions in his bank account! Paradoxically, I have observed that many single men, whom I have named "Sugar Bombs", are more in need of the above advice… for our sakes!
I can't help but notice that many more single men are after single women mainly for material gain. These men want to date, have a fling with, or marry well-to-do women with the hope of securing their lives / future financially. Gone are the days when able-bodied men worked hard to ensure that their wives and children are properly catered for. Nowadays, many single men date only because "she is from a wealthy family / has a well paying job". So called business men are on the increase (and I don't mean to undermine business men in anyway). Yes, there are many business men out there who have a passion for their work and are making an honest living. However, there are many more men hiding under the façade of doing business instead of owning up to being jobless.
This is today's recurrent scenario: so-called businessman shows interest in single woman who has a well paying job / is from a comfortable or wealthy or influential family. Initially, he looks after her and picks the tabs at the slightest instance. He says and does everything right and she falls for it. Wouldn't you? Gradually, he intimates her of "his work", and tells her that he is a "little" financially strained at that moment which makes sense to her – after all, he is a business man! At this point, single woman feels obligated to finance him as often as he requests it. He promises to pay her back each time reminding her that he is soon to be paid for his previous business transactions. Alas, "soon" is a day that never comes.
The typical Sugar Bomb has really good taste. He wants to drive a 2010 car, live in a nice house, hang out at the "IT" spots… however; he doesn't want to work for it. With the little resources that he can source, he dresses nice and looks attractive in public. This impresses Miss Single Lady who is thrilled to have a good looking man. At this point, she has forgotten that she's footing majority of his bills… directly and indirectly.
So, she sticks with this Sugar Bomb. They get married and have kids while he continues to chase after shadows otherwise known as "so-called business transactions". Single woman (now married) on the other hand is burdened with the responsibility of holding the family together… forever. Aside from the sole responsibility of bearing the financial burden of her growing family, she may finally come to realise that her Sugar Bomb doesn't love her… not the way he ought to since he was only attracted to her for convenience sake – she fed him, clothed him, provided him with all he required to sustain his exuberant lifestyle and even sexed him… an offer no Sugar Bomb can refuse.
Single woman, you must be his lady and not his mother! Yes, it's great to look after your man but please, let him pick his own tabs (at least)! Let him feed, clothe and house himself. He must be independent and financially able to hold your relationship together. Even if he doesn't have a six-figure salary, whatever he earns must be adequate and enough to sustain the two of you otherwise he is not man enough to be in a relationship with you.
Someone once asked me – "Éjire, what about love?" Yes, love is a huge consideration but in case Mr. Lover-man doesn't have a job at any given time, he must be seen to be trying to make ends meet realistically. I say "realistically" because increasingly, men wait around for "government contracts" and business deals worth zillions. They play this waiting game for months on end… and all in vain. If he is a university graduate, advise him to get a 9-5 job! While on the job, he can map out his business strategy and should only delve into business when all is certain that things will work out and he has resources to carry out his transactions.
If you are already in a relationship with a potential Sugar Bomb, you must re-define your relationship as a girlfriend / fiancée / wife. Note that your responsibilities include loving him, loving him more, being supportive of him (without playing the role of his mother), advising him, praying for him, and yes, picking up the tabs only when its absolutely necessary.
Photo Credits: www.feministing.com