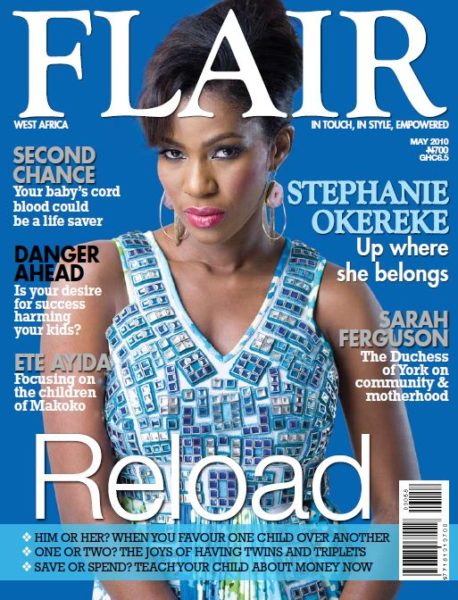 It's the end of an era.
Without a doubt, True Love WA changed the game and left an indelible mark in the Nigerian media industry especially in the women's magazine segment.
FLAIR was actually originally launched by Bola Atta over a decade ago and was the first women's lifestyle magazine in Nigeria. It is great to see the brand coming back and its satisfying that its a wholly Nigerian brand lead by an inspiring Nigerian woman. The magazine business globally is floundering and in Nigeria, the business is totally cut throat so it's really commendable to keep publishing. On the global level, publishing powerhouse Condé Nast has closed down over 6 magazines in the last 18 months, in Africa – True Love Magazine shut down in East Africa and in Nigeria, lots of magazines start and are crushed in less than 3 issues.
The first issue of FLAIR features the beautiful Stephanie Okereke on the cover. Pick up your copy and let us know what you think of the new magazine.
BN Editor's Comments
Personally, appearing on the cover of True Love West Africa was an inspiring honour. It was one of the major factors that inspired certain decisions that have changed my life.
It was great while it lasted and am expecting even greater things from FLAIR.
Below we have republished the Editor's Note by Bola Atta as she provides us with insight on the big change and the new magazine.
FLAIR – Relaunch Issue 1 – Editor's Note by Bola Atta
Welcome to the launch of Flair West Africa – a fresh and exciting new women's publication that promises to become your best friend.
In case you are wondering why you are seeing me on the pages of Flair West Africa and not TRUE LOVE West Africa: We have decided to discontinue TRUE LOVE West Africa. Our last edition was in March 2010. Launching TRUE LOVE and bringing a fashion-forward and entertainment-savvy magazine to West Africa has been an amazing experience. Together, with valuable input from you, our readers, we built something of which we are fiercely proud. Most of all, in connecting with so many loyal readers and getting to know some of you personally, we learned that you welcome change and evolvement, especially in the fashion industry that inspires us.
FLAIR West Africa will continue to bring you the latest from the fashion and entertainment industries, but we will also bring you inspirational and newsworthy topics on subjects that you, in your feedback, have told us interest you. The world is constantly changing and progressing at an amazing pace. Our country is moving forward rapidly with changing world trends and our fashion and entertainment industry is growing in leaps and bounds. FLAIR West Africa, like an inquisitive, beautiful butterfly, aims to be at the forefront of these developments to bring you the relevant, informative and entertaining stories that you want every month.
The first edition is really special. As we celebrate Children's Day this month, we focus on our most treasured assets: our children. They, like this magazine, are symbols of renewal, hope and a bright future. Read about mothers of twins and triplets who are filled with joy and gratitude for their multiple blessings. Just as Ete Ayida and women like her have gone the extra mile to better the lives of children, so shall we go the extra mile to bring you the best West Africa and the world have to offer. I hope our stories of inspirational women will make you want to dedicate some of your time and resources to putting smiles on little faces.
If you are reading this right now, you have bought or borrowed your first edition of FLAIR West Africa. I hope you like what you see and enjoy flipping through these pages that we have worked so hard to bring to you. We intend to stay connected with you, our readers, and your feedback and letters will go a long way in letting us know how to please you.