Introducing BN On The Radio
Back Story
The radio has been in existence in Nigeria since the colonial era. In the past, it was associated mainly with the passing of information (think the Biafra War), basically a little music to pass a bit of the time. Radio personalities only began to acquire a new status in the early nineties when people had a choice of which radio stations to choose from. It began to take more than just being an established radio station or the choice of music you play, to get listeners. It became a  much more personal choice such as which radio person you connected with and such.
Enough with history already.
Now, in the last two years, there has been some sort of renaissance on the radio. With a surge in the number of new radio stations, a new generation of the OAPs (On-Air Personalities) cropped up. Let's call them the EOAPs (Extraordinary On-Air Personalities). You see, back then, radio personalities were just that, radio personalities – no frills, no added job descriptions nothing. The new ones come with capes and their own custom made boredom fighting suits (Ok, I kid).
Now this new brand of the OAP doesn't just include the new voices on the radio but it also covers the old birds that refused to die and adapted with the times. We have made it our business to introduce you to these EOAPs.
EOAP No. 1
On-Air Name: Toolz
Radio Station: The Beat 99.9 FM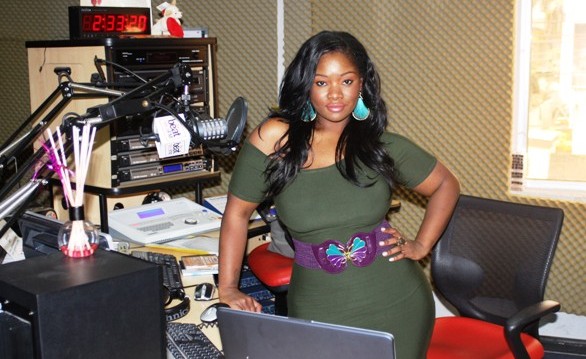 ** Story Begins**
I randomly remembered D'Banj's PSA (Public Service Announcement) on The Beat FM as I waited. And I laughed.
It goes something like this:
"Toolz baby…Toolz baby
Toolz X4 Orobo toh bahd oh!"
Did I mention that I was waiting?
Yes I did.
When she finally walked through the doors, she looked around the room for me. I let her look around the room for a bit.
"I am so sorry I'm late" She said when I finally waved. I laughed, she was already forgiven even before she asked. Not just because she is a beautiful woman, which cannot be denied in any way. But also because she evokes a sense of royalty.
And then we began to talk, more like I asked questions and she talked. It was quite an experience comparing the voice on the radio with the person seated before me. It was almost like watching your favorite cartoon as a kid come to life. She was definitely very easy to talk with. It was like being on the radio with the roles were reversed.
She breezed through her background. She grew up in England hence the heavy British accent. Even though she didn't have the average upbringing that most had – I mean how many of us were raised by a Nanny (think Nanny McPhee), and went to boarding school in England – her parents still made sure that Toolz and her siblings  were very well grounded. For starters she can make her own favorite local dish – Efo with Egusi (Vegetable and Melon soup).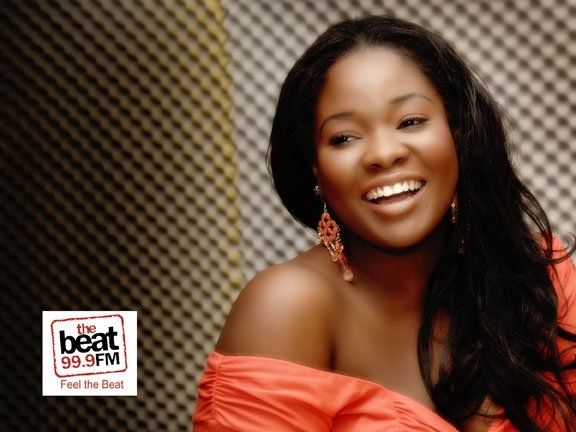 Growing up was a breeze. She flirted with the idea of doing an MBA right after school, but quickly settled for a job in sales for about 8 months and then landed what could be termed as a dream job with MTV Networks Europe. "The job at MTV was so much fun. It was amazing. It was really really nice. Nothing on TV though, just behind the scenes work"
So, if working with MTV Networks Europe was so much fun, the obvious question is: Why would she even consider coming back? According to her, it was a culmination of factors: her parents encouraging her to return home, the job at MTV seemed to have few prospects for the ambitious mind, and a gnawing curiosity about what Nigeria held in store.
It is however worthy to note, that she returned to work with the family business first. The job at The Beat came as a bit of a 'try-and-see'; call it an afterthought if you will. In her own words, "I never, ever thought about presenting. Because much as I'm very chatty, I'm shy". Initially, it was an awkward start at The Beat for both herself and her listeners – because most people could not decipher what she had to say half the time. Plus? She played Garage/Grime. And at that point Nigerians and Garage? No way Jose.
In just a little over a year since she made her debut on the scene, she's made quite a impact. From the effusive (to say the least) PSA from D'Banj to being referenced as sexy in songs (Think Lynxxx's Good Luvin). Right to being nominated for Best Radio Personality at the NEAs alongside Radio veterans including Olisa Adibua and Dan Foster.
Here's what she had to say about it:
"I had no idea about it till a friend (DJ Neptune) called me up one morning to tell me I had been nominated. I was so shocked and I believe my first response was 'Wow so they gbadun me abroad' followed by 'Hmmmm I have no chance of winning this!'
This is my 4th nomination in under 18 months of being a radio presenter so I am very humbled and of course grateful to the different organisations that felt I was worthy of a nomination"
And then lastly we asked her what she will be after radio. She softened up a bit and told us that her vision is to start or get involved with a charity involved with getting kids off the streets. For her, it's a sore point to see kids who should otherwise be in school, cleaning windshields and begging in traffic.
Tune in next time – same day, next week and find out who our next EOAP will be.