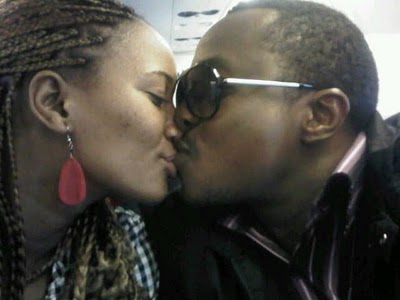 Big Brother Africa has provided great voyeuristic entertainment over the last few years but has the show created a perfect love match?
A few weeks ago we spotted a photo of Big Brother Africa Revolution winner – Kevin Chuwang Pam with fellow BBA Revolution housemate Tanzanian TV Presenter/Actress Elizabeth "Lizzy" Gupta at a party in Abuja. Then last week, Kevin released the first set of singles from his new album and alas one of the tracks is a Swahili track called "Una Pata Mambo"  and it features Lizzy and Stitched. At that point, we knew something was definitely up!
Earlier today, this posting popped up on a Big Brother Africa forum accompanied by a photo of Kevin and Lizzy kissing.
Breaking News! Last Saturday (21 Aug) while at the Ogus Baba Laugh Goes On comedy club in Port Harcourt, Big Brother Revolution winner, Kevin Chuwang Pam and his lady friend, and Revolution contestant Elizabeth Gupta got up on stage and performed a track together.

Nigeria's biggest comedian, Ali Baba introduced the couple to the 2000 strong crowd. Once they'd finished performing "Una Pata Mambo" (Anything you want, right there you get it), Kevin went down on one knee and proposed to Elizabeth. He said he kept it simple and just asked: "Elizabeth, will you marry me?".

The crowd started screaming: "say yes, say yes, say yes" and obviously she did. Kevin then says a woman broke free from the crowd, ran onto the stage and congratulated them both with a huge hug.
This was followed by congratulatory Facebook status messages from fellow Big Brother Revolution Africa stars including Geraldine. BN followed up with calls to sources close to the couple and they confirmed the engagement though we are working on getting absolute confirmation from the couple.
The news might come as a surprise to some BBA fans though! During the show last year, Kevin was obviously crushing on Elizabeth and she was blowing "hot and cold", she made it clear that she liked him but couldn't see them having a relationship. She also shared that she had "never dated a black guy" and also said "Kevin was too short for her"!
It is great to see them get together and let's not chastise Lizzy for her previous comments. If only things we said about people who turned out to be future girlfriends/boyfriends/husbands/wives were caught on tape! We would all be so guilty.
Congrats to Kevin and Elizabeth. The past 12 months have been amazing for Kevin, first he became the first Nigerian to win Big Brother Africa and picked up a $200,000 cheque for his efforts and now he is reportedly engaged to the love of his life. Up next for Kevin is the release of his debut album, his singles "Wok Pichak" featuring Stitched, "Una Pata Mambo" featuring Stitched and Lizzy, "Thank You" and "Dance Hall Nice" are already getting airplay on the radio. Elizabeth is also working on her music and acting career, she featured in a Tanzanian movie entitled "Danger Zone" earlier in the year.
BN will update you once we get confirmation from Kevin or Lizzy on the engagement.
Photo Credit: BBA Forum | Blaquestar PR
Story Source: BBA Forum