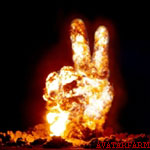 Imagine what life would be like without the pain of disappointments, betrayals or heartbreak.
Imagine how free everyone would be; like little children, we would all wear our hearts on our sleeves and express our true desires and emotions without the fear of being taken advantage of and hurt in the process.
Imagine the comfort of knowing that every single person you meet has your best interests at heart, and you also carry nothing but noble intentions toward them.
Alright, I need to stop here before I disappear into my imagination and decide I want to make that my home all over again.
But really, wouldn't that be Paradise on earth? The bliss of human existence which has probably only been enjoyed by Adam and Eve in Eden.
On this side of our reality, getting hurt is a natural process in life. Just like in those Mafia movies we watch, where to become an accepted part of the Family, you have to 'make your bones'; getting hurt is also one of the assured ways of being assimilated into the human experience.
Not even children are spared from pain; whether it's the physical pain of falling down an entire flight of stairs at the tender age of one (that happened to me, hence the scar on my lip) or the more damaging pain of being abused by a trusted family member or stranger, we find that children are actually the most vulnerable to getting hurt.
Then you crossover into the land of Adulthood; where you had believed in all your years as a child, is the beginning of your freedom and living la vida loca. A rude shock awaits you as you reach the borders and find out that you were probably even better off as a child.
At least as a child, it was okay to bawl your face up in an ugly expression and cry your heart out. It's funny how it's only when it comes to kids that we run toward them at their most unattractive. As in really, if children only knew how ugly they looked when they cry, they wouldn't hesitate to hush up and suck pain like real Men and Women.
But as an Adult, you somehow take pride in the thought that 'big girls don't cry' and so engage pain with a determination to maintain your illusion of maturity, forgetting that you can't exactly run away from something that emanates from within you.
We are taught that 'Time heals all wounds', and have believed it so much that we imagine that as the second hand on our clocks tick away, so the deep wounds in our subconscious inch toward the ultimate point of healing.
That statement has only an element of truth in it. Time in itself cannot heal any wound; it is what you actively do to treat a wound within a period of time that determines the outcome of that particular hurt.
It's the same as in physical wounds; when you have a deep cut, if you don't treat, disinfect and cover it, it will only get worse and eventually spread the infection to other parts of your body. So what began as a small cut on your foot can end up making you lose the entire leg to amputation.
How are we to know, when we are thrust into the jungle of emotions, that we are responsible for our own healing and eventual happiness?
The first thing that we all probably need to accept is the fact that in life we will hurt other people, and get hurt ourselves. It's inevitable, as the human species is deeply flawed and we have been contaminated with the cancer of self-centeredness. So everyone goes about looking for their own good, and in the process, will leave deep marks on the hearts of others.
If we can't change this fact, and we know in our hearts that we've also been responsible for other people's tears, then we at least owe it to ourselves to take responsibility for our healing process when we get hurt.
Its okay to let the water works loose. There is absolutely nothing wrong in allowing yourself to feel the raw, intense emotion that comes with disappointment or betrayal, especially from someone who you trusted or attached a lot of expectation to.
You will be cheating yourself, if you do not embrace the hurt and allow yourself to mourn the situation. Contrary to what you have been made to believe, it is NOT a sign of weakness. It actually takes a lot of strength to acknowledge the fact that you have been deeply hurt, and reach within yourself to connect with the point of breakage.
Don't give in to the foolish pride that doesn't want you to accept that this person was actually able to touch the deepest parts of you by their actions or inactions. You are not a fool for opening your heart to someone. In fact you are very brave for being able to give someone access into your innermost chambers in which your deepest desires, hopes, fears and truths are stored.
You have a right to feel hurt, and an even greater right to express that hurt in the purest form possible. Even if you are like me who sometimes finds it difficult to cry; still do not attempt to run away from it. Search for the pain within yourself and explore it till it has no choice but to express itself.
Beware though, as this can sometimes be tricky. The pain may want to express itself through retaliation either directly to the person who hurt you, or to other people. Do not let it. Remember the key is in you remaining in control of your pain.
Use it; don't let it use you.
The pain may want to transform itself to hatred. But again don't give it that pleasure, because regardless of what you may now feel, there was a reason why you opened your heart to the person who hurt you in the first place.
Hurting them is NOT going to set you free. No, it will only drive you further into your prison of fear and insecurity, where you are frequently tortured by the recurring pain of memories, especially if they seem to be free from the burden you carry.
Finding resuscitation for a diminished soul through the inflicting of pain on others will never give you the satisfaction that you seek. It may make you feel good temporarily, but that feeling is very short-lived.
Another thing to note is that there is Purpose in Pain.
Why do I feel this way right now?
What exactly am I feeling in this moment?
How can I get beyond this?
How did I contribute in the circumstances that have brought me to this point?
What can I take away from this?
Renew your perception of pain, from something you need to escape from, to something that can be good for you.
Do not give into the temptation to make everyone but yourself responsible for the way you feel right now.
Embrace Pain as a Cleansing Agent.
Sometimes, the broken relationship may not be restored; but it always helps to communicate your feelings to the person who hurt you.
Even if you can't directly reach them, the best thing you can do for yourself, to attain your own healing, is to honestly express exactly how you feel.
You can share with a neutral party, talk to God or sort out within your own head. The key is to not fight the feelings, but to understand them, while keeping your healing as the goal.
You deserve to experience Love, Peace and Joy every single day of your life; the only person who can make that happen for you is YOU.
Finally, invest yourself in the happiness of another person.
One reason why we are sometimes trapped in our own hurts is because we are too focused on our own experience that we shut ourselves up to the pain and cries for help from other people around us.
Come out of yourself. See the hurt of another person, and commit yourself to their own healing.
Give. Share. Forgive.
As I stretch out my hand through this article, my hope is that you take you take a hold of it and together we can all ascend to the realm of Peace, which not even the bravest of men have had the courage to aspire to.
We can make this happen. We can chart this course.
___________________________________________________________________________________________
Tari's blog is www.tariere.blogspot.com; you can also follow TariEkiyor on Twitter