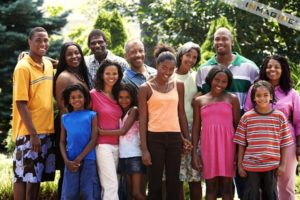 I grew up in a family compound.
Until a couple of years ago, I had no clue what life was like without being constantly surrounded by cousins, distant relatives and even family friends. My house was open to anyone and everyone. No-one who needed a place to stay was ever turned away by my parents.
They believed in family and considered it a taboo to shut their doors in the face of a homeless family member or even stranger.
However, opening the door to relatives also opened the door to all sorts of abuses to the vulnerable children who lived within those doors.
Not everyone, as I'm sure we all know, responds to kindness with kindness. Needless to say, my nuclear family realized at some point that it was imperative for us to experience life as a small family unit, without the extension of an extended family.
The advantages of that decision far surpass the disadvantages, as it's only in this time we have actually been able to bond on many different levels as a family unit.
Recently, a relative showed up on our doorstep unannounced, prepared to spend time in our home. My response to this was immediate suspicion and resistance as a result of what I know we've been through in the past.
Shortly after, I felt slightly guilty about my reaction because I know that it's not a far-fetched idea for one's relative to imagine that he'd always be welcome in the home of another family member.
It's only normal in our Nigerian society to have communal family expectations. I wondered if apart from the past experiences of living with relatives, there were any other reasons as to why I was not very welcoming to the idea of living with yet another relative.
Have I been affected by the Western influences which are so prevalent in our Media?
Have we become Individualistic in our thinking as opposed to the community which our parents are more prone to?
A lot of us modern women will experience a shudder through our spines if we imagine that we will have to live in our husband's houses with his family present. I wonder about this because there was never a time when my Mother did not have at least one member of my father's family (as well as from her own family) in her home.
Has something changed about the structure of our family dynamics?
Gone are the days where, like we see in Nollywood movies, Mama or Papa can just come from the village to spend time in their children's homes whenever they like. Or a big Sister or Brother is expected to harbor all his or her younger ones in the home to support them.
These days, it's more 'Me and Mine' or 'All man for himself'. Economic factors might be blamed for this way of thinking, and that's a valid point.
Yet I ask: Is this the way forward?
Photo Credit: http://images.inmagine.com/
____________________________________________________________________________________________
Tari's blog is www.tariere.blogspot.com also follow TariEkiyor on Twitter