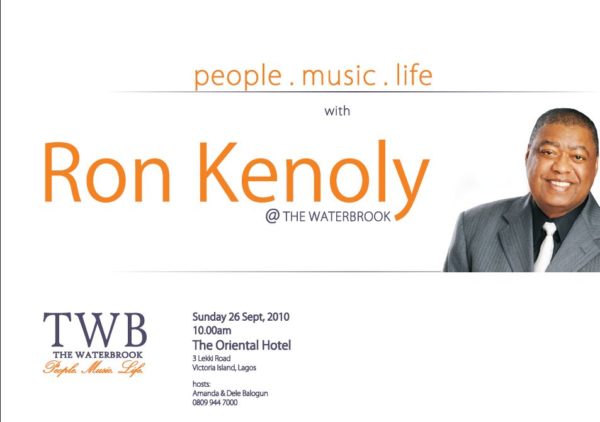 Ron Kenoly the iconic minstrel and worshipper is coming this Sunday – September 26 2010 to evoke the freshness of God into The WaterBrook. The WaterBrook Church is at Lagos Oriental Hotel – 3 Lekki Road, Victoria Island Lagos from 10am.
Hosts – Amanda and Dele Balogun
The WaterBrook is a place without walls or boundaries, where people who have grown weary of the conventional way of doing church seek an environment of freedom to worship God without the perception of being confined by conventional church, religion or age restrictions.
It's a gathering of diverse minds, backgrounds and opinions but with one thing in common, a thirst and hunger for the Word of God and a desire for a closer walk with the Father.
TWB builds up the new generation and guides them through real life issues that we face and how to stay focused on God even when the world seems to be closing in on you.
It's a new experience in God. It's a place of teaching, learning, healing, discovery and if you let it, it's a place of new beginnings. So if you need to break away to be more intense with God, The Water Brook is just the place for you.
Bring a Friend!
The Waterbrook Church
Date: Sunday September 26 2010
Time: 10AM
Venue: Lagos Oriental Hotel – 3 Lekki Road, Victoria Island Lagos
www.thewaterbrookchurch.org
www.facebook.com/thewaterbrook
Tel: 08099447000 | 08024791754
__________________________________________________________________________________________
Sponsored Content