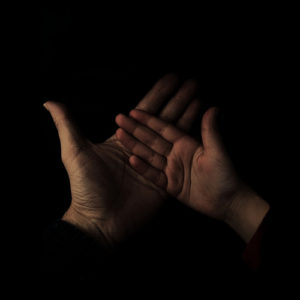 The weeks that followed were the most difficult of my life. Uche did his best to console me, but the prognosis from the doctor seemed to get worse and my own ability to stay hopeful waned under the pressure of it all. My oncologist decided that the best line of treatment was to undergo a course of chemotherapy to shrink the tumor and then operate to remove whatever was left. I reacted badly to the chemotherapy from the start. My skin became incredibly pale and my hair was falling off in clumps. My best friend Lola had bought me a very nice wig, but my scalp had developed a rash so I couldn't wear it. I had also lost all my appetite. Even when I did manage to eat anything, my stomach would immediately force me to throw it all up again. The only thing I had strength for was sleep. I could tell that everything was beginning to take its toll on Uche because he got more and more withdrawn. At first he would accompany me to the hospital for each chemotherapy session but as the weeks progressed he gave more and more excuses why he couldn't come. Even when he did come he stared at me like I was some strange creature.
The other morning I caught him staring at me as I dressed up to go the hospital. The look on his face a mixture of both  fear and disgust. I knew he would need time to process all that was happening. It couldn't be easy for him either. But I could literally feel him moving away from me both physically and emotionally. We hardly spoke a word to each other, even on the days when I felt like my old self conversation between us still seemed strained. I discussed this with Lola and she told me to concentrate on getting well and give Uche time to process his thoughts.
On the day of my operation Lola and her mother had arrived first thing in the morning with members of their prayer group. They came armed with various bible passages and prayer points. It was like a mini church. I felt so overwhelmed as Lola's mother held my hand and prayed for me like I was her own daughter. But there was no Uche. No phone call, no flowers – nothing. I wasn't sure which was worse, the pain of his absence or the fear of my pending operation. But I willed myself to concentrate on the goodwill of Lola's mother's church members and their prayers. Tears of fear rolled down my eyes as the nurse wheeled me into the theatre. I was happy to see the familiar face of Dr Smith. He and my father had been good friends but I was still surprised that he had come to see me.
"Don't worry Didi, you will be just fine", he whispered as he took my hand. The anesthetists stood on my left. "Okay Didi he said in a calm voice. I want you to count from 1-10 backwards…."
I began to count…."10, 9, 8, 7, 3……."
………………………………………………..
When I opened my eyes I wasn't exactly sure where I was. The faint smell of cleaning products and the beeping of machines invaded my memory and I realized I was in the hospital. Had my operation been successful? Where there any complications? I immediately reached for my breasts and although I winched at the soreness I was glad to find them still intact.
"Praise the Lord, praise Jesus!"
I opened my eyes wide enough to see Lola's mother standing over me praying. Tears began to well up in my eyes as it finally dawned on me that I was alive. God had saved me, but I couldn't help but wonder if he had saved me from cancer as well. Lola squeezed my hand gently.
"Its good to have you back Didi, I have missed you. Mama has been praying for you since they wheeled you out of the theatre. I am surprised you didn't wake up sooner. Even the nurses have been complaining"
I smiled. Its good to be back.
Dr Smith entered the room then. I was glad to see him. Both he and Lola"s mother had acted like my parents through out my ordeal.
"The operation was very successful Didi. Your doctor will soon be here to give you more details. But you should get some rest and no distractions" he said as he shot Lola's mother a quizzical look.
"You call prayer distraction?" She said shooting him back her own version of a quizzical look.
"Mummy its okay! Didi needs her rest. Let us go". Said Lola.
I was glad to have them here with me. But where was Uche? As if sensing my thoughts Lola said, "he didn't come dear, but don't focus on that, focus on getting better", she said as she kissed me on my cheek and left with mama and Dr Smith. I was afraid of being alone with my thoughts, afraid of the impending pain that would materialize if Uche never showed up. But my body would not allow me think, instead it craved sleep and for the next 3 days that was all I did. Often I would wake up to the sound of both Lola and her mother arguing in the room or when the doctors or nurses came to check on me. But not once did the sound of Uche's voice wake me up.
After two weeks in the hospital I was finally discharged. Although I was told that I still had a long road to getting back to my former self, the doctors were adamant that I would make a full recovery. Lola's mother attributed it all to her prayers and I was only too glad to agree with her. On the day I was discharged, both Lola and her mother came to pick me up with Dr Smith. As they wheeled me to the car park, I couldn't help but feel my lungs enlarge as I felt the fresh air cascade through my nostrils. It felt good to be alive and I looked up towards heaven with silent prayer of thanks.
Lola had moved into my apartment to stay with me while I recovered. Some of my other cousins and friends had also dropped by to say hello. It really did feel good to see them all. But yet there was no Uche. No phone call , no flowers, nothing. I kept expecting him to walk through the door and take me in his arms, God knew I missed being in those arms. But he never came. After all the guests had gone, Lola started clearing up the house, no matter how much I begged her she wouldn't let me help. Instead she instructed me to go and sleep. I decided to put some of my clothes I had taken with me to the hospital back in to my wardrobe when I saw it. It was my sleep over bag. The bag where I kept all my toiletries and extra clothing for staying over at Uche's house. I always kept it at Uche's house incase I slept over at his. What was it doing here? I brought the bag out of the wardrobe and began looking through its content half hoping to find some reason why the bag had mysteriously reappeared at my house.
I turned round and saw Lola in the room. She had a sad look on her face.
"Didi please leave that bag alone. Just try and get some rest".
"Lola what is this bag doing here. It isn't meant to be here". My heart was willing her to give me any other explanation than the obvious. She led me to sit on the bed and brought out an envelope from one of the side pockets of the bag. I anxiously took the envelope from her and tore it open, inside it where a spare set of keys and a letter. I glanced at her quickly as I hurriedly scanned through the letter. It was written with Uche's hand writing. I gulped a handful of saliva. Tears automatically began flowing from my eyes even before I finished reading the letter. The wording of the letter was straight to the point.
Dear Didi
I am so sorry to do this to you but I don't think I can continue with our relationship. I will always love you and I wish you a speedy recovery.
Love
Uche
I read the words of the letter over again and again, the pieces of my world crashing down as I reread each word. Lola put her arms round me. I couldn't stop crying, how could Uche do this to me? How could he leave me when I needed him most? How could he? Where was I going to start from? I cried painful tears until inaudible words began escaping from my lips. I tried to articulate how I was feeling to Lola but instead tear stained words was all I could muster. Lola looked at me with a knowing smile and held me until I fell asleep in her arms.
Months went by and there was no Uche. He didn't return my phone calls neither did he reply my emails or text messages. He was gone, just like my cancer.
————————————————————–
Six months later, on my way to lunch after Sunday service I bumped into Jay Jay. He was his usual corny self.
"Hello angel" remember me? But I was no longer the same Didi he met at the airport that day.
"I smiled but in my head I thought, this was the same guy who called me angel the day my life became a nightmare" I wasn't in the mood to carry the conversation further. Ignoring my rather unfriendly attitude, Jay Jay proceeded to ask for my number. I promptly refused, without even bothering to give him any reasonable excuse for my refusal but he persisted. I finally gave in and his smile seemed to extend to the back of his ears. He really did seem like a happy chap! But my heart was closed off to any romantic possibilities. I still wanted Uche. Lola thought I was crazy but I didn't care. I loved him. This Jay Jay fellow was nothing more than a distraction.
But no matter how much I tried Jay Jay wouldn't give up. He was there for me no matter what I needed. He surprised me at work with flowers, drove me around when my car was at the mechanics, helped me redecorate my house and even followed me for my regular check up at the hospital. But my heart was closed. I wanted Uche not Jay Jay. Even though Lola knew how I felt about Uche, she continued to tease me about Jay Jay. It really did irritate me how she would make kissing noises anytime Jay Jay phoned or how she would start singing 'Iyawo Jay Jay" anytime he sent flowers or chocolates over.
My car finally gave up on me and I decided to buy a new one. Jay Jay had been kind enough to drive me round all week but I felt he was getting too close, so one day during my lunch break, I went over to the Honda Place close to work to shop for a new car. I had barely taken five steps into the show room when I heard someone call out my name
"Ndidi"! My feet froze to the ground as the familiar voice of Uche washed over my body like a bucket of ice water.
"Ndidi is that you?" The voice was getting closer. I contemplated turning and running straight through the door but my feet would not move. I just stood there like a frozen ice sculpture threatening to melt at the mere sight of the man.
"Ndidi! Oh my God you look amazing. It's been so long!" He was now standing right in front of me hugging me. I had rehearsed in my mind over a hundred times all the things I would say to Uche if I ever saw him again, but today, standing here looking at him, his smile, it was all I could do to keep myself from fainting. My mind was suddenly entangled with a multitude of emotions, anger, pain, fear and even love.
"I have missed you" he said looking at me. "You look amazing."
"Thank you", I finally said.
"What are you doing here, don't tell me you are buying a new car?"
"Yes I am" I whispered in return.
"Oh, you should have told me! The manager here is my good friend I can get you some good discounts".
And that was how it happened. In less than an hour I was the owner of a brand new car which Uche had financed under his name using his credit. I felt like God had taken away my ability to speak. I just sat there as Uche did all the negotiating with the Show Room manager. We met up later that night at his apartment for a celebratory dinner. I tried my hardest to remain angry. I tried to conjure up a host of angry emotions that would enable me fight the yearning my heart felt towards him but it was pointless. One kiss was all it took. Just one sweet tender kiss and I found myself naked in Uche's bed, moaning at the feel of his touch. But this time it was different. It wasn't like previous times when I could feel every part of him inside me, I didn't feel the usual tingling feeling in my stomach when his hands caressed my breast, the space in-between my legs didn't erupt with pleasure from the intensity of his trusts. Instead I felt numb and dry, almost like the parts of car engine that needed oiling. I went home later that night feeling like a sinner. When I saw Lola in the kitchen the following morning I could barley look her in the eye, and I ignored all her usual morning teasing about why I had come home late the previous night.
I felt really bad about keeping my relationship with Uche a secret from both Lola and Jay Jay but it was my life and I was entitled to do what I pleased. But everything done in the dark always has a way of coming to light. One evening Uche had come to see me at the apartment. I was so frightened that Lola would see him I suggested we stayed in the car park. Just as he was leaving, he leaned in to give me a kiss just as Jay Jay was parking his car. The look on Jay Jay's face needed no explanation. My heart missed several beats as I waved Uche good bye and walked towards Jay Jay. But he didn't say a word, he didn't have to. He had come by to drop some DVD's he'd borrowed the previous week. He handed the DVD's over to me and left. Two days later, Lola and I had a huge fight about it all. She told me she thought I was making a huge mistake and couldn't believe how stupid I was being. In return I told her to keep her nose out of my business.
I really was upset about how much pain my relationship with Uche was causing and I started experiencing a longing for the peace and serenity that my friendship with Jay Jay had brought. I caught myself staring at one of the pictures we had taken together and I was shocked about how fond of him I had become. He was the steady hand i needed, a reliable friend and a very sweet person. I really did miss him. But I was with Uche now and there was no more room for Jay Jay.
Three weeks after my fight with Lola, I got home from work to find Jay Jay standing in front of my door. He didn't have his usual warm smile but my heart still leapt at the sight of his face. I opened the door and he came in. At first we talked about random things, work, my health, Lola and then he got straight to the point.
"Didi, I'm in love with you".
My eyes widened in surprise. Not at what he said by the sheer intensity of his words.
"You know I love you". He continued. "I know I have no right to ask you to feel the same way I feel but I love you too much to let you be with someone who doesn't deserve you. I want to make you happy. Even if you choose to be with someone else, I want you to be happy with him. But I know for a fact that that Uche guy can never make you happy".
Somewhere deep down inside I knew he was right. I wanted to tell him I loved him too. I wanted to reach out and hold him and tell him how much I missed him, but my tongue couldn't form the words. Instead I mumbled a half hearted "thank you" in reply. Thinking he had said all he had come to say I offered him a drink hoping that the alcohol would help settle the awkwardness I was beginning to feel, but he had more to say.
"Ndidi, I cant wait for you forever. I have been offered a job in Nigeria. I leave in 3 days that was what I came to tell you the other day when I saw you kissing him. I want a family Ndidi. I have been alone for a long time. I want a wife….I want us to get married".
I laughed. "You are joking right? I can't marry you! I barely know you!"
"How well do you know Uche?" He said matter-of-factly.
"That's none of your business". I replied angrily. It really wasn't his business, who did he think he was anyway!
Sensing I was beginning to get angry. He got up and walked to the door. I followed behind, half of me hoped he wouldn't leave. When he got to the door, he turned and hugged me and then placed a small piece of paper in my hand and whispered "think about it, that's all I ask". Inside the small paper were details of the registry downtown. He had booked a wedding date for us. I was livid! I slammed the door behind him. Later that night when I told Lola all that had happened, she said I was foolish not to marry Jay Jay. I couldn't believe the kind of advice she was giving me! Leave a man I had dated for 4 years to marry another man that I had known for barely 6 months. She must be mad!
The next day I decided to visit Uche. I needed to rest in the comfort of his arms, the madness of the previous day was getting to much and the tension between Lola and I was beginning to ruin our friendship. Throughout the day at work I couldn't wait to see Uche, after all it was Uche I loved and Uche who had proposed to me first. I had been calling Uche all day but his phone had been switched off, I assumed he was in a meeting and would be very hungry when he got home. So after work I went to the supermarket to get some groceries, I was going to make him a fantastic meal and forget all about Jay Jay. I walked into Uche's flat placed all the groceries in the kitchen and then went into the bedroom to change my clothes. And there I saw it. Uche in bed with another woman. For a second I thought my cancer had returned and I was undergoing chemotherapy, all my emotions gathered at the base of my throat threatening to over flow through my mouth.
Uche immediately got out of bed and began to plead with me. I couldn't even hear a word of what he was saying. My mind had suddenly entered a place of peace as I saw again flashes of the piece of paper Jay Jay had handed me the previous day. I looked at my watch it was 6.22pm, I had barely an hour to make it across town to where the registry was. I stormed out of Uche's room grabbed my car keys and hand bag and ran straight to my car. I was going to marry Jay Jay!
……………………………………
I got to the registry at exactly 7.15. I was 15 minutes late. I took a quick look at myself using my rearview mirror. I looked a hot mess. My hair was all out of place and my makeup was now almost non existent. But I didn't care. I just hoped Jay Jay was still there waiting for me.
I opened the door of the registry my eyes scanning through the occupants of the building like a mother looking for her lost child. And there he was, smiling at me with the very same smile he had the first day I met him at the airport. My heart nearly leapt out of my chest. I walked towards him only to find Lola, her mother and Dr smith all standing waiting with him. Tears began to well up in my eyes. This was my family, the people who had stood with me when it mattered most. They were here and they were the only ones I needed. I walked straight into Jay Jay's embrace, I walked into the arms of the one I loved and that is where I intend to stay forever.
Photo credit: http://farm3.static.flickr.com
BN Prose Series is a longer section of 'BN Prose' where authors can send in longer submissions which would be featured on a weekly or daily basis. Its Bella Naija's own version of a prose soap opera! If you would like your submission to be featured here please send an email to glory.edozien@bellanaija.com.