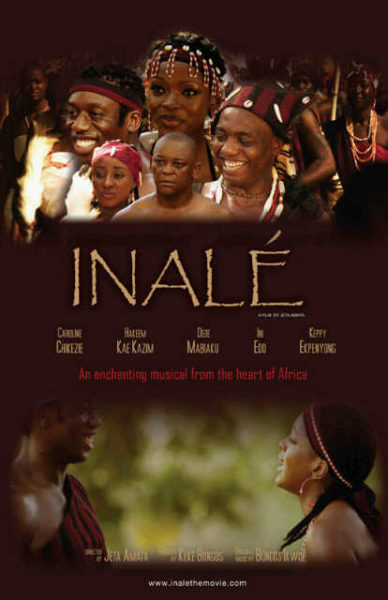 With each passing day, our hope and faith that the Nigerian Movie Industry is truly making progress is renewed. Many argue that economic distress promotes creativity and that might just be the case for Nollywood. Movie fans are no longer satisfied with the status quo – redundant story lines, poor technical quality and mediocre acting. To justify spending their hard earned Naira and dollars, Nollywood fans desire quality films!
Inalé is the latest offering from the "revitalized" Nollywood. Inalé is a movie musical and tells a story of enchantment and intrigue; a legend of bravery and valour, its theme revolves around the test of true love and restoration of peace between two warring communities.
Inalé is based on a folktale that has been told by the Idoma people of Benue state over the ages. As the story goes, the most beautiful girl who happens to be the princess of Idoma land faces various trials and tribulations.
The movie is directed by Jeta Amata and features Nigerian/British actress Caroline Chikezie in the lead role. Caroline plays Princess Inalé, the beautiful daughter of the great King Oche of the Idoma people in Idomaland, Nigeria. Her beloved Odeh, played by Hakeem Kae-Kazim, must win their customary wrestling tournament to take Inalé's hand in marriage.
The villagers had gathered for the big ceremony to only indulge the presence of a masked stranger's request that challenges not only the tradition of the village law, the future of the kingdom but the strength of Odeh and Inalé's true love.
The soundtrack of the movie featured original songs performed by Bongos Ikwue. Other stars featured in the movie include Ini Edo-Ehiagwina, Keppy Ekpenyong, Dede Mabiaku, Mbong Amata, Nse Ikpe Etim and Omawumi.
According to the filmmakers, Inalé is the first-ever Nigerian movie musical shot in celluloid. The movie is set to premiere on the 22nd of October at GDCinemas in Lagos and on the 28th of October at Silverbird Cinemas in Abuja.
View the trailer for Inalé and stills from the movie below.
View the trailer for Inale

Behind the Scenes photos from the set of "Inale"
[nggallery id=238]