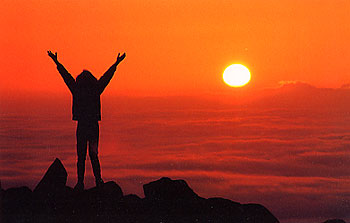 Tis the season to be jolly tra-la-la-la-la-la-la-la!!
It's exactly 4 weeks to Christmas and we at BellaNaija are excited! The year has been absolutely fantastic and we are grateful to all our readers and partners for making this a joyous year! We are also sending a special Happy Thanksgiving shout out to our American readers and partners!
As is usual for this time of year, we are all preoccupied with Christmas shopping. Getting our loved ones the right gifts and making sure we have enough money in the bank to entertain family and friends over the holidays. Some of us have already started making plans for next year, reevaluating and strategizing. But before we go that far, I think this is about the right time to pause and think about year 2010. The year really came with its highs and lows but if you are reading this today, you can hold your head up high as a survivor! So before we begin to usher in the New Year and all it holds for us, we at BN want us all to take time out and really be thankful for all we have achieved this year.
To get us started, I went round asking members of the BN team and some of our favorite celebrities to tell us all what exactly they are thankful for….
"I am thankful for life, good health and family. I am thankful for a flourishing career and successful business ventures. I am also thankful for everyone's support especially my fans"
Darey Art-Alade (Award winning artist)
"I am grateful for God's protection and guidance this year, I have found myself in many situations that I would never have found my way out without His guidance. On a separate note I am also thankful for Lynxxx, his music has really made a difference in our feelings towards international influences".
Jite Ovueraye( BN Contributor)
"I am thankful that my family and I are alive and healthy. This year was filled with so many shocking stories it is truly by God's grace that we are counted among the living today! I am thankful for my wonderful parents, family and friends who daily show me the true meaning of love and support. I am also thankful for my career, moving back home after being away for 8years was really scary, but God has opened doors I never thought possible and for that I am truly thankful".
Glory Edozien (BN Features Editor)
"I am thankful for my mother, because I realize the bulk of who I am comes from her. She has taught me so much i.e. resourcefulness, perseverance, the importance of having a forgiving heart and having a right attitude but most of all she has taught me to always be the bigger person. So in a nutshell, i am happy with the girl in the mirror and i see where it all comes from and I am thankful for the lady responsible".
Wana Udobang (Inspiration FM OAP)
"I am thankful for being able to bring to life many of my dreams and ideas. I am also thankful for the two books (How to Stop Worring and Start Living by Dale Carneige and Seven Habits of Effective People by Stephen Covey) I read this year that changed my life".
Chude Jideonwo (Creative Director of RedSTRAT Communications)
"I am thankful for my family, they've brought me so much more joy this year than ever in my entire life"
eLDeethedon (Award Winning Artist and Celebrated Producer and Director)
"I am thankful to God for love (which I share with friends and family, for what I do, for people, places animals and the little things), life, lipstick and lemon trees because with all of the above, all's always well".
Adaure Achumba (TV Personality)
"I'm grateful for so much! Firstly, I am thankful for the gift of life and good health and for the love and support of family and TRUE friends. Secondly, I'm grateful to have a great job at TheBeat99.9fm which gives me the opportunity to connect with people everyday. Thirdly, I'm grateful for the opportunity to endorse Soulmate hair products and for being able to start my own company- Speakerboxx Productions. I am also grateful for the young talented Nigerians who are excelling in their different professions. Finally, I'm grateful for Icecream factory"!
Gbemi Olateru-Olagbegi (The BeatFM OAP)
"I'm grateful for a lot of things. I am thankful for Life, the ability to laugh, cry and rejoice! I'm thankful for a few good friends, wonderful colleagues who work so hard but sometimes drive me crazy! I'm appreciative of my 6 amazing sisters and my Super Human Mother who have been extremely supportive through out the years! I'm thankful for the talent God has bestowed on me, giving me the chance to share it with others! I'm grateful to the people who've criticized and commended my work so far! And I'm thankful to every single person who has contributed to my personal growth and that of the industry I work in! I'm thankful for the amazing talent this country has produced giving us the opportunity to be recognised beyond the shores of our nation"!
Yvonne 'Vixen' Ekwere (TV Personality)
"I've been very thankful for my family in 2010 – my mother and sisters are constant sources of inspiration, motivation and happiness for me. This year has had its ups and downs for me, and when I've needed cheering up, tough love or a shoulder to cry on, they've all been there for me in one way or another and I am truly grateful for that"
Toolz (The BEATFM OAP)
"I really have a lot to be thankful for and God really went out of his way to bless me this year. I'm thankful for good health, a supportive family and wonderful colleagues at work. I'm thankful for the ability to launch 360nobs.com on the 1st of April,2010 and the love shown to us in a short period from people all over the world. I'm thankful for the Team360nobs (Oye, bims, Hexy, Onyinye, Frank, Lucy, Bubba, Kennie, Peter, Akin, Bayo, N6, MI, BankyW, Lami, lusea, Tari) I know I may have skipped some people but I'm really thankful to all the contributors. I'm thankful for having my ABE boys as friends, Segun, Ebuka and Olamide. I'm thankful for the unrulies,the Ani sisters (group kiss), EME, Mohits and my twitter followers. I'm thankful for having a friend like Jude Abaga and the completion of the Project MI2. I know this will put me in trouble because I may have skipped some important people who might have part my growth process this year. I'm thankful for everybody who has participated in the project My 1000 Smiles of 2010 ongoing on 360nobs.com and the support on the project by Deola Sagoe .If you are interested please email [email protected] ( Nobs,enough of the plugging jor). Lastly I'm thankful for the gift of life and the air that we breath. God bless you all"
Noble Igwe (360Nobs)
Now it's your turn! Tell us what you are thankful for and lets all celebrate the year that is 2010! Hoping that 2011 will bring even better things to be thankful for!
Common people! Let's give thanks!