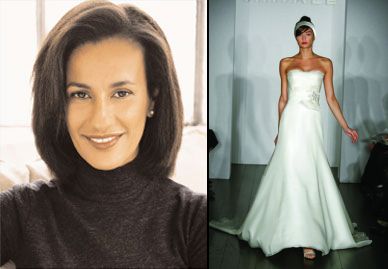 Reports say "Amsale is the number one selling couture wedding gown company in the United States"; so, how did Ethiopian bridal and evening-wear designer, Amsale Aberra transform her passion into profit? CNN African Voices met up with Amsale and she shared her story.
Amsale moved to the United States of America as a teenager to attend university. With the civil unrest in her home country at that time, Amsale's father became a political prisoner and she had no means to support herself and pay her tuition in the US. She  began doing odd jobs to pay for school and that was where she met her husband. Amsale stayed in the US after she completed her college education, including honing her design skills and knowledge at the Fashion Institute of Technology. Her eureka moment came when she was searching for a dress for her wedding to Neil Brown. It was in the 1980s and inspired by Princess Diana's dramatic dress, majority of the dresses in the stores were huge and heavily embellished. Amsale wanted something simple – that was the moment that changed everything.
It has been over two decades since that magical moment and her business has grown immensely. The brand has expanded to include the flagship Amsale line – renowned for their simple, yet stunning, wedding gowns fit for the modern woman, Kenneth Pool – a brand that represents "fantasy and magic of romance" and, finally, the Christos line, a renowned heritage wedding dress brand that focuses on the classic and exquisite aesthetics.
Amsale makes it clear that it all began with passion! "If I had a goal, I probably would not have done it," she said. "I'm being really incredibly honest from the beginning because I think my idea at the beginning was completely just a passion."
During the interview, Amsale got emotional as she recalled the memory of her late mother who continues to be a major source of inspiration for the designer each day. She also discussed her happy childhood in Addis Ababa.
For brides, she advices them to embrace what they love and dresses that are comfortable and suit their personality when it comes to choosing a wedding dress – "It makes her personality and makes her comfortable, and when someone is comfortable, they look beautiful".
After decades behind the scene, Amsale is emerging in 2011 with a reality show which is scheduled to begin airing in the United States in April 2011. She is also opening a bridal boutique on New York's luxury row – Madison Avenue.
Amsale on CNN African Voices – Making brides look their best

Amsale on CNN African Voices – Stylish dress design


Amsale on CNN African Voices – Designer to be reality TV star Video