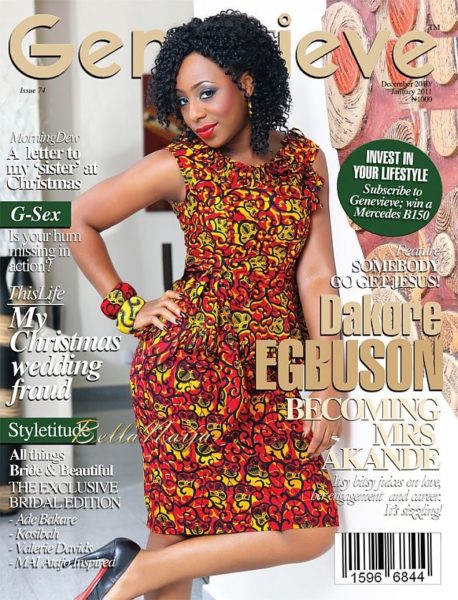 The December 2010 issue of Genevieve Magazine is gloriously festive! The issue is tagged "The Exclusive Bridal Edition" and features bride-to-be superstar Nollywood actress, musician and soon to be Talkshow host, Dakore Egbuson on the cover.
Dakore is engaged and will soon be married to her longtime love, Olumide Akande. Here is an excerpt from the magazine.
However, Dakore has been grabbing all the headlines lately for something a little more personal: her four-and-a-half year old romance with her beau, Olumide Akande. She grins and wriggles her left fingers playfully, revealing her exquisite ring when Genevieve touched on the exciting subject of her engagement and imminent marriage.

"We just connected intellectually and we have a lot in common, too," Dakore says of the initial attraction. "He really loves music as I do; and he knows those little things that make me relaxed around him. We have each other's back, which is really great because that is usually the foundation of a good marriage."
Dakore also chats about her career and what her fans can expect from her in 2011. For the photoshoot, Dakore wore pieces by Nigerian designer, Ituen Basi and rather than her signature locs, we see her hair in sexy ringlets.
The issue also features an exclusive bridalwear photoshoot and other exciting wedding themed stories.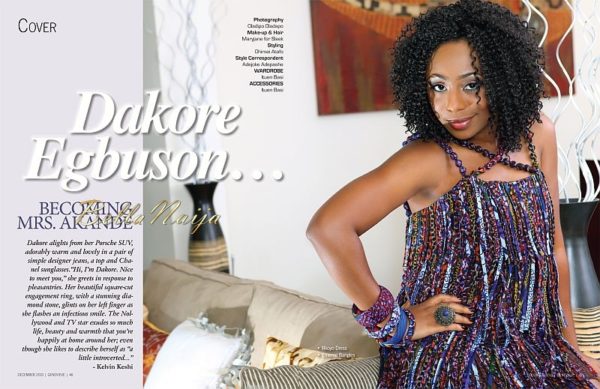 Credits
Photography: Oladipo Oladapo
Makeup & Hair: Maryjane for Sleek
Styling: Ohimai Atafo
Wardrobe & Accessories: Ituen Basi
Interviewer: Kelvin Keshi