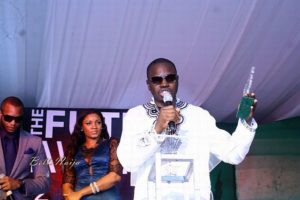 25-year old Debo Olaosebikan, aside from being a finalist in the Young Person of the Year Category, won the Best Use of Science award at the 2011 edition of the Future Awards, Nigeria's most prestigious youth awards. Graduating Summa Cum Laude from the Illinois Wesleyan University with concentrations in Physics and Mathematics, he embarked on a PhD programme having been selected to the Cornell Nanophotonics Group and assigned to work on developing the world's first electrically operated Silicon Laser, a project supported by a $6 Million grant from the United States Department of Defense. His research interest dates back to 2005 when he worked at IBM on record-breaking magnetic memory storage technology. He has also built an application centered around improving education in Nigeria, which made the final cut in a $100,000 USAID/Western Union Competition (2010) and he is currently in advanced stages of discussion with the Lagos State Government for a state-wide implementation of the technology. In 2007, he founded CATCH AFRICA scholarship competition for gifted Secondary School Students. This young Nigerian scientist who also doubles as a rapper won at a nationwide rap competition hosted by B.E.T. Hall of Famer and ex-Ruff Ryder member Jin in 2006, under previous moniker – "D2dbo". He has also performed at the Nigerian Consulate in New York (2009) and in D.C. with MTV-featured artist, Phil Ade. In 2010, he released a 17-track Mixtape "Next Level" (2010). In this interview with BN Editorial Assistant, Gbenga Awomodu, he discusses science research, rap music, and Nigeria.
Please let us into your world.
I am Levelz/Debo, a 25 year old rapper and scientist – currently completing a PhD. in Physics at Cornell University in New York and at the same time working on music for fellow Nigerians to fall in love with and relate to. On the way to this point, I lived around a very supportive family that had no problem with me ripping my trousers while doing the splits to MC Hammer songs, right after learning my ratios and proportions from a loving grandfather. This diversity of interests is at the root of who I am and I think it has been encouraged (probably unwittingly) for as long as I can remember. The most exciting days for me, however, were my days at Kings College, Lagos – the laughs, the jokes, the Q.C. girls I bought chocolates for, the night-long study sessions and the boarding house pranks somehow molded me into the person I am today. It still blows my mind to think that I and people like Cobhams Asuquo (producer) and Olumide Adewumi (Gidilounge) were in the same 1995-2001 set and that back then we were just kids having fun, eating our NASCO cornflakes and generally trying to do well in school. I remember my time in K.C. very fondly and I will continue to shower praises on that school even when I am old and grey.
You recently won the Best Use of Science award at the Future Awards. How did you feel, receiving the honour?
It was a very humbling experience. Winning in the Best Use of Science category and being a finalist in the Young Person of the Year category gave me a strong sense of value and appreciation. It felt very good to know that one could do science and technology research and be valued and recognized by one's people. I also felt that by winning, I represented a whole school of people who would undoubtedly be recognized in upcoming awards. There are many extremely talented Nigerians doing good work in the sciences and because of our tight-knit social network, I felt like in my own little way I would help get more of these people aware of and involved in The Future Project. In addition, getting to meet people like Chude Jideonwo, Adebola Williams, Demola Adesina, Rick Nwanso and Kenneth Oliko, was probably the most enlightening part of the whole experience. I got to see a strong sense of community and dedication to a noble ideal. I saw people working with assembly-line perfection in the sweltering heat of Surulere in order to ensure the success of The Future Project. There aren't that many twenty-something-year-olds that would spend their golden years spear-heading an effort to change their country in a way that is stripped of vanity and aggrandizement. I applaud these men and I applaud their vision.
Why study Physics in the university?
It is impossible to overstate how important the transistor is to all of modern electronics: from computers, iPads, iPhones, radios and televisions to your MTN, Glo, and Airtel mobile phone lines and your ever-so-special blackberry! Physics and physicists play a very fundamental role in advancing the kinds of radical technologies that push the world forward. They help advance the basic understanding of the principles behind technology and so they tend to receive a very broad training that can be of use in many fields of the physical sciences and engineering. Because I like to be able to solve problems in multiple fields and like to be able to work at the fundamental levels of potentially ground breaking technology, I decided physics was the way to go.
What motivated you to take up a Ph.D. programme and what challenges have you encountered so far?
The world's biggest problems in technology and engineering cannot be solved any more by one person sitting in a room, working in an under-funded laboratory. We are faced with an energy crisis, and the challenge of providing communication and information to an exploding global population at ever increasing rates. These problems must be solved through extensive research and by dedicated groups of people. This is precisely the kind of environment that a PhD. program provides. It allows one work on big problems without having to worry about where to get the money to fund one's projects.
Could you explain the significance of your PhD research in relation to the world?
It's basically about the computers of the future and a better Internet. The world's computers continue to get smaller and faster. The blackberry is nothing but a computer that fits in the pocket and is also able to make phone calls! The trend of computers getting faster and increasingly complex while remaining compact has gone on for decades, but due to limitations that arise from the laws of physics, these computers will not be able to get smaller and faster forever. In fact, the end might be as near as five years. In addition, the world's internet infrastructure is very power hungry. In fact, Google has filed a patent that talks about putting the servers on the ocean! This is partly to help make cooling the computers easier and to help use renewable energy from the water waves to power the operations. At present, servers at the internet's huge data centers use up a significant fraction of the entire U.S. electricity demand and cost billions of dollars to setup and maintain. This is clearly not sustainable especially as internet penetration starts to increase in countries like Nigeria and the demand for bandwidth continues to explode, both there and in already developed countries. The energy efficiency of our internet infrastructure must increase in order to satisfy the billions of new people in the world that must communicate and stay informed at ever increasing speeds. My research is part of a broad goal to re-invent how the world builds computers and its internet infrastructure. We are trying to move away from the use of electric currents for communicating information as in today's computers and instead build much faster and energy efficient machines that communicate and process information with light — the same object that Albert Einstein told us has the highest speed of all entities. By using light to process and transfer information, we can send and receive information within and between computers at breathtaking speeds while using very little energy and at low costs. In this way we can help the world's computing and internet infrastructure continue to scale and expand into new territories with increased and as yet unimagined functionality. There are also as yet unimagined possibilities since using light as a primary entity inside of computers allows for entirely new computer architectures. Light-based computing could lead to entirely new computer architectures whose capabilities are probably only limited by our imaginations.
But…Where would the light in these computers come from?
Since all of the electronics in current computers are built/based on silicon, it would be ideal for the light source on which the computers are based to be made from silicon as well. This way, the whole process can be very low-cost and hence easily scalable. However, silicon is notoriously terrible at emitting light. People have tried unsuccessfully for over a decade and so getting a laser out of silicon is a very big missing piece in the quest to make these computers of the future. My project is to build the world's first electrically operated silicon laser. I work as part of a team that includes member from MIT, Stanford and Caltech and is funded to the tune of about $6 Million by the US Department of Defense. At present, I have measured stimulated emission (a necessary first step to obtaining a laser) in a silicon-compatible material and am working hard to get the laser (or something close to it) as a next step.
When did you discover your love and talent for rap music?
I have always loved words, writing, and music. I wrote poems and essays in primary school. I danced to Michael Jackson and MC Hammer early in secondary school and then I started memorizing Coolio, Busta Rhymes, Nas and Jay-Z and drumming on lockers for our "miming" sessions in the dormitories. I also started a little "group" that would sing every Sunday at the school service. It's kind of funny, but one of the members of that group is doing pretty well as a singer in the music industry now. In any case, given my musical and poetic backgrounds, rap was an instant hit with me as a kid in junior secondary school.
Why do you rap and who are your target audience?
I rap because I love it. I rap because it is the form of music that can take a Jude Abaga from a place of uncertainty, to a place where his words are recited by the Igbo man next to me when I am trying to buy suya (grilled meat) and by thousands of cheering fans. It is the perfect medium of communicating with a mass audience. It is very important to me that I use a channel of communication that is accessible to millions of people. It's very easy to understand words placed over a beat. I find this kind of reach simply amazing! I also rap to entertain. I want to make people happy and to put smiles on their faces. I take pride in being pretty lyrical, but I also want to make sure that I have songs that people can just vibe, dance or crack a smile to. For example "Supawoman" is a track with YQ that doesn't call for too much thinking. It celebrates beautiful women (Supawomen) and shouts out those really "Supa" women: Omowunmi, Genevieve and Oluchi that we have all come to love…
[audio:https://www.bellanaija.com/wp-content/uploads/2011/02/03-Supawoman.mp3]
Venus vs Mars is also an example of a song that is pretty witty but sits on a very relaxed vibe and is just me having fun again.
[audio:https://www.bellanaija.com/wp-content/uploads/2011/02/11-Venus-Vs-Mars.mp3]
In addition to entertainment, it is important for me to add an informative element to my music. I respect people like Fela and 2Face who have always entertained but, at the same time, informed the people. In this sense, I try to be versatile. My song, Niger Delta, is about the horrible exploitation of the people who generate our country's wealth – my own little way of informing and voicing my discontent artistically.
My music is first for Nigerians and then for the whole world. I rep Nigeria, I was born there, I live it, breathe it, speak it, eat it and love it and nothing will change that. When I make music I have Lagos on my mind and it is very important to me that all 150 million (including the 2 month old babies!) co-sign me. However, by definition, rap music is international and cuts across all cultures and so from a market perspective I definitely want the whole world to be my ultimate audience. I just ensure that independent of the target demographic, my raps and my music always scream out Nigeria.
How do you cope, doing rap and science research?
The "inconvenient truth" is that I barely sleep and that sometimes I don't get to answer the phone calls of people very dear to me. I apologize to any of them that get to read this! However, I am used to this balancing act. I have been combining my extracurricular interests with work for a very long time now and so even though the ante is being upped, I should be fine. It isn't easy and it's not going to get any easier. However, it is in critical times such as these that a great team is invaluable. I work with some of the most supportive people at Plug N Play Records. With my partners: Zezewo "Travis Touchdown" Peters and Wali Akande, a growing brand and our publicity and management teams, the work load becomes bearable. There is always more work to do, so we welcome anyone who is interested in getting aboard this already exciting journey.
What should we be expecting from you after your doctorate?
For the remainder of my Ph.D., everyone should expect more hard work, humility and dedication. The hope is that all of this would yield significant progress towards the laser, great music, an E.P., and a new face in the Nigerian hip-hop community that we can relate to. During and especially after my PhD, I intend to continue to explore my interests in both technical and non-technical fields. Hopefully, I would be able to make little contributions in my own way to improving quality of life and generating wealth for our people.
What do you think about Nigeria and in what ways do you hope to further contribute to your country's development in the near future?
Nigeria is a collection of 150 million strong, happy and endowed individuals. It has the most enterprising people and, at this time, is sitting on the cusp of the biggest right-turn into the road that leads to opportunity. Nigeria is a country that has always been for those who see opportunities where others see problems. There have always been and will continue to be opportunities for its citizens to contribute meaningfully at the highest levels of government and business. The energy, education and information technology sectors are just a few of the areas that young people can contribute towards improving. Rather than make grandiose statements about what my contributions will be, I implore young people to work hard and gain the skills that they need to make concrete changes. With these skills in hand, rather than go for individual glory, they should work together to do tangible things either as for profit or non-profit entities. One man has never made a forest and so what I will do definitely suffers and thrives within this larger picture.
Any plans returning to Nigeria soon?
My permanent address is still somewhere in Ikeja, Lagos Nigeria! I don't view myself as someone who has to "return" to Nigeria since I have known it all my life and I still live there. In the current phase of my life, I just happen to school in the U.S. In addition, being a musician requires me to travel home frequently for short and long stretches and so I stay very in touch with the country. After my PhD., I definitely intend to get a home, start businesses, spend considerable time in Nigeria and join the many great people who are already accelerating its development.
Any other thing(s) you want to tell our esteemed readers?
Keep on reading Bellanaija. The numbers don't lie—it is hands-down the best at what it does… as I said elsewhere, haters can definitely massage cactus! Keep an eye out for Levelz this year and show him all the love and support you can muster. I encourage everyone to laugh just a little bit more this year. Minimize the time spent around the naysayers and spend more of your time around those who add positively to your life. Regardless of whatever your resolution was at the beginning of January, realize that February is already half gone and that 2011 is your year only if you get up and grab it now! Much Love. Levelz/Debo