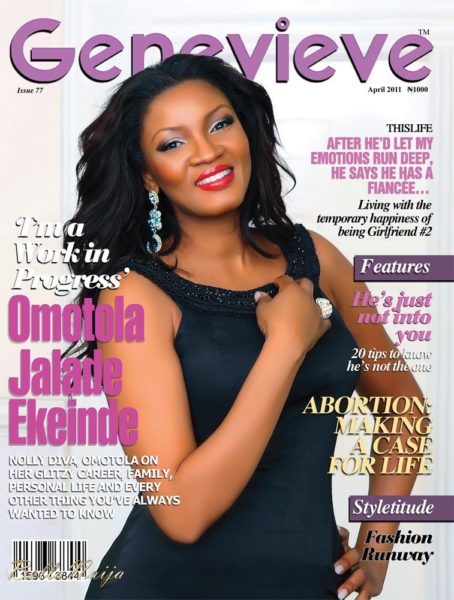 In the April 2011 issue of Genevieve Magazine, "Nolly Diva" Omotola Jalade-Ekeinde speaks on all the different hot topics including her career, her family life and lots more.
Omotola Jalade-Ekeinde has been entertaining countless lives and courting our hearts on screen since the 90's. With over 250 movies under her toga and still counting, the screen siren isn't done yet. When this interview was first conducted, she'd just co-starred with Genevieve Nnaji in the show-topping 'Holly-Nolly' movie collabo, Ije, which had just hit the cinemas then; unfortunately the interview was shelved…Now, months later, 'Omo-T is about to bake a bigger pie; and at the time of this update interview, she was on set in Ghana where she is casting alongside Hollywood's Kimberly Elise. So, from the thrills and hitches of Motherhood to her views and experiences on an enduring celebrity marriage, to her experience at the Grammys, her movies and her music, 'Omo-T' bares it all.
This is definitely an issue worth buying!