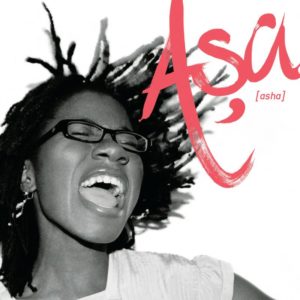 Perhaps, I am well on my way to becoming an Asa scholar of sorts. In this third installment in a serial analysis of Asa's songs, mostly those with heavy Yoruba lyrics, I take a swift journey through Bukola Elemide's "Awe". A track from her eponymous debut album, this ballad, sung on the pentatonic scale, unfolds the story of a young man caught up in a romantic affair with a much older woman. This is easily the story of quasi rural-urban migration gone sour, where a young man is given a lease of life from the bucolic trappings and socio-economic realities of the village in suburban Lagos, but naively gives in to one of the evils of the much more sophisticated city life. In the first verse, the narrator –his aunt, as we soon discover– quizzes Waheed, the protagonist:
Awe, ibo l'olo ka/t'a fi n wa o ka (Hey! where have you been? /we've been searching for you!)
Ibi o ba lo je a mo (let us know where you've been)
Aunti ton gbe'le itosi (the lady that lives nearby)
O wa o wa 'le yi/ Ati ojo meta atabo (She was here to see you/ three –and a half– days ago)
O wi pe o/ o l'oyun fun o (She said you're responsible for her pregnancy)
Oyun osu meji/ o l'oyun fun o (For two months, she's been pregnant for you)
A ni wipe o o/o l'oyun fun o (I mean, she's pregnant – for you!?)
Iwo iwo naa/ o l'oyun fun o (You, of all 'people'? She's pregnant, for you!?)
Moved by pity and shock, she reminds him of their blood ties, in a typical Yoruba way of tracing the lineage of an offending fellow. Perhaps, the poor young man had forgotten his roots and thus started to misbehave – an anomaly! She addresses him in a condescending manner – he is too young and incapable to start a family of his own. More so, she rues the fact that the pregnant lady is much older than Waheed.
Wahidi, omo Sekina, Omo Muyina, Omo Muhammad (Waheed, son of Sekinat, daughter of Muinat, daughter of Muhammad) [x2]
Aunti to l'oyun fun o/ o to bi o l'omo (The lady is even old enough to be your mother)
Iwo, iwo naa (You!? You, of all 'people'?) [x2]
There's a twist when the pregnant lady puts to bed. Discrepancies in semblance between father and child are all too obvious! How do you explain stark differences in complexion and other vital details? Waheed's aunt raises the alarm once again:
O bi'mo ooo/ obimo (She gave birth, yes, she did!)
O bi'mo ooo/ omo so l'ayo (She gave birth, the baby was delivered safely)
Ire lo ni'mu, ese, irun ori (The baby resembles you – just the nose, legs, and hair)
Iwo dudu, omo pupa; bawo l'ose ri (You're dark, baby's light in complexion, how come?)
Wahidi, omo Sekina, Omo Muyina, Omo Muhammad (Waheed, son of Sekinat, daughter of Muinat, daughter of Muhammad)
A brief interlude of highly charged strings and rise in tempo reveals the bitter aftermath of the marked father-child contrast.
E wa wo'ja l'afin Oba Ejigbo (Come see fight at the Palace of the King of Ejigbo)
At'abo at'ako, won ja l'afin oba/ l'afin oba o (Wife and husband in shameless fight at the king's palace)
Reminiscent of the panegyrics and chants associated with the Eyo masquerade of Lagos, the narrator laments the pain caused by her errant nephew.
Hiya hiya o [*background chorus]
Wahidi: omo Muyina ni, omo Sekina (Waheed, son of Sekinat, daughter of Muinat)
O f'oju mi ri mabo (Put me through much trouble)
Mabo n'ile/ mabo l'oko/ mabo l'Eko (Trouble at home, at the village, even in Lagos)
Mama to bi mama re ni mama mi (your grandmother is my mother)
Emi naa bi temi/ bi temi (And I have my own children)
'T'omo lowo, f'omo l'oyan (I'm currently caring for a child; breast-feeding a child)
Mako tire bami, bami (Don't perturb me with your issues; I have enough personal issues to tackle already)
So, abo oro, la'n so fun omoluabi, b'oba denu re a do dindi (So, a word is enough for the wise)
Asa does masterfully well with this piece too, though I wonder the exact origin of the protagonist. The story clearly takes place in Ejigbo, a suburban neighbourhood on the outskirts of Lagos, bordering Ogun State. 'Awe' which means 'friend' and can be used to refer to one's contemporaries as well as juniors in societal ranking as used in the first line is often used in the general dialect of people from Ekiti and Ondo States in South-Western Nigeria. However, narrator's accent/dialect in the song is often a blend of Lagos and Oyo varieties. Anyways, Asa never fails to entertain with her unique style and medium of social criticism here.
Photo Credit: www.asa-official.com
Listen to "Awe" by Asa
[audio:https://www.bellanaija.com/wp-content/uploads/2011/05/Awe_-Asa.mp3]
__________________________________________________________________________________________________
Gbenga Awomodu is an Editorial Assistant at Bainstone Ltd./BellaNaija.com. When he is not reading or writing, Gbenga is listening to good music or playing the piano. He believes in the inspirational power of words and pictures, which he explores in helping to make the world a better place. He blogs at Gbenga's Notebook (www.gbengaawomodu.com).