Stylist Ezinne Chinkata regularly contributes to BellaNaija.com alongside her role as the Fashion Editor of WOW Magazine and a celebrity stylist to top stars including Monalisa Chinda and Ini Edo. Zinkata will be periodically updating us on her styling adventures. This time, she styled her friend Ejay Chiori and Ejay's future husband Ceejay Jibunoh for their wedding website photoshoot. Read all about her adventure below.
***
One of my favorite girls is getting married!! Ijeoma Chiori aka "Ejay, James or Kpoms", got engaged to Ceejay Jibunoh. I'm so glad! Ceejay is a great guy and Ejay is like a sister, she is very stylish and we always swap style ideas, even though I secretly kind of hope I am better. I am the stylist after all right? Hahah!
Wedding preparations are going on in earnest, wedding dress choices, bridal train, honeymoon destination and all the getting hitched constants. I have steadily stayed away from all this, not for lack of caring,errr, let's put it this way, "I won't be Ejay's first choice for help in coordinating and organizing". However, was I mighty pleased when she called me urgently on a Saturday morning.
The phone call went as follows, "Zin! You know Ceejay and I are getting styled by you for our wedding website right?" Yeah, finally a job I would happily do. After huffing and puffing and pretending to cancel and rebook on a couple of 'urgent appointments', I grudgingly agree to style the shoot, with express orders for her to cooperate and be subserviently malleable. Trust me, I milked the moment to death!
The photo shoot was quite low key and loads of fun. Kola Oshalusi was such a sport, and was even open to Ceeejays radical idea of shooting on the top of a container. We both exchanged blank expressions and pretended it was a normal request. However, it turned out to be one of d cutest pictures, so are we glad we did not protest! Oh yes, Chi Chi of Faceville totally rocked with the make-up.
I love the first picture. Ejay wore a lovely pink dress we actually bought together in New York. She has the most amazing natural hair and I totally enjoyed getting the hairdresser Bayo to tuck it in all manners of vintage inspired styles. She is quite the quirky dresser, so it was easy to convince her to experiment. Ceejay also wore a wonderfully cut Vintage morning suit, and looked like a dashing Italian! They both made a pretty purrfect picture.
The next pictures were more relaxed and fun. Vintage, again for Ejay and laidback clothes for Ceejay. It was a bit of a struggle to get Ejay on the container, but it was all smooth sailing from there.
The last shoot was indoors and here Ejay re-asserted her stubbornness. I guess since the photo shoot was practically over, she was no more scared of ticking me off and insisted on wearing her hair big and Diana Ross-y. It kind of works I suppose. I enjoyed delving into the colour blocking style, and loved the interesting clash of colours. For Ceejay, I styled him in a red polo t-shirt, to block nicely with Ejay's colours.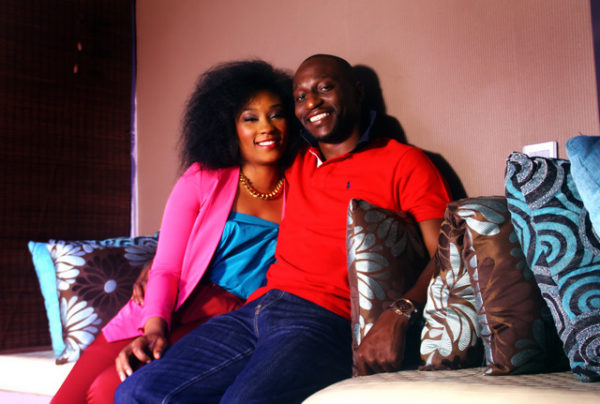 Shoot over! Phew! It was so much fun styling the Jibunoh's. What do you think? Would you like to be styled for your website?Just hola!xx
Photography: Kola Oshalusi
Styling: Ezinne Chinkata
Make-up: Chi-Chi of Faceville
Hair: Bayo for Gorgeous
___________________________________________________________________________________________
Ezinne Chinkata is a leading Fashion Stylist/Image Consultant/Writer/ Fashion Editor in Nigerian Fashion. She has styled numerous lookbooks and editorials and is the current Fashion Editor at WOW! Magazine. Contact: [email protected]