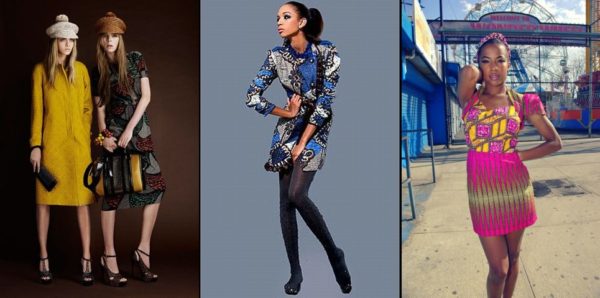 There has been a lot of talk about the recent proliferation of the Ankara fabric in the international fashion scene. The Ankara fabric is known to symbolise African fashion, thus, when used by a non-Africa fashion brand, the design is labelled 'African-inspired'.
A lot about the fabric evokes Africa; the vibrant print is reflective of our bold and sometimes, exuberant culture and lifestyle and the texture which is suitable for a majority of African climates. But the big question is, is there a relationship between its proliferation and the potential for African Fashion to truly penetrate the international fashion scene  or are we relying too much on Ankara to give African Fashion the recognition it deserves in global platforms?
While I intend to leave my questions open-ended and hear from you readers, however, I think it is important that we all start to think of African Fashion beyond Ankara,  our creativity in design, our talent to evoke the feeling of home and our culture goes beyond the use of a piece of fabric. The reality is, Ankara is losing its African hold, some may argue it never was ours in the first place!  Even though we call designs by Boxing Kitten 'African-inspired', or we attribute the use of Ankara by Burberry Prorsum in its 2012 Cruise Collection to symbolise its grand arrival in the international fashion scene, are our designers, is African Fashion gaining from this exposure? Are consumers in America or England  for example, likely to order the Jewel By Lisa trench coat which she showcased with her A/W 2011 collection or the one by Burberry Prorsum in its 2012 Cruise Collection?- Is Burberry in this case the 'copycat' or the 'creator' ? I would love to hear what fashion enthusiasts in the international fashion scence have to say about that!
Truth be told, they are using Ankara and winning at it! The reason is not because our designs do not match in quality or style, but because they have more access to consumers and are well established, as a brand and as an industry. We are still caught up in the campaign to compel our consumers to buy Nigerian!  I am not saying we dump Ankara, trust me, when the international fashion scene fully embraces a JBL piece, or an Ituen Basi I would be up in the air, but I do think we (myself inclusive) should curb our enthusiasm over foreign brands using our 'African' Ankara fabric or am I being a wet-blanket?
You tell me. I would love to read your thoughts on this issue.
______________________________________________________________________________________
Follow me on twitter: @ijeomandekwu