Stylist Ezinne Chinkata regularly contributes to BellaNaija.com alongside her role as the Fashion Editor of WOW Magazine and a celebrity stylist. Zinkata will be periodically updating us on her styling adventures. This time, she styled a shoot with a touching story. Read all about her adventure below.
***
Hello All! I am back again, and this time it is smack in the middle of my Wow Magazine Fashion Editor roles. Working as a Fashion Editor involves constantly coming up with innovative themes for the magazine's fashion shoots. Themes vary, depending on the magazine's direction for that edition. I decided on a nice and pleasantly sartorial theme, "Fashion goes Androgynous", and selected the model, key outfits and even the perfect coiffure to transform an unassuming girl into a sexy /asexual girl-boy android. I even managed to convince Wow's Publisher (Julie Odia), to go with my theme, "not an easy feat, I will have you know"!!
However, as I was driving down Admiralty way by 7 pm on April 9th, I was overcome by a very strong Eureka moment! Eureka moments are brief and far between, once you are visited by one, grab unto it with lightning speed and strike hot, while inspiration is pulsing hard. Mine came to me in the form of a disjointed thought. "Must your fashion shoots be fickle and without a message? Fashion is actually very serious. You have the power in your hands to drive a strong message to the general public". Wow! Of course I dumped my androgynous theme and realigned my thoughts briskly!
So it goes, I changed course and decided to base my fashion shoot on Jos. At the time, the stories of Jos and the killings always got me welling up and I couldn't for the life of me fathom why the killings were going on. Julie loved my tribute to Jos fashion shoot idea and so did the Editor, Shylle Shonoiki . Shylle also got Seun Oyeniyi, to pen an amazing story on Jos, which went perfectly with my theme, whilst I styled the shoot accordingly. Basically a tragic mother and child shoot.
***
In the first picture I styled the model (Uju) in a dress by EreDappa. All the outfits worn by the child model (Elizabeth) were gotten from Kidz Country. In this picture, mother and child are both happy and basking in each other's presence.
In the second picture, Uju wears a dress by Vonne and here, mother and daughter are frozen, listening hard to the sounds of the riot and gunshots.
Uju wears a colour blocked smock by Grey and an Adire bag by Omotora Thomas. Mother and daughter are running to safety.
In this picture, mother and daughter are hiding. Model in a dress by KemKemstudio.
In the fifth picture, Model is wearing an Aso-oke Jacket and Tulle skirt, also by KemKemstudio.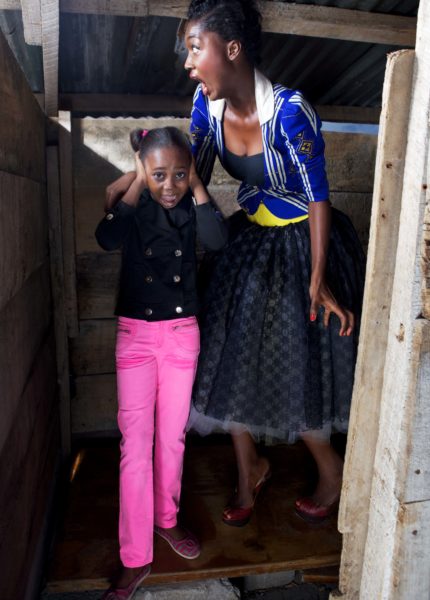 The Last picture is a tragic scene, with model wearing a red lace top and skirt by Viv La Resistance.
As much as I would love to take all the credit, this shoot would not have been the same without Kelechi Amadi Obi's expertise. He was such a smart photographer, working with lightning speed and pointing out choice locations for each scenario. Banke Meshida-Lawal shone through as well, and totally gave her all to the shoot,cackling loudly as she announced to me "I will make Uju's face grey, as a dead person is supposed to be pale!" They really helped make my ideas come to life. Elite model, Uju did a cracking good job, as well as Julie's little niece, Elizabeth. She kept us all gasping in wonder at the depth of emotions her little 9 year old being could portray/convey!!! Unfortunately, we could not go to Jos to shoot in the right topography and also get the much needed "red earth". We made do with what we had and did our best.
I got quite a bit of positive reviews and thought to share this with the BN Readers. One love. Let's love one another!!
Credits:
Photography: Kelechi Amadi-Obi
Styling: Ezinne Chinkata
Make-up: Banke Meshida-Lawal
Hair: Ola
Model: Uju for Elite Models
Child Model: Elizabeth aka Lizzy
___________________________________________________________________________________________
Ezinne Chinkata is a leading Fashion Stylist/Image Consultant/Writer/ Fashion Editor in Nigerian Fashion. She has styled numerous lookbooks and editorials and is the current Fashion Editor at WOW! Magazine. Contact: [email protected]