Roc Da Mic is a fresh new hip-hop reality show on the lookout for the next Naija Hip-Hop megastar – Naija's first hip-hop/alternative music reality show – proudly brought to you by Zara Productions!
Think you've got what it takes?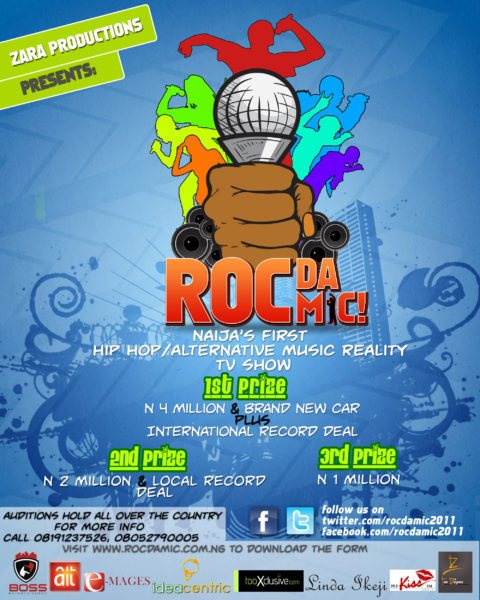 Many young people in Nigeria today take advantage of even the most meagre facilities to produce music in a bid to fulfill their dreams of independence, fame and stardom. To match the reawakening in young Nigerians' interest in music, several music talent hunt shows and competitions have emerged. Sadly most of them choose singers as the preferred performers. This situation leaves out a large number of equally talented young hip hop artistes – rappers and lyricists alike – who are just as likely to blossom into successful artistes.
Roc Da Mic is a break from the norm.
It was borne out of the need to create a platform for the thousands of Nigerian youth who have the talent and passion for hip-hop and Nigerian music but who have been denied the opportunity to showcase their talent in other competitions.
http://www.youtube.com/watch?v=isKBhTTLOJQ
Let's face it. Hip-hop has played a strong role in the growth of Nigerian music. In fact, some of the biggest stars in the country are hip-hop artists. Our hip-hop stars have successfully combined American hip-hop with a distinguishably Nigerian pulse – fusing local content (music, language and such) with foreign sound – creating the phenomenon known as Nigerian hip-hop. The result is a fusion that possesses local appeal but still is appreciated by non-Nigerians. This unique sound has been given a lot of names at various times and by various people but generally it is referred to as alternative Nigerian music.
Roc Da Mic is set to give young talented Naija hip hop artistes a platform for exposure, against the backdrop of winners from regular contests not making headway in the Nigerian music industry.
What We are Looking For:
We are looking for individuals with outstanding talent that can appeal immediately to the Nigerian music market and consumer community, artistes that will provide an infusion of fresh sound to the Nigerian music scene.
We also desire to power an alternative music and entertainment market for Nigeria, one that will encourage the growth of the music industry especially in the area of hip-hop.
Contest Rules and Entry Guidelines:
The contest is open to artistes aged 13-35. This campaign kicked off on the 22nd of July 2011 and will run till the 22nd of September 2011. Auditions for the show will be held in major cities across Nigeria starting at the end of the campaign.
Successful participants at the auditions will be invited to appear on Roc Da Mic. A total of 14 Contestants will be hosted on the show for 10 weeks.
Following several different tests, tasks and scheduled performances, contestants will be critiqued by a panel of judges based on competence, content and marketability. Eventually, viewers of the show will be allowed to vote to keep their favorite artistes on the show.
At the end of every week the Contestant with the least votes is eliminated from the show. This process will continue till the final week when the top three Contestants will emerge.
The winner of Roc Da Mic shall receive 4 million Naira, a Brand New Car plus an International Recording Contract worth Millions of Naira. S/he have Abuja as base camp for all activities for the period of 1year during which s/he will be engaged in several activities, including the production of a studio album.
The runners up will be award 2nd and 3rd place prizes. The 2nd prize winner will get 2 million Naira, plus a Local Recording Contract worth Millions of Naira while the 3rd place winner will get 1 million Naira.
There will be loads of consolation prizes to other participants.
Roc Da Mic promises to establish several music stars with unique identities, young people who will forge a new path in the music and entertainment industry. We want people who defy odds and can cause positive upsets that will attract even more attention to hip-hop/alternative music genre in Nigeria.
Think you can be Naija's next hip-hop megastar?
To download the Roc Da Mic 2011 form, and for more info, go to www.rocdamic.com.ng
Facebook: www.facebook.com/rocdamic2011
Twitter: www.twitter.com/rocdamic2011
YouTube Page: www.youtube.com/rocdamic2011
Gmail: [email protected]
___________________________________________________________________________________________________________
Sponsored Content