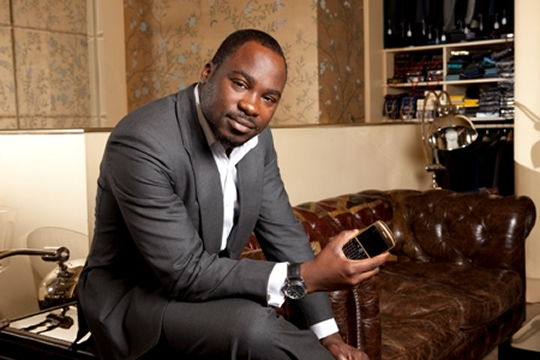 Alexander Amosu, the award-winning serial entrepreneur, has announced plans to launch a reality television show to find a junior editor for OK! Nigeria Magazine. The reality series tagged "Top Job" is expected to discover budding editors who will be given the chance to showcase their talent and secure their dream job. The show promises to deliver quality family entertainment with fun and exciting content for Nigerian television.


The thirty minute weekly show will air on major television stations all over Africa, the United Kingdom and the United States of America and is expected to run for eight weeks. Each episode will be packaged to highlight the values of the OK! international brand with a Nigerian twist. Ok! Nigeria magazine would launch a few months later than earlier scheduled to accommodate the show.
Amosu, a young entrepreneur who turned his interest in technology and the mobile phone industry into a commercial success story, now heads a business at the forefront of mobile entertainment. He also runs a mentoring service and hopes that "Top Job" will be a tool of guidance and standard for intending publishers in Nigeria.
Top Job is expected to broaden the minds of young writers who seek to pursue a career in journalism in the 21st century.
Speaking on the initiative, Alex said that "the internet age has transformed the practice of news reporting around the world and we want to use this medium to educate young writers and reporters on new age journalism as well as engage the Nigerian television viewers with world class entertainment."
He went on to say that "there has been a global deliberation as to whether traditional journalism will become extinct as a result of the internet. One of our objectives for the show is to inform the youths, through the various tasks that the contestants would carry out, on ways of harnessing the information highway. Each duty to be done during the contest has been creatively outlined to engage the contestants in intellectual banter and also educate and enlighten the viewer at home who hopes to have a publication some day."
The winner will get the top job of being a junior editor for OK! Nigeria Magazine, a venture managed by Amosu's Kamson Luxury Group. OK! Nigeria will be a monthly publication and content will be 60% Nigerian celebrities on a global scale, whilst just 20% of the 60% will be local Nigerian celebrities in Nigeria. The remaining 40% is divided into 30% African American celebrities such as Will Smith and Oprah and the remaining 10% will be the usual celebrities we love to read about such as Paris Hilton and David Beckham. Nigeria will be the first African country to launch an indigenous edition. A press conference is anticipated to hold in the coming months to announce the kick off of auditions around major cities in Nigeria for the show.