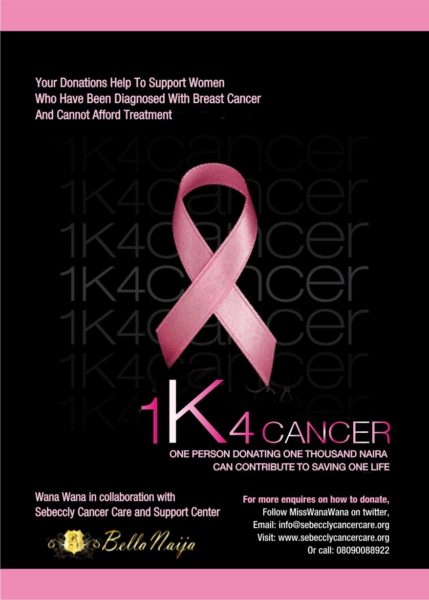 To commemorate Cancer Awareness Month this October, Wana Udobang, On Air Personality on 92.3 Inspiration FM & BellaNaija contributor is collaborating with Sebeccly Cancer Care and Support Center (SCC) an organization dedicated to ending breast cancer through the power of grassroots action and advocacy by providing information, support, and campaigning for improved standards of care for patients in the 1K4Cancer Campaign.
1K4Cancer arises from the dire need to assist breast cancer patients who cannot afford treatment. The idea is that if one thousand people donate one thousand naira each, 1K4Cancer will successfully raise one million naira for breast cancer patients. The funds will go towards chemotherapy and radiotherapy treatment for a few women who are currently under the care of SCC.
Dr. Lola Salako of the Sebeccly Cancer Care and Support Center notes that "At a time when breast cancer patients are already fighting for their lives a majority of patients have to struggle to pay for treatment, some take loans, some sell all they have and some walk away from treatment because they cannot afford it. Breast cancer treatment cost may vary from =N=700,000 to =N=6 Million.The campaign is also a fantastic opportunity to shed light on the financial challenges breast cancer patients face and raise funds for needy cancer patients. Together, we stand to help patients become survivors & letting them know they are not alone in their fight against breast cancer. We can help lots of women start and or complete their treatment. All proceeds of the 1K4Cancer Campaign go to breast cancer patients."
Campaign Leader Wana Udobang speaking on the 1K4Cancer campaign says "sometimes, it is important to remember that we all have a responsibility to the world that we have been placed in. 1K4Cancer campaign is an opportunity to show that there is power in every single one of us to change our society; in this situation, assisting women with their treatment, one thousand naira can contribute to turning around a breast cancer victim into a survivor. Together, we can raise one million and more!"
1K4Cancer will run throughout the month of October with a weekly diary on the popular lifestyle website BellaNaija.com as well via twitter and will document money raised. This information will also be available on the SCC website alongside photographs taken with individual and organizational donors.
For more enquires on the Campaign and on how to donate Call 08090088922 | Follow MissWanaWana on Twitter | E-mail – [email protected] | Log on to www.sebecclycancercare.org
To you can also donate into the SCC account Guaranty Trust Bank Account, Account Name: Sebeccly Cancer Care And Support Centre | Account Number 0010849209.