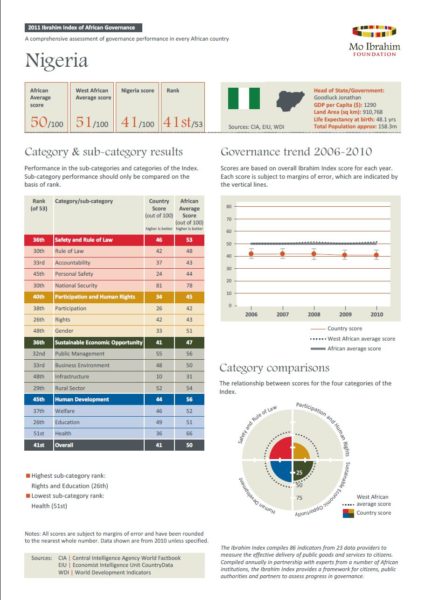 On Sunday, something happened that shook me to the core.
A member of our household staff went for a walk at night, for whatever reason, a broken bottle was laying on the road and accidentally he walked on it and cut his foot.
He didn't mention anything to anyone. Instead, he came back home and started "pressing" the wound while it bled profusely. Apparently, he felt that way the correct course of action. After that, he cut some "bitterleaf" from the garden and placed it on his wound.
It didn't stop the pain or the bleeding so he called us on the phone.
This was at about 11.30PM.
When we got to him, we saw him writhing in pain on the ground with a huge pool of blood around his feet.
Note that there were no reliable emergency service numbers that we considered calling.
Immediately, we elevated his feet, got some cloth to help stop the bleeding and he was driven to the hospital.
Or so we thought…
After driving around for over 40 minutes, all the hospitals and even pharmacies were closed.
As in completely shut! No lights on, no staff there, shut!
We called a doctor, he didn't pick up. Apparently, many private hospitals claim that they are penalized by the Police for accepting patients at night because this attracts armed robbers who have been shot etc…
Ok…
Finally found an open pharmacy.
The member of staff said "I cannot clean the wound but I can give him injection".
Imagine, he was not qualified enough to perform first aid but more than willing to administer a dose of anti-tetanus injection.
In the end, first aid items were purchased and he was brought back home.
By the time, we removed the bitterleaves, we luckily saw that the wound was not as deep as we thought. The wound was cleaned and bandaged. The next morning, he went to the hospital and got stitched up.
What is the moral of this tale?
If it was a serious accident, he could have bled out and died. This could have happened to any one of us!
In his case, a mix of lack of social responsibility (why was there a broken bottle on the road), lack of education (who gets cut and starts "pressing the wound so the blood will come out"?) and a poor healthcare system are the culprits.
So it was no surprise when we picked up a copy of the daily newspapers yesterday and saw that Nigeria had been ranked as No. 41 out of 53 countries by the 2011 Ibrahim Index of African Governance. The breakdown shows that we ranked 51st out of 53 for our health sector etc…
On the other hand, Ghana and South Africa made the top 10 in 7th and 5th place respectively.
Last week, Cape Verde's ex-president won the $5,000,000 African governance prize. According to the Globe & Mail,
After two years of failing to find any suitable candidate for their lucrative prize, judges have finally found a winner for the $5-million Ibrahim prize for African leadership – and he is from one of the tiniest countries in the continent. The prize has been awarded to Pedro Verona Pires, ex-president of the small island state of Cape Verde, which has barely 500,000 inhabitants. He was praised for introducing democracy, boosting the economy, and stepping down promptly at the end of his term limit without trying to extend his rule. But the awarding of the prize was accompanied by strong warnings about stagnation and backsliding by dozens of countries across Africa.
The Ibrahim Index
is funded and led by an African institution
is Africa's leading assessment of governance
provides a framework and tools for citizens, public authorities and partners to assess progress in governance
compiles 86 indicators grouped into 14 sub-categories and four overarching categories to measure the effective delivery of public goods and services to African citizens
uses indicators from 23 data providers
is made up of over 40,000 raw data points
The Complete List – Click for a Clearer View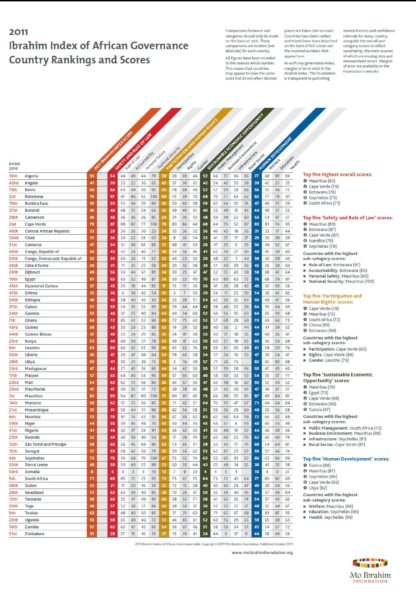 For more information, visit the Mo Ibrahim Foundation website
So what do you think?
Does Nigeria deserve this rank?