Isn't there something so special about love stories that begin at a wedding?
There definitely is!
Chika Umeh and Jackson Ike met at a wedding a few years ago and in June 2011, the couple solemnized their love at their traditional and white wedding in Lagos. We totally love Chika & Jackson's "Our Wedding Story", totally beautiful and blessed!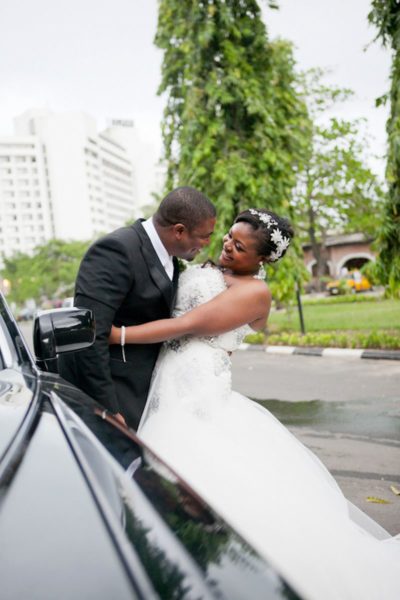 Someone Like Him 🙂 – How Chika & Jackson Met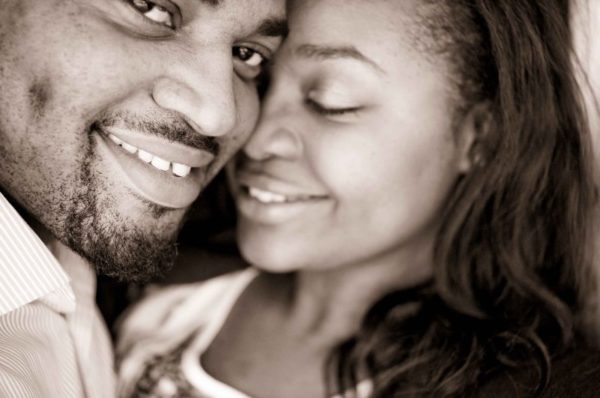 By Chika
A friend of mine invited me to a wedding outside London in May 2007. I was not keen but decided to use the opportunity to catch up with her. At the wedding hall, the topic of men came up and as usual my friend started teasing me about being too fussy and asked me to point out any guy that I would consider my" type". I pointed to Jackson (Onyi) and said "that one but I prefer them dark not fair".
Jackson and his friend later came to our table but we did not speak during the event. When it was time to leave, he suddenly asked for my number and I said NO! (Talk about hard to get)
The next day, my friend calls to beg for my number… something about Jackson wanting to be friends. I eventually gave in and saw no harm in it. It went on from there, we became close and three years later he proposed!
By Jackson
I met Chi at a wedding, she came around with a mutual friend. She didn't seem very keen on talking to me when I walked over to their table but she kept looking at me (with style). I did try collecting her number in order to start the stinging process (LOL)  but she wasn't having it. I eventually got her number from our mutual friend, called her up and managed to get her talking (we spoke for over 6hrs..Vodafone did have a good laugh).
We met up at Oxford Station and went on a trip to Birmingham (not sure at what point I asked her out); the rest is history. We became close and really worked hard to get to where we are today. I would forever be grateful to God for making it all possible.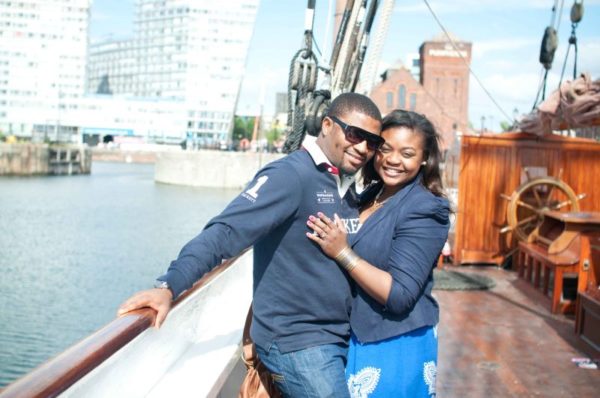 The Proposal
by Chika
Feb 2010, I was in Lagos, Nigeria for a friend's wedding. I was going back to London on the 20th so the day before 19th, Jackson and I went to Eko Hotel for drinks, I noticed he was very fidgety, we had our drinks and at the hotel car park by the car, Jackson casually mentioned he had a present for me, my heart skipped a beat but he presented a rose, which was sweet (but was sha expecting something else lol)…
I suddenly realised the rose was swede and the stalk and rose felt heavy. I asked him, "Is there a ring in this rose?" and he opened it, knelt down and asked me to marry him! I said YES.. and couldn't stop grinning. The rose was the ring case..cheesy but I LOVED IT!
By Jackson
Planning and Execution of this phase of our relationship was a bit tough for two main reasons; the Nigerian environment isn't very helpful in pulling off a mind blowing move and Chi is such a smart alec. She always asks a million questions and in order not too reveal any detail; one could end up playing dumb.
I initially planned proposing at the airport on her arrival. I spoke to a lady at the Information desk of MMIA Lagos. She vehemently refused to even consider making such an announcement saying 'We don't do such here' (Bad belle!). Next I tried hooking up a private boat cruise on the marina, spoke to a boat captain about my ideas and he was quite keen initially. Over the next few days, we kept in touch, putting final plans and details. Out of the blue, he (Boat captain) calls on the morning of the D-day and cancels for no just reason. Whilst all this was going on, Chi kept asking me questions that may have given away my plans. Eventually I had to propose as she described it, wasn't the way I envisaged this phase but it was perfect and my dream girl said YES!
****
An epic journey begins with a single step and on the 4th of June 2011, Chika Umeh and Jackson Ike took a huge leap towards wedded bliss when they said "I Do" at the Cathedral Church of Christ in Marina, Lagos.
The blushing bride was a vision of beauty in her elegantly embellished wedding dress with a full tulle skirt and cathedral length veil. With her bridesmaids ahead of her and her father by her side, Chika walked down the aisle towards her husband-to-be. With his heart filled with love, Jackson took held his bride's hand as they said their vows and were declared – husband and wife.
Chika and Jackson's wedding reception at the Zinnia Hall of the Eko Hotel in Lagos was a festive affair! The glamorous event was an opportunity for the couple along with their friends and family to "let their hair down" and celebrate Chika and Jackson's love.
BN wishes Chika & Jackson a blessed life together. May each day be abundantly filled with God's grace and favour.
___________________________________________________________________________________________________________
Photography by Atunbi
Vendor List
Pre-Wedding Photography: Sheeka photography – http://sheeka.shutterchance.com/
Wedding Photography: Atunbi – http://www.atunbi.net/photographer/ | http://www.weddingphotographylondon.net
Wedding Dress: Anna Mode London
Groom's Suit: Bespoke Saville Row
Bridemaids Dresses: Sousourada London
Wedding Planning: Just Weddings – www.jwevents.net
White Wedding Decor: Just Weddings – www.jwevents.net
Wedding Cake: Cakes & Cream (Creative Collaboration with Bride)
Bridal Makeup: BMPro
Bridal Hair: BMPro
Bridemaids Makeup: Sleek
Bridal Flowers and Boutonnière: Gethsemane
Confetti Boxes: Nneyah Cards – www.nneyahcards.com
Guest Book: Sheeka Photography – http://sheeka.shutterchance.com/
Cupcakes: Nuts About Cakes – http://nutsaboutcakesng.com
DJ: DJ Ckay – Facebook Link
Traditional Wedding Makeup: Oluchi
Traditional Wedding Artistic Makeup: First impression
Traditional Wedding Outfits: Valeria
Traditional Wedding Decor: Just Weddings
Videography: Caleb Digital Ventures