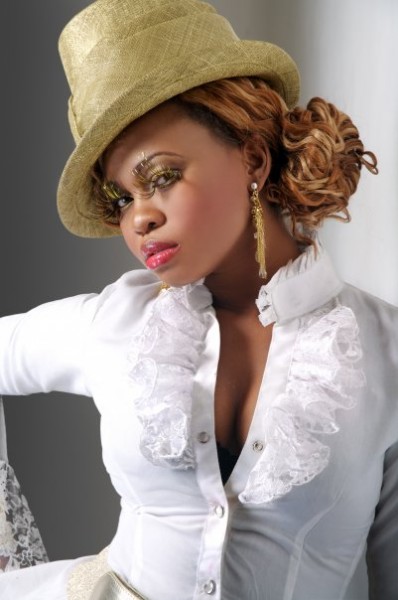 Beautiful and sexy singer, Goldie, burst in to the Nigerian music scene with a loud pop two years ago. With her golden hair signature and eccentric fashion style that was uncommon among Nigerian female artistes, she easily captured people's attention and whenever she came up on our screens, we just had to stay glued to hear what she had to say.
After obtaining her degree in Business Management from the University of Sunderland, UK, Goldie decided to follow her passion for music and she released her first album 'Gold' in 2010 and a second one 'Gold Reloaded' the year after. With her hit tracks 'You Know It' featuring eLDee, 'Don't Touch My Body' 'Jawo' and 'Say My Name' amongst others, she has captured not just the eyes, but the ears of her listeners and is raising the bar in the execution of stage performances in the country with well-rehearsed choreography and great use of costume. 29 year-old Goldie is signed on to Kennis Music record label and was the recipient of the Sound City Music Video Awards 2010, in the 'Best Female Video' category.
Watching Goldie on the TV screen creates the image of a lady who is too hot, too sexy and too confident to be bothered. But she is more real, down-to-earth, friendly and funnier than I imagined. After eating one of her favourite foods, rice and snails at an exclusive restaurant in Ikeja, Lagos, Goldie was ready to chat and she let it all out, even putting a few Yoruba and Calabar words to liven up our chat. I had an interesting time delving into different aspects of her life and she always had intelligent responses to my questions.
Meet Goldie
Tell me about Goldie. Who is Goldie?
Goldie is a United Nations Youth Ambassador for Peace, a Celebrity Special Marshal, an ambassador for Project Alert, a multi-award winning pop artiste signed to Kennis Music- that is Goldie the brand. But Goldie the person is Harvey Oluwabimpe Susan, from Ekiti state. Born to Christian parents, grew up in Anthony area of Lagos, went to Green Springs Primary School, St. John's College and has a degree in Business Management from University of Sunderland, UK. I'm shy, I'm reclusive, I like writing, I like drawing, watching documentaries, learning a lot more about life, cooking, and anything creative or that has to do with artistic development.
You have quite a unique stage name?  How did you come about the name 'Goldie'?
It was a nickname given to me by my friends in the UK for two reasons. One is there was a time that I was in love with gold rings. I wore rings on two or three fingers. But I also think it's because of my skin tone or my hair colour. So when I wanted to pursue music professionally, I stuck to it because I wanted my brand to imbibe the qualities that gold has to offer – rarity, glamour, luxury, long-lasting. It was everything I wanted in a brand.
Did you have to change some aspects of your personality to fit into this 'Goldie' brand?
No. Before I even started music, I was wearing blond braids. I've never ever gone out of my way to do anything because of my music. If I wasn't in music, I will still be like this.
What is the colour of your natural hair?
My natural hair colour is not black, it's like reddish black and when the sun hits it, it turns gold on top.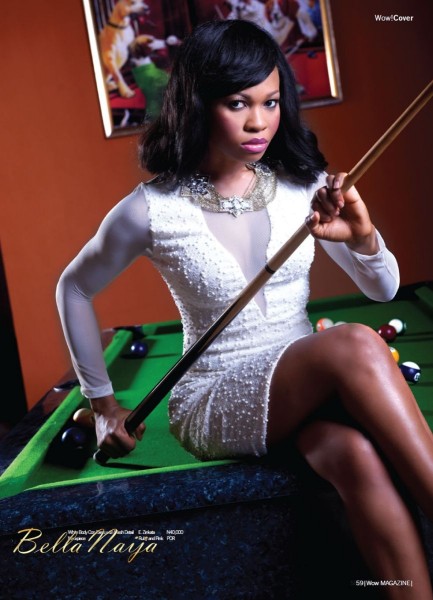 Becoming A 'Star'
When did you begin your journey into music?
I've always been into self expression since I was younger. When NEPA would take the light, I would compose songs and my siblings would be running around the house while I'll be drumming tables and singing songs that I composed for NEPA to bring the light. But professionally, music started in the UK when myself and some other girls formed a pop rock band and we used to perform in different places. But we didn't really pursue it because at the end of the day, some of us realized that we enjoyed the music but wanted to do different things. When I came back to Nigeria, I decided that I wanted to do my music fully and I continued that way.
How did you get signed on to Kennis Music?
Kennis Music is a label I'd always admired from afar. The CEO, Mr. Kenny Ogungbe is somebody whose commitment to developing talents and managing them is something that has always excited me even before I joined and it was a real pleasure to finally get to meet him and tell him "let's find a way to work together". And he said "OK, let's have a management deal and if everything works out fine, we'd give you a recording contract". I started working with them in 2009 and by 2010 I got my recording deal. I released my first album in October 2010 and the second one January 2012.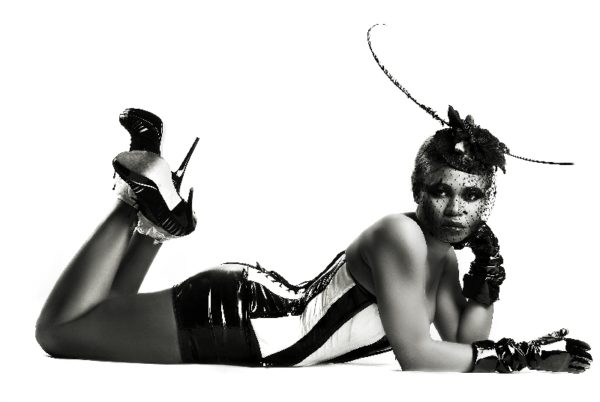 Your hit track 'You Know It' with eLDee was a great collaboration. What was it like working with him?
It was awesome. It was Mr. Kenny's brain child for myself and eLDee to be on a track together. And he called eLDee up and we made it happen.
Most of your tracks, for example, 'Say my Name', 'You Know It' and 'Don't Touch My Body', have lyrics that speak of a 'hot' and 'confident' person. What kind of message are you trying to pass with your music?
My music inspires confidence in women all over the world. Everybody can be strong; they should know that they are special and beautiful and they should be able to feel love all the time. This might sound a bit cheesy but I preach self love. If you don't love yourself, you can't love other people and people cannot love you. You need to be able to love yourself and people need to see that you appreciate and believe in yourself.
Growth, Lessons, Style & Controversies


What lesson have you learnt since coming into the industry, and since you recorded your first album?
I've learnt that people say a lot of things and a lot of times they don't mean what they say. I've learnt that negative opinions are like bad smells. They are strong when they first come out but they just waft away after a while and you forget about it. So it's best not to dwell on people's opinions. I've also learnt to work really hard and later on those people that have said some bad stuff about you would come around and say "wow, this person is a hard worker".
One of the most wide-spread rumours about you is that you are a lesbian partner with Weird MC. Is there any truth in that?
Weird MC is from Ijebu and my late mum was also from Ijebu so we bonded. I really love her tenacity as an artiste. She is more of a role model to me. So it's really sad when you take people as mentors and some other people are insinuating all sorts of stuff. Why would people assume that Weird MC or myself are lesbians? Maybe they are the ones that are secret lesbians. Maybe they want to sleep with me or with Weird MC and they don't know how to go about it so they go around saying these rumours. It's sad.
You were recently appointed as a United Nations Youth & Peace Ambassador. How did you achieve this?
I had a "Don't Touch My Body" campaign where I was going to secondary schools mentoring the students and talking to them about how to value their bodies, how to prevent themselves from becoming victims of violence and what to do if they find themselves in that position. The United Nations obviously got wind of it. I feel really humbled by that appointment.
People say that you are a rich kid, that you came from an affluent background and this has been responsible for your success in the music industry. What do you say about that?
I think it is actually the opposite. I feel that money, wealth can actually detract you from your success. For example, if somebody is wealthy before they start a business and the business thrives, people would say it's because the person is wealthy. At the end of the day, no business can thrive without hard work and that is what people don't get. There is no amount of money you'd spend and you still would not make it if the talent and passion is not there. I don't think that money or lack of it is what has helped my career. It's my hardwork, my fans and my good work that has helped my career
You mentioned that you lost your Mum. Please accept my sincere condolences. How old were you when she passed away?
I was in my early teens. I am the first born. It was sad, it was tragic.
Where do you get the idea for the sort of costumes you are mostly seen wearing?
That is how I see myself, it's not like an idea per say. Mentally, I see myself like this and I become like that.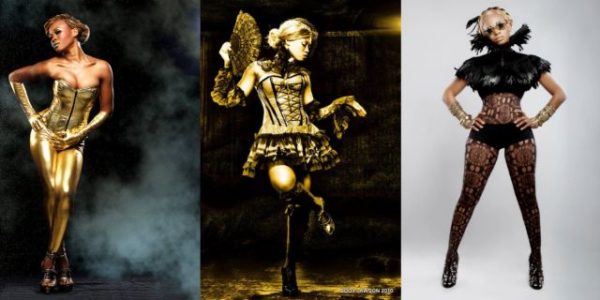 Your style is edgy, different from what we are used to seeing on Nigerian female artistes…
I don't try hard to make it different though. It's just what happens and it's good that people see that difference and appreciate it. But it's not a conscious effort, it's just me, just who I am inside.
How do you feel when people compare you to artistes like Lady Gaga and Madonna?
I feel humbled because it means that they are placing me on a pedestal because it's not easy to be compared to icons like that. At least they are not comparing me to some washed-up drug addict somewhere in the village smoking pot.
Which local and international designers make clothes that suit your style?
When I travel I love Dolce & Gabana. They are very dark, edgy and I like some of their leopard prints and the bum fit of their jeans is really nice. But locally, I work with Mimi Lee London, Vaughn, Anuba Couture, and Ejiro Amos-Tafiri. For Mimi Lee London and Vaughn, I don't really need to tell them what I want, they just sketch it and I'm saying "I like that. I would wear that!"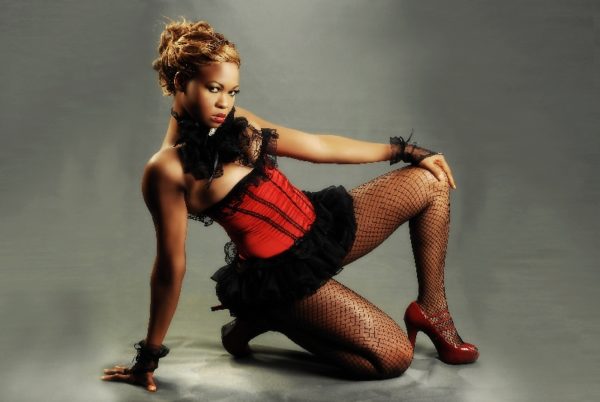 When you are not preparing for any public appearance, performance, video or photo shoot, what would you wear at home?
I like to be comfortable – a tank top and shorts. I would love to wear a tank top and shorts out or to perform but I don't think I would be that entertaining dressed that way. So people should learn to appreciate what they are seeing instead of wanting me to be less than what I am.
I've watched you perform on stage before and the choreography you perform with your dancers is a unique act not quite common among Nigerian artistes. How many hours do you put into preparing for a show?
It depends on the type of show. Sometimes we rehearse for weeks. It's a job, it's my passion. I am a perfectionist and I want everything done well. So we rehearse as much as we can to ensure we get it right.
You were brought on stage in a box, all wrapped up like an Egyptian Mummy in one of your performances. What was the inspiration behind that?
The song was the inspiration behind that. The song was saying I want to breathe again. The song talks about a girl in a relationship which is taking the life out of her. She is loving this guy and the guy was not reciprocating that love. So it's like an awakening. The Mummy was wrapped and dead in the relationship but she needed to breathe again and then she woke up.
Getting Personal
Who is your greatest inspiration?
I'm inspired by my late mum whom I think was one of the cutest people ever. She was hardworking, extremely kind-hearted and she just saw good in everyone. In those days when it was very hard to get scholarships, she was the only one in the family who got a scholarship through secondary school, through University, through her Masters paid for by the government – it was unheard of. She was so brilliant that they kept promoting her every two years. If I can be half the woman that she was, I would have done good for myself.
How do you relax after all the rigours and glamour of your work?
I've forgotten how. I think if I just want to unwind now, I would just sleep for like four days non-stop. The busy nature of work these days is really crazy.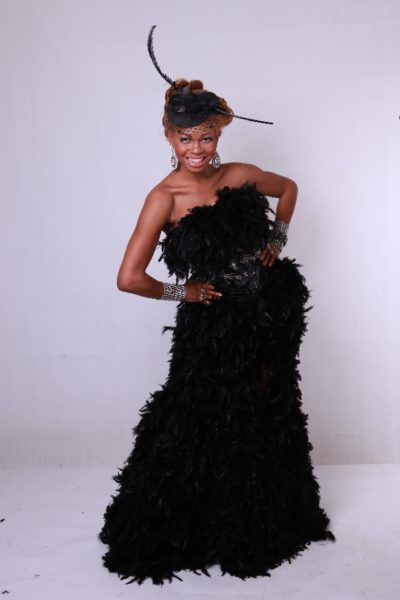 Do tell me a secret
I have a pet snail. I keep him in a bath in my room and I feed him vegetables and water. He's very big, like my fist and a half and I've had him since last year.
Him? Does your pet snail have a name?
Yes, I call him Jerry.
That is really funny and cute. How did you come about having a snail for a pet?
I got eight snails from the market because I wanted to cook Afang soup. When I got back to the house, all the snails were still in the nylon bag, but Jerry was curious, he came out and was eating leaves. When I carried him up, he didn't run back into his shell, he brought his head out and wanted to kiss my face. And I put him on my hand and said "I'm not killing you darling. You're going to be my friend" because snails usually run away from human beings and when he didn't, I made him my new best friend.
What kind of a man does Goldie like? What attracts you?
A kind-hearted man. I would notice a man if I'm walking and I'm trying to enter a public place and he opens the door for me. After that, I would be attracted to his smell if I walk past him and he smells nice. If I like his shoe and his belt, I would tell him "I like your belt and your shoe". If he opens his mouth and talks to me and I like his accent, I would collect his number. If we go on a date and he is intelligent and he makes me laugh, I would see him again.
So Goldie, have you found that man?
I am in a relationship but I don't like to talk about it. I think it's best I keep certain things to myself because no one knows tomorrow. I believe our relationship should be our business now and not for the public until we both decide that we are strong enough to allow people know about it.
What have you been up to recently? What projects are you working on?
I have the 'Gold Reloaded' album out now and there was recently an investment into my work so I've decided that I'm giving $50,000 worth of gifts for people who buy the album. There is a raffle sticker on the album and every week we select winners randomly to win Blackberry phones, TV sets, Generator sets, cash. I was at Obafemi Awolowo University last week for a 'Goldie & Friends Tour' with Jaywon, YQ, Skuki, Eva, Essence. We went there to perform and the CD sold out. People won a lot of gifts. By the end of April, we are going to call the first raffle in Lagos. We're going to different states and schools with the album.
Goldie feat eLDee – 'You Know It'

Goldie feat Jaywon – 'Jawo'