The final day of the 2011/2012 English Premier League season was a blockbuster thriller with Manchester City seizing the title from Manchester United after 2 spectacular extra time goals.
In 3rd place on the Premier League table is Arsenal, arguably the "most loved" English football club in Nigeria. Arsene Wenger's time fought back from a shaky start this season to gain a Champion's League place. What next for Arsenal?
Guinness Nigeria also announced that Arsenal Football Club has chosen Malta Guinness to be the Official Malt Drink of the club in Nigeria for the next three years. As part of the partnership, new Malta Guinness Low Sugar will be the Official Malt Drink of the Arsenal FC tour in Nigeria in August this year.
Devlin Hainsworth, Managing Director of Guinness Nigeria PLC said "Malta Guinness is proud to partner with Arsenal FC in Nigeria and for new Malta Guinness Low Sugar to be the Official Malt Drink for Arsenal's Tour.
"The Club's great history and exciting style of play is set to energise and inspire Nigerians when they tour here in August whether they be fans of the club, fans of football or simply fans of the good things in life. We look forward to giving them a great reception on their first ever visit to Nigeria and to showing them the passion we have for our football as well as the vitality and energy of Nigeria and its people".
It is well documented that Arsenal's manager, Arsène Wenger, believes the work that the players put in away from the training pitch is crucial to a successful career; that if a player does not have a healthy diet, they will not be able to train as hard or play as well. For that reason he is a big advocate of ensuring the squad follow a specialised dietary regime to get the best nutrition and stay at the top of their game.
The Gunners' will be playing their first ever game on Nigerian soil at the 60,000 capacity Abuja National Stadium on Sunday, August 5th. As the team demonstrates their vibrancy and skill, Malta Guinness Low Sugar will be right by their side.
Arsenal's Head of Global Partnerships, Vinai Venkatesham, said: "We have a huge following in Africa, and Nigeria in particular. We are looking forward to working with Malta Guinness and Guinness Nigeria to connect with our many millions of fans in the region during the tour and beyond."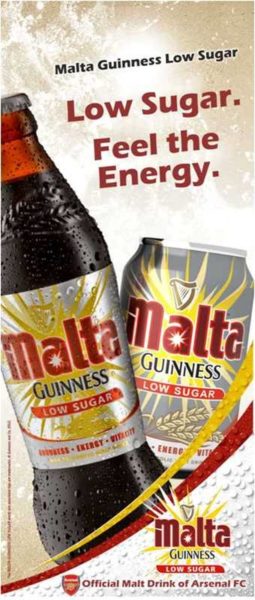 Just in case you haven't heard about it, Guinness Nigeria PLC recently announced that in response to the growing demand from consumers in Nigeria for a low sugar variant of Malta Guinness, Nigeria's number one malt drink, new Malta Guinness Low Sugar has been unveiled.
With a great taste and no compromise on quality, Malta Guinness Low Sugar will be a drink of choice for those who care about their health and wellbeing and follow a healthy lifestyle regime but still want the refreshment and top of the world goodness, energy and vitality that Malta Guinness provides. With a recommended retail price of N100 for a 330ml bottle or can, new Malta Guinness Low Sugar will be available in stores and bars across Nigeria from 17th May 2012.
Devlin Hainsworth added "We know that an increasing number of people in Nigeria are becoming more conscious of their health and want the same top of the world goodness of their favourite malt drink, Malta Guinness, but with a lower sugar content. We are delighted to be able to offer new Malta Guinness Low Sugar to meet their demands."
As part of the tour, Malta Guinness and Arsenal FC will be providing malt drink lovers across the country with a variety of opportunities to interact and get involved. You can find out more by liking our Facebook page at www.facebook.com/maltaguinness
____________________________________________________________________________________________
Sponsored Content