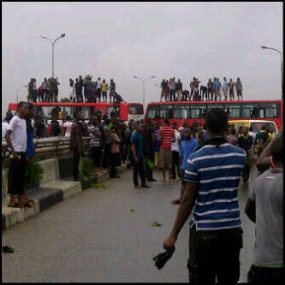 Students of University of Lagos have made good their resolve to protest the renaming of their institution to Moshood Abiola University. The students this morning blocked the Third Mainland Bridge in Lagos. They marched from their main campus at Akoka, Yaba through Herbert Macaulay Street to the Adekunle link on the bridge and used Bus Rapid Transit buses to block the busy highway.
They are demanding the reversion to the original name of the University. The students are also occupying areas in Alagomeji, Yaba, Sabo and the University's main gate. Few lecturers and Alumni of the school joined the students in the protest.
The Lagos State Commissioner of Police, Umar Manko, who led a team of police officers to the scene of the protest, asked the students to return to their campuses and stay calm until the government finds a solution to the problem.
The university was renamed by President Goodluck Jonathan in his Democracy Day broadcast to Nigerians yesterday. His announcement of the name change did not go down well with the students, who felt Jonathan should have named another national monument after Abiola. Although they said they had nothing against Abiola, who died on July 7, 1998 while fighting to validate his June 12, 1993 presidential mandate, they said UNILAG was not the most appropriate institution to be named after the late politician.
Meanwhile, the University board through its radio station has announced that it has suspended all its academic activities for the next two weeks. The board also asked all students to vacate the school premises before 11am.
News Source: Punch | Channels TV