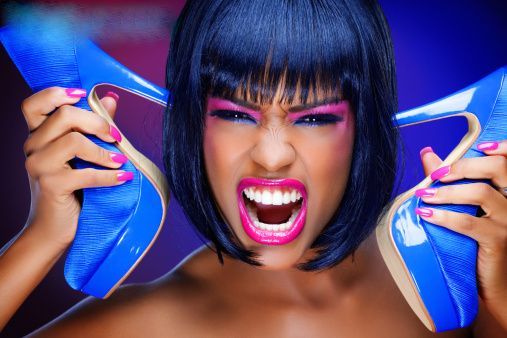 I am done. Really, I mean it this time for good. My days as the shoe diva are officially over. It was all fine when the Visa Card bore the brunt of it but now the pain is actually taking its toll on me. I can't anymore, I just can't.
In the hey days, when I set out to buy what would be my first pair of heels, the fashion world was mine, mine for the taking… or so I thought. I was raised around all the glam and sophistication of fashion. You see, rather than exploit her single parent status with promiscuity or alcoholism, my mother indulged in a somewhat different form of substance abuse: fashion shopping. It's a surprise that we didn't get bankrupt. She shopped so much we could have run a boutique. Needless to say I was flipping through the high end pages of Vogue way before I wore braces. So little wonder I grew up with an obsession for shoes, which is the irony of the gist. As early as age 14, I was already causing a stir with my skyscraper tall shoes, a figure of envy among peers. Men drool at the sight of my long legs and accentuated bum all thanks to my stilettos. I enjoy and crave the attention, even though I have to exhaust my life savings.
To garner better attention, I make it a point of duty to add drama into the mix. I flip my bangs, which usually covers my face, in a conscious-effortless way each time I catch a whiff of drooling testosterone and that always did it. The men love me, girlfriends don't. Men claim I intimidate them with my height; African men and their shallow, Neanderthal way of thinking. Who needs a man when I have my shoes? I know my shoes can't warm me up on cold nights; a certain battery powered toy does the trick every now and then thank you very much.
But oh the sacrifices I have to make *sigh* Nobody has a clue how much I pay at the weekend spa for regular feet massages or any idea how many sleepless nights I have as a result of a hurting ankle.
I am a fashion diva and no price is too high to pay.
Fashion is a huge pain. A high profiled job, single status, socialite friends and 100 pairs of shoes later, I know this for a fact. In order to look the part, I continue to put up the facade that I'm a fashionista, therefore I spend a lot on shoes, so that I come off top notch when I show up at work and get photographed in my red-soled stilettos at red carpet events that I can care less about, never mind the excruciating pain I put up with in these sky high heels.
Just the other day, I cramped so bad at the shin donning a pair of Aldo heels and I could have sworn I was passing gas intermittently but people were complimenting my look so much I continued to force a smile. I left the shoes on ignoring the fact that the entire nerve system in my legs was screaming for help. Though I have been wearing heels for the past 15 years, the doctor says I present symptoms of foot arthritis and any further strain portends grave consequences; meanwhile I haven't even hit middle age. How am I to survive now without my heels? How? The thought of me in ballet flats and flip flops is simply unimaginable!
With an exotic total of 302 pairs of shoes— Louboutins, Aldos, Ferragamos, Manolos, Choos among a host of faux, I sit here with my bandaged feet, staring longingly with mixed feeling at my collections. I can't wear them neither do I intend to give them out.  My boyfriend wants me to donate them to charity and seek help. How dare he blaspheme against my shoes and insinuate I'm an addict? Apparently, he doesn't know that one pair of my Louboutins can pay his peanut of a salary. Anyway I have changed the locks; I hope he catches a hint when next he comes visiting his ex-girlfriend.  I guess it's back to flip flops after all.
I'm gonna pretend to rock it.
Photo Credit: Getty Images