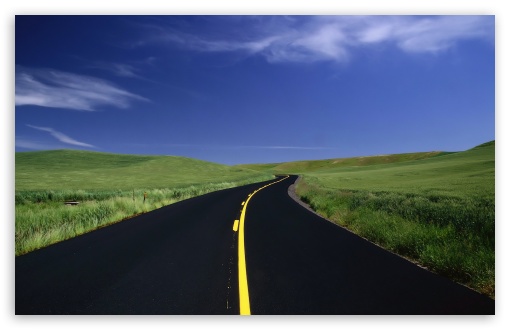 It is my 26th birthday in a few days and for the first time in a long time, I feel ambivalent towards an approaching birthday. I mean, in the past I'd look forward to my birthdays with so much excitement; there was always something lined up for the big day but a few days ago when my mum asked me what I was going to do this year, I simply shrugged and said, "Nothing."
A few weeks ago, a close friend of mine turned twenty-six and she left town to spend some quiet time by herself  because she did not want to do anything either. We, her friends literally had to drag her to a restaurant for a pre-birthday dinner the night before she went for her little retreat.
I've been thinking about this ambivalence and I concluded that there is something that snaps in a woman's psyche after she turns twenty-five and I think it is both psychological and biological. Something in your mind and your body begins to tell you, "Four more years till the big 3-0. Time to settle down and get married. Time to have a baby."
A couple of weeks ago, I got on Facebook and thought to look up a friend of mine but alas, she wasn't there. I was sure she hadn't deleted me but just to me on the safe side I called her up and the first thing she said to me was, "Ebun, I just logged into Facebook after a long time and I feel very depressed."
"Awww, why? I was gonna ask if you had deactivated your account because I couldn't find you the other day."
"Yeah I did. But today is my cousin's birthday so I wanted to write on his wall but now I wish I didn't bother."
"Why?"
"I feel so depressed Ebun. All my friends are getting either engaged or married or having babies." She went on to list at least five people who fell into either of these categories.
"Hmm, I totally feel you. I can't begin to count how many of my friends, juniors from high school that have gotten engaged and married in the past few months."
"It's hard Ebun. I can't lie to you, it's really hard. I thought I would be married by twenty-five and have a baby by twenty-six but I don't even have a man!" she burst into laughter.
"I know!" I couldn't help laughing either. We continued to talk and after a while we somehow managed to encourage ourselves and we concluded that the best thing was to be happy for this people who were getting engaged/married/having babies and hope that one day we would be able to experience all that and more.
As I went to bed that night, I couldn't help thinking about my life. I couldn't help thinking about the things I had hoped to achieve by the time I was 26 years old. I remembered my high school year book  and one of the questions we had been asked was what profession we wanted to pursue in future. I remembered our answers ranged from the popular ones – doctors, engineers, lawyers to more ambitious ones like aeronautic engineers. I am still in touch with a number of my high school friends and I don't think there is anyone one of us that pursued any of those courses we had written down in our year book.
I was 16 and I had lofty plans. I would graduate at 24, get married 2 years later and my first baby would be on her wayby the time I was 25. I had it all figured out, or so I thought. But as with all of our best laid plans; life, JAMB and ASUU got in the way. After writing JAMB twice, I got into the university on merit to study Dentistry and then I realised that it wasn't my dream after all. I could not for the life of me understand the course or why I'd imagined I'd wanted to become a dentist. The harder I tried, the more I failed. Then ASUU went on strike, messing up my plans to finish my course in 6 years. Then I failed and had to repeat a year, once again rendering my plans to finish uni at age 22 useless. Then, there was another ASUU strike that was meant to be for just a few weeks but eventually prolonged into months. And it went on, the vicious cycle, constantly pulling me back into the vortex of retrogression.
Thankfully, my parents decided it was time for me to migrate to another country to continue my education. I decided to change my strategy. Even if I wasn't going to finish my course at 22, one thing I was going to do was to work so hard that I'd end up  wuth excellent grades so that the years I had lost wouldn't matter and that was exactly what I did.
So plan A, forged in the fires of high school didn't work. I worked on plan B, tweaked plan A a little bit to include; graduate at 24, get a job at 25 and of course the babies would start rolling out at 27. Once again, reality knocked me right in the face. I was jobless for months and I decided to go back to school. Behold, plan C was born.
My point is this; nothing I have carefully planned has come materialized the way I envisioned it so you see where the ambivalence towards turning twenty-six comes from.It is another reminder that I'm not where I had planned to be 10 years ago. But I am not complaining – far from it. As I type, I am reminded of how blessed and fortunate I am. I could begin to list all the things that have gone right in my life, things that I had not planned for but have changed my life tremendously including opportunities that have come my way which I would never have dreamt of. So instead of being a whinge-fest, this is a reminder to myself, and to you hopefully, that when you feel you are slipping to that dark place called self-pity, when you find yourself thinking, "why is my life going this way?", "why can't I achieve this or that?" when you find yourself being drawn to that place, try, (and I know it can be very hard sometimes) but try to remind yourself of the other good things that have happened in your life.
Think of things that you did not plan for, but just by sheer luck, divine intervention, being at the right place at the right time, those things happened. Think about those things and be thankful. Think about the wisdom you have acquired as you have grown older. Think about the mistakes you have made and have learnt from. Think about the times you cried and you felt like your heart would be ripped out of your chest, think about how stronger you are today as a result of that pain.
No matter where you are today, even if it is a far cry from where you dreamt you would be, be thankful because it really could be worse. No matter the position you are on this ladder called Life, there will be some people above you and there will be some people on lower rungs. Because, while we might not be where we hope to be yet, we are not where we used to be either. While some people may seemingly be better off and look like they have got it together, others really do have it worse.
So, next time, when you see someone doing so well, getting engaged, getting married, having a baby shower, or raving about that fantastic job in a multinational company, take a deep breath, be genuinely happy for them and most importantly be thankful for where you are coming from, where you are presently, and most importantly where you are going.
Above all, remember that life is all about the journey and not just the destination, so, enjoy and savour it as much as you can!
Photo Credit: wallpaperswide.com