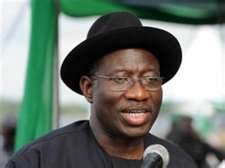 On Sunday 24th June 2012, President Goodluck Jonathan met with select representatives of top Nigerian media organizations where he discussed various issues facing Nigeria ranging from Boko Haram to the renaming of University of Lagos to Moshood Abiola University.
He also spoke on the fuel subsidy probe, declaration of his assets, provision of stable electric power supply and his recent trip to Brazil.
The live media chat was anchored by Ohi Alegbe with Tribune Editor, Edward Dickson; Ishak Modibo Kawu, Vanguard columnist and Maupe Ogun of Channels as panelists.
Here are some highlights of his responses to various questions:
On his recent trip to Brazil
"I have no regrets in going to Brazil; the threat of Boko Haram is painful because I have lost people and properties. One of the tactics of terrorists is to cripple government. When they hear that the President did not travel because of bombings, they celebrate. When I travel, Presidents whose countries have had similar incidences comes to advise and encourage me, saying the government should not stop its operations because of this.
"I was aware of the Kaduna bombings, but it is not the President that has to go there. We also needed to make a case for Lake Chad. The day the international community gets to know that the Nigerian President couldn't travel because of terror, then we are finished. Boko Haram will not stop government from moving. We are moving; they cannot bring us to our knees. It must come to an end, this country must move forward."
On the renaming of University of Lagos to Moshood Abiola University
"Most of the top universities in the world are named after people…Harvard and others. The change was made in line with Nigerian laws especially the ones relating to naming and change of name of an Institution"
"In establishing a University, the University is set up first, before it is sent to the National Assembly to ratify. In name change, we have to declare the new name before sending it to the National Assembly.
"There is no law that says that we must first of all consult with the National Assembly or the Senate of the University before coming up with the new name."
On Boko Haram insurgency
"Nigeria will continue to move forward, Boko Haram or no Boko Haram. Boko Haram cannot stop Nigeria. We must stop Boko Haram.
"Boko Haram cannot bring us to our knees, this government must keep faith with our international business allies, notwithstanding the threat of the sect. We must do all in our powers to stop them and we must stop them.
"The Boko Haram are Nigerians. I will love a situation where the Boko Haram members will be trained to become beneficial citizens, we will dialogue with them but they have no face. For now, there is no negotiation going on."
On why he refused to publicly declare his assets
"The issue of public asset declaration is a matter of personal principle. That is the way I see it, and I don't give a damn about it, even if you criticize me from heaven.
"Initially I said they can talk about it from morning to night, I will not. I said it is a matter of principle. It is not proper. If one amends the law to say that only the President and the Vice should declare assets publicly, fine. But, presently everybody who is holding political office is expected to do, and I say it is not right. Those who made the law knew why they put the law that way. I could be investigated when I leave office.
"You don't need to declare assets publicly; otherwise you are playing to the gallery. You don't need to publicly declare assets. That's a matter of principle. If I have to declare publicly, it means every political office holder will have to declare publicly. And it is not the right thing to do. That is my belief."
On Electricity
"When we were campaiging, we didn't know that Boko Haram will overtake the priorities of government."
He encouraged Nigerians to be patient and that his government is currently in on-going discussions with top foreign companies. He assured Nigerians that the power tariff is designed to benefit poorer members of the society and that they will actually pay less under the new tariff system. Poorer citizens will be subsidized by charging wealthier citizens more, he explained. He noted that the power sector is particularly important to him as it affects other crucial sectors such as information technology.
On why he sacked his National Security Officer, Gen. Andrew Azazi
He said it was to conform with the changing tactics of the Boko Haram insurgency. "If you study the evolution of Boko Haram, they are changing their tactics every day, so you also have to change your staff and personnel to beat their styles."
On the scandal rocking the fuel subsidy probe
"The PDP has a board of trustees and since the fuel subsidy probe report was made known, no PDP member was indicted in that report. So the claims that PDP was indicted are wrong. All the noise that the President is part of the Farouk sting operation is wrong.
"The questions on Farouk are questions you have to take up with the SSS. One thing I discovered is that criticizing Jonathan and Jonathan's administration is a serious business among Nigerians. People don't know that I initiated the subsidy probe before the Senate and the House of Representatives started it."
Meanwhile, here are some statements made by the President yesterday that is already causing some controversy.
"Commend us on the Railway. We are progressing very well."
"Nigeria is not broke; if we are broke, you wouldn't see investors clamoring to come to Nigeria."
"Hearing noise in the parliament does not mean that Mr. President and the National Assembly are fighting."
"I promised Nigerians that I will not disappoint them; I stand by my promise."
"Criticizing Jonathan and Jonathan administration is a big business."
"I want to make sure that ordinary Nigerians will one day like me get here without a Godfather."
"We are managing the Nigerian economy professionally; Yes I'm the president but I'm not the one managing the economy."
"When I took over as president, I told my friends that people will abuse me till 2012 but in 2013 they will see result."
What do you think about the President's responses to the topics raised?
Please share your thoughts.