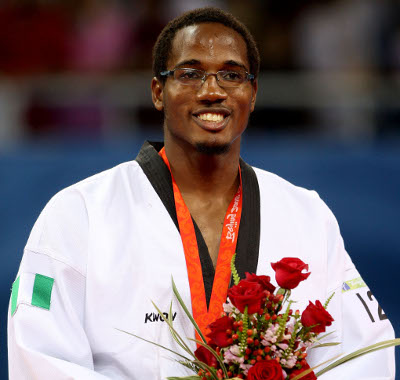 As our Nigerian Athletes compete at the London 2012 Olympic Games, BN would be celebrating some of our stars who have worked hard, trained hard and are striving to achieve their very best. At the World Games, they have come to test themselves in healthy competition with athletes from across the world and strive for their personal best daily.
We identify with their courage and wish them the very best as they bring glory to Nigeria. Go for Victory, Team Nigeria!
Chika Chukwumerije is a sportsman with an impressive portfolio who is set on bringing victory to Nigeria with his performance at the London 2012 Olympic Games.
He was one of the few Nigerian athletes to bring home a medal at the last Olympic Games in Beijing and is the current Captain of Team Nigeria at the Olympics.
Chika is ranked 29th in the world, and is the Founder of Chika Chukwumerije Sports Foundation, an organisation which inspires talented sporting youngsters to increase in their capacity while also having sound education and successfully integrating both.
Born on December 30 1983, Chika is the son of Nigerian Senator, Uche Chukwumerije.
He has his first degree in Mechanical Engineering from the Federal University of Technology, Owerri. Nigeria and a Masters Degree in Operations and Supply Chain Management from the University of Liverpool.
Chika first drew attention in 2003 during the qualifiers for the 2003 All Africa Games where he eventually won a bronze medal in the Heavyweight Male category. He qualified for the 2004 Summer Olympics in Athens, but lost his first bout to Pascal Gentil, the eventual bronze medal winner. Nevertheless, after a period of intensive training, he became one of Nigeria's best chances for a medal at the 2008 Summer Olympics in Beijing and went on to win the Bronze medal.
He is the first African to win a medal at three consecutive All Africa Games (Abuja 2003 – Bronze; Algiers 2007 – Gold; Maputo 2011 – Silver) and the first Athlete from Sub-Sahara Africa to win an Olympic medal (Bronze in Beijing 2008). He is also a National Heavyweight Champion.
At the London 2012 Olympic Games, he hopes to finally achieve his dream of becoming an Olympic champion.
"The Olympics is a dream for me, and I toss in my bed at night just thinking about it" he said.
Chika is yet to play his first game at the 2012 Olympics and as he prepares, we wish him the very best.
Sources: Daily Times | Wikipedia | Super Sport