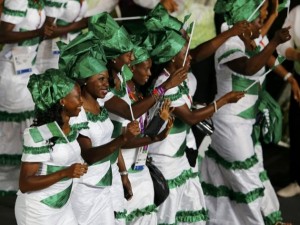 Team Nigeria's participation at the London 2012 Olympics came to a disappointing end yesterday as no member of the team won any medal at the world games.
The last time Nigeria left the Olympic Games without a medal was 24 years ago in the Seoul Olympic Games of 1988. However, their performance this year was an unusual record compared to the nation's achievements at the Games in the past two decades. In Beijing 2008 Olympics, Team Nigeria won 4 medals – 1 silver and 3 bronze medals.
Thisday reports that N2.2 billion was spent on Team Nigeria's preparation and participation in the games.
Some of the medal hopefuls including Team Nigeria Captain, Chika Chukwumerije who won a bronze at the last Olympic Games in Beijing did not begin his contest until a day before the closing ceremony, but in his only fight, he lost to his Cuban opponent.
Sprinter, Blessing Okagbare despite having a good start, breaking a personal best record in her heats did not finish off with a medal.
Ajoke Odumosu also raised the nation's hopes when she reached the 400m hurdles finals but she came last to end all medal expectations from the race.
The basketball team, D'Tigers reached the Olympics for the first time with much expectation and started off to a good start with a win in their first match against Tunisia. Sadly, they lost other matches afterwards.
Team Nigeria had a total of 51athletes competing in 8 different sports – Athletics, Weightlifting, Taekwondo(athletes) Canoeing (one athlete), Wrestling, Basketball, Table Tennis and Boxing.
Many have attributed the poor performance of Team Nigeria to lack of adequate preparation, poor management of athletes, corruption in the sports ministry and more.
What are your thoughts? What do you think is responsible for the dismal performance of Team Nigeria at the Olympics? What is the way forward? What should Nigeria do to ensure better performance at Rio 2016?