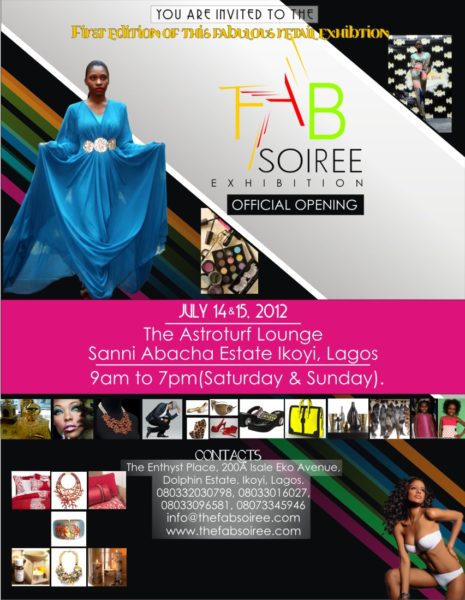 Do you love to shop and you are searching for a fun retail therapy where you can network in a serene environment?  Then it's your lucky day as the maiden edition of the Fab Soiree Exhibition – A family fun oriented fair with the sole purpose of networking while attendees get to engage directly with well defined target markets, will take place from Saturday 14th July to Sunday 15th July 2012 at the Astroturf Lounge, Ikoyi, Lagos.
Attendees at the Fab Soiree Exhibition will get to shop for lots of items including designer accessories, jewelry, bridal outfits, kaftans and abayans, home decor and fragrances, colognes, kiddies outfits, hair products, body scrubs, cosmetics, exotic fabrics, food and drinks at a discounted rate. There will also be a play area for children, non stop music, a relaxing lounge and fabulous gifts for all who attend.
To order for stalls and tables at the Fab Soiree Exhibition, be sure to get in touch with them for all the info and make sure you arrive early with friends and family so that our BN glam cam can take a fab photo of you. See you all there, don't forget your wallets and yes, admission is FREE for all.
Date: Saturday 14th July 2012 – Sunday 15th July 2012
Time: 9 AM – 7 PM Daily
Venue: The Astroturf Lounge, Sanni Bacha Estate, Ikoyi, Lagos
Contact: For more info and general enquiries, call 08033096581 | 08033016027 | 08073345946 | e-mail [email protected] | like their Facebook Page – www.Facebook.com/TheFabSoiree | follow them on [email protected] | log on to their website www.TheFabSoiree.com
_______________________________________________________________________________________________________________
Sponsored Content