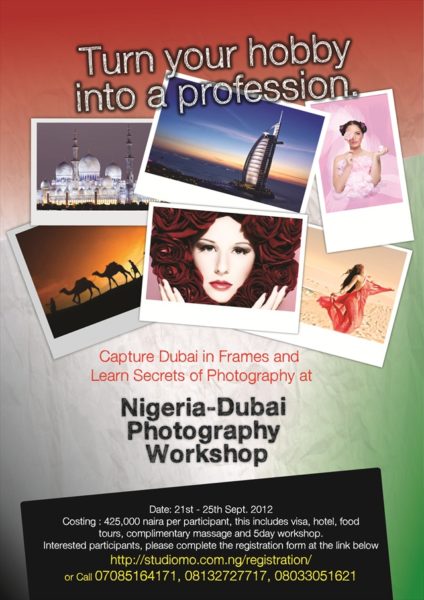 Do you love photography and would like to learn how to effectively capture moments with fantastic finishing? Then jump for joy as one of Nigeria's leading photography and design studios StudioMO is calling on all budding photographers and lovers of photography, to sign up for their unique initiative – Capture Dubai in Frames, a holiday and photography training all rolled in one.
This training which will run over the course of 5days in September, will see participants groomed by United Arabs Emirates' creative and renowned photographers on the learning the basics of photography, manual shooting using DSLR, composition, shutter speed and lighting. You will also get to experience a creative beauty photo shoot with International models as well as learn all the photo retouching tips and tricks in post photography.
All participants will also have the opportunity to capture the amazing sites of the country including the Burj Khalifa, the alluring alleys of Souks, the dessert sunset, camel racing, The Grand Mosque of Abu Dhabi and the rugged yet colorful mountains of Hatta, which will definitely make a rich portfolio for them.
Although packed with intense hands-on training, the organizers have ensured that there is sufficient time to tour the city and savour some of the country's exquisite cuisine as well as undergo a Balinese massage to relieve the tension and stress of the training.
To find out how you can join this Nigeria-Dubai photography workshop and become a pro photographer in 5 days, register online at www.StudioMo.com.ng/Registration. You can also keep up-to-date with StudioMO on their Facebook Page –www.Facebook.com/StudioMo.com.ng
_____________________________________________________________________________________________
Sponsored Content