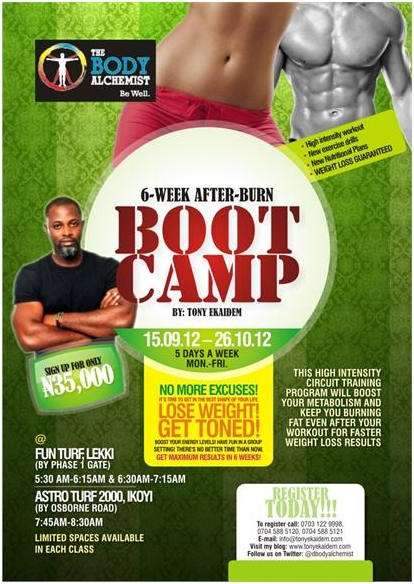 The Body Alchemist's 6 Week After Burn Boot camp is back again!
Summer is over and it's time for you to get right back into shape and the After Burn is definitely the right medicine. The boot camp which is organized by Tony Ekaidem, a master instructor of World Taekwondo/Self Defence consultant, is a highly intensive circuit training program set to boost your rate of metabolism and keep you burning fat all day long.
And this time, the Body Alchemist team is introducing new exercise drills and sequences that are sure to boost your metabolism and energy levels while burning calories and fat as well as new meal plans – The Low Calorie/High Energy Meal Plan and the Points System Meal Plan.
According to Tony, the Low-Calorie High Energy meal plan is designed to keep your energy levels up while ensuring you stay within a healthy total calorie range while the Points System Meal Plan, will help track your meals on a points system basis. All foods will be assigned points and you must stay within your daily points quota. This plan is flexible and allows you choose what you eat as long as you stay within your total points allocation.
Classes started on Saturday 15th September 2012, so hurry up, sign up today and inform all your friends.
Class Schedule & Locations
Classes will be held from Mondays to Fridays.
Venue 1: Fun Turf, By Lekki Phase 1 Gate, Lekki, Lagos
Time: 1st Session  5:30 AM  – 6:15 AM | 2nd Session 6:30 AM – 7:15 AM
Venue 2: Astroturf 2000, Ikoyi, Lagos
Time: 7:45 AM – 8:30 AM
The Body Alchemist's 6 Week After Burn Camp Cost + Payment Details
6 Week Bootcamp Only – N 35,000
6 Week Bootcamp + Low Calorie/High Energy Meal Plan – N 45, 000
6 Week Bootcamp + Points System Meal Plan – N 60,000
After downloading the registration form here – http://tonyekaidem.com/index.php/bootcamp/register/ and filling it correctly, pay the amount of the specified package you are going for into the Body Alchemist's GT Bank Account. Account Name: The Body Alchemist | Account Number: 0111349637
Date: From Saturday 15th September 2012 – Friday 26th October 2012
Contact: For more info and general enquiries;