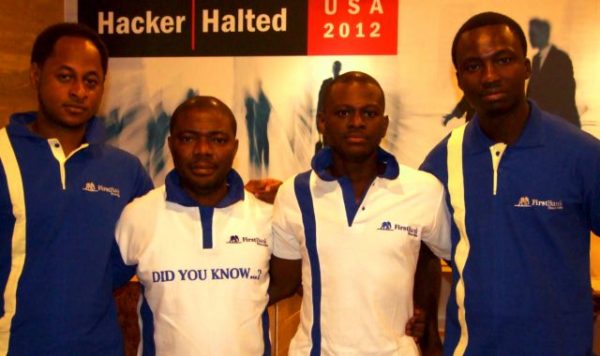 Nigeria's quest to grow and deepen local capacity in information security received a boost over the weekend following the sponsorship of Team Naija by First Bank of Nigeria Plc to the finals of the global Cyberlympics taking place in Miami, United States of America.
Information Security involves the protection of information and information systems from unauthorized access, use, disclosure, disruption, modification, perusal, inspection, recording or destruction. The Global CyberLympics is an international cyber security competition that seeks to build capacity across nations, create awareness for global cyber defense and promote global peace.
Team Naija and Team Broken Cipher of Sudan will represent the African continent and compete against teams from other continents at the finals which kicks off on October 29, 2012. Team Naija's four-man contingent comprises Abolusoro Oluboyede David (FirstBank staff), Nasiru Abimbola Jaiyeola (FirstBank staff), Oluseyi Akindeinde (Digital Encode) and
Adewale Obadare (Digital Encode).
FirstBank's spokesperson, Mrs. Folake Ani-Mumuney said the Bank considers the opportunity to support Nigeria's contingent to the CyberLympics as another platform to promote youth empowerment and contribute to the growth of information security in Nigeria.
According to Ani-Mumuney, the inclusion of two FirstBank staff in the team is a clear demonstration of the Bank's leading position in growing capacity in the field after being conferred with the prestigious ISO 27001 Certificate in Information Security Management Systems in 2010. This certification is the world's highest accreditation for information protection and security from the International Organisation for Standardisation (ISO).
"The objectives of the cyberlympics resonate with what FirstBank stands for as an organisation and we are excited that young Nigerians are representing Africa at a global level to match their technical expertise with the best in the world. FirstBank is proud to support these young ambassadors and like we say in FirstBank, being First is part of our DNA, we urge Team Naija to go out there and do the nation proud," she said.
Team Naija's leader, Oluseyi Akindeinde said the team was confident of excelling at the Global CyberLympics and would champion causes for enhancing local capacity among youths upon its return. "We were overwhelmed with excitement when FirstBank announced an all-expense-paid support for our participation at the event. We are grateful for this gesture and are encouraged to even work much harder to achieve success in Miami," he said.
Besides discovering gifted ethical hackers and cyber defenders, the Cyberlympics will inspire the development of future information security and encourage knowledge sharing sessions on how to battle cyber crime and provide a more secure cyber environment across the globe.
The CyberLympics comprises three knock-out rounds held at the continental level. At the end of the knock out stages, two teams emerge from each continent to meet head to head at the finals. This years event had representatives from 51 countries and over 60 teams from each continent.

_____________________________________________________________________________________________Advertorial – Sponsored Content