I was fresh out of NYSC when I decided to start my cooking business. I was entering a field that was a little 'congested' and I was thinking all I needed was just enough money to rent a barbecue stand and it was Go Time!  When it was time to make my chicken I knew it had to stand out and be unapologetically awesome. Now, even though I was already mixing my sauce barbecue sauce myself I knew I needed a punch! As if it was written in the stars, I found some sesame oil lying fallow in my store. I had always used it for stir-fries but never anything else so seeing the bottle randomly just set my head spining. I poured as much i thought was okay on to the chicken and when it hit the charcoal it was sensational. I had got my "difference". Since then, I tried it on other things; some were  successful while some  were plain epic failures. The good thing is that, I now know.
So today I thought share with everyone how you can use sesame not just as the condiment that dies in your fridge or the stir fry ingredient you put because the recipe dictates such. I'm going to try and explore your sesame oil options.
Essentials of Sesame Oil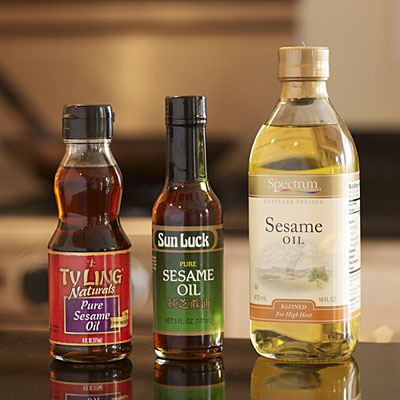 Sesame oil comes in both light and dark blended varieties. The former is usually pressed from the raw seeds and has a high smoking point. It's preferable for cooking over the roasted/blended dark variety. The dark variety is common in the Asian regions. With this variety, the seeds are pressed AFTER they have been roasted. The oil derived from this press has a lower smoking point and is used as seasoning rather than cooking oil. So basically you use it to finish stir fries and it's sprinkled over meals.
Sesame oil is nutty in flavour especially the blended dark variety so if you heat it up too much it would start to burn.
Uses
Remember how I said the secret to my awesome barbecue chicken is sesame oil? Yeah, it also works amazingly with fish. The next time you want to pan sear or deep fry some Croaker or any white fleshy fish, add a little sesame oil to the spice mix (which maybe a little garlic, salt white pepper seasoning cube)and let it marinade for at least 30 minutes. Add flour lightly and deep fry till golden and perfectly steamed on the inside. I find that sesame oil adds this extra nuttiness that compliments the sweetness of the fish.
Mix some sesame oil with some barbecue sauce and use to baste our chops, burgers, sausages and prawns on the grill. Sesame and coal are best friends.
The next time you want to try an Asian inspired salad, mix the sesame oil with some rice wine vinegar, honey and some chilli sauce to coat the leaves or use it to glaze the salmon.
The lighter pressed oil is a good massage oil so after a long week get some body massaging with this lighter version of the oil.
It certainly goes well with seafood. Mix garlic,  chilli sauce and sesame oil together then simply grill or put in a broth.
You know I wont just go on and on about sesame oil without giving you a recipe so let's try something.
I thought this would be something simple you can do and marinade weeks in advance and leave in your freezer. When you have friends over you can just bring it out to thaw and pop it in the grill for a weekend lunch.
I used chicken tenders here which is basically the extra slab of flesh that's attached to the breast of the chicken. You can use plain chicken breasts or just marinade legs and roast in the oven.
What You Need
600 grams chicken tenders
1 medium sized onion
2 tablespoons crushed garlic
1 tablespoon grated ginger
3 tablespoons Siracha chilli sauce
small bunch spring onions
30g (handful bunch) fresh coriander or 2 tablespoons coriander chutney sauce (which i used)
31/2 tablespoons sesame oil
1 tablespoon dark soy sauce
1 tablespoon honey
2 tablespoons rice wine vinegar or white wine vinegar
Kebab Sticks
How To
Place the chicken tenders in a bowl and set aside. In a blender, place all the other ingredients except the sesame oil. Start the blender motor on a medium speed and slowly add the sesame oil and increase to a high speed till you have a semi-smooth mix.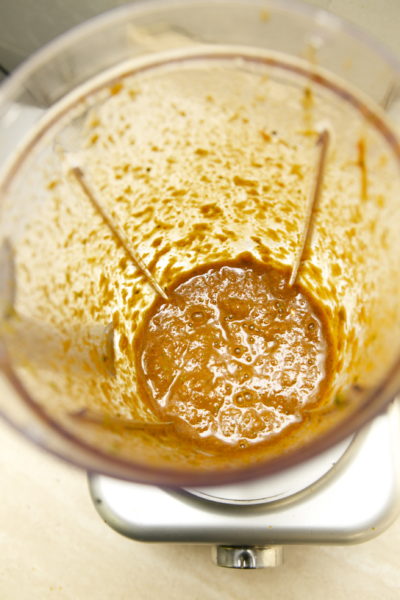 Pour the mix over the chicken and leave to marinade for at least an hour to overnight.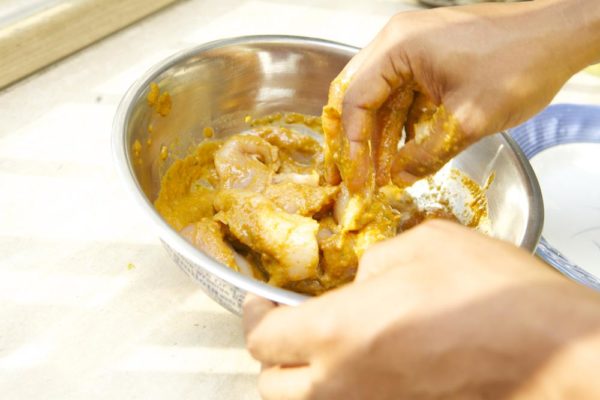 Skewer onto the sticks and brush the chicken with oil and place on a hot grill or place in the oven and since these are tenders they need maybe one minute and a half per side so it's juicy in the middle and not dry.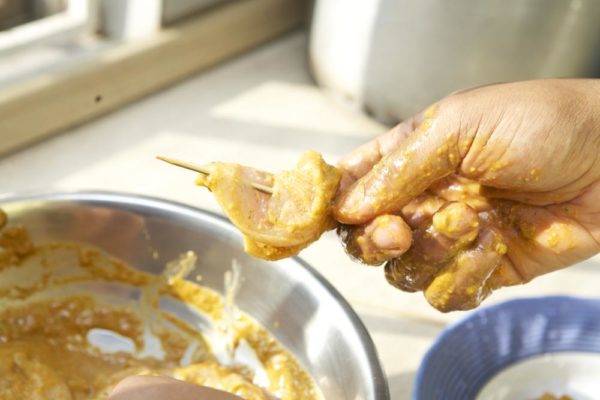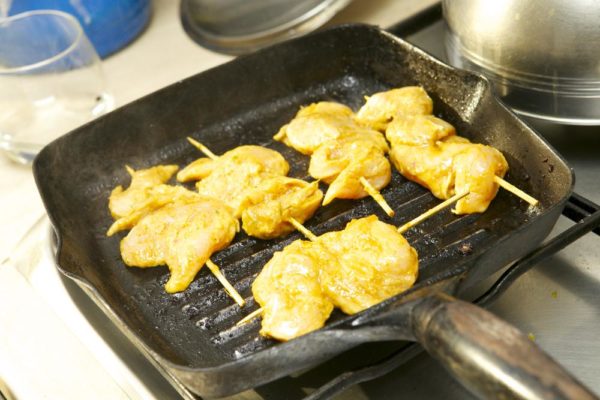 Serve with a dipping sauce made by mixing honey, sesame oil, vinegar, soy sauce (light preferably but dark is fine too but its a stronger sauce)and some sliced chilles .Place all these things in jar and shake and pour into your dipping bowl. The ratios you want as guidelines are 1 part vinegar to two parts oil and depending on how sweet for salty you want it you balance out the honey and soy to your salt and sugar taste.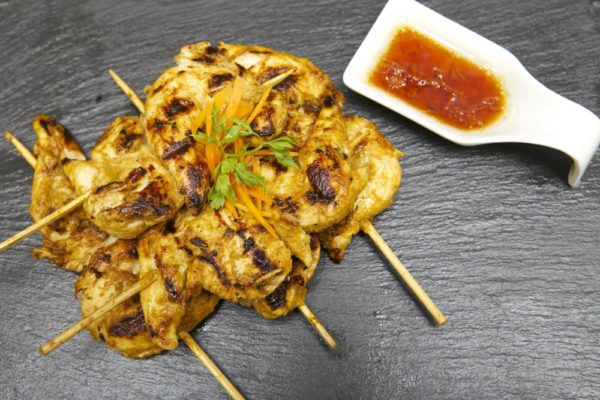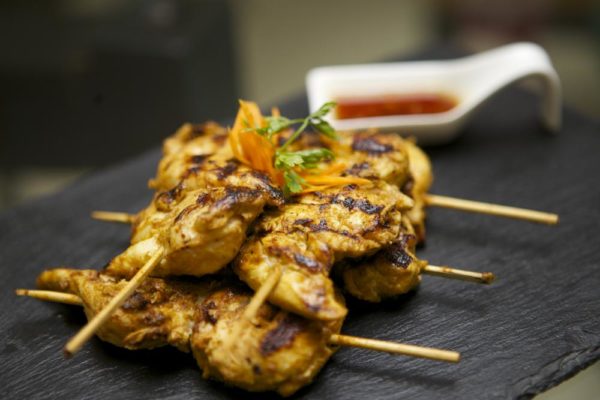 Special Shout Out to Demilade Olubanwo for the amazing pictures. You can check out his blog here
Have a flavour-filled weekend!
A Bientôt !
Photo credit for the Sesame Oil: cookinglight.com